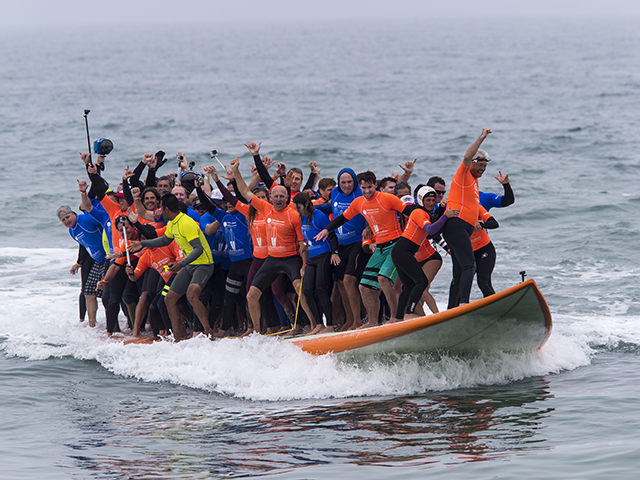 The surf may have been small in Huntingtan beach, California on Saturday but that didn't stop 66 of orange county's finest shatter the Guinness World Record for "Most people Riding a Surfboard at once" and the "World's largest Surfboard".
The event was a celebration of International Surfing Day with thousands of on lookers gathered on the pier to watch the record attempt.
The board was designed by Nev Hyman and was loosely based around his regular "every day model". Officially the craft measured in at 43?, 1/4 long, 11'1 wide and 16' thick. It also weighed 1,300 pounds!
The process of building the board took months and was a collaboration between the orange county boat builders and a handful of local shapers.
The official rules for the Guinness World Record for "Most People Riding a Surfboard" include:
The board used for the attempt must be a scaled-up version of a traditional surfboard and be made of the same materials.
All participants must be standing on the surfboard and riding a wave unassisted for a period of at least 10 seconds.
The surfboard can be towed with all participants standing on it until it has gained enough momentum. The 10 seconds will start when the board is released and traveling unassisted.
Only participants who stay standing on the surfboard throughout the required 10 seconds will be counted towards the final record.
The question is, who is going to try and break it next?