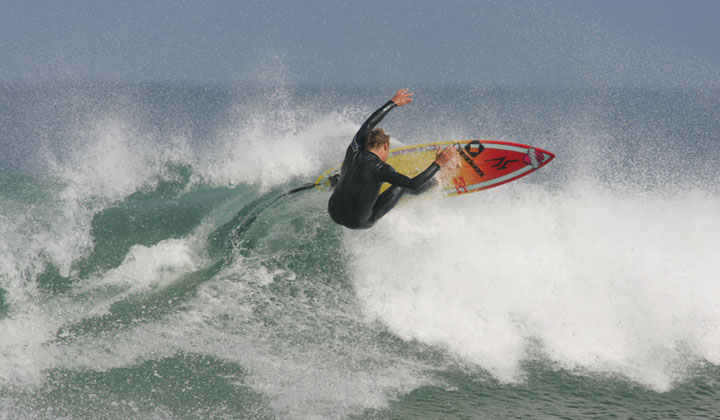 Sometimes all we need is a
surf holiday
to lift us out of end of winter blues, but choosing our destination can be tricky. There are a lot of amazing beaches and waves around Europe, so choosing one that suits you, your friends/partner/family can be a conundrum at times. Often the best choice is one that offers a wide variety of beaches to discover, and waves for all surfing abilities... so let us introduce Ericeira to you.
Last year Ericeira was classified a world surfing reserve. The stunning coast line boasts miles upon miles of incredible surf that caters for beginners all the way through to professional surfers. Each year Quiksilver hold their Portugal Pro contest at one of Ericeira's beaches 'Ribeira D'Ilhas', and just a few waves along is the infamous point break waves of Coxos that attracts the best surfers from all around the globe. However, for the more lighthearted surfer and those just beginning, it is the beach of 'Foz do Lizandro' that is far gentler and ideal for enjoying surfing.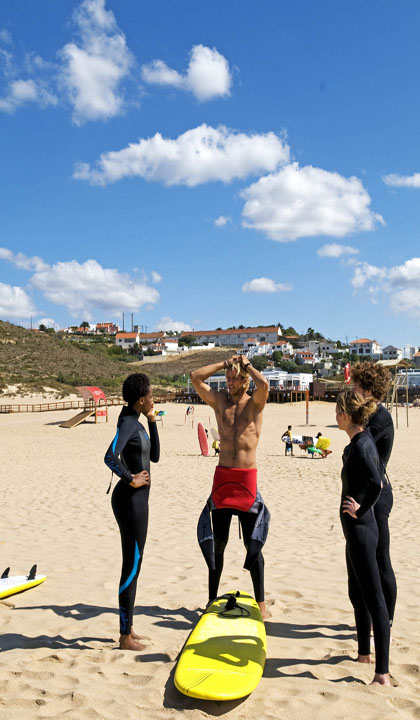 When first learning to surf a sense of humour takes us all a long way. We all find ourselves doing things we never thought we'd do, and being rewarded with an amazing feeling of accomplishment- no matter what the outcome of our attempts are in reality. Surfing lessons at Foz do Lizandro last for 2 hours, and the first lesson will start with a warm up, stretching and the practical 'how to' get from lying on your surfboard to standing up.... and then it's wave time. The instructors love surfing and give everyone lots of encouragement and tips to help them get to their feet as quickly as possible. However it doesn't matter whether this happens straight away of even after a few days of lessons. It's a matter of persistance, and enjoying how the ocean is already sculpting your body to do the job your asking of it.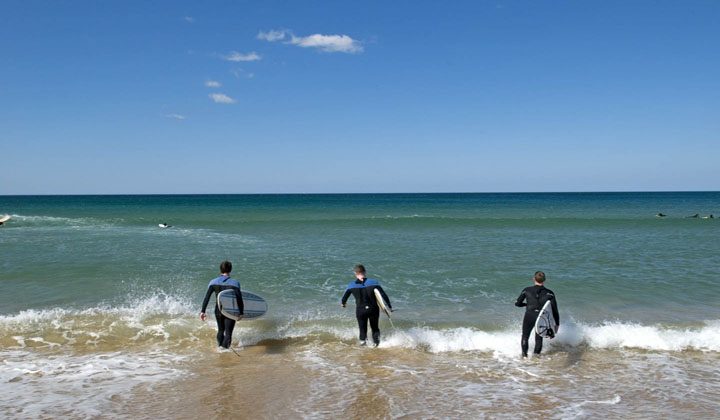 So after what would be a good but tiring lesson, it is always time to seek out the best restaurants and bars to enjoy a well earned meal and drink. Ericeira is famous for its seafood- look out for the speciality of gambas (shrimp) and steak. Wash it down with a glass of local wine or beer. It is also worth trying out the restaurants around Ribeira D'Ilhas for the view of the waves and the delicious pizzas. Few better combinations that feeling worked from the surf, eating a delicious meal and then hitting the pillow.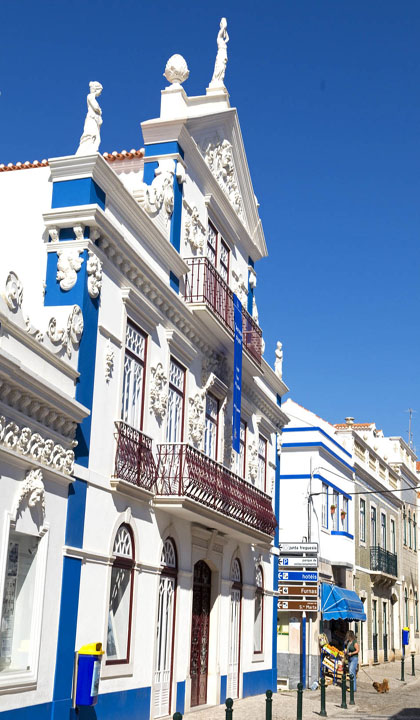 When the mood takes you for exploring your surroundings, Ericeira itself is very authentic and beautifully simple. The town has the traditional cobbled streets, with open squares framed by the whitewashed houses, churches and citrus trees. It is a place to enjoy in quieter seasons for some relaxation, and in season- for the fun that the myriad of surfers from around Europe bring in summer.
Ericeira itself is only 40 kilometres from Portugal's capital Lisbon, so a spot of shopping and sightseeing is always in order. The area surrounding Ericeira is also rich in heritage, with the striking Palacio de Mafra, the enormous Baroque palace, which is one of the largest on the planet. However, if architecture isn't your thing, then exploring Sintra, about a 90 minute drive away could be more your thing... think mountains, ravines, lush forests and even some fairy-tale like palaces and towers peaking out of the backdrop.
However, when it's all too much and all you want to do is curl up and relax at your surf home, it is time to return to the simple yet beautiful surf houses that overlook Foz do Lizandro. The Anna Margarida Complex was recently commissioned by the town for surf holiday makers. The complexes are a modern mix of Portuguese fishermen's houses with some extra touches. Full of character, mosaics, and small details, the houses have a relaxed air about them with a touch of the Gaudi. Perfect for inspiration, or simply to get some well earned sleep.... ready for the next sunny day of surfing.
For more information of the region and what the surf packages include, check out: