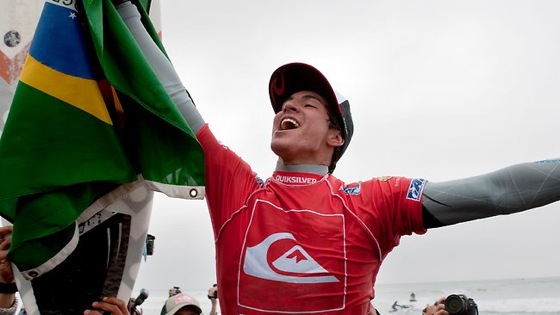 It was all change on the podium at the Quiksilver Pro France in
Hossegor
yesterday as tour rookie Gabriel Medina (BRA) claimed a dramatic victory over fellow rookie Julian Wilson (AUS).
After the last 3 ASP world championship tour (WCT) event finals being a match up between x10 world champion Kelly Slater (USA) and rising star Owen Wright (AUS), it came as a refreshing change when the new school took the reigns. The Quiksilver Pro France was stop number 8 of 11 on the ASP's dreamtour, so tensions are running high as to whether Slater will sprint away with the event crown and possibly world title. However, the Quiksilver Pro has eluded him yet again, and this time if was the young Medina who put a stop to his title quest.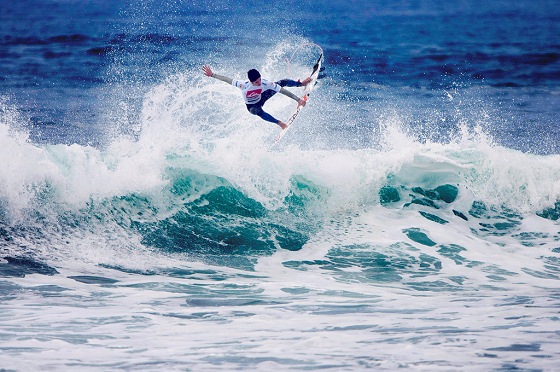 In the excellent 3-4 foot conditions at La Gravière, Hossegor, the busy beach witnesses 17 year old Medina defeat Slater in the quarter finals, living tour legend Taylor Knox (USA), and then clash against Wilson in the final. 22 year old Wilson on the otherhand had to defeat the dangerous aerialist Taj Burrow (AUS) in the quarters, and a back on tour and in form Jordy Smith (ZAF) in the semis. Both Medina and Wilson proved their metal by dispatching some of the tour heavies in order to make it to their first ASP final... And it was something superb to watch.
Spectators on the beach or online around the world viewed some of the most innovative surfing seen in a contest to date. Medina and Wilson both showed flare posting high scores for their ridiculous aerial maneuvers and linking turns and carves. Medina wowed onlookers with a perfect 10 in his semi final, demonstrating how to land impossible airs, whilst Wilson showed how to link it all together to look super smooth.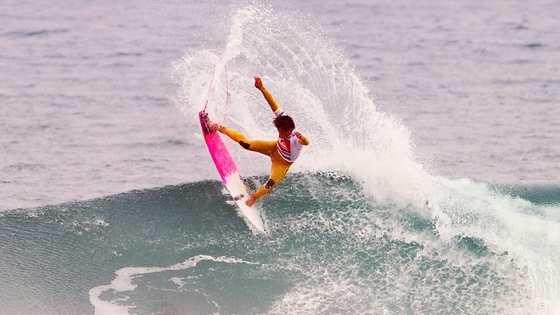 Even though Medina and Wilson were very closely matched with skills, and Wilson lead the majority of the final, it was Medina's day. In what was only his second ASP elite event, he claimed his maiden tour win, after he narrowly beat Wilson in the final minutes of their match up. Medina won 17.0 points to Wilson's 16.10.
Medina and Wilson's finals battle has helped to demonstrate why the ASP chose to run the mid year change over, where the top 32 surfers on the world rankings replaced the ASP WCT surfers. The majority of the elite surfers remained, but a few dropped out, with the result that new faces such as Medina, Wilson, John John Florence (HAW) and Miguel Pupo (BRA) have brought in what is being called the 'new school' of surfing.
Everyone is now looking out for the last three events of the dreamtour, as the attention shifts to the barreling waves of Supertubos in
Peniche
, Portugal.
The Rip Curl Pro Peniche
will be run from 15th - 24th October, and guaranteed we'll be in for some fireworks between Wright and Slater as they try to get closer to the world title win.