Nuno Sequeira is the owner of Surf Lisbon - House & School and a former pro-surfer. Last month we got the low down from him on his surf house and all things surfing.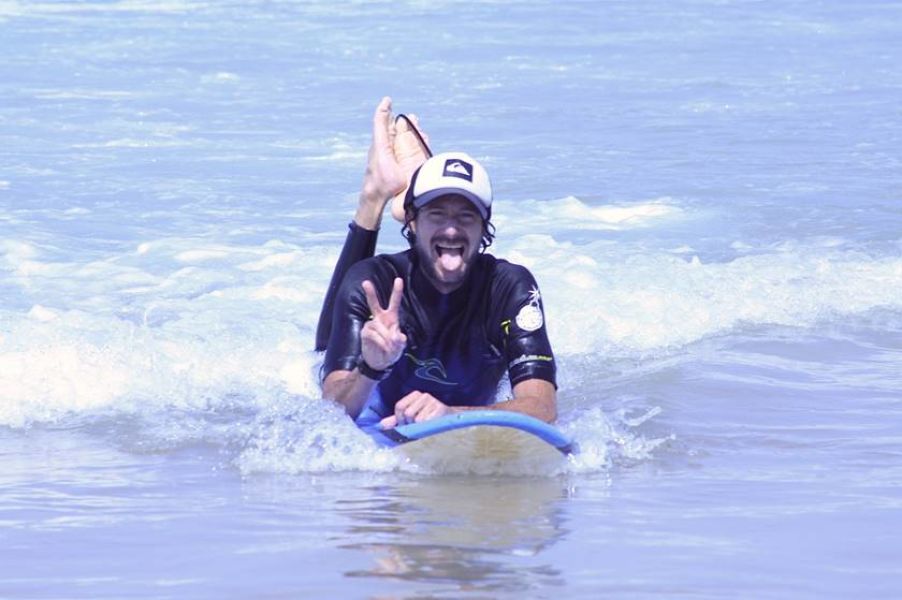 I have been in the ocean since childhood and started surfing in 1992 around Lisbon, where I have lived all my life. After quitting a job in a bank I became a surfing instructor while finishing my Sports Science degree.
From 2002 - 2007, I worked for other surf schools and training centres and then in 2008 I opened my own surf school. Along the way I saw lots of changes to this beautiful city and tourism growing day by day which led to Surf House opening in 2012.
All this and the possibility of surfing 365 days per year only 10/20 minutes from the city centre makes Lisbon one of the best surfing destinations.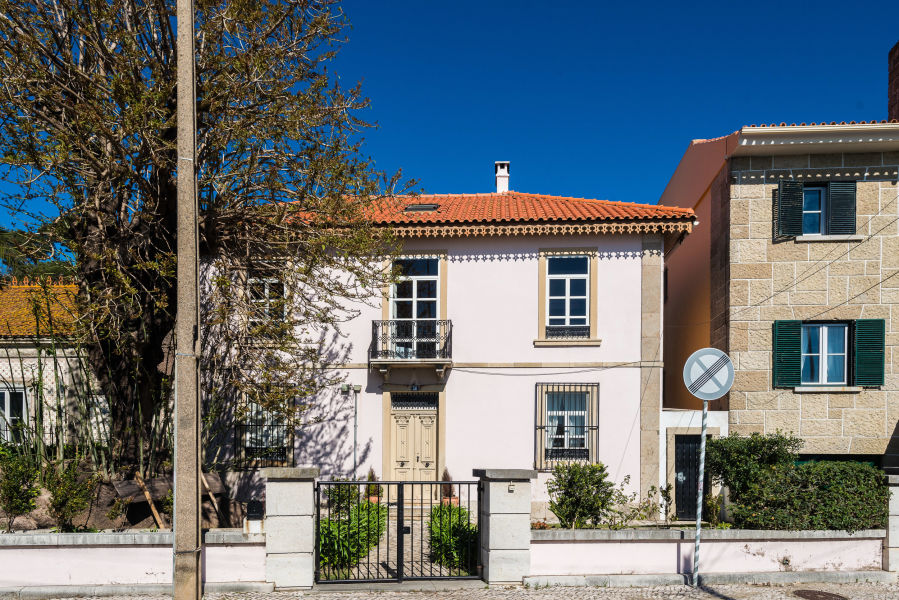 Surf Lisbon House, only 10 mins from the centre of Lisbon
2. Who are the people behind Surf Lisbon?
Since 2008 there has been a lot people who were (and still are) very important for Surf Lisbon and in the building of our reputation over the years.
First of all, Susana - the house manager - for supporting my obsession for surfing and for our business. She coordinates everything.
Bruno is the Surf Instructor Manager who, along with Ricardo and Tiago, is always available with their knowledge and experience and to pass it on to our guests in the water. Marta, the newest member, is the bookings´manager and takes care of the School and the House and Elis, who is with us since the beginning of Surf Lisbon.
After this core group, all the other surf instructors who with their passion and individual skills teach guests from all over the World.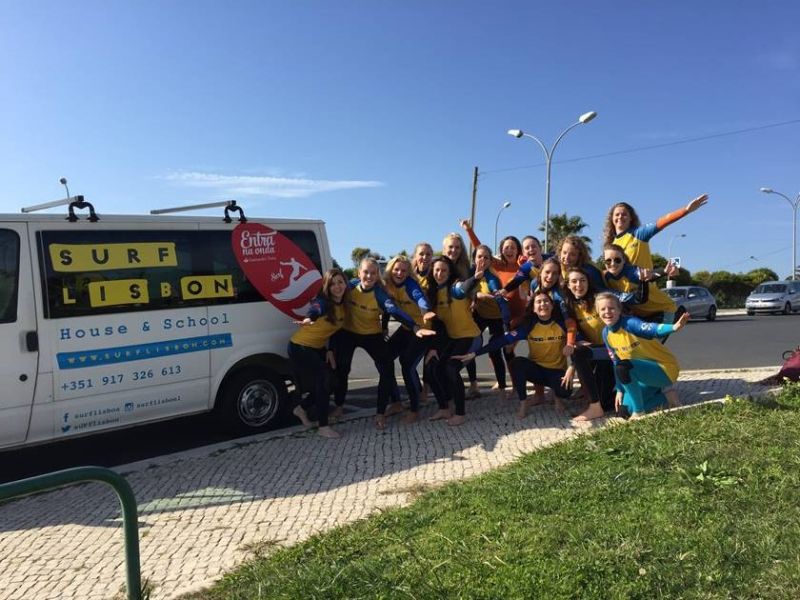 Girl Power!
3. What is unique about your place?
I prefer to leave that to the clients' feedback and reviews. What I find really unique is the fact people come back to stay for the second, third, even more than ten (!!) times as some do… well after so many come backs they become friends more than guests! Amazing to welcome and introduce surfing to people from all over Europe, USA, Canada, South Korea, Japan, Israel, Australia, New Zealand, China...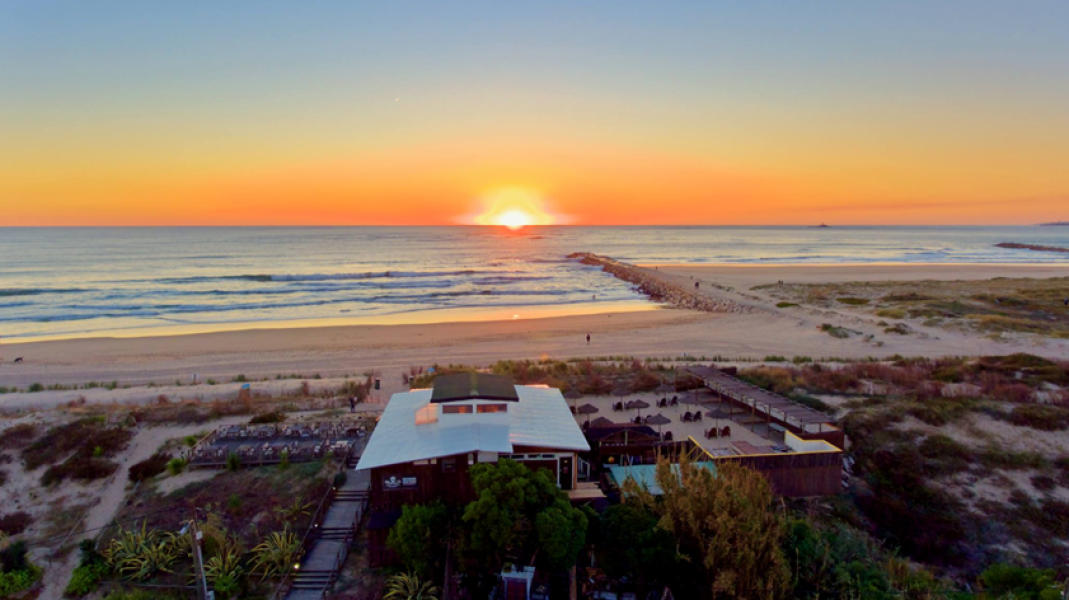 Surf Lisbon's use Caparica beach for their surf lessons
4. Aside from surfing, what 3 things should people do in Lisbon?
Definitely a walk in the historical centre and all the old neighborhoods - Alfama and Bairro Alto the most famous ones. Then visit the Castle and its great views. A visit to Cascais and Sintra. Have dinner in great restaurants and eat real Portuguese food with fresh fish, seafood and great wine on top of it. Go party until daylight with such a long and eclectic nightlife. Watch a music concert (all the major bands play in Lisbon every year and plenty of Summer festivals going on) or a fanatic soccer match. Opps, you only wanted 3 things?! Impossible, there is so much to do here!


5. How did you get into surfing?
As a kid I spent all my Summer holidays camping by the beach with my grandparents and boogie boarding with my cousins was the thing to do! I also started skateboarding at a young age so all these "board sports" or "sliding sports" were already a passion. At 16 years old (back in 1992) a friend of mine returned to Lisbon and brought a surfboard with him from Macau (former Portuguese colony but now belonging to China). That was the trigger to a big group of friends to start taking surfing and bodyboarding more seriously and practice it almost every day all year round. And here I am now, a "few" years later, trying already to pass the stoke to my 2 small children and running a business which I never imagined was possible going back to the early days. And I´m grateful for that keeping it hard working every single day!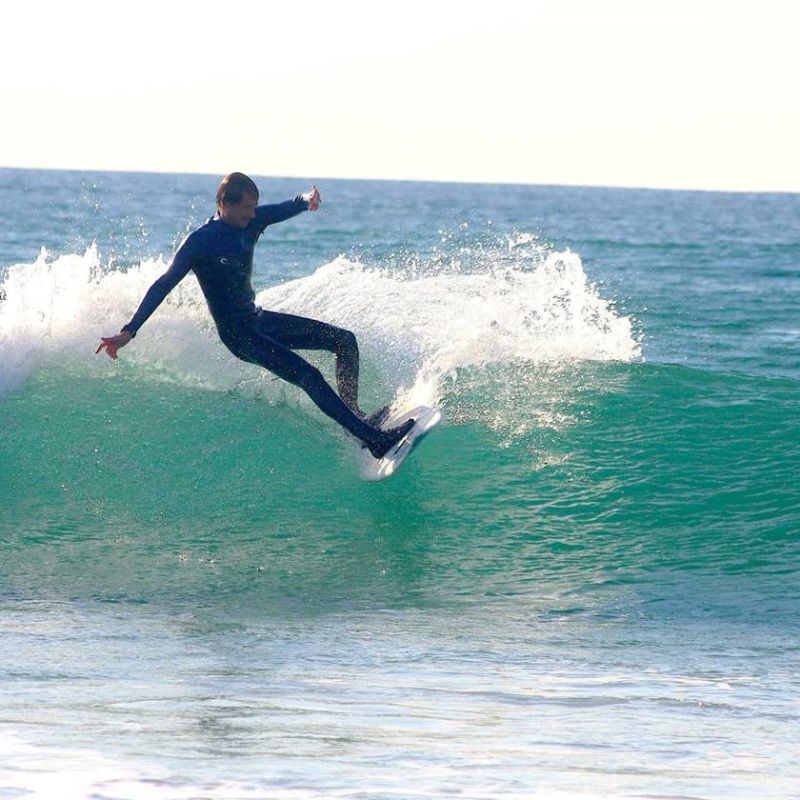 Nuno, surfing at Caparica- where Surf Lisbon's surf lessons take place
6. What is your favourite wave in the world and why?
Well, to be honest, I don´t think i have one favorite wave. Fortunately, I have been traveling a lot and surfed in some of the best known places in the World such as Haleiwa, Jeffrey´s Bay in South Africa, Trestles in San Clemente USA, the Maldives and many others. If i could put together the warm water from Maldives and the waves that the Lisbon area, from Caparica to Ericeira, has to offer, then that would be my favorite wave and surfing destination.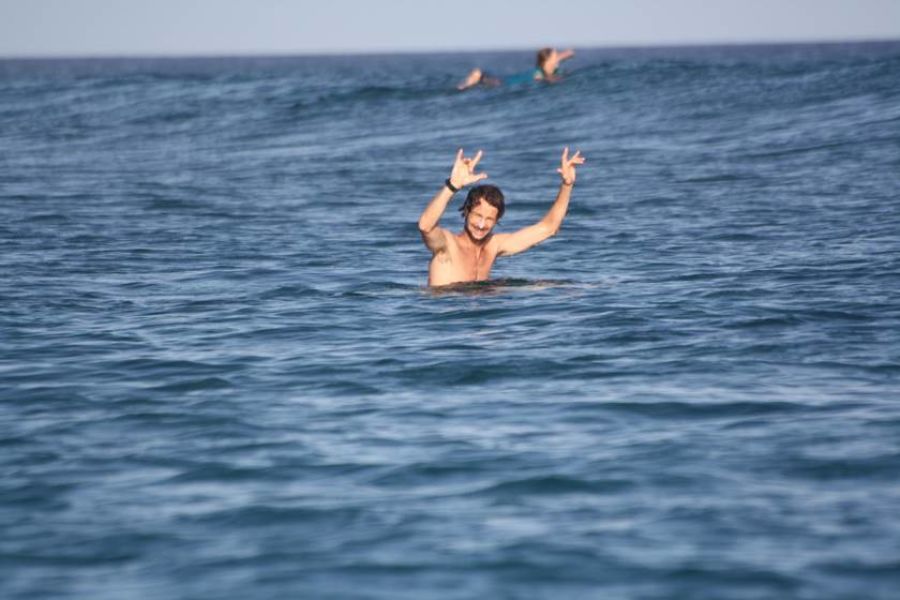 Stoked in Maldives!
7. What one destination would you like to go to surf?
At this stage of life I´ll be honest, there´s a tiny village in the northeast of Brazil that is my favorite destination (for now). It´s a warm water and weather location, friendly local people, easy and long waves for the whole family, good food, safe and relaxed place. Only a direct flight away from Lisbon. In a few years with my kids growing i´m pretty sure i´ll go back to Maldives and surf those longgggg, glassy, perfect blue color waves and enjoy it as the very first time!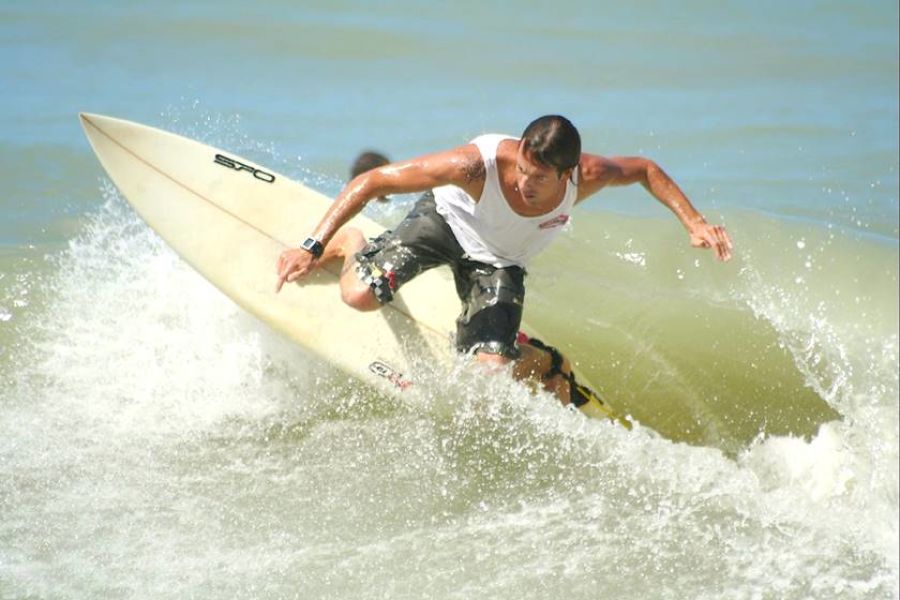 Nuno surfing Pipa in Brazil
8. Who is your favourite pro surfer?
I cannot mention only one, sorry once again! I always preferred the goofy footers, my stance. Occy, Rob Machado, the Hobgoods and Joel Tudor. Then, the obvious regular footers and legends: Kelly Slater and Andy Irons. Nowadays, without a doubt, Gabriel Medina and John John Florence. And a big mention to the two portuguese surfers ever in the World Tour: Tiago Pires and the grommet Frederico Morais (amazing rookie year in 2017!).


9. Funniest surfing story?
Ahhh, that's a difficult one as so many stories happened throughout all this time… many can´t even be revealed in public! One of the best was for sure a day (maybe 20 years ago!) i was driving home from surfing at Caparica with two of my best friends. Suddenly, when I tried to slow down the car, the brakes didn´t work and i hit the back of a big truck. It was not a big deal but the few seconds before the hit all the yelling and all our faces were impossible to describe! We kept driving all the way to Lisbon with no brakes (only the hand break was working) and a few more close hits (and lots of laughs!) until almost getting home and hit another car once again… epic!