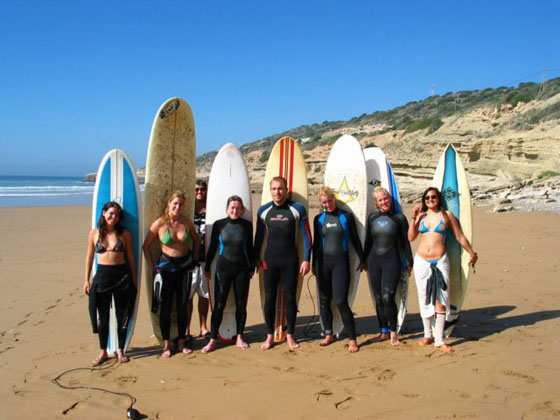 You have booked your holiday. You're going to join a
surf school in Portugal
for your first Lagos surfing holiday experience on its beautiful West Coast. So the question is- how do you get to Lagos? You can fly to either Faro Airport in the south of Portugal (less than an hours drive to Lagos), or to Lisbon Aiport (about three hours drive away). Here's the break down of how to get to your dream surf destination:
Before you even think about how you get from the airport to Lagos itself, take a look at
www.wegolo.com
website for the best cost airlines close to you that fly to either Faro or Lisbon.

If you've opted to fly to Faro, the you have a wide variety of options available to you to take you to Lagos. If you're on a budget then taking the train or the coach to Lagos is ideal. Either take a quick taxi or bus to the train/coach stations (cost approx €5-€6, and then if taking the train (cost €7 each way) it will take you about two hours to reach Lagos, but through beautiful countryside. Whereas the coach (cost €6 each way) takes you through small towns and villages and also takes two hours.
For those of you who would like a more direct route, a taxi will set you back over €100, but will only take an hour to reach Lagos. You could also share a taxi or mini bus with our parter
A2B
, which will drop off its passengers on route, so would take a little longer to reach your destination- between 1.5- 2 hours. Alternatively if you want to explore the region independently during your surf holiday, think about hiring a car (we have a discount deal with Hertz
www.hertz.com/surfholidays
).
If you've decided to fly to Lisbon the journey to Lagos will be longer, but there are easy ways to make the journey affordable and smooth. You're options are train, bus, or hire car.
We would always recommend hiring a car so you have the freedom to explore the stunning region, however if you don't fancy the 2.5 hour drive down the coast, then consider taking the train from either of Lisbon's stations: Entrecampos or Oriente. You will need to take a bus or taxi to either of these stations, and then take the train to Tunes (approx cost €21). There are usually at least 4 trains a day, and the journey takes 2.5 hours. From Tunes take a further train to Lagos itself (cost €4) which takes about 30 minutes.
For those of you opting to take the bus, take a bus or taxi from the airport to Eva bus station in the centre of Lisbon. There are six buses a day that go to Lagos, and the journey will take about 4 hours but will only cost you about €20.