If you're looking for great waves all year-round, gorgeous weather, delicious food, vibrant atmospheres and rich history we have the answer… a Spain surf trip! Home to some of the best beginner surf beaches in Spain, it is a great destination for surfers of all abilities as it has a varied coastline that offers up reefs, points, river mouths and beach breaks.
What's great about Spain is that it's one of the best destinations for beginner surf beaches as the country's surf conditions are forgiving yet consistent, meaning that you will always find manageable waves on our surf camps.
Regardless of swell size there will always be a break that delivers perfect waves, t
o give you an idea of what's waiting for you we have picked the top five beginner surf beaches in Spain, see them in our map below: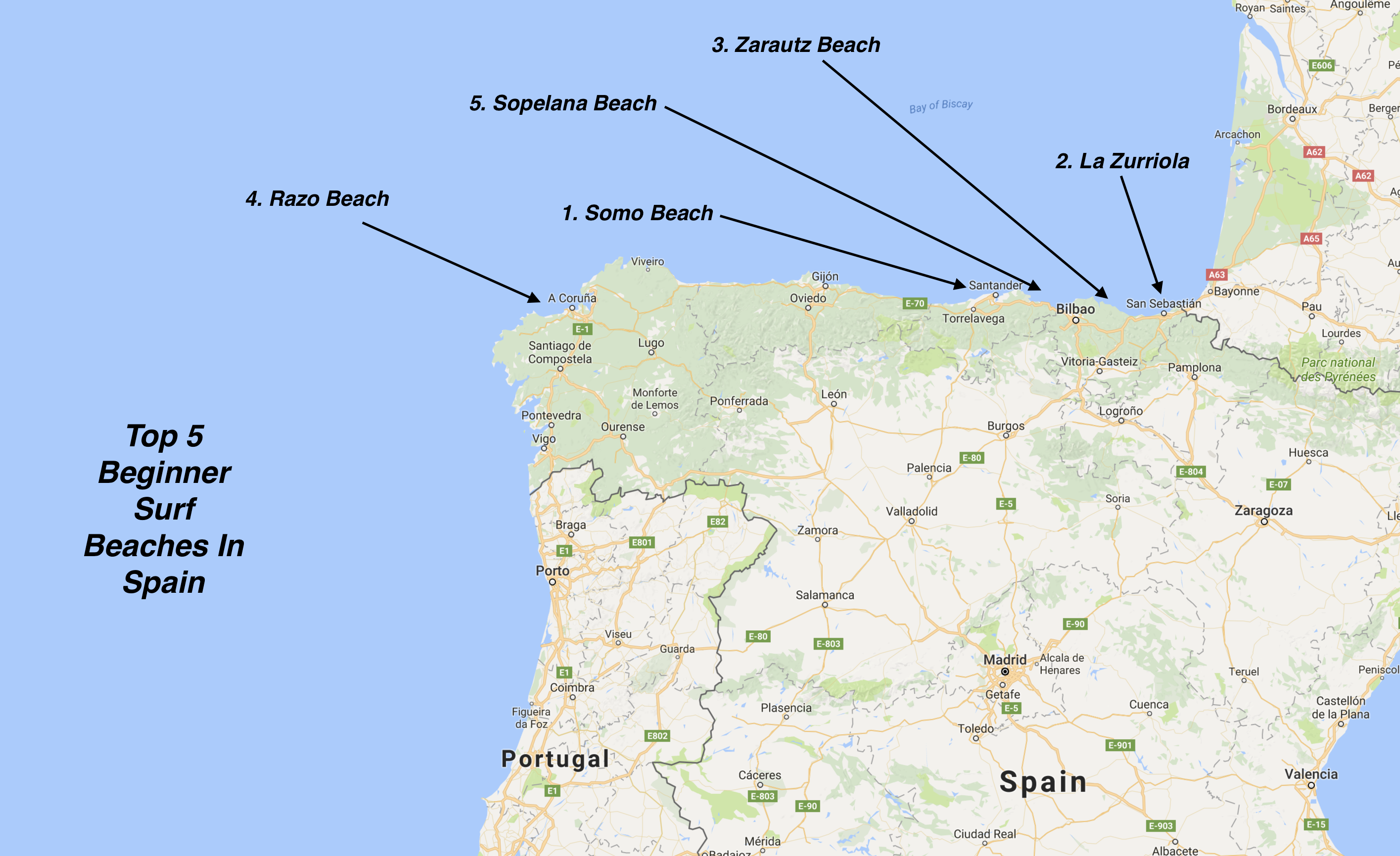 1. Somo Beach, Santander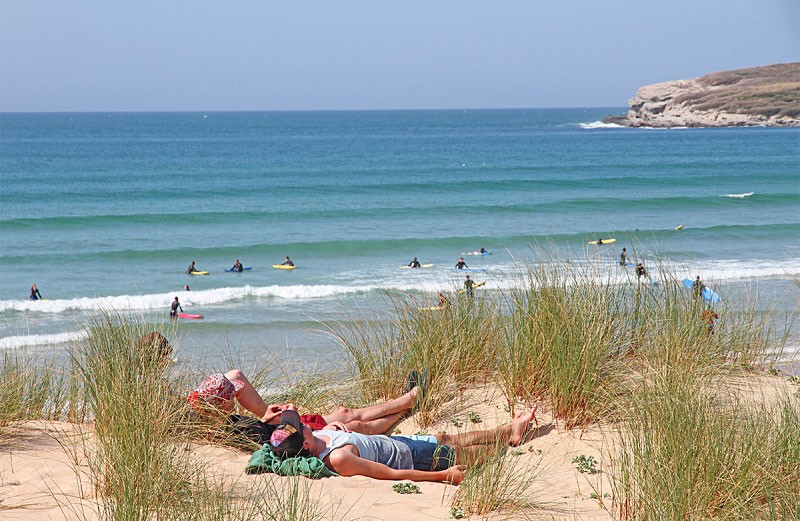 A fantastic beach to head to on your Spain surf holiday as it's one of the most consistent breaks in the country that works best on small and medium sized swell; this makes it the perfect location for beginner and intermediate surfers.
It's a beach lover's paradise with golden dunes that offer some of the best views of Santander city and the rest of the Peninsula de la Magdalena, in between surf sessions have a wander around the area or take part in one of the numerous beach football games with the locals.
It has a variety of peaks that work at all stages of the tide and has a thriving local surf scene who are more than happy to share the waves.
The beach has great facilities that include lifeguards, showers, toilets, cafes and surf shops… what more could you want?

2. La Zurriola, San Sebastian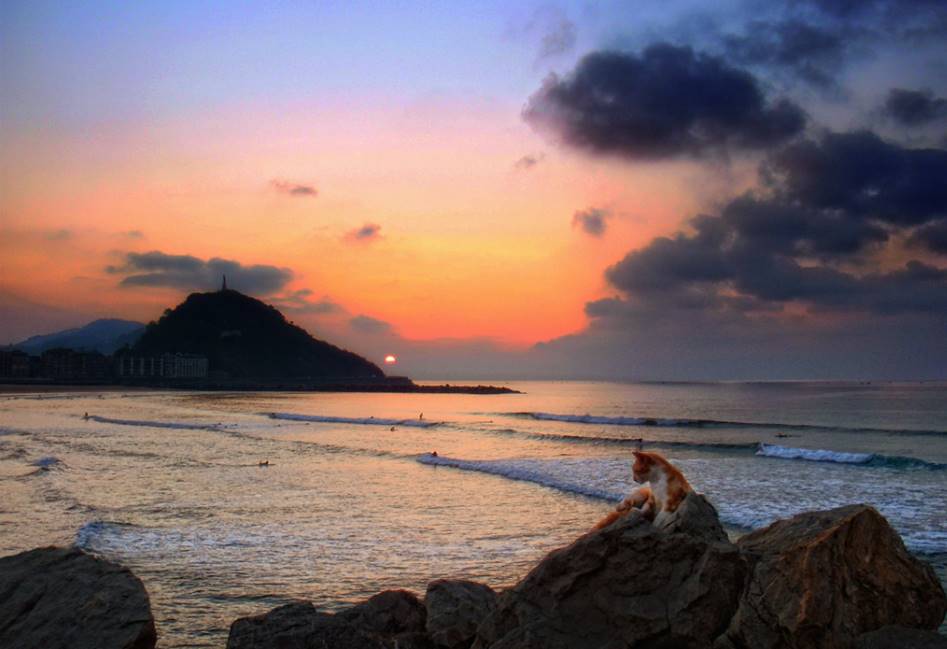 Located in the beautiful Basque city of San Sebastian, La Zurriola has a variety of peaks that are constantly groomed from the rivers, providing good left and right walls that best surfed on smaller swells as it tends to close out as it gets bigger.
The area is steeped in history for those wanting a cultural hit when on our Spain surf trips, soak in the Basque history and enjoy delicious local cuisine in the town.

3. Zarautz Beach, Zarautz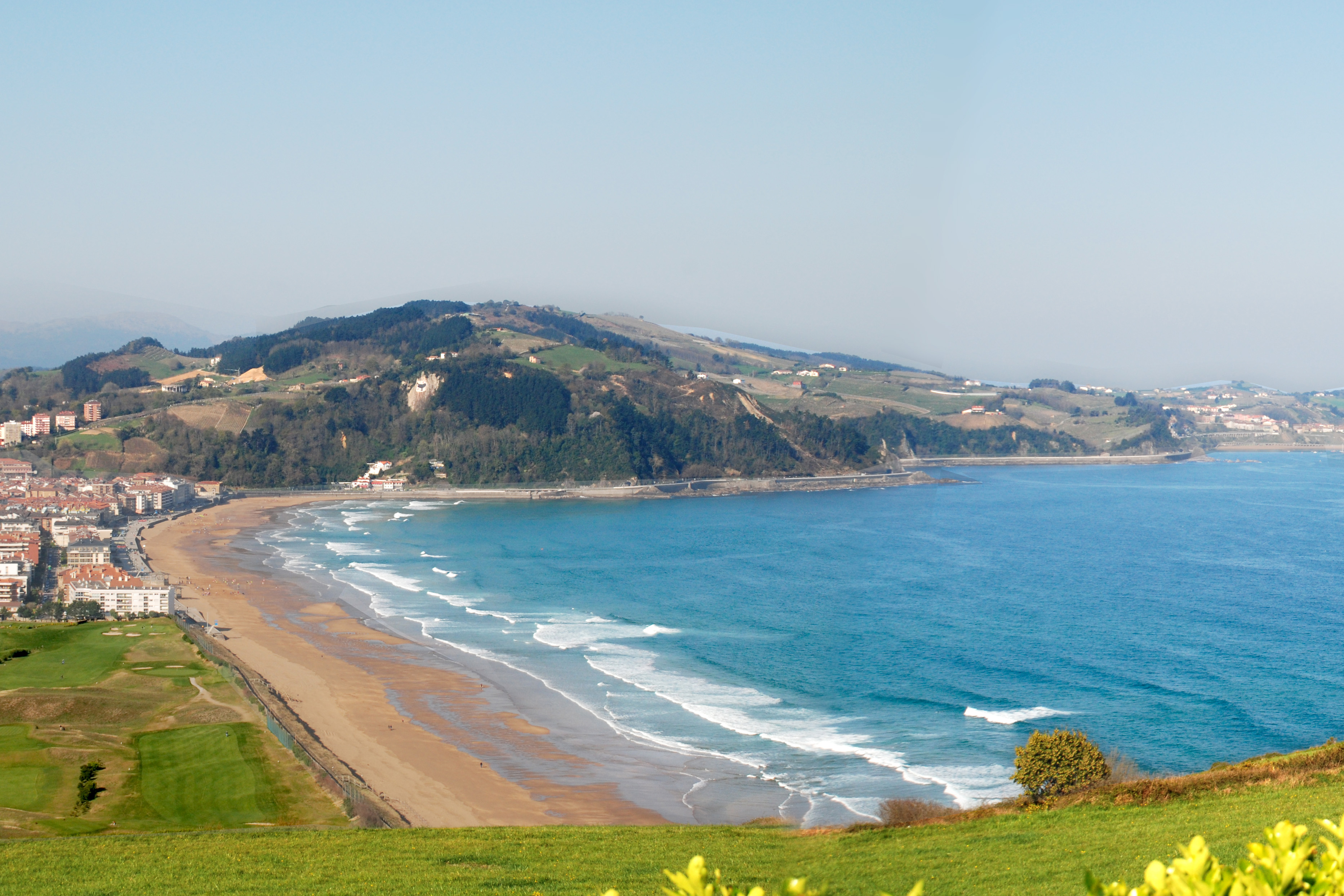 What makes this spot one of the most popular surf beaches in Spain is that it needs barely any swell to work, as well as the fact it is a long expanse of beach that offers up a variety of fun peaks waiting to be surfed.
It produces great beginner waves nearer to the shore and some more powerful walls for intermediates out the back. It has great facilities such as lifeguards, surf schools, showers, toilets, beach games and a beautiful promenade that extends along the beach, perfect for post surf amble whilst stopping in for refreshments!

4. Razo, Galicia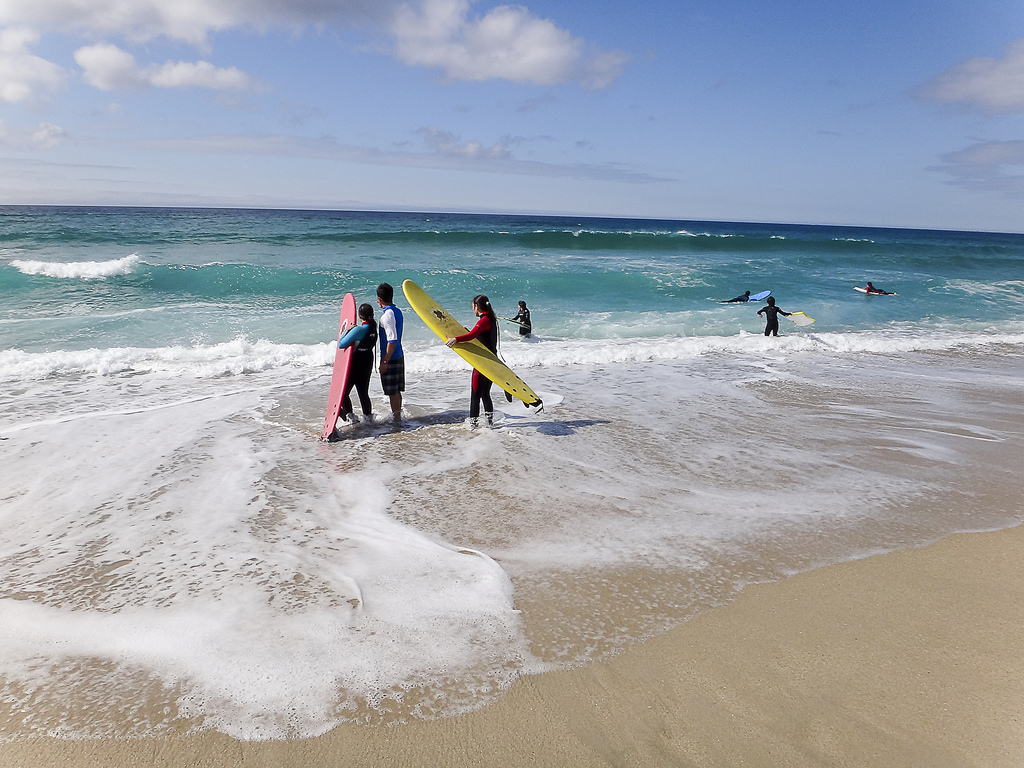 For uncrowded relaxed waves on our Spain surf resort trip head to Razo, this long stretch of sand offers up an extra foot of swell compared to nearby breaks, making it a go to spot when everywhere else is flat.
It offers up great left and right walls, which work at all stages of the tide, perfect for practising moves.
What makes this spot so appealing is the fact that you'll probably share the ocean with just a few other people, which means more waves for you!

5, Sopelana, Pais Vasco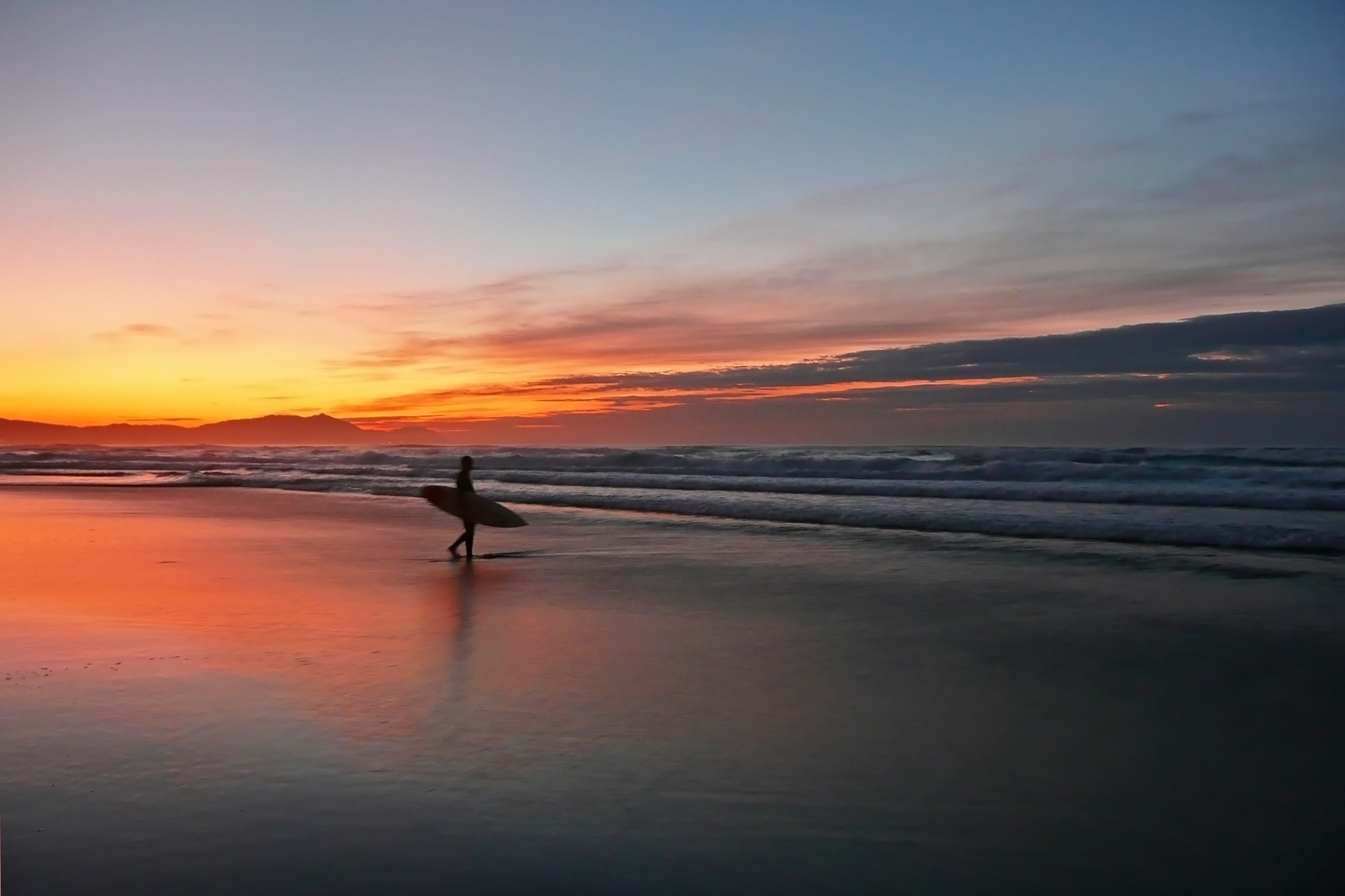 Sopelana is a very consistent beach break that offers great punch peaks that wall up slowly and work at all stages of the tide.
At high tide you'll find a good peak at the western end of the beach that will appeal to beginner surfers with a few sessions under their belt. It's has some great surfers in the water, so if you see someone ripping, have a chat and they might divulge some tips to have you progressing to the next level.