Name: Aritz Aranburu
Home town: Zarautz, Basque Country, Spain
Age: 24 (dob 30/08/85)
Stance: Regular
Sponsors: Quiksilver, Pukas, Fiat, DC Shoes, Reef, Kirolgi
Over in the Basque Country of Spain during the 90s you would have found a grommet of the name of Aritz completely tearing up the surf scene. Ridiculous talent and Basque pro surfer mates quickly propelled Basque/Spanish born Aritz Aranburu into the surfing heavens, carving a way into first the World Qualifying Series in 2005 and then the World Championship Tour in 2008. So who is this Basque surfer who rides like wildfire?
Aritz Aranburu was born and raised in the Basque Country of Spain. Growing up in the world class
surf destination of Zarautz
and getting his first short board at the tender age of 7, you could say that Aritz had something of a head start into the surfing world. By age 11 he was entering surf competitions and winning, and this didn't go unnoticed.
Aritz has had the support and coaching of legendary local surfers such as Ibon Amatriain, Patxi Larranaga and Aitor "Gallo" Francesena who became his coach. Between the Aritz's fierce drive, talent and his mentor's training, Aritz turned professional in 2005 when he was only 19 years old.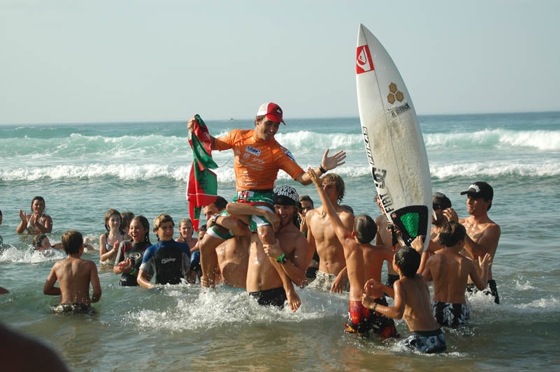 It took two years for Aritz to gain entry to the elite ASP world championship tour, and in the process he picked up an award or two. He won a couple of events that year in 2007, but none so memorable as his win at home at the Zarautz Pro Surf contest. His performances and rise to the elite tour earned him "Best Athlete of the Year 2007" from his Basque Government.
However, upon arrival into the dream world tour in 08' Aritz suffered a set back whilst surfing in the Gold Coast of Australia. He injured his ankle and with it missed out on 4 events, seriously limiting his chances of requalifying. Luckily Aritz convinced the tour to give him an injury wildcard to 09', so he was back in action.
Yet things still haven't been smooth for the young Basque surfer. He reinjured his ankle in 09' and couldn't regain access to world tour for 2010. However, all is not lost when you surf like there's no tomorrow. Last year Aritz achieved a 3rd in the Billabong Pro Tahiti, and it looks as if he's back to that same form this year.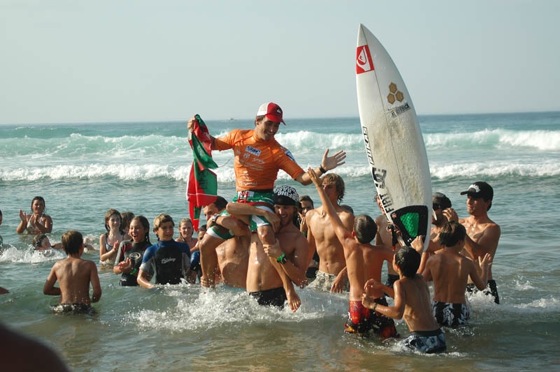 Now that the ASP's world rankings system has changed, every event a surfer competes in can contribute to their rise up the world rankings.... And Aritz has just won the last international competition- The Maresia Surf International in Florianopolis, Santa Catarina, Brazil. His win propels him from 60th to 35th in the world rankings, and helps to set the stage for a great come back.
So keep an eye out for this great European surfer who is sure to make a return to his normal firey form and blaze a new trail for other European surfers to come.