He'e nalu surf camp Morocco
He'e nalu surf camp Morocco
Hay Tissaliouine, Tamraght - Taghazout, Morocco
Chat with a host who can help organise your trip...
The Place

Private & Shared room options
Couples
Families
Groups
Solo travellers
He'e nalu surf camp Morocco
He'e nalu surf camp Morocco is a Hostel to style, situated on the hill of Tamraght front of Banana Point, With a gorgeous panoramic sea view that has most famous surf spots in Taghazout Bay.
The house is newly built with modern construction and a mixture of European and Moroccan decoration. It has a relaxing and cozy atmosphere; the rooms are spacious with comfortable beds and new clean sheets.
No bunk beds
We have 6 rooms in Total, plus one apartment with 2 bedrooms.
The outdoor dining area is a perfect place to chill out, forget your worries and mingle with other surfers.
Location
The Surf camp Morocco is located in Tamraght, it is a peaceful and quiet Berber village located a few kilometres south of Taghazout, 15 Km north of Agadir, 45 min away from the airport.
It's a perfect place where you can really feel like you've gotten away from it all.
The neighbourhood is very quiet, perfect for people who are looking for relaxing vacation in Morocco, away from the city. The house has an amazing panoramic sea view, on Banana Point, Devils Rock and the main beach break of Taghazout Bay.
Reviews

Facilities

Room types

Getting there

Surf Lessons

Waves

Terms
2 REVIEWS
Summary
Accommodation
Surf Lessons

Jiva
London, United Kingdom
October 2019
Travelled solo
How did you like the accommodation?
The accommodation is great. I had a quiet room on the 3rd floor with a comfortable double bed, connected to a living room area and a big roof terrace. The sunsets were breathtaking and overlooks the ocean.
Tamraght as a town is away from the smells and noises of Taghazout. If you want a quieter trip with more locals this is the place to be.
I ate at He'e Nalu surf camp every night and to be honest wouldn't even have considered a restaurant after my first nights food. Fatima (cook and all round sweetheart) made the food with love and it was so tasty and prepared in traditional ways. Every night was a different mea and delicious. Like home cooked food. Amazing.
Each evening I also ate with my surf instructor Kareem and the owner Imane (gorgeous, sweet and lovely and so down to earth) would join us a few times and we would sit, laugh and chat.
How were the surf lessons?
My surf Instructor Kareem was amazing and gave you so much time and direction. However he wasn't just a give instructions and stand on the beach instructor. It was more like entering the world of surfing and understanding the feelings, the soul and the vibe of life as a surfer. I looked at other camps and how different Kareem was. Rather than being just another foreigner coming to learn to surf, I felt I have instead made a friend for life.
Every day we explored different beaches and Kareem on the first day pointed out what I need to look for on a beach - rocks, current, time of break and looking at sets. Each day we would go to a few beaches and he would ask me to judge whether the waves fit my needs.
Also, everyone knew Kareem and you could see he had great respect from fellow surfers. So if you want to stay away from the factories of surfer, there is no place better than here.

Franky
London, United Kingdom
November 2018
Travelled solo
How did you like the accommodation?
The accommodation is great, I was given a really nice room on top floor. It's clean and tidy. The lounge/ kitchen is great and made me feel very relaxed.
I didn't explore the town much as I spent most of my time surfing but Agadir looked lovely during my short visit there. The surf instructor also took me to the town/ shops when I needed.
How were the surf lessons?
I am a beginner and my instructor really helped me a lot on getting started and enjoying the process at the meantime. The pace of the lessons were great. He's also a happy and encouraging person and nice to get along with.
The only beach working was Anza during my stay there, I wasn't particularly picky as a beginner but there were some good waves in the mornings. It did get crowded at times but I liked it overall.
You can never get lost
When you book you will receive our confirmation email with full travel directions of how to get to us.
We provide Airport Transfers from and to Agadir (El Massira) and they can be booked in the booking steps.
Price for 1-4 people: €30
Price for more than 4: €50
- Nearest Airport: Agadir (El Massira)
- Distance from Airport in kms: 35
- Time from Airport in a car: 45min
- There is no train from the airport
- There is no bus from the airport
Come Surf With Us
Surf Lessons can be added in the booking steps if they are not already included in a package.
Instructors
Main Surf Beach: Banana Beach - Devil's Rock - Crocro Beach - Taghazout Panorama beach - Anker point - Killer point - La Source
Surf Lessons we offer:
Kids Surf Lessons
Beginner Surf Lessons
Intermediate Surf Lessons
Advanced Surf Lessons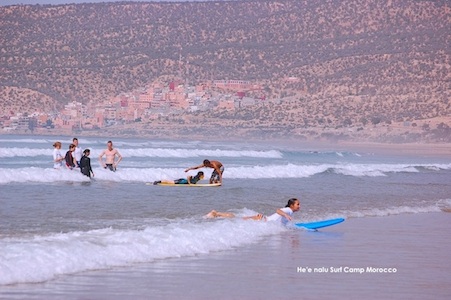 Panorama beach Taghazout
Level: Beginner
Beach break perfect to begin surfing in. It'a a large beach around 4 km. We teach here when the swell is Big in Taghazout, this beach is located on the side of the Bay so the waves are always smaller then the other beach break in the area.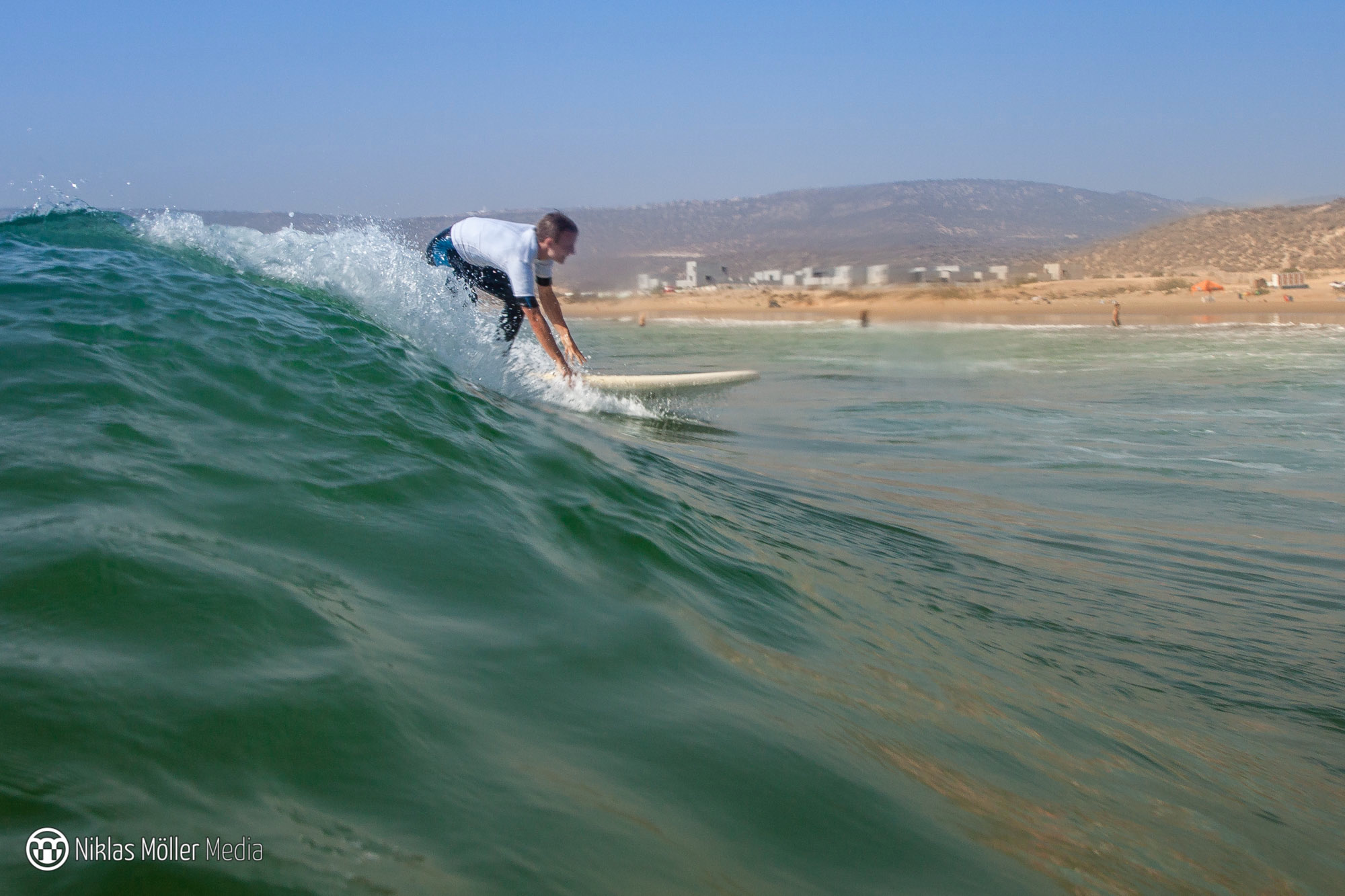 Crocro Beach Break
Level: Beginner
This spot is located front of the village of Tamraght 4km south of Taghazout. Crocro is a beach break also perfect for beginner and intermediate surfers.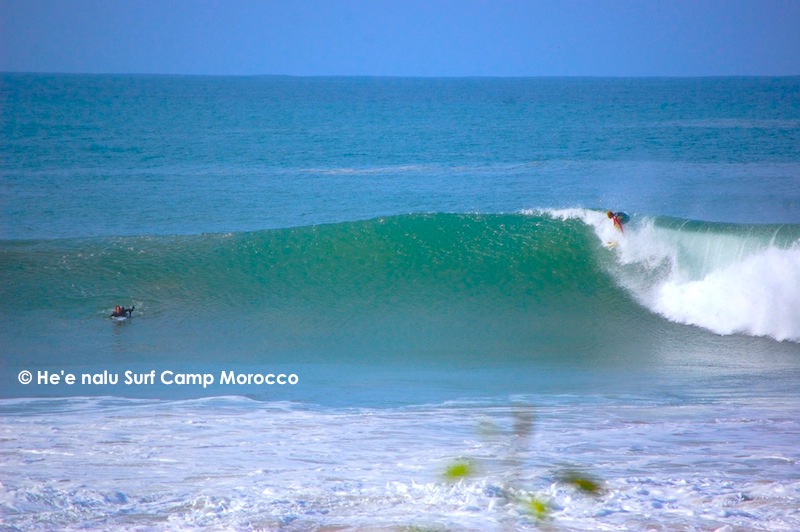 Anchor Point
Level: Advanced
The left can be very fun, can be surfed in high tide. The right, mythic Southern Moroccan wave unrolls on the flat stone. It needs a consistent swell or high tide coefficients. The quality of the wave depends of the sand silt up. The launching in water and the way out are sometimes hard so look around before jumping in the water – often a lot of people and some stones…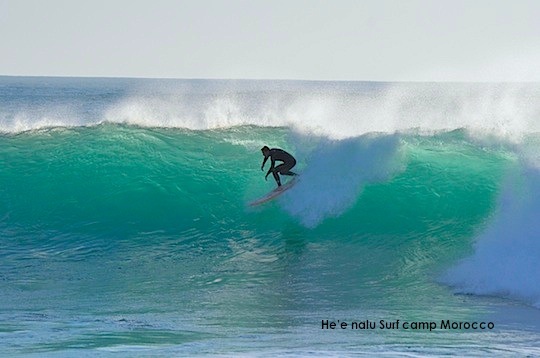 Boilers
Level: Advanced
Experienced surfers only.Reef Break
Agadir
Level: All Levels
Large sandy bay where some beachbreak peaks unroll and have a tendency to close up to 1.20m. Walking South towards Oued Massa's river mouth, close to the Presidential Palace, some quality peaks. An alternative when the coast saturates.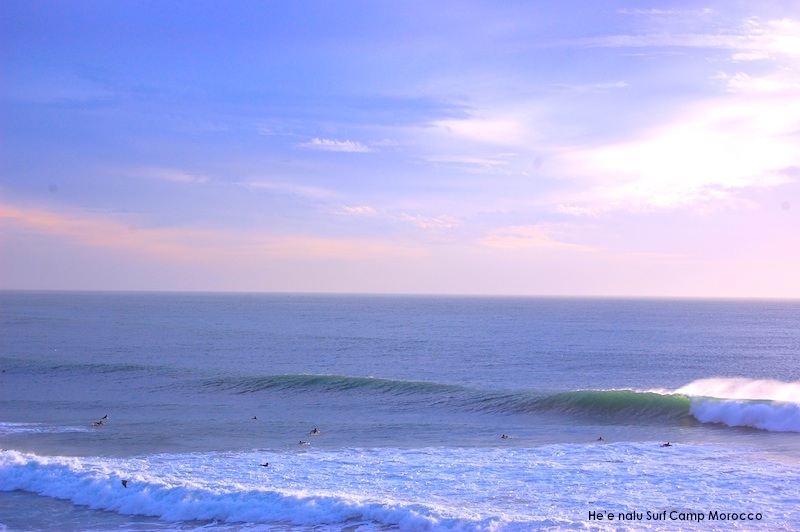 Banana point
Level: Intermediate
Long right coming from a cliff and ending up on a pebble or sand beach. This low tide wave can be extraordinary, turning into a nice right left peak and sheltered from the Northern wind in the rising tide.
Le Rocher : Small beach isolated between two rock advances. Beachbreak that can almost always be surfed with some very good to quality waves sometimes.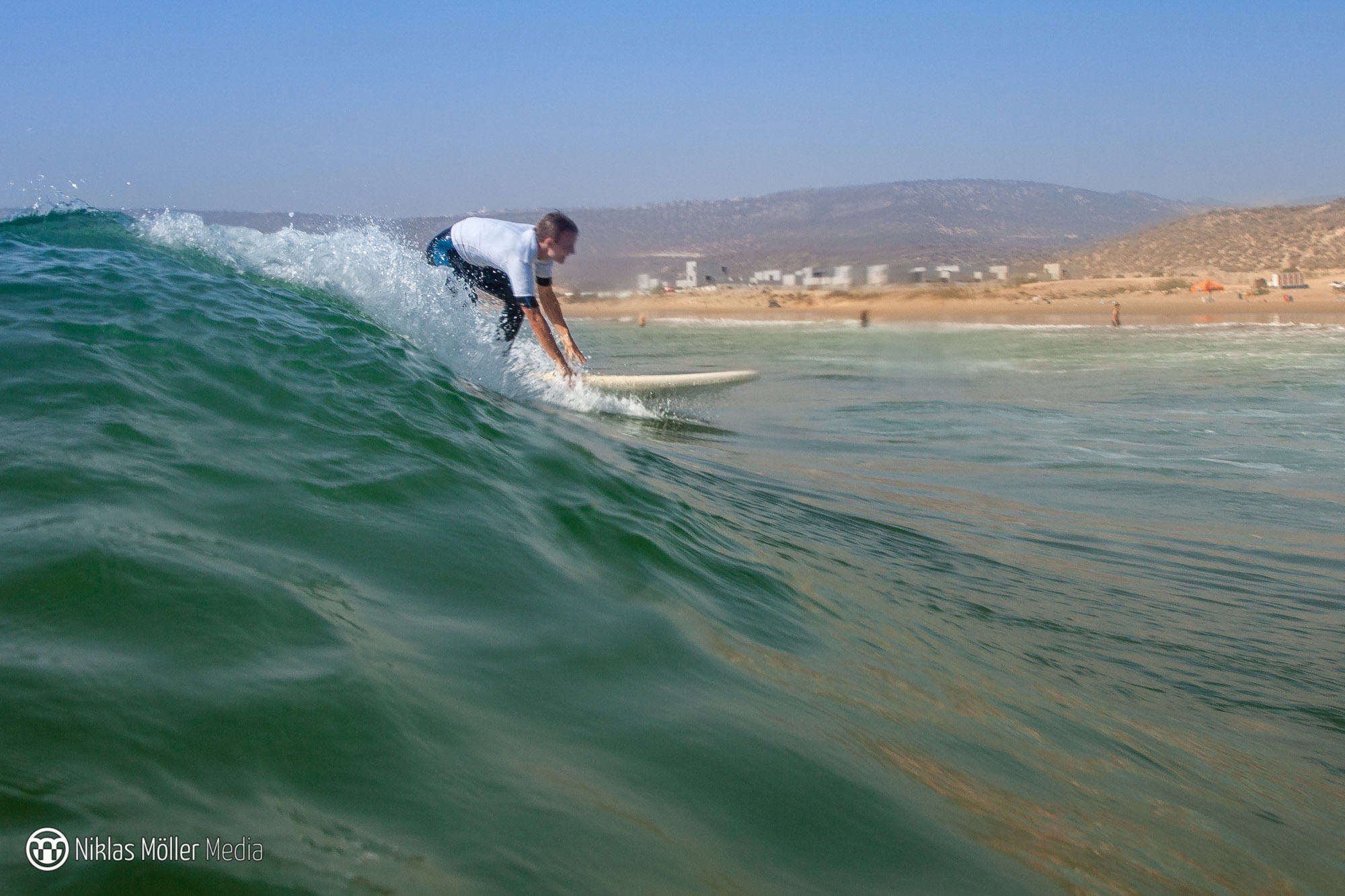 Devil's Rock
Level: Intermediate
Nice and quite easy wave – usually for beginners –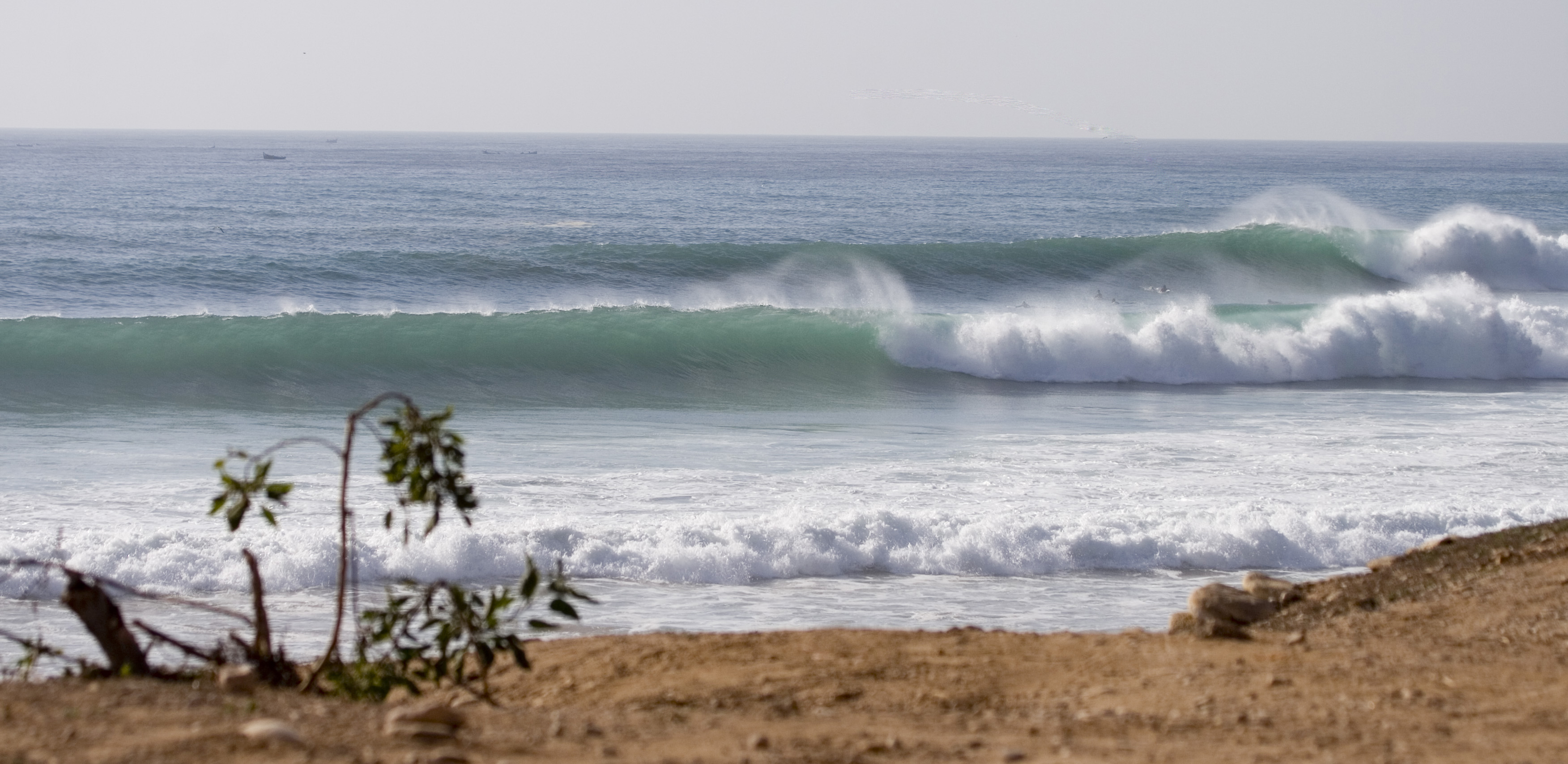 Mysteries – La Source
Level: Advanced
Risky right according to the sand silt up, starting from a rock vein. Although it can be awesome, the surfers often sulk it. A great opportunity for a quiet surfing session between friends.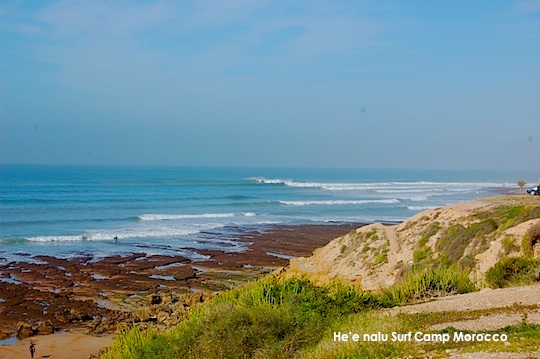 Killer Point
Level: Advanced
a long right on the flat stone working in various size and composed of 3 sections :
to the first one, the farther is a large basin
to the middle one, much longer than the 1st one is composed of lots of quick sections
to the inside, long and hollow, is smaller and steadier.
When the swell is quite heavy (1.50m), those sections can be connected and the wave allows a 300m surfing. From this size, the wave current and power become dangerous and require a very technical surfing.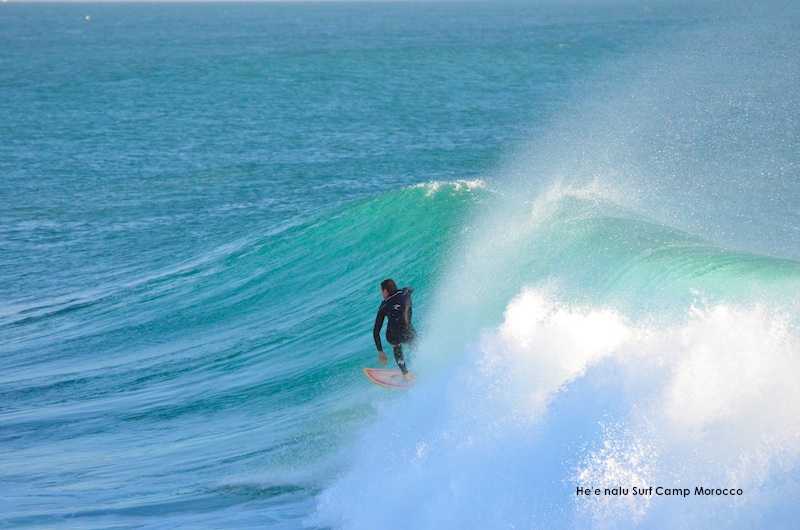 Boilers
Level: Advanced
also known for its sea to urchins, this is a spot that well to receive the swell. Offshore wind, sideshore by a Northern wind, a very good right on the flat stone of the rock. Not many waves, very quickly crowded and can be surfed from low to half to tide. Not easy launching and coming out of the water for those who are not used to rocks, boots are recommended. Reachable for regular level surfing.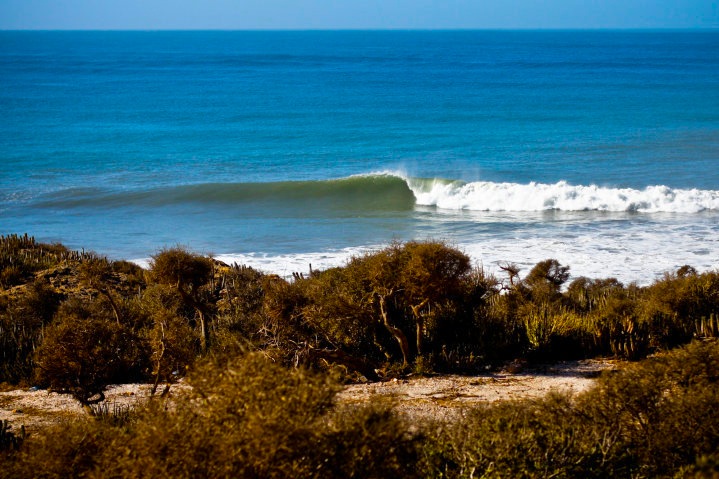 Dracula
Level: Advanced
Impressive place, incredible right, probably the most powerful of all, reserved for very good surfers, can handle heavy swells, difficult launching, and uncertain coming out of the water.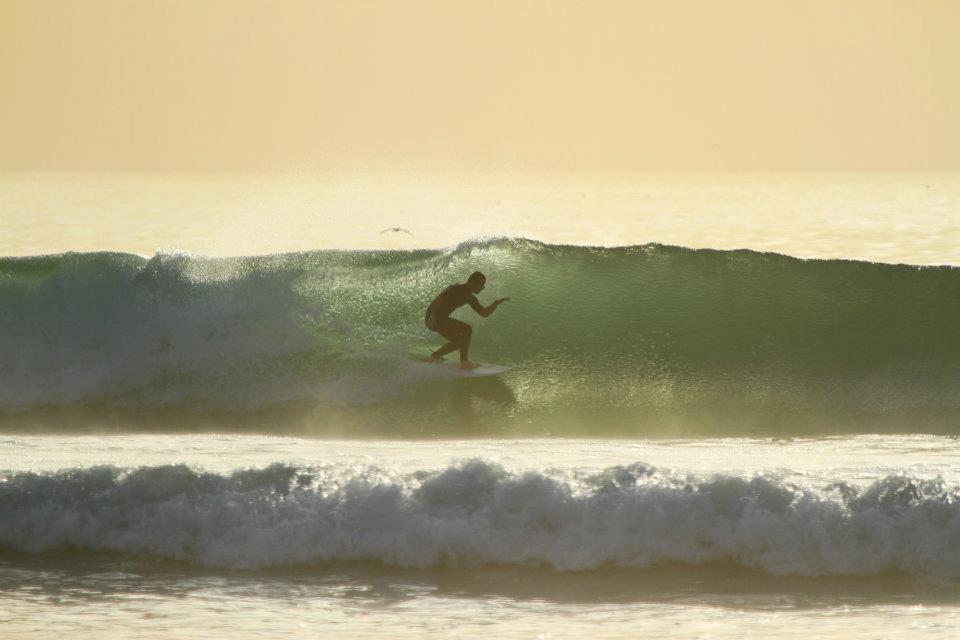 Tamri
Level: All Levels
A beachbreak that takes well the swell in little condition days.
Surf conditions in Taghazout:
Beginners:

JAN

FEB

MAR

APR

MAY

JUN

JUL

AUG

SEP

OCT

NOV

DEC
Intermediates:

JAN

FEB

MAR

APR

MAY

JUN

JUL

AUG

SEP

OCT

NOV

DEC
Advanced:

JAN

FEB

MAR

APR

MAY

JUN

JUL

AUG

SEP

OCT

NOV

DEC
Rain
Wetsuits
JAN/FEB
MAR/APR
MAY/JUN
JUL/AUG
SEP/OCT
NOV/DEC
---
The surrounding 10km area of
Taghazout & Tamraght
have gained legendary status as a surf mecca and without doubt Morocco's surf capital. There are not many places in the world that have waves accessible to beginner, intermediate and advanced surfers but this area has it all.
Taghazout waves includes the beginner/intermediate surf spots
Panaromas & Hash's Point
. Further south is the long stretch of beach that leads to the next town of Tamraght, a fantastic learner area with two advanced breaks at the south end
Devils Rock & Banana Point
.
On the north end of town is Moroccos most famous wave,
Anchor Point
, a world class long right break. And around this headland is
La Source & Killers
, another two of Moroccos most reliable & famous waves.
10km further north is the town of
Tamri
which has a great selection of beginner & intermediate waves as well as a few secret spots.
Come Surf Taghazout with us....
PAYMENT
A small deposit is required to secure your booking.
Your balance is due at check in.
CANCELLING YOUR BOOKING
To cancel go to the MyAccount section and log in or register and you can cancel from within your account.
Your deposit is non refundable but can be used for the same property/surf school within one year of your original booking.
You can cancel anytime up to 30 days before travelling you will not be charged the balance.
The Surfholidays Advantage
Easy messaging with a local surf host & expert to plan & book your dream surf holiday
1 Customize your surf trip with the help of a local surf host
Surfholidays has handpicked the world's top surf camps, accommodation & surf schools so you will have peace of mind and an unforgettable trip that meets your exact requirements.
2 Secure & easy booking
You can book instantly or message a host directly & request a custom option. Once you are happy with the trip, you can easily book via Surfholidays' secure payment platform.
3 Support before and after your trip
Our team at Surfholidays and your local host onsite are available before and during your trip to ensure things run smoothly.
4 Authentic travel experiences
Surfholidays hosts ensure that you will have the best experience based on up-to-date local insights. On top of that, the vast majority of your money will go straight to support and grow local surf towns.
Surfholidays offers a 100% satisfaction guarantee
If you are not fully satisfied, we'll work with you to make it right.
Host: Imane or Mumy Imane