Wipeout Hostel
Wipeout Hostel
Byr dr, costarica, Jacó - Central Pacific - Dominical, Hermosa & Jaco, Costa Rica
Chat with a host who can help organise your trip...
The Place

Shared & Private room options
Couples
Families
Groups
Solo travellers
We have everything you need to wifi, cable, hot water, A/C, full kitchen, pool, parking, bbq, coffee, cereals. Located in Playa Hermosa, multiple waves and other beaches near as Jaco, or Esterillos.

Come to surf and relax with friends or family. We have surf lesson, surf trips, tours and more available.
Location
We are located in playa hermosa, in Jaco, Costa Rica. We are an 8 minutes bus journey to Jaco city
You are 5 minutes walk to the surf beach Playa Hermosa, 15 minutes to Esterillos beach and a 20 minutes walk to Bejuco beach.
We are 1 hour away from Manuel Antonio Park.
We are 2hours from San Jose airport
Facilities

Room types

Getting there

Surf Lessons

Waves

Terms
Number of people: 26
Extras:
private rooms extra person is 10 dolars more per person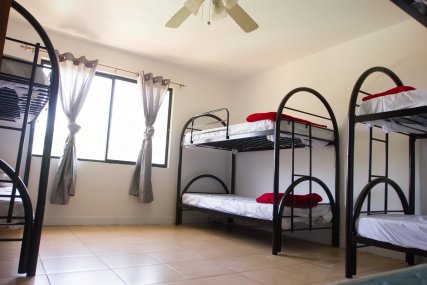 Dorm room
Room Type: Shared - Mixed
Sleeps:

8
Our dorm room has a/c, fan, towels & sheets included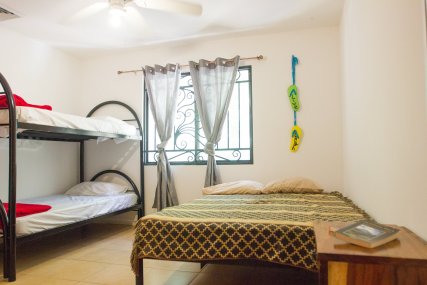 Private room
Room Type: Private
Sleeps:

4
Our private room has a queen bed and one bunk bed. It sleeps 2 usually but it can sleep 4 if you like Each Room have a king size bed and a bedbunk.
You can never get lost
When you book you will receive our confirmation email with full travel directions of how to get to us.
We provide Airport Transfers from and to san jose and they can be booked in the booking steps.
Price for 1-4 people: USD$100
Price for more than 4: USD$120
- Nearest Airport: san jose
- Distance from Airport in kms: 110 km
- Time from Airport in a car: 1 1/2 hours
- There is no train from the airport
- There is a bus from the airport
Come Surf With Us
Surf Lessons can be added in the booking steps if they are not already included in a package.
Instructors
Main Surf Beach: playa hermosa
Surf Lessons we offer:
Beginner Surf Lessons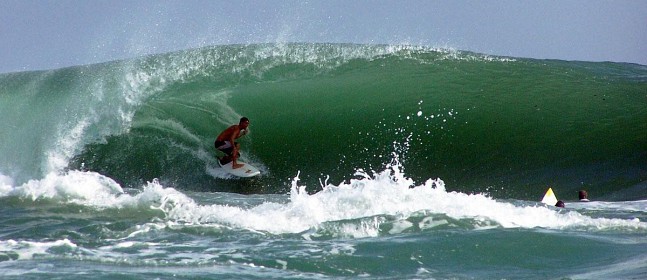 playa hermosa, jaco
Level: All Levels
Playa Hermosa
es un 8 kilómetros de largo tramo de playa que cuenta con una serie de quiebres de ola consistentes. La playa cuenta con grandes olas y olas golpean la costa con plena en el poder, ya que no tiene protección. El descanso en la playa dispone de olas rápidas, potentes y huecas que rompen a la derecha e izquierda sobre un fondo de arena. Las olas son cortos paseos hasta 50 metros en un día normal, mientras que en un día bueno que puede ir hasta 150 metros. Buenas olas se elevan desde el noroeste, oeste y suroeste y el viento sople desde el sureste, este y noreste. El mejor movimiento de marea está subiendo y bajando en las mareas durante una marea media. Hay diferentes tipos de bancos de arena que dan lugar a una creación de golpear y beach breaks tubulares.
Otros beach breaks se encuentran a lo largo de la playa son:

terraza
Terraza es un descanso adecuado rápida y hueca liderada por un gran grupo de rocas visibles. Hay unos de otros interrumpe justo al sur de la misma, que son menos potentes y se rompen sobre un banco de arena. El mejor momento para navegar es durante la marea media procedente de un oeste o suroeste oleaje.

Patio interior
Cuenta con un derecho actual muy regular y limpia banco de arena en la apertura de la carretera de tierra en Hermosa. Las olas se rompen hueco cerca de la playa con izquierdas y derechas.

Almendro
Almendro se encuentra en frente de un alto árbol de almendra de romper en aguas profundas y que ofrece un fondo de arena con derechas e izquierdas.

Tulin
Tulin se encuentra en frente de la soda Tulin sur del patio trasero. La ruptura es consistente y un poco más grande que otros descansos. Los surfistas también encontrarán un descanso desembocadura en el extremo sur de la playa.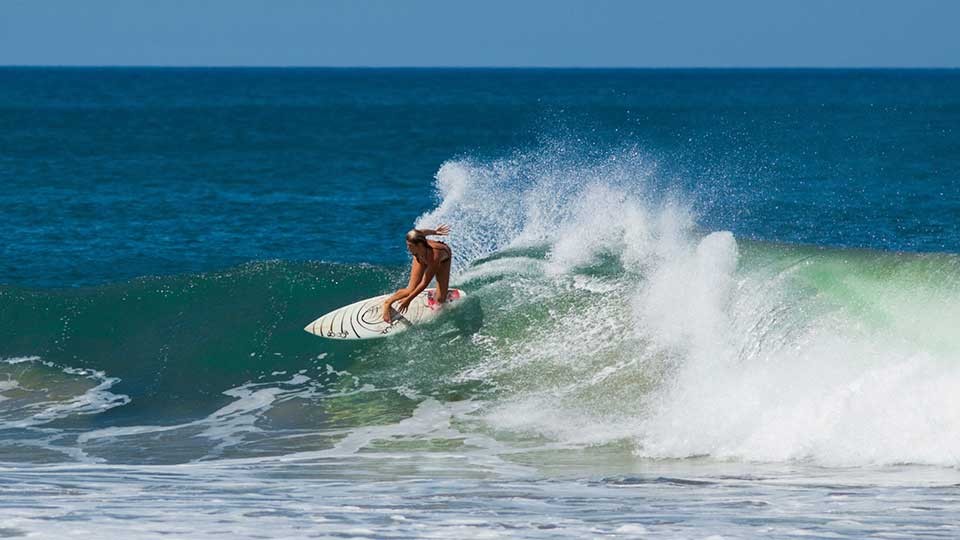 playa esterillos oeste
Level: All Levels
Esterillos Oeste es considerado como una gran plataforma para los principiantes y los principiantes mientras que la parte central de la playa, Centro, es perfecto para los veteranos. Las olas rompen playa tienen derechas e izquierdas entre 50 y 150 metros de longitud que puede ir hasta 300 metros en un día bueno. El mejor momento para navegar es cuando la marea es de gama media.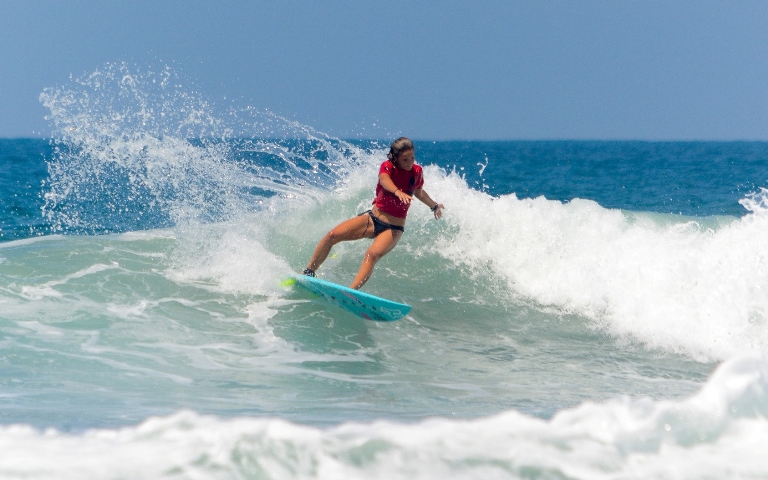 playa bejuco
Level: All Levels
he hollowest, fastest, most advanced wave in the Esterillos set, Bejuco feels remote, but it well known to locals. The best peaks are popular for good reason.
playa esterillos este
Level: All Levels
Esterillos Este
Esterillos Este barcos más rápidos y más fuertes olas que rompen bastante bien sobre un fondo de arena durante la próxima marea. Sin embargo, el punto es menos popular de los tres.
playa esterillos centro
Level: All Levels
Esterillos Centro
La parte media de la playa, Esterillos Centro , es perfecto para los surfistas experimentados y profesionales. Se encuentra justo en frente del hotel llamado La Felicidad. Las poderosas olas del Centro pueden ser comparados con los de Playa Hermosa de. Las olas rompen playa tienen buenas derechas e izquierdas a caballo entre 50 y 150 metros de longitud que puede ir hasta 300 metros en un día bueno. El mejor momento para navegar está a una media marea alta.
Surf conditions in Central Pacific - Dominical, Hermosa & Jaco:
Beginners:

JAN

FEB

MAR

APR

MAY

JUN

JUL

AUG

SEP

OCT

NOV

DEC
Intermediates:

JAN

FEB

MAR

APR

MAY

JUN

JUL

AUG

SEP

OCT

NOV

DEC
Advanced:

JAN

FEB

MAR

APR

MAY

JUN

JUL

AUG

SEP

OCT

NOV

DEC
Rain
Wetsuits
JAN/FEB
MAR/APR
MAY/JUN
JUL/AUG
SEP/OCT
NOV/DEC
---
The bigger swell season in the Central Pacific area is from May to November with waves consistently from 2-6 feet, sometimes bigger. Costa Rica's summer months & dry season is from December to April. Waves tend to be really fun clean 3-4 foot.
Surfing Jaco
The main beach in this surf town is a long 3 km beach break good for beginners and intermediates with many different peaks. If the swell gets above head high it tends to close out. South of the bay is Roca Loca, a right reef break that can hold up 10 feet at times.
Further south is Hermosa beach. It has a really good vibe to hang out, meet people and get in the water every day. It is a 7km long dark sandy beach breaks that works best on high tide. If you want to escape the crowd head further south. The beach packs a punch and when it's bigger it will rip those board shorts right off you and challenge even the best surfer.
Further along the coast you will find Esterillos about 10k south of Hermosa. Another fun beach break that is a swell magnet and if your looking for an uncrowded wave, take a walk down the beach and pick a peak.
Still heading south you will find other spots include Seco, Bejuco and Playa Espadilla, a great beginners surf beach in the popular surf town of Manuel Antonio.
Surfing Dominical
Less crowded than other surf towns in Costa Rica. Dominical is a much longer trek from San José so it does not tend to get the same amount of surfers that Jaco has. Dominical is a wave magnet and has been called the most consistent surf spot in Costa Rica. The towns main break, Playa Dominical works best on Mid to high tide as at low tide it can be just a shore dump. It tends to be a better spot for Advanced, intermediates as it can get powerful.
2km south is Dominicalito, a beachbreak that is great for beginners. Further on 1 km is The point, with rides of up to 250 meters! There are many more breaks to be discovered, and teh further on south you go the emptier the breaks.
Come surf Jaco, Dominical & Central Pacific Costa Rica with us....
PAYMENT
A small deposit is required to secure your booking.
Your balance is due at check in.
CANCELLING YOUR BOOKING
To cancel go to the MyAccount section and log in or register and you can cancel from within your account.
Your deposit is non refundable but can be used for the same property/surf school within one year of your original booking.
You can cancels anytime up to 7 days before travelling and you will not be charged the balance.
The Surfholidays Advantage
Easy messaging with a local surf host & expert to plan & book your dream surf holiday
1 Customize your surf trip with the help of a local surf host
Surfholidays has handpicked the world's top surf camps, accommodation & surf schools so you will have peace of mind and an unforgettable trip that meets your exact requirements.
2 Secure & easy booking
You can book instantly or message a host directly & request a custom option. Once you are happy with the trip, you can easily book via Surfholidays' secure payment platform.
3 Support before and after your trip
Our team at Surfholidays and your local host onsite are available before and during your trip to ensure things run smoothly.
4 Authentic travel experiences
Surfholidays hosts ensure that you will have the best experience based on up-to-date local insights. On top of that, the vast majority of your money will go straight to support and grow local surf towns.
Surfholidays offers a 100% satisfaction guarantee
If you are not fully satisfied, we'll work with you to make it right.