Surf Synergy
Surf Synergy
Calle Gemellas, Jacó - Central Pacific - Dominical, Hermosa & Jaco, Costa Rica
Chat with a host who can help organise your trip...
Explore our Available Surf Packages
The Place

Private & Shared room options
Couples
Families
Groups
Solo travellers
Whether you have zero previous knowledge of surfing, or your are an advanced surfer looking for next level training, Surf Synergy's team of professional instructors have the knowledge and skills to meet your goals. Our camp is located in Costa Rica which is home to some of the best surfing in the world, and we truly enjoy helping our guests navigate and open their eyes to all the Amazing wonders of Surfing!
No matter if you are simply seeking to just have fun, relax, & enjoy the experience, or you are hoping to achieve particular goals and be challenged...... You have found the perfect place!
Our Team is Ready & Excited to Help you Experience the Time of Your Life!!

Our SUP lessons are scheduled for early morning or late afternoon and Surfing or SUP Surfing lessons are scheduled around the high tide. Our instructors are led by Marcell Oliveira and David Solano,Currently ranking on the Top 10, they are the heads instructors for our awesome team of professional instructors actively competing and ranking high in Costa Rica's national Surfing and SUP contests. They will make sure you have a great time while you learn how to surf as well as help you get familiar with our country and make friends!
Location
Our Location is considered a rare and private Gem. Located exactly 2 minutes drive from the center of town, and the Beach of Jaco. We are nestled in a Private, Cozy, and Beautifully Maintained Mountain of Jaco. Our Bungalows are situated on top of the Mountain, giving all Rooms a Serene, Breathtaking View of the Beauty of the Mountains and Ocean. We are known to have a perfect proximity, of being Not too far, but not too close, and allows for ease should you seek the nightlife/ activity, yet far enough to retreat back to breathe deep & relax in a Secure & Quiet Environment that is completely Private to our Surf Synergy guests Only.

Surf Synergy is just 1.30 hours away from San Jose Airport (SJO). It is located in the town of Jaco, at 2 Km away from the Jaco beach break and just 12 Km from Hermosa beach, which is consider one of the most consistent beach breaks in the world.
Jaco is hugely popular for having plenty of activity choices as ATV tours, waterfall tours, zip to line, kayaking, horseback riding, deep to sea fishing, wildlife tours to national parks where you can witness different wildlife and unique flora!
Reviews

Facilities

Room types

Getting there

Surf Lessons

Waves

Terms
6 REVIEWS
Summary
Accommodation
Surf Lessons

Ron
United States of America
August 2019
Travelled with family
How did you like the accommodation?
Absolutely fantastic. From the day we arrived until the day we left everything was excellent. Great food, rooms, grounds, staff, equipment,... The level of service Kandice provided is top notch. I highly recommend others to experience everything Vista Guapa has to offer. You'll be glad you did.
How were the surf lessons?
Our surf lessons, and all around surf experience, could not be rated anything less than 5-stars. David's knowledge of the ocean and surfing resulted in awesome advances in our surf skills and we had a lot of fun making that happen. David is naturally patient and has a fun laidback style, which created a safe learning environment for my 15 year old and I.

Laura N
How did you like the accommodation?
13 people for 10days at the greatest surf camp in Costa Rica!!! From the minute we landed until the minute we left every moment was catered and guided by professionals who took care of every detail. Vista Guapa surf guides and staff go above and beyond so everyone has the greatest possible experience. If you are thinking about learning to surf and/or do some stand up paddling then THIS IS THE PLACE!!!! The YOLO Board Company supplies the icing on the cake with an array of epic boards. Don't miss out on this live changing place. You Only Live Once. Make it count!!! #yoloexperience2016

MarkfromMaine1
Main, New York
February 2019
Travelled as a couple
How did you like the accommodation?
4th trip and wonderful as always at Vista Guapa. Booked last minute tickets that were very reasonable and we were surfing in warm water before we knew it. With the all inclusive plan the whole trip is really cost effective (and yummy).
All three cottages have beautiful views over Jaco Beach area. Macaw pairs flew by every day and a Tucan landed right in a tree in front of my wife. Good birding.
Surfing - Alvaro will bring you to the best place at the best time. He has lived here all his life. For kids learning it is awesome also. Alvaro's guides got our kids up and stoked faster than we could believe when they first came here. He also has excellent SUP surfboards and paddles, everything from 7'4" to 12'6" race boards you can use on a nice paddle around the island to Herradura. He knows all the best side adventures also, from the best guide at Manuel Antonio to hidden waterfalls, rope swings........
Wendy takes wonderful photos of you, David and Edwin take care of you from the airport to the nightly restaurants that are included in the price. It is a great spot to spend the week.
We will be back!
- Less Reviews

Catherine
Denver, Colorado
December 2018
Travelled with family
How did you like the accommodation?
Our family of 5 (kids ages 13,10 and 7) just spent 4 nights at Vista Guapa and it was truly amazing. Not only did we all manage to ride some waves thanks to Alvaro, David and Dennis being such great teachers (we were true beginners), but we enjoyed every minute of our time on the water as well as our time at Vista Guapa hanging out in the hammocks, playing cards, swimming in the pool, dining with Edwin, talking to the great staff and nice guests and eating the most deliciously fresh and well prepared food! (i'm craving the smoothies and homemade tortillas!) We spent a few hours in Jaco - which is all that is needed - and we did visit some less adventurous relatives who stayed at Los Suenos (which has a fun pool, but it's pretty chaotic so we all were relieved to get back to our peaceful Vista Guapa). Thank you to Wendy who took beautiful photos of our surfing! Pura Vida! We will be back to this special place soon!

Christy
Denham Springs, Louisiana
December 2018
Travelled solo
How did you like the accommodation?
Having loved our first visit to Vista Guapa last year, we decided to go back there again for our annual vacation. The personal attention during surf lessons and the feedback provided help you get better each day. The camp has a relaxed atmosphere, very clean, and you begin to feel like you are at home. All of the staff and instructors are helpful and the breakfast is delicious. Everyone associated with VG are easy going, friendly, and helpful--from the people making the reservations, the drivers to and from the airport, staff and instructors. We will definitely be going back!

TJS
San Francisco, California
December 2018
Travelled with friends
How did you like the accommodation?
Took two private lessons with Alvaro ... one on the first day of our trip at 6:00AM and one on the last day of our trip at 9:30AM. Both sessions Alvaro picked us up at our hotel on time (early actually) ready to go ... I had never surfed before so the first lesson we spent about 30 minutes at their facility practicing technique before heading to the beach for real-world practice in the water. I was determined to get up before the end of that first lesson and with Alvaro's help I was able to ... he critiqued each of my (numerous) wipe-outs giving me little pointers on each run so I was able to finally get up towards the end of the first lesson. I am in extremely good physical shape and this was one of the harder things I've tried in my life so it is not an easy run ... I was exhausted but happy that I was able to get up.

Then, on the last day of our week long trip, I took another private lesson and instead of wiping out 90% of the time like the 1st lesson I'd say I was up probably 70% of the time, again with good correction from Alvaro and one of his other instructors who was also excellent David. So, again, very happy - wish I had done it more during the trip. A great experience with very, very nice people - Alvaro grew up in the area so knows everyone and everything about the town ... great to ask for advice on what to do and see and eat.

Kudos also to Jason who does the reservations - he was top notch. I will return.
+ More Reviews
Number of people: 15
Free shuttle bus to town centre
You can never get lost
When you book you will receive our confirmation email with full travel directions of how to get to us.
We provide Airport Transfers from and to SJO and they can be booked in the booking steps.
- Nearest Airport: SJO
- Distance from Airport in kms: 83.4
- Time from Airport in a car: 1.30
- There is no train from the airport
- There is no bus from the airport
Come Surf With Us
Surf Lessons can be added in the booking steps if they are not already included in a package.
Instructors
Many don't realize that Costa Rica is home to some of the best breaks in the world with consistent surfing year-round. Being at the Central Pacific, Surf Synergy bears a very strategic location, capturing consistent waves and swells. Our proximity to over 20 point and beach breaks provides waves for all level Surfers as well as a variety of beautiful calm water beaches to contemplate and SUP too!
Main Surf Beach: Jaco and Hermosa
Surf Lessons we offer:
Kids Surf Lessons
We offer Surfing and SUP lessons for all levels families and kids. Lessons are 1.1/2 - 2 hours long. Include all surf equipment and transportation in the area. We provide a ratio of 2 students max per instructor. (For small kids we do our lessons near the shore)
Beginner Surf Lessons
Lessons are 1.5 - 2 hours long scheduled with the tides and 2 students max per instructor. We usually do our lesson in South Jaco where the waves are easier for a greater and positive experience starting at waist to head high waves. It focuses on your technique basics, paddling, body position on the board, catching waves, ride unbroken waves and turning. Lessons include transportation and boards.
Intermediate Surf Lessons
Lessons are 1.5 -, 2 hours long. Includes all surf equipment and transportation to the surf break. We provide a ratio of 2 students max per instructor. Main focus is on maintaining your technique basics, show you wave formation, understand impact of weather on the surf, catching your own waves, and fitting turns to your body and skills.
Advanced Surf Lessons
Session are 1 1/2 - 2 hours long in more challenging wave conditions at different breaks suiting your skills. Includes surf equipment and transportation in the area to the surfing break. Sessions are focused on top to bottom turning, speed and tricks. We also focus our couching on surfing bigger, powerful, faster, hallow, barrel type waves.
Private Surf Lessons
Private Lessons are 1.5 - 2 hours one-on-one at different breaks that will suit your experience. Includes boards and transportation in the area to the break. This lesson can be beginner, intermediate or advanced. The instructor will focus on technique basics to help improve your own skills. Private lessons are paid separately and need to be checked for availability.
Surf Guide
Our surf guides have the most knowledge of local breaks than anyone in Jaco. We even have a few secret spots, and have boat and jet skis on site for access to remote breaks.
Yoga
We have two of the top Yoga instructors in town that offer private or group instruction, right here on our ocean view yoga deck
SUP Lessons
Being an official YOLO Board camp, we have top equipment and instructors for SUP for the first time beginner to the most experienced SUP or SUP surfer.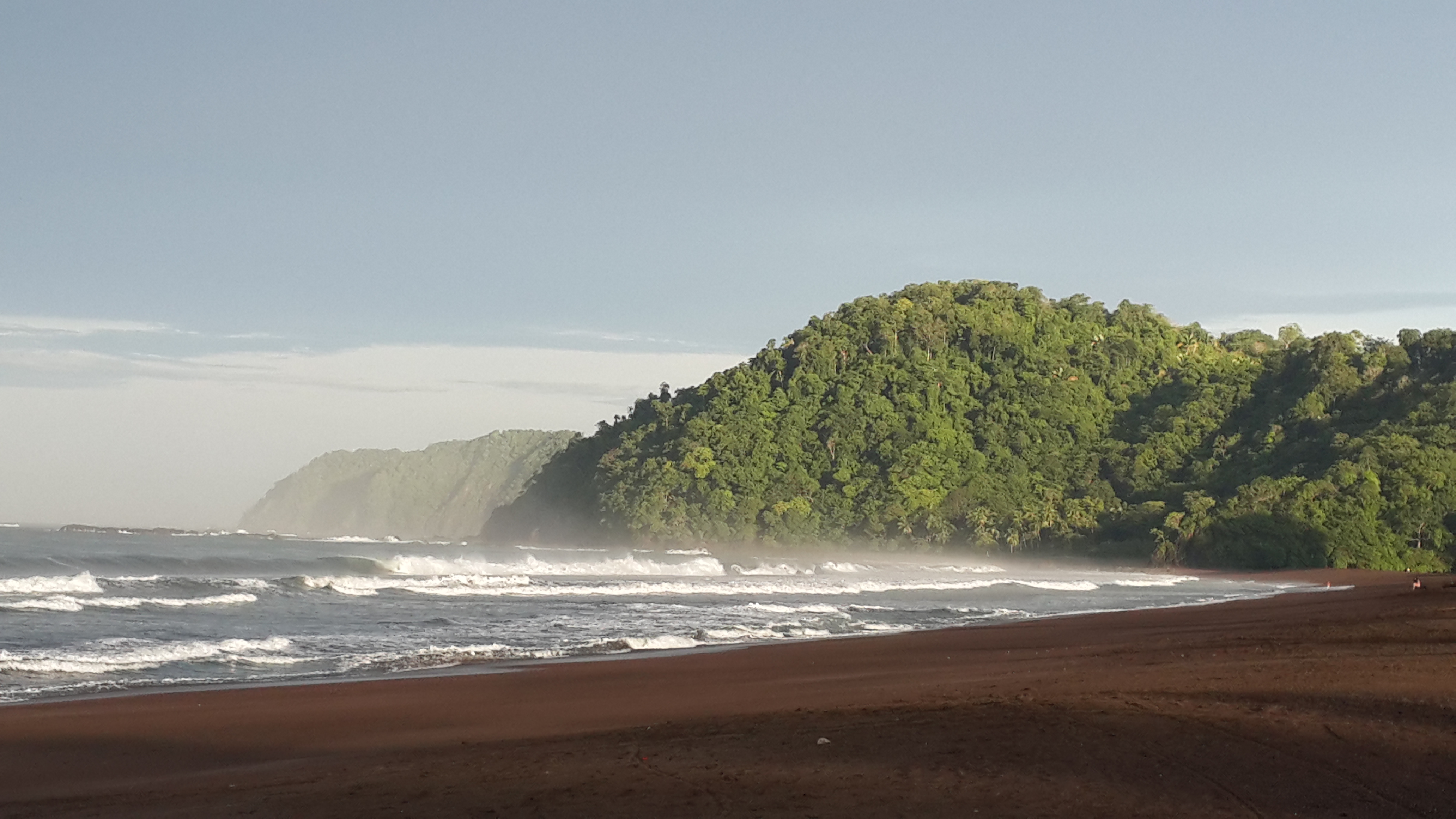 Jaco Beach
Level: All Levels
Jaco is a beach break holding fun left and right waves between waist to head high or 1 foot overhead. It is surfable starting at mid tide and up, embracing constant wave conditions all year to round. Great waves for beginners as they are easier and slower than other breaks.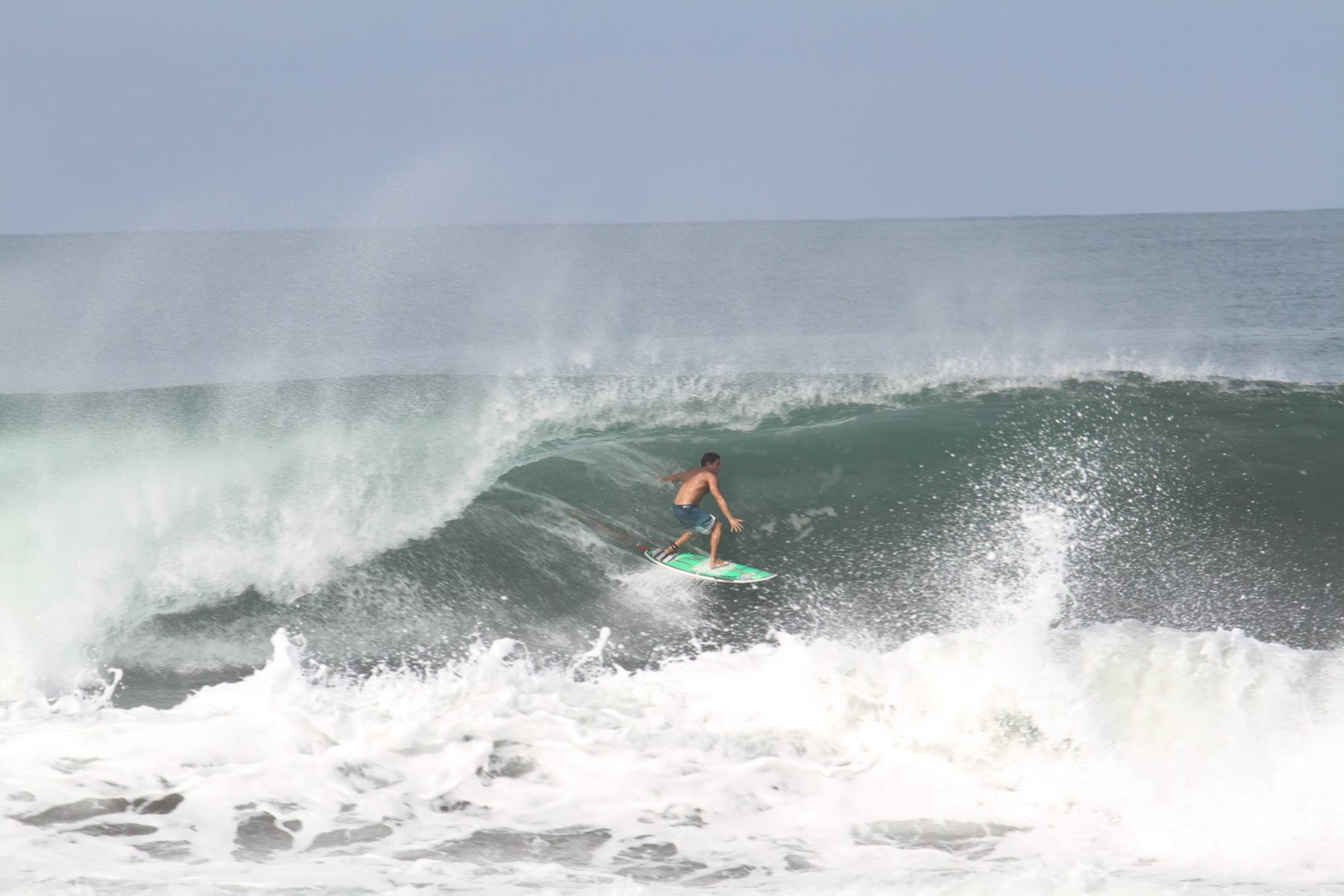 Hermosa Beach
Level: Intermediate
Hermosa is considered one of the most consistent beach breaks in the world! It features stronger and more powerful waves; the majority of time over head high. Depending on conditions the waves can be hallow and great for barrels.
This beach break is suitable for intermediate and advanced surfers.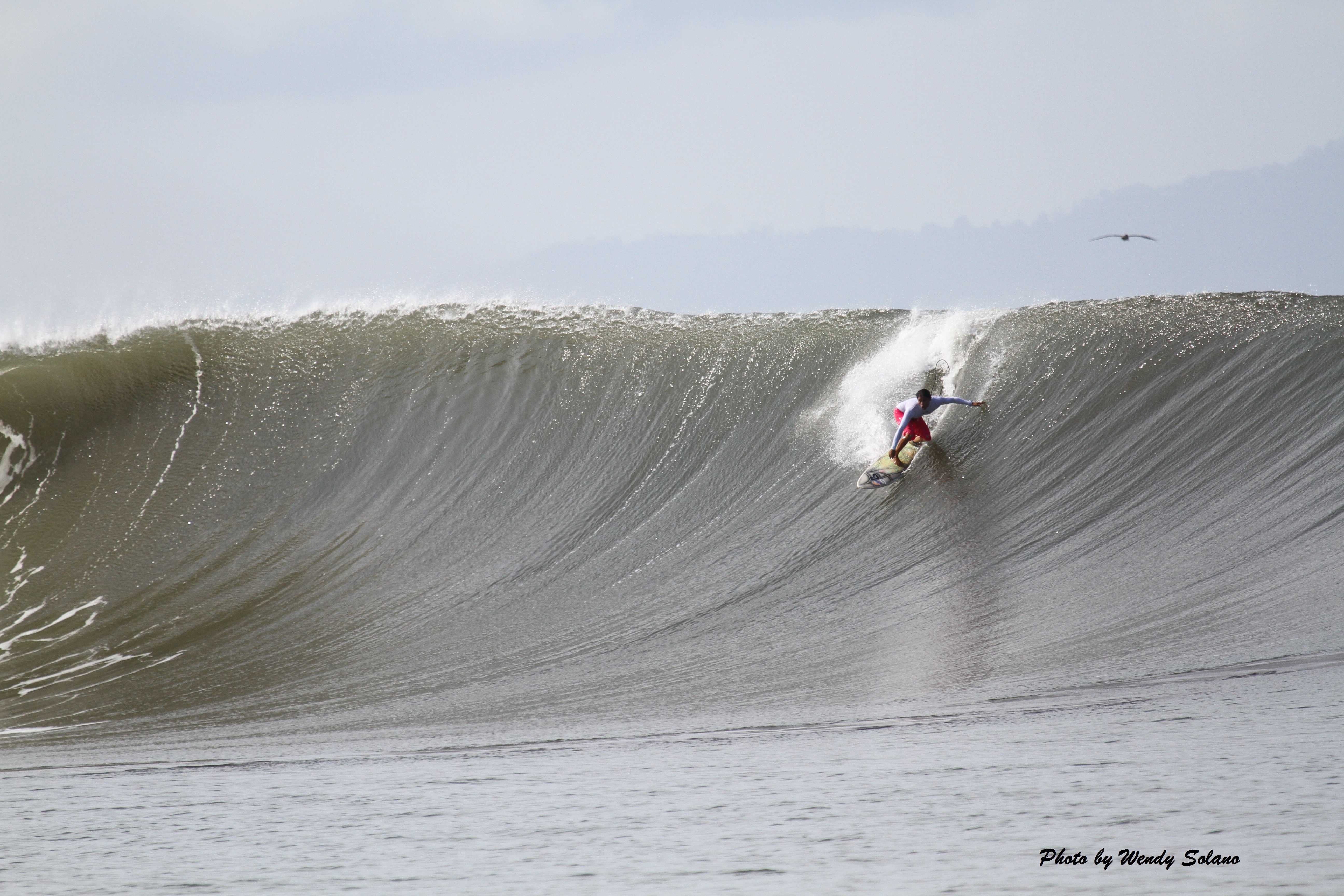 Secret spots...
Level: All Levels
There are a few secret spots where we can take our students which are a few left point breaks surfable at low tide. They provide a ride of approximately 200m to 250m of shoulder high waves to 1ft over head. These breaks are triggered by south swells and suit beginner/intermediate surfers as well as advanced experienced surfers when weather conditions bring big swells.
Surf conditions in Central Pacific - Dominical, Hermosa & Jaco:
Beginners:

JAN

FEB

MAR

APR

MAY

JUN

JUL

AUG

SEP

OCT

NOV

DEC
Intermediates:

JAN

FEB

MAR

APR

MAY

JUN

JUL

AUG

SEP

OCT

NOV

DEC
Advanced:

JAN

FEB

MAR

APR

MAY

JUN

JUL

AUG

SEP

OCT

NOV

DEC
Rain
Wetsuits
JAN/FEB
MAR/APR
MAY/JUN
JUL/AUG
SEP/OCT
NOV/DEC
---
The bigger swell season in the Central Pacific area is from May to November with waves consistently from 2-6 feet, sometimes bigger. Costa Rica's summer months & dry season is from December to April. Waves tend to be really fun clean 3-4 foot.
Surfing Jaco
The main beach in this surf town is a long 3 km beach break good for beginners and intermediates with many different peaks. If the swell gets above head high it tends to close out. South of the bay is Roca Loca, a right reef break that can hold up 10 feet at times.
Further south is Hermosa beach. It has a really good vibe to hang out, meet people and get in the water every day. It is a 7km long dark sandy beach breaks that works best on high tide. If you want to escape the crowd head further south. The beach packs a punch and when it's bigger it will rip those board shorts right off you and challenge even the best surfer.
Further along the coast you will find Esterillos about 10k south of Hermosa. Another fun beach break that is a swell magnet and if your looking for an uncrowded wave, take a walk down the beach and pick a peak.
Still heading south you will find other spots include Seco, Bejuco and Playa Espadilla, a great beginners surf beach in the popular surf town of Manuel Antonio.
Surfing Dominical
Less crowded than other surf towns in Costa Rica. Dominical is a much longer trek from San José so it does not tend to get the same amount of surfers that Jaco has. Dominical is a wave magnet and has been called the most consistent surf spot in Costa Rica. The towns main break, Playa Dominical works best on Mid to high tide as at low tide it can be just a shore dump. It tends to be a better spot for Advanced, intermediates as it can get powerful.
2km south is Dominicalito, a beachbreak that is great for beginners. Further on 1 km is The point, with rides of up to 250 meters! There are many more breaks to be discovered, and teh further on south you go the emptier the breaks.
Come surf Jaco, Dominical & Central Pacific Costa Rica with us....
PAYMENT
A small deposit is required to secure your booking.
Your balance is due to the property 90 days before arrival. The Property will contact you to collect payment. If you book within this 90 days then the property will contact you shortly after you book to collect the balance.
CANCELLING YOUR BOOKING
To cancel go to the MyAccount section and log in or register and you can cancel from within your account.
Your deposit is non refundable but can be used for the same property/surf school within one year of your original booking.
You can cancel anytime up to 30 days before travelling and you will be refunded the balance.
The following cards are accepted at this property:
The Surfholidays Advantage
Easy messaging with a local surf host & expert to plan & book your dream surf holiday
1 Customize your surf trip with the help of a local surf host
Surfholidays has handpicked the world's top surf camps, accommodation & surf schools so you will have peace of mind and an unforgettable trip that meets your exact requirements.
2 Secure & easy booking
You can book instantly or message a host directly & request a custom option. Once you are happy with the trip, you can easily book via Surfholidays' secure payment platform.
3 Support before and after your trip
Our team at Surfholidays and your local host onsite are available before and during your trip to ensure things run smoothly.
4 Authentic travel experiences
Surfholidays hosts ensure that you will have the best experience based on up-to-date local insights. On top of that, the vast majority of your money will go straight to support and grow local surf towns.
Surfholidays offers a 100% satisfaction guarantee
If you are not fully satisfied, we'll work with you to make it right.