Endless Olas Surf Camp
Endless Olas Surf Camp
Across the street from the church, Savegre - Central Pacific - Dominical, Hermosa & Jaco, Costa Rica
Chat with a host who can help organise your trip...
The Place

Private & Shared room options
Couples
Families
Groups
Solo travellers
An ideal Costa Rica house on a beautiful property atop a hill in the jungle. The house has four private rooms with private entrances and bathrooms and can accommodate up to 10 guests. The rooms are equipped with air conditioning and a mini to fridge. Each room has a double or queen bed and two rooms also have twin beds in order to accommodate more occupancy if desired.
There is a lovely outdoor area with a pool, jacuzzi, outdoor seating area and kitchen and BBQ.
Surf lessons occur daily at one of the many amazing and secluded surf breaks nearby.
Yoga and other outdoor adventure activities are also available daily.
The standard package includes all three meals.
Location
The surf camp is located in Hatillo, just minutes from Dominical which boasts some of the best surf in Costa Rica. Hatillo is a beautiful and peaceful town that is typical of the Costa Rica jungle with astounding natural beauty and animals. Your stay here will be tranquil and authentic, away from bustle of the surrounding towns. In 5 minutes one can reach the fun and laid to back surf town of Dominical along with its amazing surf. There, people can experience the real Costa Rica, away from the tourist towns. There are several surf breaks in Dominical that can accommodate all surf levels from beginner to advanced. The waves are consistently perfect all year to round. The breaks are not crowded so that surfers can enjoy the surf in peace, as they should. Several other surf breaks are nearby allowing surfers to find the perfect wave for them on any given day. A completely secluded beach break on an island is among these nearby surf spots.
Various outdoor adventure activities such as white water rafting, fishing, horseback riding, zip to lining and hiking are nearby the camp as well.
In Hatillo, a short ride from the surf camp are natural hot springs, beautiful rivers and waterfalls.
Reviews

Facilities

Room types

Getting there

Surf Lessons

Waves

Terms
2 REVIEWS
Summary
Accommodation
Surf Lessons

Megan
Monroe, NJ
January 2019
Travelled with friends
How did you like the accommodation?
This was the trip of a lifetime. I wouldn't have wanted to experience Costa Rica any other way. From the moment we arrived in the airport and met Luis and his team, I felt safe and comfortable. The accommodations we were brought to were wonderful with our own AC unit and two beds. The linens were changed every other day which was so nice. For our 6 day vacation with Endless Olas, we surfed every day but one. Sometimes twice a day. They took us to local, uncrowded spot which were the perfect spots to learn and improve our surfing skills. If they felt the waves were too big for us they would change our location to another, secluded location. Amazing. On our one day off, we did ziplining and yoga which we got transportation to and from. On occasion we also went out to local bars to eat and have a good time with Luis and his team. This was an amazing experience I will never forget and fully intend on returning. Thanks you so much to all who are apart of Endless Olas for making this the trip of a lifetime. I highly recommend them to experience the ultimate, authentic Costa Rican/Pura Vida vacation.



Samantha
Hartford, CT
January 2019
Travelled with friends
How did you like the accommodation?
From the minute we were picked up at the airport, Luis and his team at Endless Olas Surf Camp (with Manuel Antonio Surf School) did everything they could to make sure our first visit to Costa Rica was amazing and unforgettable. My cousin and I (both with some prior surfing experience) were looking for a unique way to visit Costa Rica. We found Endless Olas Surf Camp and booked the perfect trip. Thanks to Jess, we were able to customize our all inclusive, 6-day vacation to meet our interests and budget. Our trip included transportation to and from the airport, accommodations at the surf camp property, meals, a zipline excursion, a private yoga class, and several surfing sessions. Jess was very easy to coordinate with and answered all of our questions very quickly.

The whole team was very welcoming and did everything they could to make sure we enjoyed our vacation. We were lucky to be the only two staying at the camp that week. The accommodations were very comfortable and located in a beautiful, private area. The camp provided a chef just for us all week and he made the most amazing, professional, authentic Costa Rican meals. The food was incredible, thanks to Bryan.

The surfing was the best!! We went to several different beaches throughout the week based on our skill level and they were very private with amazing waves. McKenna and Emily took pictures and videos of us surfing to send to us. The instructors (Luis, Bryan, Junior, and Elliot) were very friendly and made sure we felt safe and comfortable during each lesson. We were definitely able to improve our skills. On our day off, we chose to do ziplining and yoga. They set everything up for us and provided transportation.

I HIGHLY recommend contacting MASS and Endless Olas Surf Camp to find out what they have to offer and to book the best surfing experience ever!

THANK YOU to the whole Endless Olas Surf Camp team: Luis, Bryan, Junior, Elliot, Pipe, McKenna, Emily. We will definitely come back again soon. PURA VIDA!


Number of people: 10
Extras:
Our standard package generally includes surf lessons, yoga and one additional adventure activity. Additional adventure activities can be included at an additional charge (which will vary).
Airport and daily transportation is also included in the standard package. Additional nighttime transportation can be included at an additional charge which will vary based on distance and time.
Overall, this is a very customized stay and all desires can be accommodated.
You can never get lost
When you book you will receive our confirmation email with full travel directions of how to get to us.
We provide Airport Transfers from and to SJO and they can be booked in the booking steps.
- Nearest Airport: SJO
- Distance from Airport in kms: 180
- Time from Airport in a car: 2.5 hours
- There is no train from the airport
- There is a bus from the airport
Come Surf With Us
Surf Lessons can be added in the booking steps if they are not already included in a package.
Instructors
Our location provides us with the ability to find the perfect wave for each individual on any given day. The breaks provide year-round, perfectly consistent waves that range from gentle swells ideal for beginners to huge barrels to challenge experienced surfers. Further, we have access to uniquely secluded surf breaks which is a rarity in the world these days. Surf with tranquility and no crowds.
Main Surf Beach: Dominical
Surf Lessons we offer:
Kids Surf Lessons
We offer lessons to children as young as 4 years old. We have over ten years of experience providing surf lessons to children and adults. All of the instructors are surfing specialists with years of training beginners and experts alike in the fine art of wave riding. All instructors are safety certified and our head instructions are ISA certified.
Beginner Surf Lessons
Our day lessons are 3 hours. Surfers are transported to the beach where they are awaited by friendly and professional instructors, surf equipment, water, fresh fruit and a gorgeous Costa Rica beach. First-time surfers will be taught the fundamentals of this sport first with instruction on the land and then by heading out to practice on gentle, predictable swells. Everyone gets up by the end!
Intermediate Surf Lessons
Intermediate surfers are taken out to any of our various breaks where we will focus on improving their surf form with feedback after every wave. We watch closely to learn which aspects of the individual's surfing can be improved and will show them how to do this. This includes anything from paddling form to duck-diving to maneuvering on the board and reading the wave.
Advanced Surf Lessons
Our advanced surfers benefit from our immense knowledge of Costa Rica surf. We bring these surfers to the best breaks in the area and on any given day we can find left and right barrels to challenge our advanced surfers. We provide guide service to these perfect breaks as well as tips to improve their skills.
Private Surf Lessons
All of our surf lesson options for any level, age or to any break include the opportunity of providing one on one private service.
Surf Guide
We have access to many, varied breaks and offer guided tours to any of these breaks. These include Dominical, Isla Damas, Playa Bonita, Manuel Antonio and Quepos Rivermouth. Our breaks offer the a unique option for seclusion as well. The tours generally include surf lessons, lunch and the experience of the real Costa Rica through either a waterfall or totally uninhabited beach.
Yoga
We offer yoga as requested during our surf camp. We also partner with a local yoga studio to provide surf and yoga packages.
SUP Lessons
We have several SUPs and provide guided tours and lesson with these as well.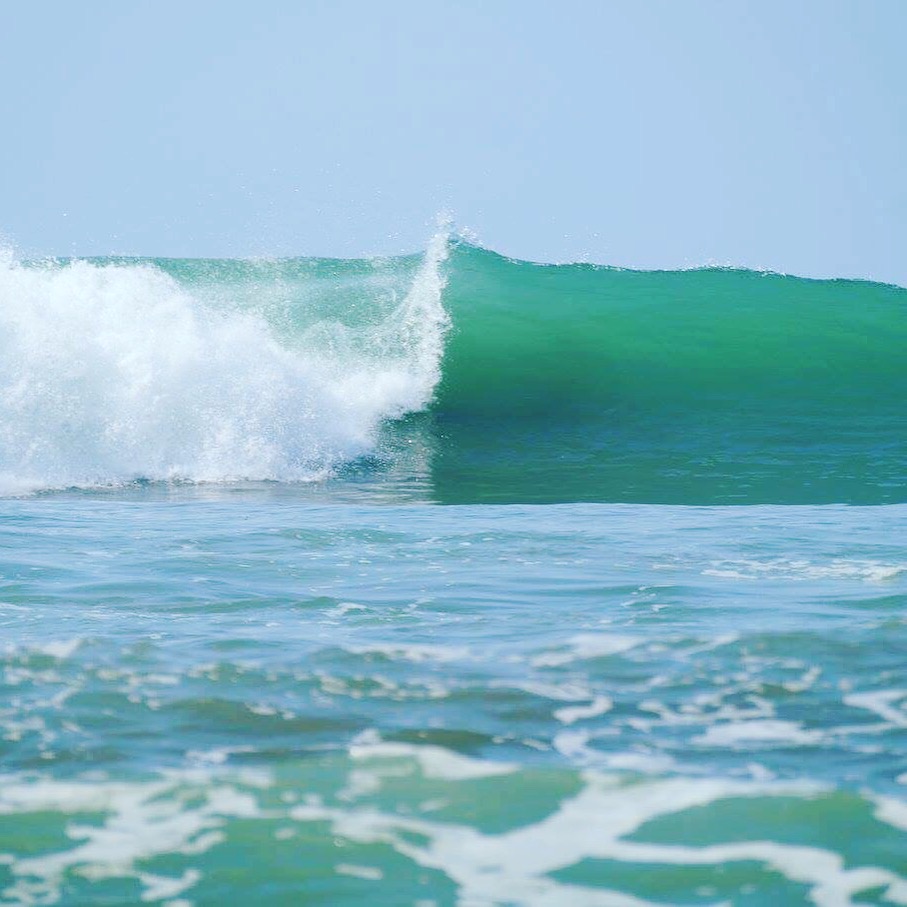 Isla Damas
Level: All Levels
This is true Costa Rica at its finest. The access to this beach break is by a quick river crossing via boat and then a drive down the beach which stretches for miles. The beach is completely secluded and we own beachfront property. As you drive down the uninhabited stretch of beach you will find astonishing beauty and a completely unique and special experience.

This is also a beach break with right and left breaking waves. Barrels are not uncommon here. This beach is best for intermediate and advanced surfers as it usually enjoys a greater impact from the swells (though there is a spot closer to the crossing that is appropriate for beginners no matter the swell).

There are few places in the world where surfers can enjoy great waves and astonishing beauty without any people or distractions. it is a special way to see the real Costa Rica while surfing.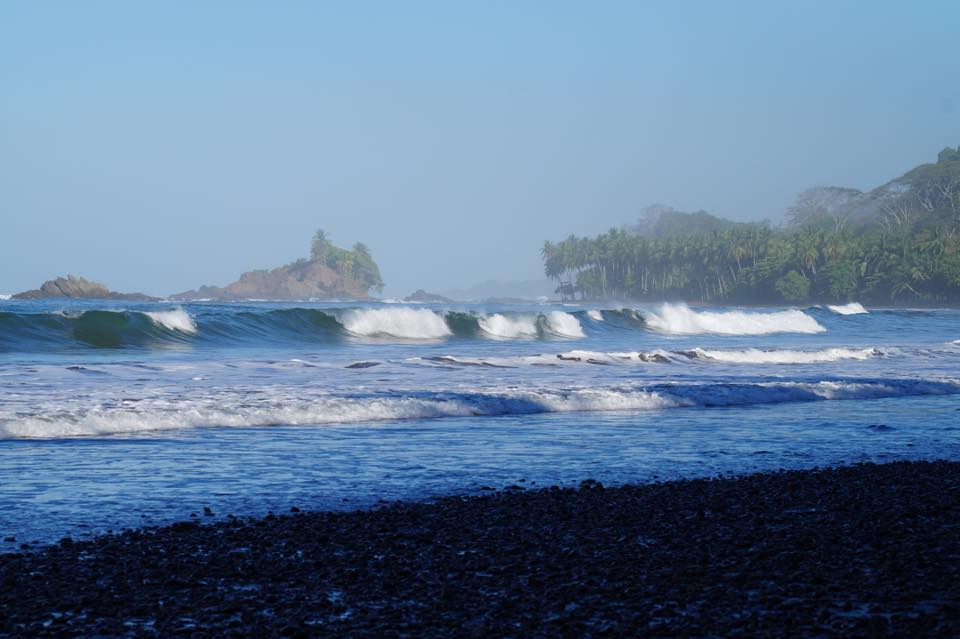 Dominicalito
Level: All Levels
At Dominicalito, intermediate surfers will find nice, slow, rolling waves that are forgiving and offer the perfect opportunity to work on turns and technique. We also coach beginners here on a daily basis. This break is also uncrowded.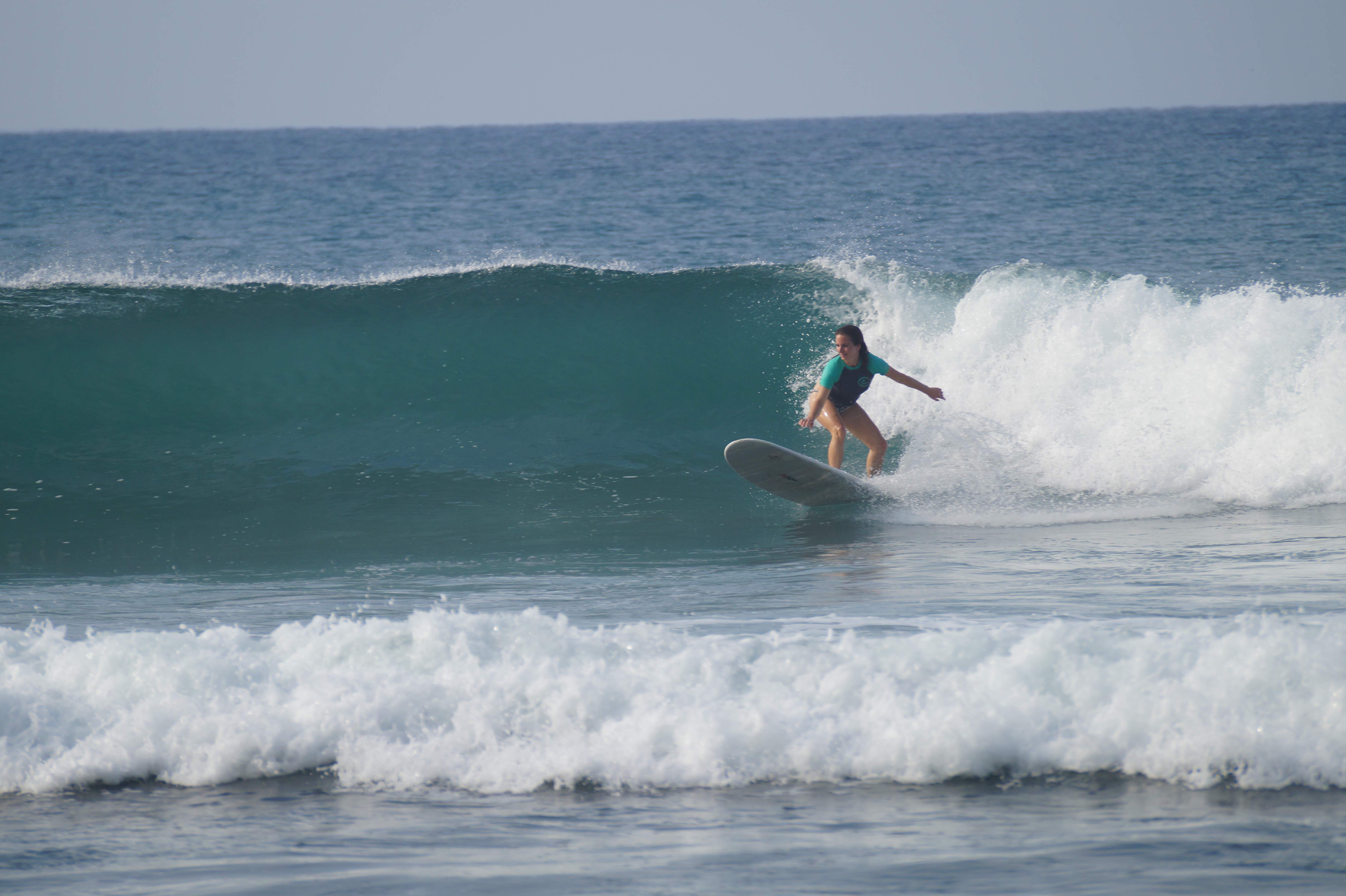 Dominical
Level: All Levels
Dominical is one of the most consistent beach breaks that you will find. No matter the swell or time of year, there are ALWAYS waves in Dominical. The waves break both left and right, offering nice options for all surfers.

Due to the varied choice of breaks, this area is perfect for all surfers from beginners to advanced. Advanced surfers can often enjoy beautiful barrels in Dominical while there are also waves appropriate for beginners and intermediate surfers.

Finally, this break is uncrowded, where you can surf on your own and focus on yourself without concern for crowds. We have traveled the world surfing and unfortunately have found that this is a rarity. But it is a rarity that you will enjoy with us.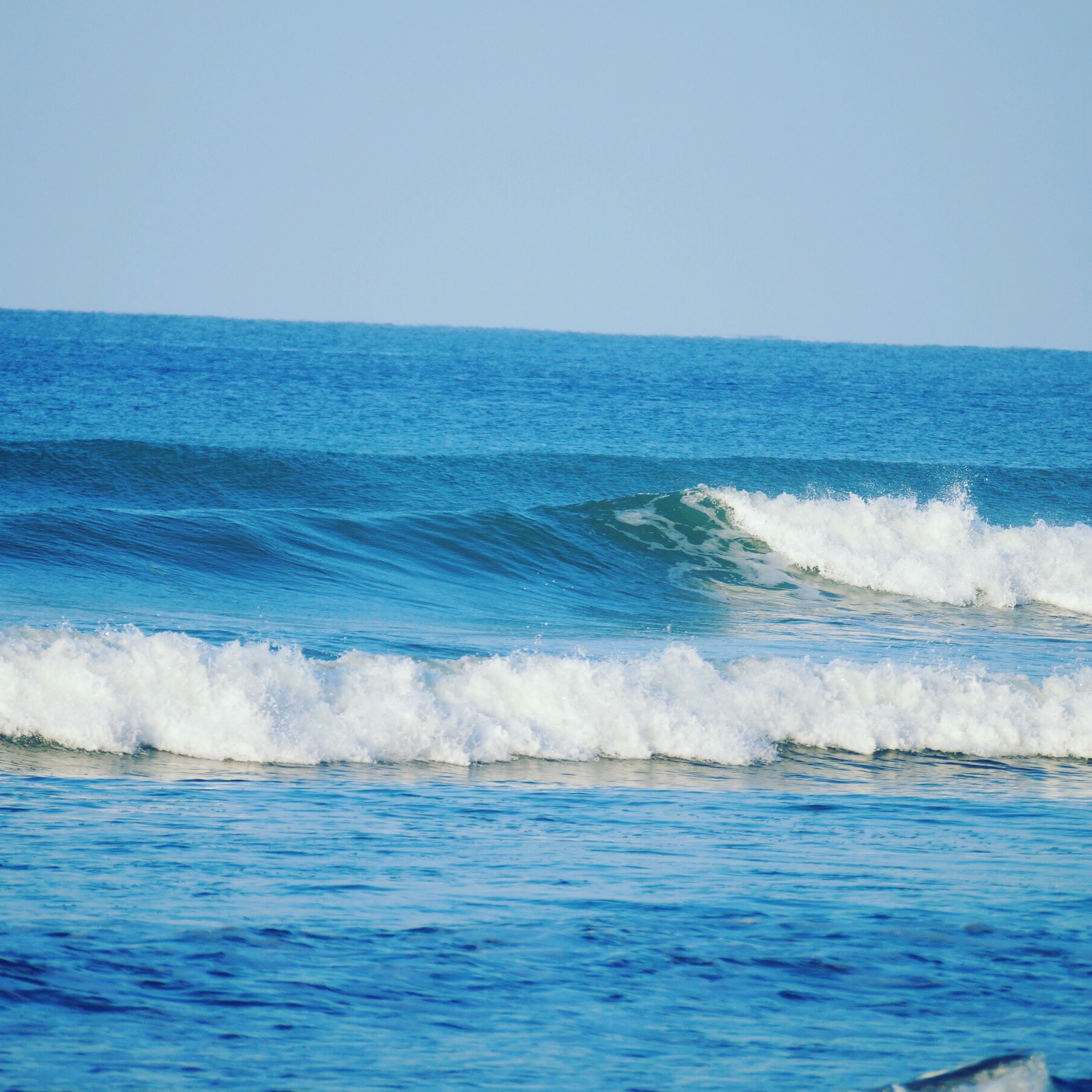 Manuel Antonio
Level: All Levels
Manuel Antonio is a long beach with a beach break along the entire stretch. A swell is necessary for this to break best. Playitas is the best option along Manuel Antonio beach. Playitas is located at the far end of Manuel Antonio beach and is a popular break for locals. It is less frequented than the main part of Manuel Antonio beach and has nice left and right waves.
Quepos Rivermouth
Level: All Levels
When there is a swell this spot produces an epic, gorgeous and long left wave. The mouth allows surfers to paddle around the wave to get out and into the line to up. This wave breaks best at low tide so it provides a good option for a double surf session after (or before) hitting up one of the other breaks at high to tide. This break can be good for all levels and is a great sunset surf option.
Surf conditions in Central Pacific - Dominical, Hermosa & Jaco:
Beginners:

JAN

FEB

MAR

APR

MAY

JUN

JUL

AUG

SEP

OCT

NOV

DEC
Intermediates:

JAN

FEB

MAR

APR

MAY

JUN

JUL

AUG

SEP

OCT

NOV

DEC
Advanced:

JAN

FEB

MAR

APR

MAY

JUN

JUL

AUG

SEP

OCT

NOV

DEC
Rain
Wetsuits
JAN/FEB
MAR/APR
MAY/JUN
JUL/AUG
SEP/OCT
NOV/DEC
---
The bigger swell season in the Central Pacific area is from May to November with waves consistently from 2-6 feet, sometimes bigger. Costa Rica's summer months & dry season is from December to April. Waves tend to be really fun clean 3-4 foot.
Surfing Jaco
The main beach in this surf town is a long 3 km beach break good for beginners and intermediates with many different peaks. If the swell gets above head high it tends to close out. South of the bay is Roca Loca, a right reef break that can hold up 10 feet at times.
Further south is Hermosa beach. It has a really good vibe to hang out, meet people and get in the water every day. It is a 7km long dark sandy beach breaks that works best on high tide. If you want to escape the crowd head further south. The beach packs a punch and when it's bigger it will rip those board shorts right off you and challenge even the best surfer.
Further along the coast you will find Esterillos about 10k south of Hermosa. Another fun beach break that is a swell magnet and if your looking for an uncrowded wave, take a walk down the beach and pick a peak.
Still heading south you will find other spots include Seco, Bejuco and Playa Espadilla, a great beginners surf beach in the popular surf town of Manuel Antonio.
Surfing Dominical
Less crowded than other surf towns in Costa Rica. Dominical is a much longer trek from San José so it does not tend to get the same amount of surfers that Jaco has. Dominical is a wave magnet and has been called the most consistent surf spot in Costa Rica. The towns main break, Playa Dominical works best on Mid to high tide as at low tide it can be just a shore dump. It tends to be a better spot for Advanced, intermediates as it can get powerful.
2km south is Dominicalito, a beachbreak that is great for beginners. Further on 1 km is The point, with rides of up to 250 meters! There are many more breaks to be discovered, and teh further on south you go the emptier the breaks.
Come surf Jaco, Dominical & Central Pacific Costa Rica with us....
PAYMENT
A small deposit is required to secure your booking.
Your balance is due at check in.
CANCELLING YOUR BOOKING
To cancel go to the MyAccount section and log in or register and you can cancel from within your account.
Your deposit is non refundable but can be used for the same property/surf school within one year of your original booking.
You can cancels anytime up to 7 days before travelling and you will not be charged the balance.
The Surfholidays Advantage
Easy messaging with a local surf host & expert to plan & book your dream surf holiday
1 Customize your surf trip with the help of a local surf host
Surfholidays has handpicked the world's top surf camps, accommodation & surf schools so you will have peace of mind and an unforgettable trip that meets your exact requirements.
2 Secure & easy booking
You can book instantly or message a host directly & request a custom option. Once you are happy with the trip, you can easily book via Surfholidays' secure payment platform.
3 Support before and after your trip
Our team at Surfholidays and your local host onsite are available before and during your trip to ensure things run smoothly.
4 Authentic travel experiences
Surfholidays hosts ensure that you will have the best experience based on up-to-date local insights. On top of that, the vast majority of your money will go straight to support and grow local surf towns.
Surfholidays offers a 100% satisfaction guarantee
If you are not fully satisfied, we'll work with you to make it right.