Dominical WaveRider
Dominical WaveRider
At Dominical beach, Dominical - Central Pacific - Dominical, Hermosa & Jaco, Costa Rica
Chat with a host who can help organise your trip...
Explore our Available Surf Packages
The Place
Couples
Families
Groups
Solo travellers
Boutique hotel located on the south side of Playa Dominical, walking distance to one of the best breaks in the Southern Pacific of Costa Rica and a short minute drive to a handful of beginners and intermediate surf spots.

The hotel has 8 rooms, each has a king size bed and a sofa bed, private bathroom, balcony, AC, wi to fi internet, kitchenette equipped with mini refrigerator, tea and coffee maker and dishes.

It features a nice pool, with a green area and a tropical bar for clients to enjoy.

Breakfast is included!
Location
Dominical is a small surf village, 3 hours from the capital, San Jose.
The hotel is a 3 minutes walk to the ocean, and 8 minutes walk to the center of town. With in a 5 minutes drive you can get to Dominicalito, 15 minutes drive to Playa Hermosa and point break, and a 25 minutes to Uvita.
Reviews

Facilities

Room types

Getting there

Surf Lessons

Waves

Terms
3 REVIEWS
Summary
Accommodation
Surf Lessons

Tracy Hawse
Jupiter, Florida, USA
October 2019
Travelled solo
How did you like the accommodation?
I love every little bit of my experience! I just came back from one week at Dominical waverider surf camp and can't say enough about it. The staff is extremely friendly and everything was top notch. I was a bit nervous about learning to surf, but all the instructors were very knowledgeable, patient and make you feel very comfortable. I stood up on my first day and by the middle of the trip I was catching waves on my own. As I progressed, they took me to surf different beaches, beautiful beaches. It was nice to have a female instructor some days and also guys instructors to learn from different perspectives. The hotel was super clean and comfortable, and has a nice pool too. They only served breakfast but you can easy walk to all restaurants. I had massage at the hotel and also did yoga every other day on the studio near by. Everything was fantastic and I can not wait to return to Dominical Waveridersurf camp!!!
How were the surf lessons?
I took five days lessons with Dominical waverider. The instructors were professional and super friendly. They are patient and made me feel comfortable and safe in the water. I was able to stand up on my second wave. They took me to different beaches. The beaches are beautiful! My favorite beach was Playa Dominicalito.

Kevin
South Africa
December 2018
Travelled with friends
How did you like the accommodation?
We arrived before Christmas and the town was very mellow, then by New Years lots of people were around. There are many restaurants and bar to hang out in town, we didn't need a car at all. Dominical Waverider provided all transportation for the surf lessons and they also arranged scuba diving and snorkeling tours for us. Plus they took us to a waterfall and to surf different beaches. The hotel was great and the beaches are beautiful. Andrew and Jeanine team were amazing, patient and so passionate about what they do. Amazing experience, we are already planing on coming back in the end of the year!
How were the surf lessons?
The lessons were scheduled with the tides but they even changed the dates to accommodated our extra activities. We have different levels of surfer on our group, so we had different instructors as we progressed. Sometimes more people came enjoy us for the surf lessons, but they always added extra instructor so everyone gets the right attention. We like it we made new friends during the lessons, or should I say surf buddies.

Ryan
Quebec
December 2018
Travelled as a couple
How did you like the accommodation?
We did the weeklong surf camp and we LOVED it! Andrew, Jeanine and team are simply amazing. Jeanine is incredibly outgoing and enthusiastic and she really knows her stuff, my girlfriend felt really comfortable surfing with another girl. Coaches Andrew and More, were fantastic. They really know what they are doing and can help you improve quickly. Everyone is so passionate about surfing that it's impossible not to get caught up in it yourself. They also really focus on your safety and making sure you understand the ocean and the waves. If you want to improve your surf skills in one of the coolest, most laid back places in the world then Dominical is definitely the place! Incredible sunsets daily. Good for families with children of just about any age, couples, friends or solo travellers. You'll leave knowing you had a great experience and made some wonderful friends. We'll be going back soon!
How were the surf lessons?
All the instructors are real rippers and know what they are doing. Professional, patient, positive! They are also lifeguards, we felt safe at all times while having fun!
You can never get lost
When you book you will receive our confirmation email with full travel directions of how to get to us.
We provide Airport Transfers from and to San Jose and they can be booked in the booking steps.
Price for 1-4 people: USD$150.00
Price for more than 4: USD$200.00
- Nearest Airport: San Jose
- Distance from Airport in kms: 162
- Time from Airport in a car: 3 hours
- There is no train from the airport
- There is a bus from the airport
Come Surf With Us
Surf Lessons can be added in the booking steps if they are not already included in a package.
Instructors
Playa Dominical is known to be the most consistent wave in Costa Rica, we get swells from every direction, so we have surf year around. The water is warm, no crowed and the locals are extremely friendly. The waves barrel at low tide and open faces long waves at high tide. Good surf, good vibes and amazing sunsets year around, this is the ideal location for a perfect surf vacation!
Main Surf Beach: Our main surf beach is Playa Dominical, it's a beach break for intermediate to advanced surfers walking distance from our surf camp. Five minutes driving south you will find Playa Dominicalito, a fun beach breack for beginners and intermediates. There is
Surf Lessons we offer:
Kids Surf Lessons
Our kids surf lessons are always one-on-one for kids from 4-11 years. The instructors are next to the kids at all times to make them comfortable in the water and to quickly assist them. Kids surf lessons are 1.5 hours long, we provide the surfboards, rashguards and also bring fresh fruits and water. We guarantee they will stand up in no time while having fun and mostly important safe!
Beginner Surf Lessons
We start on the beach with a 15-30 min speech about ocean knowledge, safety, surfboard anatomy and teach the proper mechanics to "pop up" to your feet on a surfboard. You will enter the water no deeper than waist high where they will be pushed in and surfing the waves in the white water. The surf lessons are 2 hours long, includes the surfboards, rashguards, fresh fruit and water, ration 3:1 max.
Intermediate Surf Lessons
You will learn how to paddle out beyond the break, how to sit on your board, choose the waves, spin your board and catch the green waves popping up to your feet and riding the face of the wave. You will also learn how to turn your surf board under the face of the wave ( Turtle-Roll ) and how to dismount safely. Lessons are 2.5 hr, include all equipment, fruit and water, 3:1 ratio.
Advanced Surf Lessons
We meet at our office or pick you up at your hotel in Dominical. We will be surfing the best spot according to the swell and surf conditions at the time. We will work on improve your skills and also specific manoeuvres like bottom turns, top turns, cutbacks, floaters or re-entries. The lessons is 2.5 hours long and include photos analyzes, we'll give you a cd with all the photos afterwards.
Private Surf Lessons
Private lessons gives you the chance to learn on your own pace, whether you are new to surfing, need support moving into bigger waves, or simply want to improve your surfing skills. The surf lessons are 2 hours long and you have one-on-one instruction. We provide transportation from Dominical, the surf board, rashguard, fresh fruit and water.
Surf Guide
Our goal is to help you get the best out of your surfing time in Dominical, take you to surf the best local surf spot for the swell or where is the right place to paddle out. Our coaches will be with you at all times to give you valuable tips about all the best the surfing spot. Surf tours are 3 hours long, includes transportation from Dominical, fresh fruit and water. Does not include surfboards.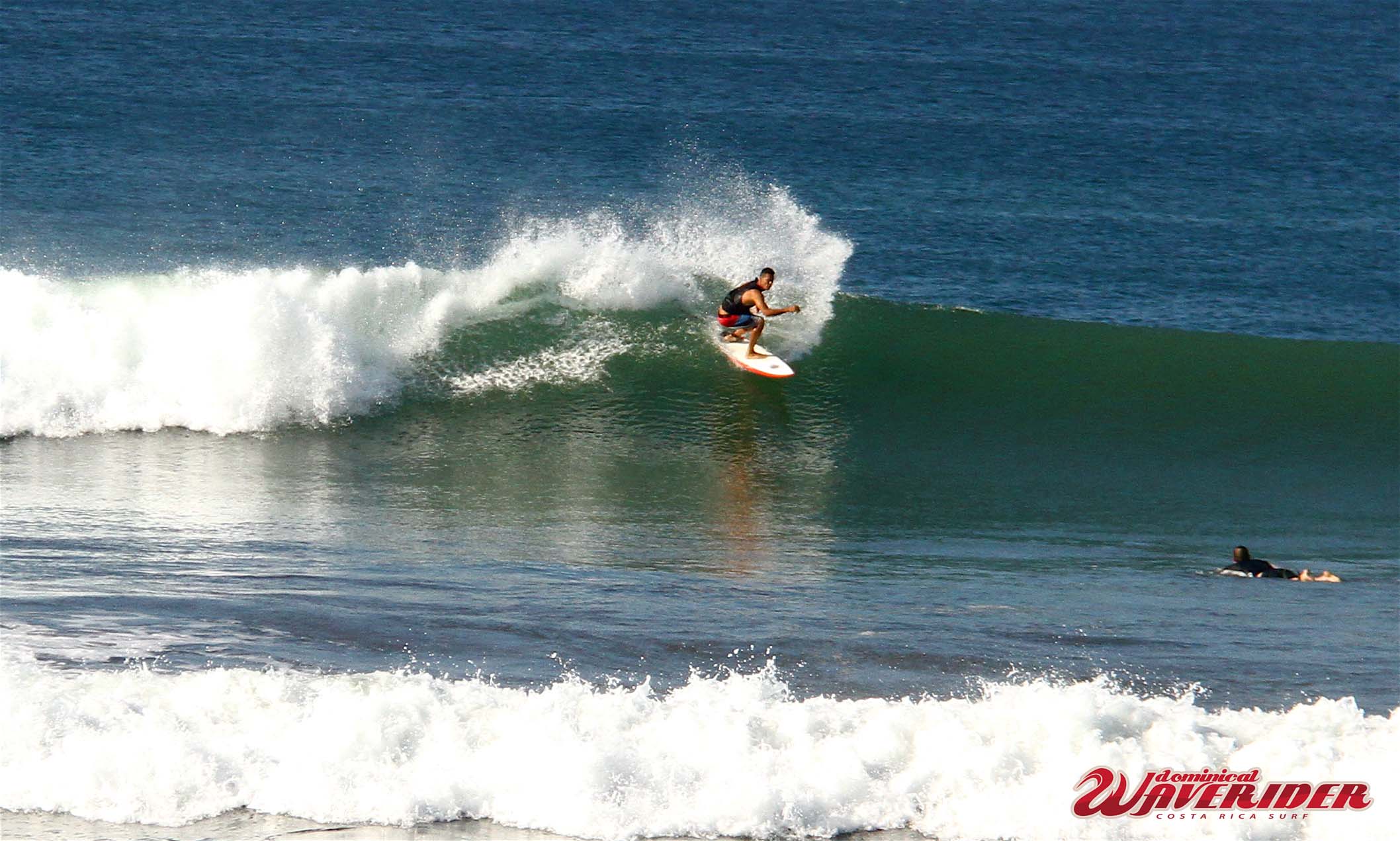 Playa Hermosa
Level: All Levels
Playa Hermosa is a long beach break located right off the road off the main highway between Dominical and Uvita. There are peaks everywhere, the waves are smaller than in Dominical and break best at mid and high tide.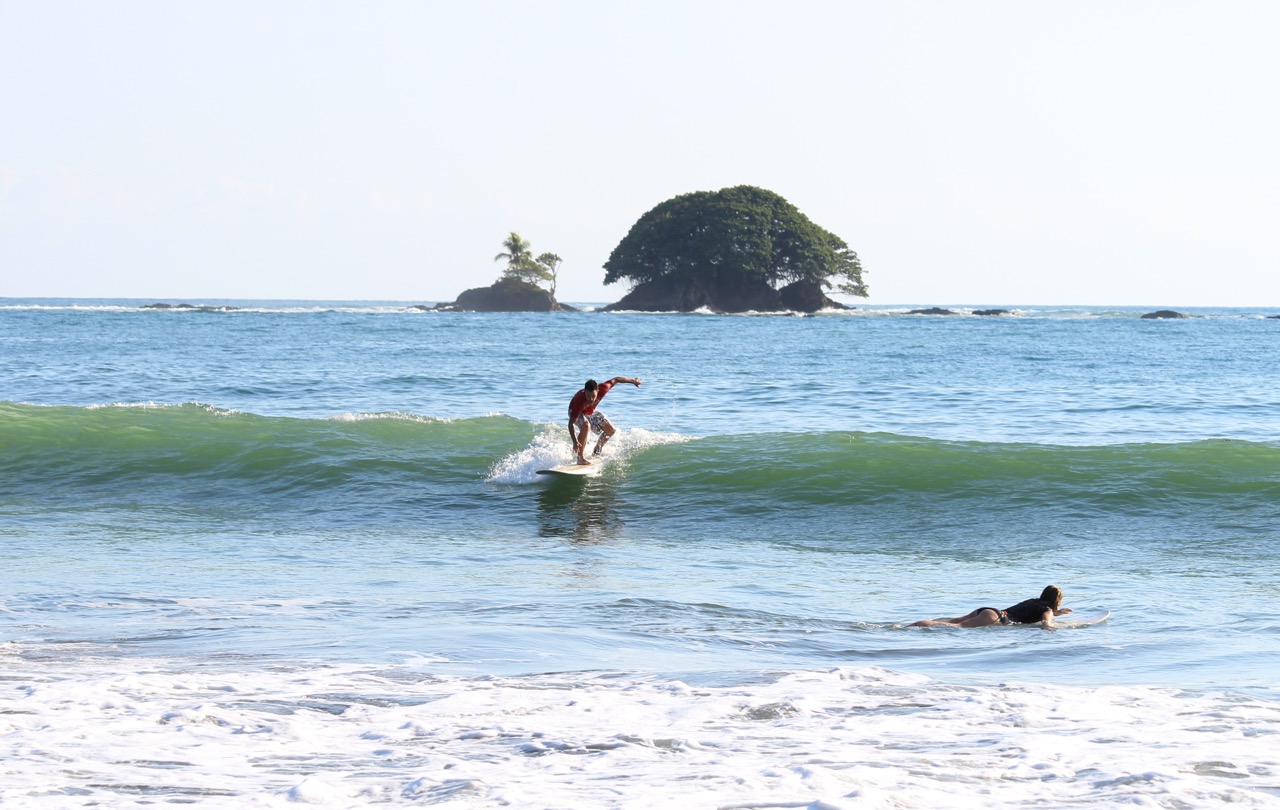 Playa Dominicalito
Level: Beginner
Playa Dominicalito is a friendly wave for all level of surfers located 5 min south of Dominical. The wave can be long and it is the perfect surf spot for beginners surfers and longboard swell is up. It only can be surfed at higher tide since the beach has big rocks in the bottom. The mid to south side of the beach has less rocks.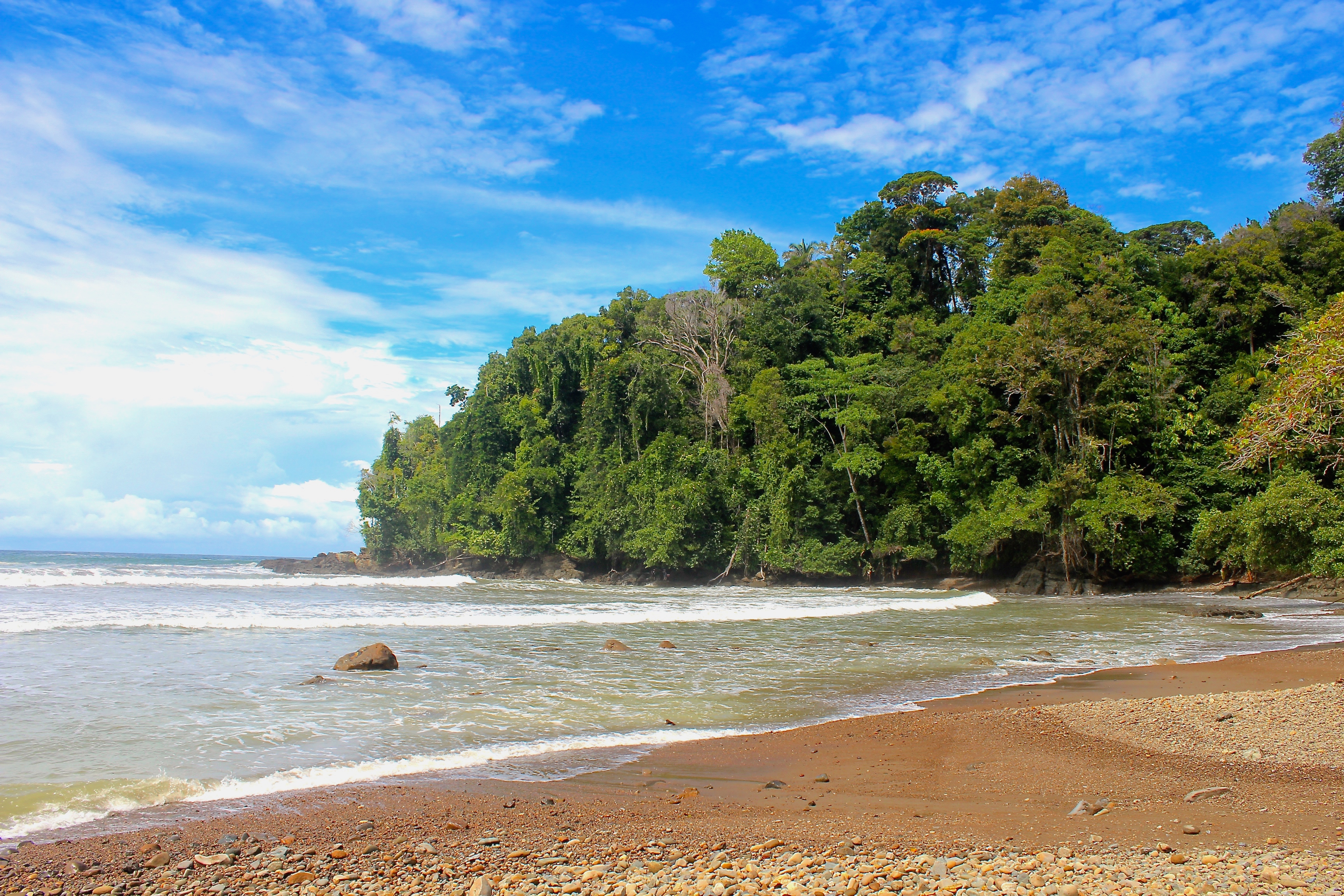 Punta Achiote
Level: Advanced
Punta Achiote is a point break located on the north side of Playa Hermosa. The wave works better when surf is above 6ft. It wedges around the rocks making a right, it barrels at times and the left is long and more soft since t goes against the channel. There are shallow rocks on the inside, watch out when paddling out. The wave works best at mid tide.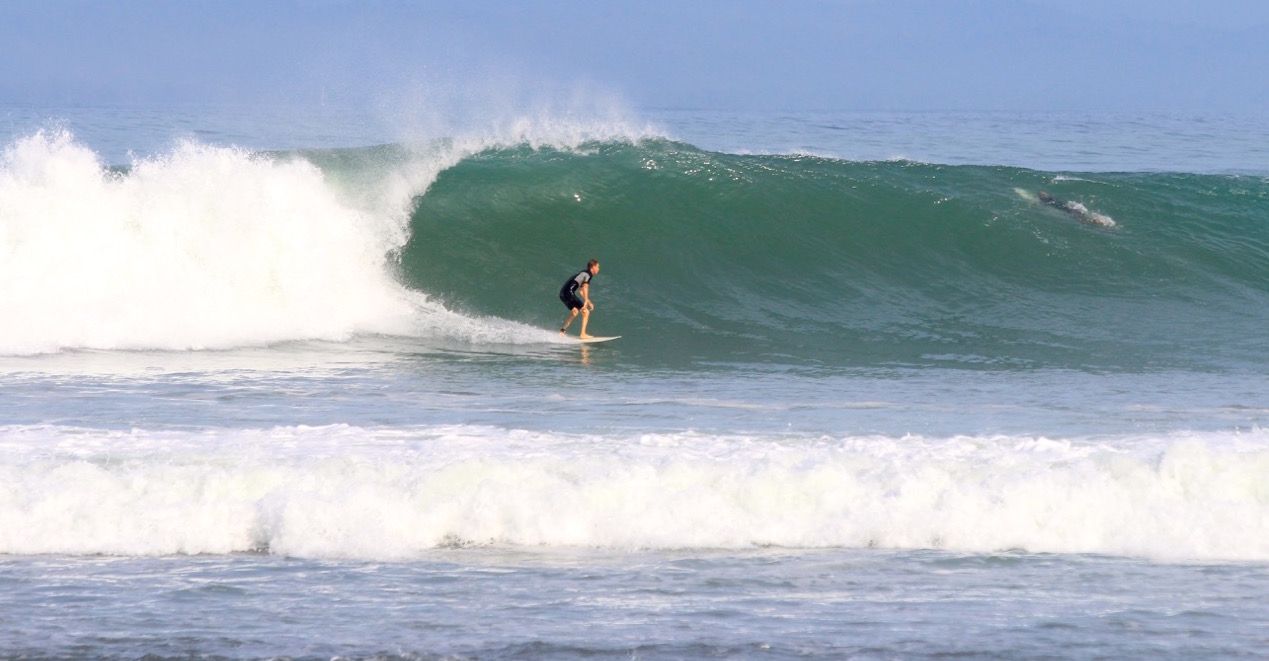 La Punta
Level: Advanced
The Point "La Punta" is a long left point break, it is a peaky wave and only works when swell is above 8ft. Works best with south swells. There are two main take off on the wave, and its popular called by local as the mini Pavones. When is working good it is a world class wave!
Surf conditions in Central Pacific - Dominical, Hermosa & Jaco:
Beginners:

JAN

FEB

MAR

APR

MAY

JUN

JUL

AUG

SEP

OCT

NOV

DEC
Intermediates:

JAN

FEB

MAR

APR

MAY

JUN

JUL

AUG

SEP

OCT

NOV

DEC
Advanced:

JAN

FEB

MAR

APR

MAY

JUN

JUL

AUG

SEP

OCT

NOV

DEC
Rain
Wetsuits
JAN/FEB
MAR/APR
MAY/JUN
JUL/AUG
SEP/OCT
NOV/DEC
---
The bigger swell season in the Central Pacific area is from May to November with waves consistently from 2-6 feet, sometimes bigger. Costa Rica's summer months & dry season is from December to April. Waves tend to be really fun clean 3-4 foot.
Surfing Jaco
The main beach in this surf town is a long 3 km beach break good for beginners and intermediates with many different peaks. If the swell gets above head high it tends to close out. South of the bay is Roca Loca, a right reef break that can hold up 10 feet at times.
Further south is Hermosa beach. It has a really good vibe to hang out, meet people and get in the water every day. It is a 7km long dark sandy beach breaks that works best on high tide. If you want to escape the crowd head further south. The beach packs a punch and when it's bigger it will rip those board shorts right off you and challenge even the best surfer.
Further along the coast you will find Esterillos about 10k south of Hermosa. Another fun beach break that is a swell magnet and if your looking for an uncrowded wave, take a walk down the beach and pick a peak.
Still heading south you will find other spots include Seco, Bejuco and Playa Espadilla, a great beginners surf beach in the popular surf town of Manuel Antonio.
Surfing Dominical
Less crowded than other surf towns in Costa Rica. Dominical is a much longer trek from San José so it does not tend to get the same amount of surfers that Jaco has. Dominical is a wave magnet and has been called the most consistent surf spot in Costa Rica. The towns main break, Playa Dominical works best on Mid to high tide as at low tide it can be just a shore dump. It tends to be a better spot for Advanced, intermediates as it can get powerful.
2km south is Dominicalito, a beachbreak that is great for beginners. Further on 1 km is The point, with rides of up to 250 meters! There are many more breaks to be discovered, and teh further on south you go the emptier the breaks.
Come surf Jaco, Dominical & Central Pacific Costa Rica with us....
PAYMENT
A small deposit is required to secure your booking.
Your balance is due at check in.
CANCELLING YOUR BOOKING
To cancel go to the MyAccount section and log in or register and you can cancel from within your account.
Your deposit is non refundable but can be used for the same property/surf school within one year of your original booking.
You can cancels anytime up to 7 days before travelling and you will not be charged the balance.
The Surfholidays Advantage
Easy messaging with a local surf host & expert to plan & book your dream surf holiday
1 Customize your surf trip with the help of a local surf host
Surfholidays has handpicked the world's top surf camps, accommodation & surf schools so you will have peace of mind and an unforgettable trip that meets your exact requirements.
2 Secure & easy booking
You can book instantly or message a host directly & request a custom option. Once you are happy with the trip, you can easily book via Surfholidays' secure payment platform.
3 Support before and after your trip
Our team at Surfholidays and your local host onsite are available before and during your trip to ensure things run smoothly.
4 Authentic travel experiences
Surfholidays hosts ensure that you will have the best experience based on up-to-date local insights. On top of that, the vast majority of your money will go straight to support and grow local surf towns.
Surfholidays offers a 100% satisfaction guarantee
If you are not fully satisfied, we'll work with you to make it right.