Tramore and South East Coast

The Surf Shack Curracloe
The Surf Shack Curracloe
Surf School in Tramore and South East Coast, Ireland
About
We are the only surf school in Co.Wexford since 2013. We also operate a thriving Surf Club and a strong community of young surfers that compete on behalf of our school. We love surfing and the community that comes with it. We take all levels from beginners to advanced surfers, 1 to 1 and in large groups. SUP is popular on the beach and we offer tours and rentals for both surf & SUP in Wexford. We also run Kids Camps and Sandboarding form our Surf School. Don't miss out on the fun!
Kids Surf
Beginner Surf
Advanced Surf
Private Surf
SUP
Lessons

Prices

Getting There

Waves

Terms
Due to changing tides exact surf lesson start times are not decided until the week of your lesson.
After you book we will contact you the week of your lesson to tell you your lessons start time.
Kids Surf
We run surf lessons for kids everyday. During July & August we run Surf Camps Monday - Friday at 10am & 1pm ages 6-16. Our camps include surfing, sand boarding, stand up paddle boarding & loads of beach games! You can book 1day, 3days or 5days on our weekly camps. 2hrs long and all you need is your togs and a towel (+ sunscreen). Get the basics and start surfing with a smile!
Beginner Surf
We specialise in introducing people to surfing & giving you the tools to shred! Whether you are a beginner or improver at The Surf Shack...you are going to get shacked! We make it fun and easy for you to learn with ISA qualified instructors up to Level 2 and work on a 1:8 instructor : student ratio so that you can learn with your friends and stay safe knowing we got your back.
Advanced Surf
Our advanced sessions run by booking and when the surf is "pumping brah". We offer 1 - 2hr specific coaching instruction from a fully qualified Level 2 ISA instructor. Sessions can be in the water or just on land. Take your surfing to the next level and tailor your surf lesson to what need. Video/Drone analysis available, Specific training & coaching , Adults and groms welcome. Groups of up to 4.
Private Surf
For those who want the ultimate shack experience and to enjoy it with friends/family. We run private group lessons from March - December in any conditions, any day any time. Our activities can always run and we never cancel. Group of friends, hens and stags, families welcome. We keep these sessions just for you. Activities included: Surfing, SUP , Sandboarding/Duneboarding, Supertanker Surfing.
SUP
Paddle in 5 minutes. Our lessons show you how fun SUP is. Instantly master the art with our super steady flat-water boards (you can come out in your clothes if you like, even bring your dog!). Try waveriding SUP with an instructor or a tour around Curracloe Beach. Or get a mad group together and go for a session on the SUPERTANKER. 17ft surfboard = Perfect.
Prices from 01 March to 05 November
| Prices per person | 1 Day | 2 Days | 3 Days | 4 Days |
| --- | --- | --- | --- | --- |
| Kids Surf Lessons | €25 | €50 | €65 | €90 |
| Beginner Surf Lessons | €35 | €60 | €90 | €120 |
| SUP Lessons | €35 | €60 | €90 | €120 |
| Advanced Surf Lessons | €50 | €100 | €140 | €190 |
Private Surf Lessons
Prices per person
1 Day
2 Days
3 Days
1 Person
€75
€140
€200
2 People
€50
€100
€145
3 People
€35
€65
€95
4 People
€30
€60
€80
5 People
€25
€50
€70
6 People
€25
€50
€90
7 People
€25
€50
€90
8 People
€25
€50
€90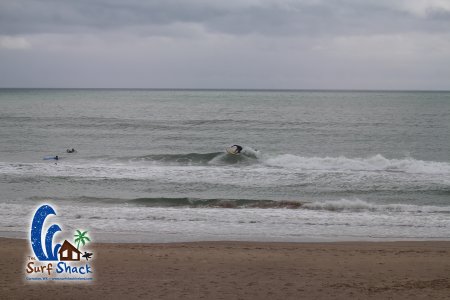 Curracloe Beach
Level: All Levels
Fun learner waves perfect for big longboards or foamboards. Allways offshore here with SW prevailing wind. Much bigger in Winter with strong currents but usually very safe (unless it is over 6ft). Summer swells from the south bring long lefts and rights at low tide on the sandbank.
Surf conditions in Tramore and South East Coast:
Beginners:

JAN

FEB

MAR

APR

MAY

JUN

JUL

AUG

SEP

OCT

NOV

DEC
Intermediates:

JAN

FEB

MAR

APR

MAY

JUN

JUL

AUG

SEP

OCT

NOV

DEC
Advanced:

JAN

FEB

MAR

APR

MAY

JUN

JUL

AUG

SEP

OCT

NOV

DEC
Wetsuits
Air Temp (°C)
Payment
A small deposit is required to secure your booking.
Your balance is due 4 days prior to arrival.
Cancelling
To cancel go to the MyAccount section and log in or register and you can cancel from within your account.
Your deposit is non refundable but can be used for the same property/surf school within one year of your original booking.
We need notice at least 24 hours before scheduled lesson time to provide a full refund. Less notice and you will be charged for half your session.
What happens if the surf school cancel the Surf Lessons?
In the rare occasion that conditions do not allow for the surf lesson to go ahead you will be given a full refund.
The following cards are accepted on site:
Why use Surfholidays.com?
Book your accommodation & surf lessons/guiding in the one place
24/7 Support – phone & email
20,000 booked since 2009
Best price guarantee
Flexible payment: Only a deposit is needed to book
Flexible cancellation conditions
Manage your bookings online
You're in control of your booking. No registration is required.
Your booking is secure & details are protected by a secure connection.
Jack-Tim Murphy