SAFA Surf Camp
SAFA Surf Camp
Galaxy Road,Arugambay,Pottuvil,Sri Lanka.32500, Arugambay - Arugam Bay , Sri Lanka
Chat with a host who can help organise your trip...
Explore our Available Surf Packages
The Place

Private & Shared room options
Couples
Families
Groups
Solo travellers
SAFA Surf Camp is a locally owned surf camp in the eastern Sri Lankan coastal town of Arugam Bay. Known for its great waves and chilled surfer vibe, it is the perfect place to learn to surf and our team at SAFA (Surfing Access For All) are the best one to teach you.

Our crew is made up of locals as their knowledge of the area, ocean, currents, and tides is some of the best out there. They will have you paddling, standing on your board, and catching and riding waves in no time– all with a big smile on your face.

The surf camp is right on the beach we encourage a relaxed, family style stay so that whether you are here for a night, a week, or the full two weeks, SAFA will feel like home. Set on open plan beach surrounds, with no noise or light pollution, the only sounds you will hear are the waves crashing against the beach and the laughter of our guests as they unwind after a day at sea. We serve breakfast, lunch and dinner at the camp as well as a range of snacks to feed your hungry post surf bellies. Fill up on porridge, eggs, fruit or traditional curries and rice, all made with locally sourced ingredients and prepared freshly by our local chef.
Location
Lovely Arugam Bay, a moon to shaped curl of soft sand, is home to a famed point break that many regard as the best surf spot in the country. It's a tiny place, with a population of a few hundred, and everything is .ted along a single road which parallels the coast. So in other words, the epitome of the laid to back beach scene that first drew surfers and sun to seekers to Sri Lanka.
Facilities

Room types

Getting there

Surf Lessons

Waves

Terms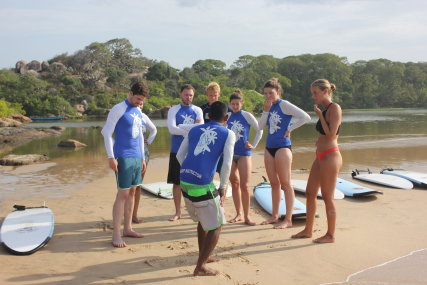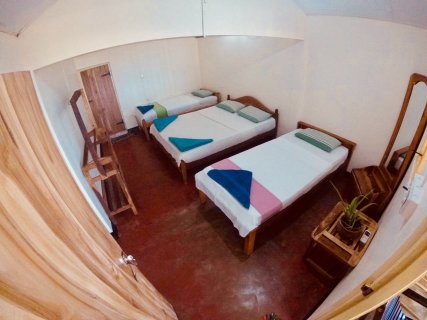 Dorm
Room Type: Shared - Female
Sleeps:

3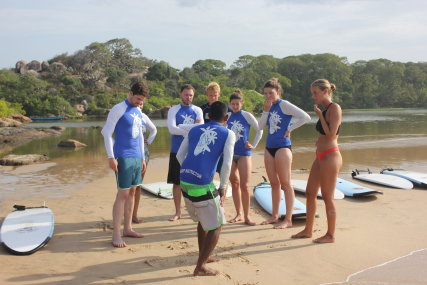 You can never get lost
When you book you will receive our confirmation email with full travel directions of how to get to us.
We provide Airport Transfers from and to Bandaranayaka international airport and they can be booked in the booking steps.
Price for 1-4 people: USD$120
- Nearest Airport: Bandaranayaka international airport
- Distance from Airport in kms: 185
- Time from Airport in a car: 4 hours and 30 min
- There is no train from the airport
- There is a bus from the airport
Come Surf With Us
Surf Lessons can be added in the booking steps if they are not already included in a package.
Instructors
we have a 9 surf spots with different waves so you can choose depending on your surf skill.we have easy and gentle waves to learn surf.there are 6 surf spots are suits for beginners shallow and sandy bottom.water temperature is 28 C whole year.no hark no Crocodile.
Main Surf Beach: Whisky point
Surf Lessons we offer:
Kids Surf Lessons
Specially we have a surf coaches for kids and we are bringing them in a safe and less deep water area to give lessons.
we will pick you up from your hotel and take you to the surf spot,we provide all equipments (surf boards,Rash guard/rash west )our instructors will explain you about the surf spot and safety and security while you surf and they will teach you wet and try lesson for 90 min.

Beginner Surf Lessons
our surf coaches are specialyst to teach the beginners in the eastern coast of sri lanka and we are patience and tolerance while we are in the water with you and friendly.we collect you from the hotel and drop you after the lesson.the lesson will be 90 min wet and dry all equipment included as well.our Ratio:per teacher 4 student.
Note:please bring with you water,towel and sunscreen if is sunny.


Intermediate Surf Lessons
we collect you from the hotel and drop you after the lesson.the lesson will be 90 min wet and dry all equipment included as well (surf boards and suits.
Note:please bring with you water,towel and sunscreen if is sunny.
our Ratio is :1:4 per teacher 4 students(international ration is 1:8 but we dont do that)


Private Surf Lessons
we collect you from the hotel and drop you after the lesson.the lesson will be 90 min wet and dry all equipment included as well (surf boards and suits.
Note:please bring with you water,towel and sunscreen if is sunny.

Surf Guide
we will offer you transportation and food which is breakfast or lunch depending on the time when we surf.our instructor will pick you up from the hotel and take you to the surf spot and he/she will explain you about the surf spot and the information and surf with you how long you want.even we can make a day drip also to visitfew surf spots during the day and see the local villages and the lifesty
Yoga
we offer you the class after the morning surf and before breakfast.
Baby point
Level: Beginner
Baby Point to this is the point we take all the beginners out to teach, here the waves get to 2 to 3ft high with a right hand break and shallow sandy bottom.
From July to November are the best times to begin your surfing here.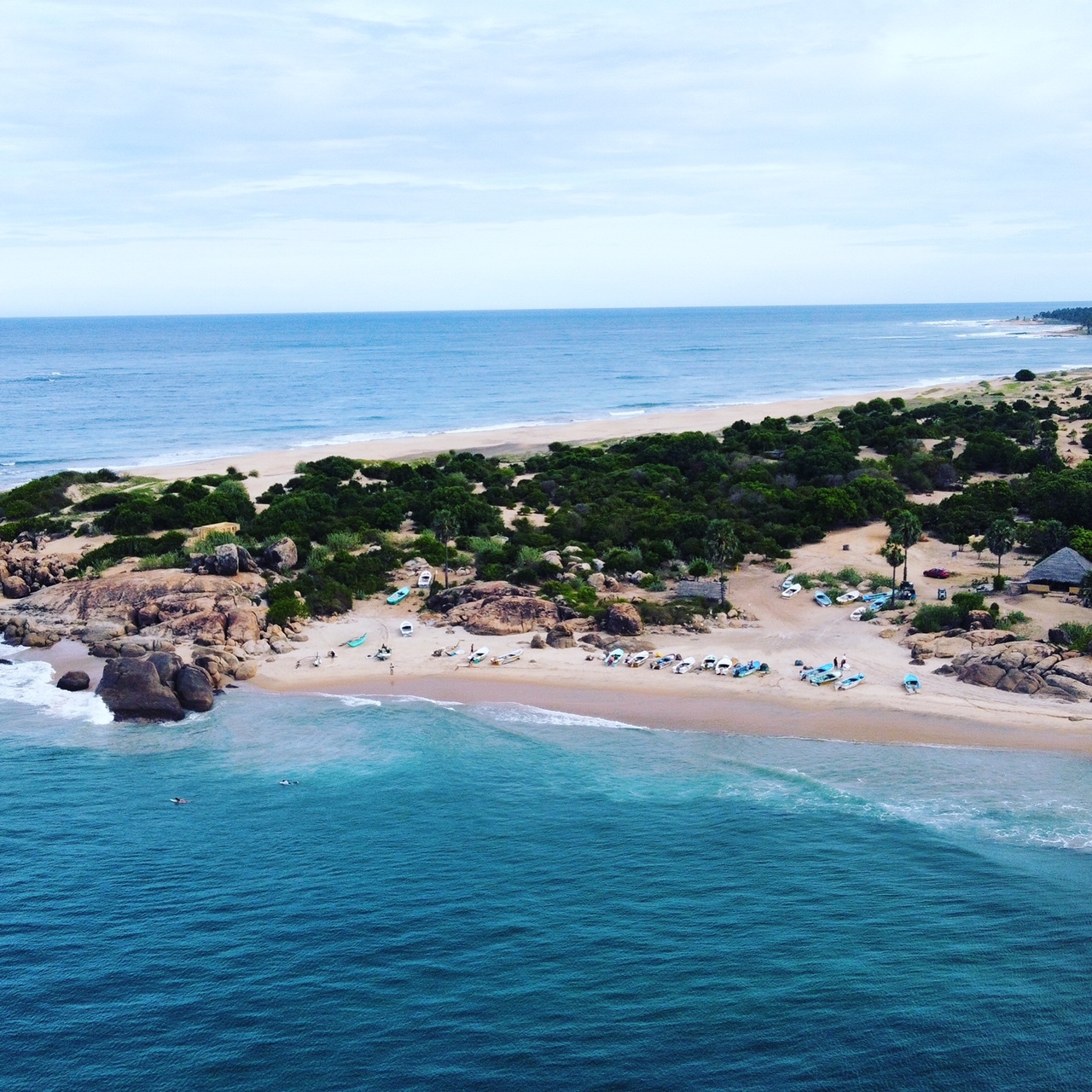 Pottuvil point
Level: All Levels
to Pottuvil Point to from August to November this point has a very long right hand break you can ride this wave into shore with a generous amount of 1000 metres distance to pull some tricks and experience a barrel. We recommend this for experienced surfers but after your weeks lessons you will be prepared enough for this excellent surf.
Whisky point
Level: Intermediate
Whiskey point to this point is good all year round especially for long boarders and paddle boarders also kite surfers are always out enjoying the windy shores. The waves here get to 3 to 4ft high with a distance 200 to 300m to ride in on.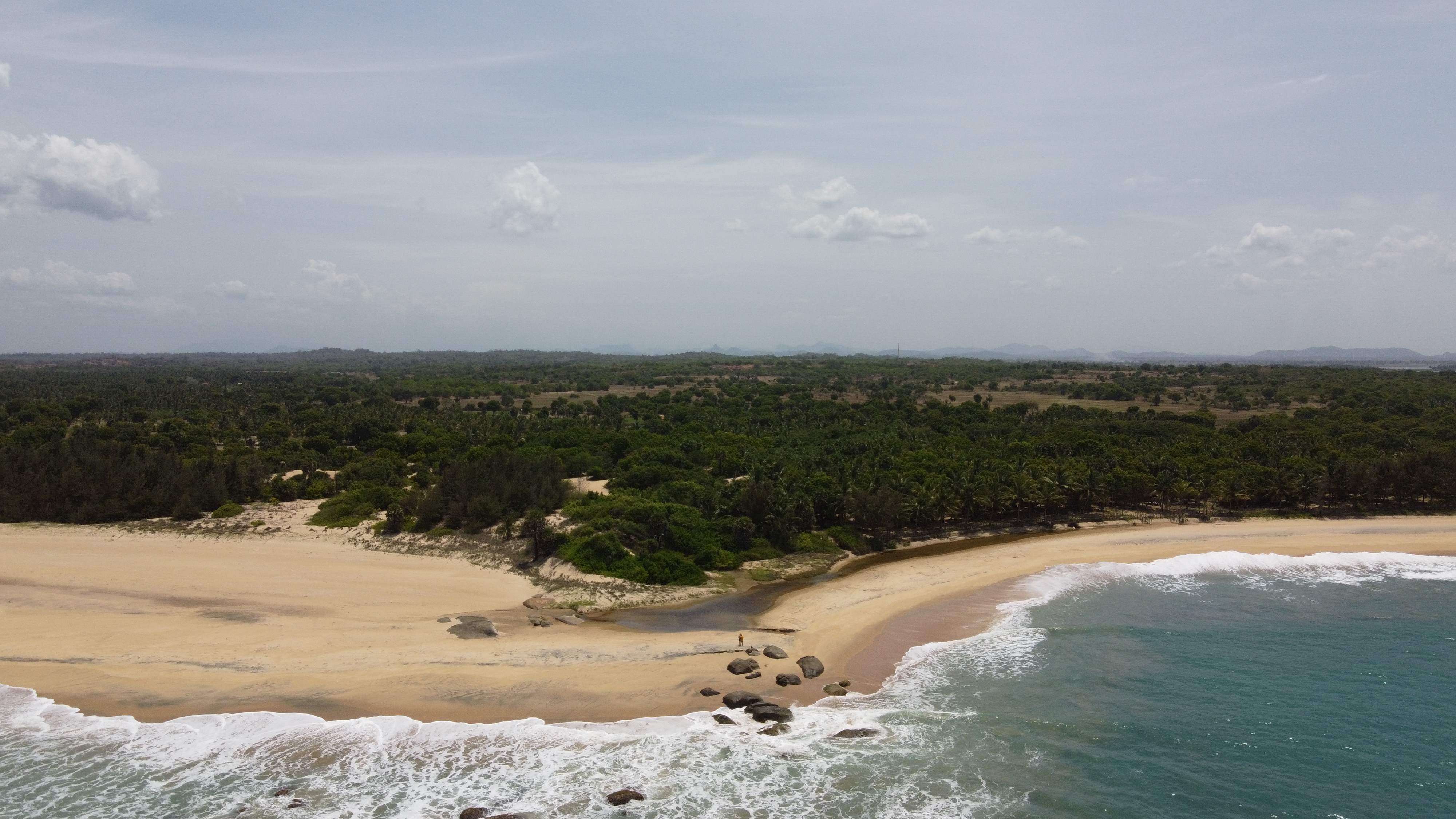 Light House
Level: Intermediate
Lighthouse to this is a beautiful spot for those more experienced and want to get out onto the beaten track. From Arugam it is a 40 minute drive by tuk to tuk, it's a superb way to spend a day travelling and catching waves. On the way you can see temples, rice paddies and stop for a coconut. Here the waves reach 3 to 4ft high with a distance of 200 to 300m with sandy rocky bottom.
Peanut farm
Level: All Levels
Peanut farm to this is the spot for beginner to intermediate it's a clean right hand sandy bottom wave with a size of 3 to 4ft high and distance of wave 200 to 350m best in July til November
Okanda
Level: Advanced
Okanda to great remote spot for advanced surfers having the steep barrel waves and 5 to 8ft high. Its half reef and sandy bottom with a distance of 400 to 600m from Arugam it's a one hour scenic drive on the way you can see temples, ricer paddies and lots of wildlife.
Panama Point
Level: Intermediate
Panama Point to half hour from our retreat for intermediate surfers. Has a sandy and reef bottom with a wave distance of 200 to 300m reaching 3 to 5 ft in wave height.
Secret surf spot
Level: All Levels
Secret surf spot to in front of our surf camp only for skilled surfers sandy bottom the waves are thick hollow and steep must be a strong surfer. Wave distance of 40 to 60m and height 5 to 6 ft all year round.
Surf conditions in Arugam Bay :
Beginners:

JAN

FEB

MAR

APR

MAY

JUN

JUL

AUG

SEP

OCT

NOV

DEC
Intermediates:

JAN

FEB

MAR

APR

MAY

JUN

JUL

AUG

SEP

OCT

NOV

DEC
Advanced:

JAN

FEB

MAR

APR

MAY

JUN

JUL

AUG

SEP

OCT

NOV

DEC
Rain
Wetsuits
JAN/FEB
MAR/APR
MAY/JUN
JUL/AUG
SEP/OCT
NOV/DEC
Season
May to October is the best time to Surf
---
Arugam bay is known to have perfect fun right handers that rarely get above head high, so it's perfect for intermediates and beginners. It is one of Sri Lankas best reef breaks.
Waves are super fun so you will use a mix of a fish or a small wave board along or a shortboard for the bigger swells that might come in.
Slightly southwards around the point of the town is
Arugam Bay reef break
. This reef is a consistent, small wave that creates both rights and lefts over deep reef and is quite a mixed bag in that it can produce mushy waves close to shore that are excellent for gaining balance and practicing your pop up, while also forming faster, clean waves out back that are ideal fun waves for intermediates to advanced surfers.
In contrast to the South West, where a multitude of spots are dispersed along the coast,
the best surfing in the South East is all centralized in the vicinity of Arugam Bay
. This means you can set yourself up in the town without having to think about packing any time soon.
Even uncrowded breaks are within a short tuk-tuk trip of the bay. Ten minutes from Arugam Bay are Crocodile and Elephant Rock, each wave caters for a different style of surfer.
Elephant Rock
is a beautiful, serene spot for beginners while
Crocodile Rock
can be powerful and challenging.
The additional beauty of these spots is their remoteness, being situated on a stretch of beach largely populated by wildlife rather than people. There is also a
Buddhist temple
a short 5KM journey away that is well worth the visit, and just a snapshot of the islands ancient Buddhist culture.
PAYMENT
A small deposit is required to secure your booking.
Your balance is due at check in.
CANCELLING YOUR BOOKING
To cancel go to the MyAccount section and log in or register and you can cancel from within your account.
Your deposit is non refundable but can be used for the same property/surf school within one year of your original booking.
You can cancel anytime up to midday the day before and you will not be charged the balance.
The following cards are accepted at this property:
The Surfholidays Advantage
Easy messaging with a local surf host & expert to plan & book your dream surf holiday
1 Customize your surf trip with the help of a local surf host
Surfholidays has handpicked the world's top surf camps, accommodation & surf schools so you will have peace of mind and an unforgettable trip that meets your exact requirements.
2 Secure & easy booking
You can book instantly or message a host directly & request a custom option. Once you are happy with the trip, you can easily book via Surfholidays' secure payment platform.
3 Support before and after your trip
Our team at Surfholidays and your local host onsite are available before and during your trip to ensure things run smoothly.
4 Authentic travel experiences
Surfholidays hosts ensure that you will have the best experience based on up-to-date local insights. On top of that, the vast majority of your money will go straight to support and grow local surf towns.
Surfholidays offers a 100% satisfaction guarantee
If you are not fully satisfied, we'll work with you to make it right.