Surf Lisbon - The Villa
Surf Lisbon - The Villa
Avenida Gomes Freire 3, Caxias - Lisbon, Portugal
Chat with a host who can help organise your trip...
The Place
Couples
Families
Groups
Solo travellers
A modern, contemporary surf villa right next to the beach from Nuno & his team at Surf Lisbon.

Also located in the village of Caxias, this villa accommodates a maximum of 9 people all comfortably installed in 5 private rooms (among them one bedroom with en suite and one with private WC).

The spacious living and dining room open to the garden where you can breathe in the sea breeze and where you can relax in the sun or shade after another fantastic day of surfing are some of the highlights of Surf Lisbon to The Villa.

A large, well to equipped kitchen serves as a support for guests to prepare their breakfast or other meals but a 2 to minute walk away is the best restaurant in the village with grilled meat and fish dishes, seafood and the best wine! Just next door you will find a small supermarket, cafes, a bakery, other restaurants, pharmacy, ATM, skatepark and a post office to send the postcard of homesickness, among other services.
Location
Ocean front location in Caxias, a small village only 15 minutes away both from Lisbon historical city centre and Cascais.

In Winter you just need to go (literally!) around the corner to score some waves at the local spot. The most famous surfing breaks around Lisbon are only between a 5 to 20 minute drive from the Surf Villa.

Within a 2 minute walking distance you have access to local restaurants, coffee shops, bakery, pharmacy, ATM, grocery stores, etc,... If you want to bring your skateboard we also have an amazing skatepark only 100 meters from Surf Lisbon to The Villa.
Reviews

Facilities

Room types

Getting there

Surf Lessons

Waves

Terms
2 REVIEWS
Summary
Accommodation
Surf Lessons

Cecilia
Sweden
August 2019
Travelled as a couple
How did you like the accommodation?
House was great and location perfect with bakery and restaurant close but also close to get the train to Lisbon city center.
How were the surf lessons?
Really good teachers that made us feel safe and developed a lot in just three days.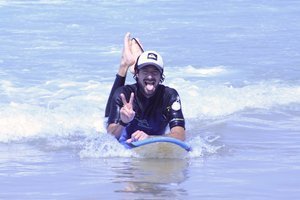 Reply from Nuno
Dear Cecilia, thank you very much for your positive review regarding your surf & stay at Surf Lisbon - The Villa.

Really happy that you enjoyed and we look forward to your next visit for more surf & fun!

All the best,

Nuno

Rajan
United Kingdom
July 2019
Travelled solo
How did you like the accommodation?
Our host, Nuno, was very gracious and helpful with all of our questions moving into the villa - you couldn't ask for a better host! The villa was clean and the facilities were fantastic. Housemates were friendly and fun and I enjoyed spending time with them all. The location is slightly away from Lisbon but it wasn't a problem getting into the city and getting to the surf school was super easy since we were picked up every morning (I really liked the ease of this)!

Note: we stayed in the 'Villa' instead of the 'House'. The villa is quieter, has less people and has a more relaxed vibe than the house. The advantage is you feel like you have your own space and somewhere to retreat to after hanging out with everyone all day, the disadvantage is you may feel removed from some of the friends you make along the trip!
How were the surf lessons?
Instructors were friendly and at most times helpful (although I felt some students received disproportionate amounts of attention). One criticism would be a lack of continued teaching, on the first day we were taught how to stand and catch a wave but I think it would be nice to be coached on how to catch bigger waves and being told where I was going wrong on the occasions where I fell or didn't manage to catch the wave (much like the sort of continued coaching often received on ski trips). I found the surfing area to be a little crowded (mid-late July) which made catching waves difficult as I was constantly worried about crashing into somebody. Many of my criticisms can be related to student/teacher ratios which I think weren't ideal at times, but I felt enthusiasm and passion for surfing from all staff and would happily come back.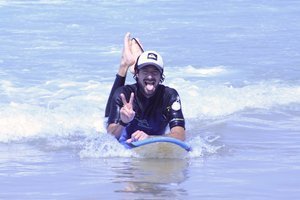 Reply from Nuno
Dear Rajan,

thank you and your friend for staying at Surf Lisbon - The Villa and describing so well your surfing experience in Lisbon with our team.

We really appreciate your kind words and your amazing feedback and are already waiting for your next surf trip to Lisbon!

We wish you all the best! Keep surfing!

Nuno
Number of people: 9
Additional Fees:
Late Check In (after 8PM): 30€

Extras:
Beach Towel Rental: 10€ / full stay
Extra Set of Bath Towels: 5€
Extra Surfing Lessons (after finishing your package): 35€ for half day or 55€ for full day (60€ full day from June to September)
You can never get lost
When you book you will receive our confirmation email with full travel directions of how to get to us.
We provide Airport Transfers from and to Lisbon International Airport (LIS) and they can be booked in the booking steps.
Price for 1-4 people: €35
Price for more than 4: €70
- Nearest Airport: Lisbon International Airport (LIS)
- Distance from Airport in kms: 15
- Time from Airport in a car: 15 minutes
- There is a train from the airport
- There is no bus from the airport
Come Surf With Us
Surf Lessons can be added in the booking steps if they are not already included in a package.
Instructors
Lisbon is one of the best places to Surf in the world because... you have waves for every levels all year round and at the same time you can visit one of the most beautiful european cities. Epic waves, great weather, good food, friendly people, amazing sightseeings, big sports and music events, nightlife, centuries of history to see in different monuments and museums. In Lisbon you have it all!
Main Surf Beach: Carcavelos and Costa da Caparica
Surf Lessons we offer:
Kids Surf Lessons
Beginner Surf Lessons
Intermediate Surf Lessons
Private Surf Lessons
Caxias
Level: All Levels
The nearest break from Surf Lisbon to The House, at only 2 minutes walking distance. Only works on big winter south / southwest or west swells but if you get the right tide and wind (offshore winds come from N / NW / NE) you can score some barrels on the perfect lefthander that breaks near the pier. On really big swells you have a righthander point break at the opposite corner of the beach.
Santo Amaro de Oeiras
Level: All Levels
One of the best point breaks in Portugal! It works with big winter NW / W / S / SW swells. If you are confident, you can jump into the peak from the rocks in front of the castle, but make sure you time it right or you'll be washed back up onto them. It's a heavy, fast and often hollow wave which will be populated by the best surfers in Portugal, so make sure you let them have their waves. Basically, GO BIG and don't stop. This can be one of the best waves in Portugal when it is on. In Summer, you will see a lagoon, so best to come between September to March when the Winter swell rolls in.
Torre
Level: All Levels
Another winter spot, sheltered from the big W and S / SW stormy swells. When every spot is blown up and stormy you can find some small but perfect rights near the fortress, on the right side of the beach. For advanced surfers you also have fast and hollow waves, breaking left and right, on the center and on the left side of the beach, near the jetty.
Carcavelos
Level: All Levels
Carcavelos is Lisbon's gem. When it's on, like from 4 to 8 feet, you have multiple peaks to both sides along the large beach. All hollow and with some juice with shallow sandbars. One of the best beachbreak's that Portugal has to offer. It works with NW / W / S / SW swells and offshore wind come from N. Fits every surf level from beginner to professional.
São Pedro do Estoril
Level: All Levels
Another righthander point break that holds swell. It´s longboarder´s paradise! Long rights from the outside peak until the shore. Good spot also for beginners due to the soft and long white water waves. At paddling distance, you have Bafureira, a spot for more advanced surfers, another righthander point break but a more powerful and tricky wave.
Costa da Caparica
Level: All Levels
Actually, Costa de Caparica, has 30kms of beachbreaks. From the city center, where the jetties and the beach orientation makes waves bigger and with more defined breaks, to the wild and uncrowded south beaches. Depending on the swell and the sandbars you can find a dream wave just for you on the south of Caparica. Works all year round and is better with NW / W swells and winds from the East. It´s one of the places our school goes often due to uncrowded waves and the beauty of the landscape. Its one of the places where Surf Lisbon has its location, with uncrowded waves and a beautiful landscape along with a great bar at the Beach.
Gasoline
Level: All Levels
Want to have a really different surfing experience? If you are lucky and your stay at Lisbon Surf House matches with the elements you can surf a wave generated by the ferry boats that cross Tejo river every morning coinciding with a particular wind/tide/sand equation. It's a 45 to minute drive from Lisbon to to pretty much in the middle of nowhere.
Guincho
Level: All Levels
One of the most beautiful beaches around Lisbon... Lefts and rights with many spots along the beach. A good alternative when the waves are small at the spots near the Surf House but better to surf in the morning before the wind shows up. Hosts lots of national and international surfing competitions all year round.
Praia Grande - Sintra Area
Level: All Levels
Situated in Sintra area it´s one of the most consistent breaks near Lisbon. A good option for those flat summer spells, Praia Grande rarely hasn´t got rideable waves. Hosts the Bodyboard World Tour event in August / September every year.
Ericeira
Level: All Levels
The region of Ericeira has been recently awarded as World Surfing Reserve. It´s a world to class surf zone encompassing approximately 8 km of coastline. It contains a high density of outstanding surf breaks, including iconic breaks such as Ribeira d'Ilhas and Coxos, among others.

The coastline of Ericeira is dominated by rocky cliffs, and these are what gives the area its character, along with its famous beaches located in small bays. The diversity of waves in the area, along with their various degrees of difficulty, enables good surfing conditions for all levels of surfers, from beginners to professionals. Also, Ericeira is home to regional and international surf competitions. Ribeira d'Ilhas currently hosts a WSL men's prime professional contest every year.
Peniche
Level: All Levels
The peninsula of Peniche offers both north and south to facing coastlines. The result is the finest surfing conditions everyday regardless of the swell and wind direction. The Peninsula of Peniche always offers you a beach where the wind is off shore, creating perfect waves. Along the 15 Km of coast line you can find more than 20 surf spots for all levels of surfers, from beginner to advanced.

Annually, in October, its famous break of Supertubes hosts one of the ten events of the WSL World Tour of Surfing. Surf Lisbon Team is always there and will take you to see all the action live with Kelly Slater, Gabriel Medina, Ítalo Ferreira, Filipe Toledo, Julian Wilson, John John Florence, among others.
Surf conditions in Lisbon:
Beginners:

JAN

FEB

MAR

APR

MAY

JUN

JUL

AUG

SEP

OCT

NOV

DEC
Intermediates:

JAN

FEB

MAR

APR

MAY

JUN

JUL

AUG

SEP

OCT

NOV

DEC
Advanced:

JAN

FEB

MAR

APR

MAY

JUN

JUL

AUG

SEP

OCT

NOV

DEC
Rain
Wetsuits
JAN/FEB
MAR/APR
MAY/JUN
JUL/AUG
SEP/OCT
NOV/DEC
---
Downtown Lisbon city itself does not have a beach and walking around siteseeing you may be oblivious to the fact that dozens of beautiful white sandy surf beaches are only a 5 minute car drive away (Or 4 train stops!)
The surrounding beaches pick up all the swells the Atlantic have to offer making it one of the most consistent surf destinations in the World.
The area has a good selection for all standards. Closest to the city would be Caxias & Santo Amaro de Oeiras.
Caxias
is a beautiful beach that on its day can produce perfect lefthander barrels.
Oeiras
is more of a winter wave and is one of the best waves in Portugal.
Next stop is
Carcavelos
, probably Portugal's most famous wave. Its one of the best beach breaks in Europe and regularly hosts National competitions. It suits all standards, a perfect place to learn and a great place to score some fast beach barrels with multiple peaks along the 1km stretch of beach.
There are many other spots along the coastline that runs from Lisbon out to Estoril & Cascais. Long boarders will love
Sao Pedro
and short boarders will thrive on spots like
Poca and Sao Joao
. Then on the other side of Cascais there is the stunning long white sandy
Guincho
beach, one of Portugal's most consistent surf spots, usually best in the morning as it can be exposed to afternoon onshore winds.
Across the river Tejo in Setubal, a 20 minute drive away, is the less crowded
Costa de Caparica
. Perfect for beginner/intermediates as the man made jetties create nice consistent waves. The beach stretches for 30kms and all of it is surfable!
Lisbon is also a great base to explore other regions. The surf mecca of
Ericeira
is only 35 minutes drive away and 1 hour north is
Peniche
, host of the WSL World Tour every October.
Come Surf Lisbon with us...
PAYMENT
A small deposit is required to secure your booking.
Your balance is due at check in.
CANCELLING YOUR BOOKING
To cancel go to the MyAccount section and log in or register and you can cancel from within your account.
Your deposit is non refundable but can be used for the same property/surf school within one year of your original booking.
If you cancel anytime up to 7 days before traveling you get a refund of the balance except a 10% administration fee;
The Surfholidays Advantage
Easy messaging with a local surf host & expert to plan & book your dream surf holiday
1 Customize your surf trip with the help of a local surf host
Surfholidays has handpicked the world's top surf camps, accommodation & surf schools so you will have peace of mind and an unforgettable trip that meets your exact requirements.
2 Secure & easy booking
You can book instantly or message a host directly & request a custom option. Once you are happy with the trip, you can easily book via Surfholidays' secure payment platform.
3 Support before and after your trip
Our team at Surfholidays and your local host onsite are available before and during your trip to ensure things run smoothly.
4 Authentic travel experiences
Surfholidays hosts ensure that you will have the best experience based on up-to-date local insights. On top of that, the vast majority of your money will go straight to support and grow local surf towns.
Surfholidays offers a 100% satisfaction guarantee
If you are not fully satisfied, we'll work with you to make it right.