Omassim Guesthouse
Omassim Guesthouse
Rua de Palhais Nº 24, Palhais, 2640 - 068 Ericeira - Santo Isidoro, Ribamar - Ericeira, Portugal
Chat with a host who can help organise your trip...
Explore our Available Surf Packages
The Place

Shared & Private room options
Couples
Families
Groups
Solo travellers
Covid to 19 Information: Since June 2020 we received the badge: SAFE & CLEAN after completing an online training to learn about the new requirements to make our place as safe as possible for our guests. We will only allow 50 % of the total capacity which means 12 to maximum 15 people. There is alcohol gel always available on the entry of the houses, as well disinfection soup in the bathrooms. We use masks in common spaces, practice yoga without masks in the Yoga Shala. PLEASE check to in with us to confirm our availability!
Whether you are looking for healthy surf to yoga getaway, an intensive surf & yoga experience, a wellness break from daily routine or even all of it – you will find it here! Situated in the small village Palhais to Ribamar near the Ericeira World Surf Reserve, omassim guesthouse is an oasis of bright, homely accommodation to a home away from home.
Our cozy 2 to bed, 3 to bed and 5 to bed rooms offer space for up to 24 guests (now limited). The dining and living room are the perfect meeting point and enjoy the delicious veggie meals (breakfast, lunch, dinner) read a book, or on cold days relax in the warmth by the fireplace.

Enjoy the peaceful nature, soak up the sun next to our salt to water swimming pool in our lovely garden or feast on our delicious veggie menu. Take part in our yoga and meditation classes, go surfing, work out in our well to equipped fitness room, and leave your worries behind. Ribeira D'Ilhas, most famous surfing spot is just about 20 minutes walking distance away.
Location
Ericeira, charming traditional fishing town with one of the best surfing spots in Europe is 3.5 km south from our guesthouse. You can reach Ribeira d´Ilhas, famous surfing spot in first world surfing reserve in about 15 minutes walk or along the coast in beautiful nature you reach Coxos, famous "local" surfing beach. Amazing to surf as well enjoy the more quietness of this place. Ribamar, the sweet little village is 10 minutes walk away where you will find café, restaurants and some local supermarkets.
Reviews

Facilities

Room types

Getting there

Surf Lessons

Waves

Terms
5 REVIEWS
Summary
Accommodation
Surf Lessons

Sev
How did you like the accommodation?
Omassim exceeded all of our expectations! The yoga was perfectly tuned to suit all beginner & more advanced levels. As it was my first immersive yoga experience, I was a bit timid but Lia was the perfect instructor!
The accommodation was well thought and provided for enough socialisation. The delicious & lovingly prepared vegetarian food and the extra perks like massages and group activities struck a nice balance.
We also partook in the surfing classes offered by Joana & her team at Progress Surf School. We cannot commend them enough for consistently persevering with us and getting us to stand up on the surfboards in the funnest way possible.

Finally, we met the loveliest & most enthusiastic people on the retreat.

Thank you Lia, Eduardo and the rest of the Omassim team for your hard work!!

We'll be sure to return to Ribamar soon

Niyat
Israel
September 2019
How did you like the accommodation?
Omassim is a true passion project. Lia and Eduardo managed to create a beautiful place in many respects: The location is very nice and peaceful – the atmosphere is genuinely welcoming - and the vegetarian food was creative, fresh, full of variety and tasted amazing. There were plenty things to do - both in groups or individually – catering for all preferences and moods. We tried out Lia's/Macy's yoga classes and the surf classes organised by Joana and colleagues. All classes were adjusted to all levels and we enjoyed them tremendously. You could clearly see that everyone at Omassim and the surf school truly enjoyed what they were doing and was keen to pass on their enthusiasm.

Karlan
How did you like the accommodation?
I had an amazing time at Ommasim! I could definitely recommend this place. The yoga, the people and the surfing; it was the perfect combination. I came back home totally relaxed. The food was also really good, and there was so much of it! Every day new delicious meals, so great. I wish I could have stayed longer. Thank you Lia (and the rest) for making my stay so wonderful.
- Less Reviews

Desiree
How did you like the accommodation?
After I read all the 5 star reviews I had high expectations. But when saw, felt and tasted Omassim myself, it exceeded all my expectations... I will be back

Nina
New Sealand
May 2019
Travelled solo
How did you like the accommodation?
I came here during my travels and it was one of my favourite experiences. I already want to go back. There are amazing vibes here and it's a great opportunity to meet wonderful like minded people from all over the world. The omassim team really take care of you and make you feel at home. Yoga, surfing, meditation and wonderful healthy food cooked with love. What more could you want.
+ More Reviews
Number of people: 24
Additional Fees:
**City Tourist Tax. We hereby inform you that from 2019, Mafra began to charge a City Tax of 1 euro per person in Low Season and 2 euros per person in High Season, value which will not be included in the informed prices and in the total price of your reservation. This tax will be charged directly to the guest at the Guesthouse (and will be added to your bill at the end of your stay).
Low Season: 1 November to 30 April
High Season: 1 May to 31 October
This tax will be put towards urban cleaning and better transport in the most tourist-heavy areas.

Extras:
Beach towel rental: (5 Euro/week)
Pick up Ericeira Bus Station: 5 Euro dayfare/ nightfare: 10 Euro
Transfer Lisbon to Guesthouse: 50 - 65 Euro depending time
Massages / Treatments: 35 - 50 Euro
Personal Fitness training: 25 Euro (45 minutes)
Yoga Classes (75 min) / Fitness Classes: (45 min): 10 Euro
Surfing Lessons: 40 Euro (pack of 5 classes: 170 Euro/ pack of 10 classes: 300 Euro) all equipment, transportation, as well insurance included
SUP Lessons: 40 Euro
guided mountain bike tours (30 - 60 euro) depending on the tour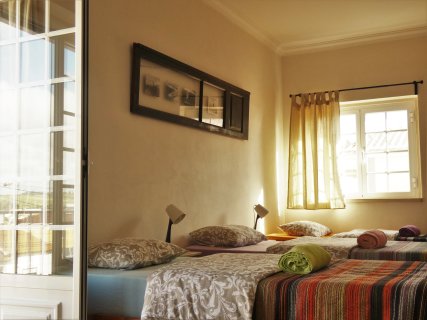 Shared 4 Bed room
Room Type: Shared - Mixed
Sleeps:

4
DEPENDING ON THE RESERVATIONS it will be a Male only OR Female only Room to we NEVER MIX Gender in the same Room!
Sheets and bath to towels are included, beach towel for rent.
2 separate private bathrooms in the room.
Yoga & Surf Lesson can be arranged separately by contacting us directly.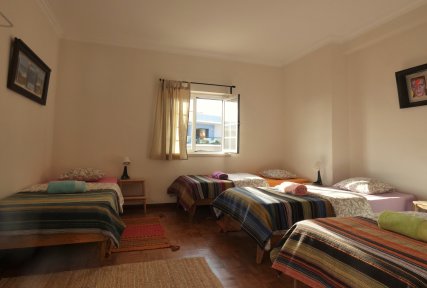 Shared 3 Bed room / Ocean View
Room Type: Shared - Mixed
Sleeps:

3
DEPENDING ON THE RESERVATIONS it will be a Male only OR Female only Room to we NEVER MIX Gender in the same Room!
Sheets and bath to towels are included, beach towel for rent.
Private bathroom in the hallway next to the room.
Terrace with ocean view.
Yoga & Surf Lesson can be arranged separately by contacting us directly.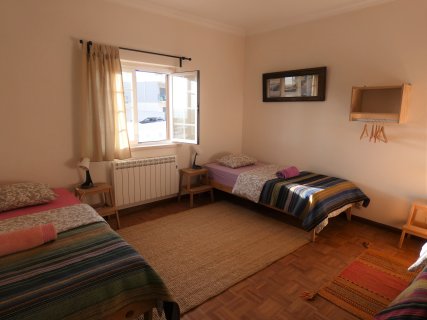 Twin or Double Bed room
Room Type: Private
Sleeps:

2
DEPENDING ON THE RESERVATIONS this room will have twin beds or double bed.
Private bathroom in hallway.
Sheets and bath to towels are included, beach towel for rent.
Yoga & Surf Lesson can be arranged separately by contacting us directly.
You can never get lost
When you book you will receive our confirmation email with full travel directions of how to get to us.
We provide Airport Transfers from and to Lisbon and they can be booked in the booking steps.
Price for 1-4 people: €55
Price for more than 4: €75
- Nearest Airport: Lisbon
- Distance from Airport in kms: 48
- Time from Airport in a car: 40 minutes
- There is no train from the airport
- There is a bus from the airport
Come Surf With Us
Surf Lessons can be added in the booking steps if they are not already included in a package.
Instructors
Ericeira has a beautiful rocky coastline with steep cliffs and lovely sandy beaches. There are many surf spots and the waves are incredible. The surf spots of Ericeira are known by surfers from all over the world and it has been the stage of many world and national competitions. Ericeira has been dedicated as a World Surfing Reserve in 2011.
Main Surf Beach: Matadouro, Ribeira d´Ilhas, Praia Azul, São Lourenço
Surf Lessons we offer:
Kids Surf Lessons
we offer lessons for kids from 6 years onwards and ask parents to stay close by or come with to the surfing
Beginner Surf Lessons
Start the Progress
Week course including 5 days of surf classes. approximately 2 hours of surf lessons a day. Surf material is included in the price. Due to Covid-19: There is a maximum of 5 students per course. The surf classes are made out of theory and practice with personal hands-on support!
Intermediate Surf Lessons
This course is especially set up for intermediate surfers who want to take their surfing to the next level. It is the goal of four sessions to experience four different spots and to gain more knowledge about these world class waves. This course has between 2 and 6 participants. Each class is approx. 3 hours.
Advanced Surf Lessons
please contact us before to provide best service!
Private Surf Lessons
please contact us before yo provide best service and meet your wishes, desires and needs!
Yoga
we offer daily twice indoor yoga sessions - The morning classes are bit more dinamic and energizing for the day (Vinyasa Flow), the evening classes are restorative, integrative, relaxing or yin yoga classes - just ideal to prepare your surf and unwind the day!
SUP Lessons
we partner with Ericeira Sup School - 2 hours sessions on the river mainly: 40 Euro including transportation, equipment, guide, insurance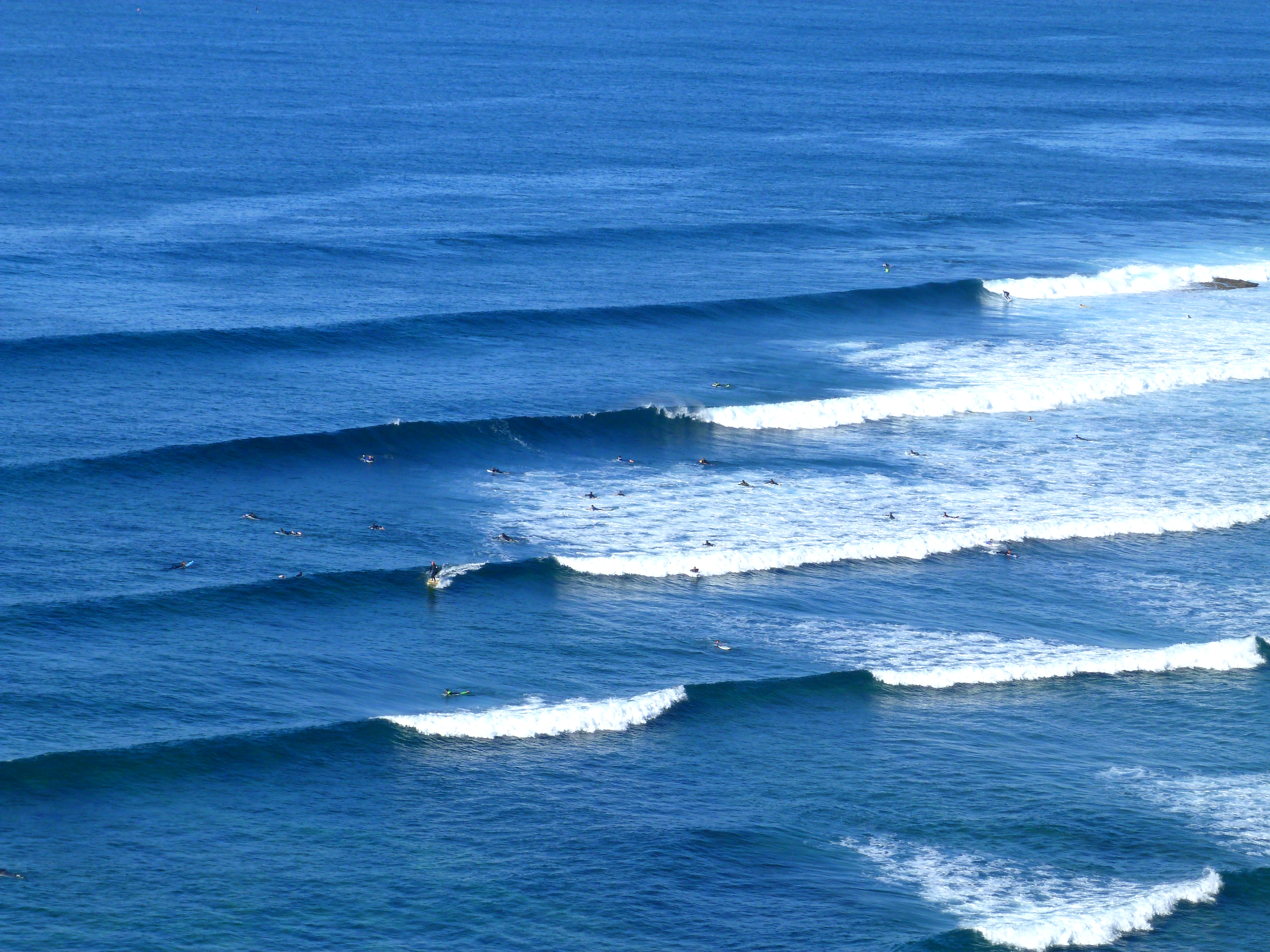 Ribeira d´Ilhas
Level: All Levels
This wave is the most well to known wave of the region. There are several peaks in the bay of Ribeira d ´Ilhas. They are all right handers and there can be found a wave suitable for each level. The bottom is rocky but the waves break in deep water. The waves are known for their length and can be surfed on all tides. It is good to surf here in our company because it gets pretty crowded. Ribeira D´Ilhas is the third wave of the reserve.
Matadouro
Level: All Levels
Matadouro is located just north of Praia do Norte (and Ericeira) in front of the skate park. It consists of multiple peaks. The main break is a right hander on the north side of the bay. More to the south, you are also able to find some lefts.

Facts
Distance from omassim guesthouse: 3 km
Surf level: IBeginners to Intermediate – Experienced
Wave: Left and right point/reef break
Bottom: Reef and sand
Tide: All
Swell: West/Northwest
Wind: East
Coxos
Level: Advanced
Coxos is one of the best waves in Portugal and Europe. This powerful right point/reef break is famous for its amazing barrels and only accessible for experienced surfers. It works best with mid to low tide, but be aware of the sea urchins and the tricky entry/exit. It can handle very big waves.

Facts
Distance from omassim guesthouse: 3 km
Surf level: Experienced
Wave: Right point/reef break
Bottom: Reef
Tide: Low – Mid
Swell: All swells, ideal West/Northwest
Wind: East/Northeast/Southeast
Length of wave: 150 to 300 metres
Wave height: 0.5 to 3 metres
Consistency: ++++
Quality: +++++
Surf conditions in Ericeira:
Beginners:

JAN

FEB

MAR

APR

MAY

JUN

JUL

AUG

SEP

OCT

NOV

DEC
Intermediates:

JAN

FEB

MAR

APR

MAY

JUN

JUL

AUG

SEP

OCT

NOV

DEC
Advanced:

JAN

FEB

MAR

APR

MAY

JUN

JUL

AUG

SEP

OCT

NOV

DEC
Rain
Wetsuits
JAN/FEB
MAR/APR
MAY/JUN
JUL/AUG
SEP/OCT
NOV/DEC
Season
Best time to go depends on your level above. July, August & September are the peak tourist months.
---
This is where you surf Europe's best coast line and let the fun begin.There are over 12 surf breaks along the Ericeira coast, with different options for all standards. With so much choice you'll feel like a kid in a sweet shop! The area was introduced in the Stormriders Surf Guide to Europe with the heading "Enter the Heartland".
World Surf Reserve
In 2011 it was awarded the title of 'World Surf Reserve', there are only 2 other places in the world that share the title: Santa Cruz, US and Manly, Australia.
If it is your first surfing holiday to Ericeira then head straight to
Foz do Lizandro
and
Sao Juliao
beaches south of town, they are perfect beginner and intermediate surf spots. Closer to town is
Praia do Sul
. Another great beginner beach breaks. All best at mid tide but surfable at high and low tide also.
For Intermediates you have the reliable and safe reef break
Ribeira d'Ilhas
, which host the WSL World qualifying series surf championships every year. And for the more adventurous you have the world class
Coxos
. That's just naming a few, there are too many surf breaks to mention here!
Don't forget to explore further up the coast - 25 minutes away is Santa Cruz and an hour away is
Peniche
, home to the World renowned Supertubos and host of the Rip Curl Pro since 2009. 30 minutes south of Lisbon is the
Cascais
coast with the famous Praia do Guincho surf beach. And when north winds are blowing you can venture further south towards
Carcevelos
beach and the other surf spots along the Lisbon coast.
Come Surf Ericeira with us…
PAYMENT
A small deposit is required to secure your booking.
Your balance is due at check in.
CANCELLING YOUR BOOKING
To cancel go to the MyAccount section and log in or register and you can cancel from within your account.
Your deposit is non refundable but can be used for the same property/surf school within one year of your original booking.
You can cancel anytime up to 30 days before travelling you will not be charged the balance.
The Surfholidays Advantage
Easy messaging with a local surf host & expert to plan & book your dream surf holiday
1 Customize your surf trip with the help of a local surf host
Surfholidays has handpicked the world's top surf camps, accommodation & surf schools so you will have peace of mind and an unforgettable trip that meets your exact requirements.
2 Secure & easy booking
You can book instantly or message a host directly & request a custom option. Once you are happy with the trip, you can easily book via Surfholidays' secure payment platform.
3 Support before and after your trip
Our team at Surfholidays and your local host onsite are available before and during your trip to ensure things run smoothly.
4 Authentic travel experiences
Surfholidays hosts ensure that you will have the best experience based on up-to-date local insights. On top of that, the vast majority of your money will go straight to support and grow local surf towns.
Surfholidays offers a 100% satisfaction guarantee
If you are not fully satisfied, we'll work with you to make it right.