Matungou - Surf Mentawai
Matungou - Surf Mentawai
Matungou Bay, Siberut, Siberut - Mentawai Islands , Indonesia
Chat with a host who can help organise your trip...
The Place
Couples
Families
Groups
Solo travellers
At Matungou we offer a welcome home for travelling surfers and islands explorers whilst you visit our unique paradise here in The Mentawai Islands.

Nestled away in the heart of the world's surfing Mecca, you can relax under the palms that overhang the white sands of Matungou's bay. We pride ourselves on our support of the local Mentawai people, with a belief that our duties extend beyond providing our guests with a perfect Mentawai surf trip, but also into supporting this precious Mentawai Island community.

Surfing is our foundation. The islands are our paradise : to )
Location
We are nestled behind coconut palms directly on the beach in our own bay, tribally named Matungou many years ago. We are in the perfect location to enjoy the waves the Northern Mentawai has to offer while remaining in a tsunami safe to zone with over 50m of elevation between our bay and the ocean from the west.

We are the only camp in the bay and you will experience a complete island experience with you and your friends or family.

Getting to Matungou Surf Mentawai:

Mentawai Fast Ferry
Travel Days: Tuesday or Saturday morning to Siberut. Monday, Wednesday, Friday to Tua Pejat (note additional pick to up fee)
It departs at 0600 sharp, returning the same days in the afternoon. You need to arrive the day prior to your ferry departure and fly out of Padang the day after your return ferry journey.
You must then take a 1h 15 minute speedboat transfer out to Matungou from the Siberut Harbour to INCLUDED in the price
Reviews

Facilities

Room types

Getting there

Waves

Terms
5 REVIEWS
Summary
Accommodation
Surf Lessons

Duikn
Melbourne
September 2019
Travelled with friends
How did you like the accommodation?
We were at matungou in September and we had a great time , we found it by chance and never looked back , good food good people and the most perfect setting , we are already planing our next trip , we got to meet Oli one of the owners , and he is one of the most friendly surf stoked Poeple you would ever meet , , the camp was new but I could see it getting really popular

Michele V
Pisa
August 2019
Travelled with friends
How did you like the accommodation?
My friends and i , stayed in Matungou this august, We had a great time.
mentawaii is a surf paradise and matungou is perfectly located close to many surf spots . The staff was very helpful and they guided us to the best surf spot! we had super surf sessions until the sunset.
Matongou is located close to a local village but is far enough to feel immersed in a very pristine and natural area

Dylan S
Newquay
August 2019
Travelled with friends
How did you like the accommodation?
Probably the stunning place i've been to.The buildings themself that i stayed in are amazing.you litrally are 2 steps away from the beach where you can chill or go swimming, it is also amazing for snorkeling! for any surfers, it is just a short boat ride yo some of the best breaks in the world.for me what i loved the most is how we could chill with the indo family that help run camp. they are the funniest people and are preetygood at football too!!
- Less Reviews

Andrew B
Bundoran
June 2019
Travelled with friends
How did you like the accommodation?
It doesn't get any better than this.

Pristine beach side accommodation with access to all the breaks via a short boat trip with an experienced surf guide.

Down time is all about home cooked fresh local seafood and bintang fuelled hammock naps.

Too weeks is just too short to return to reality!

Thanks MaMa, PaPa, Adri, Ollie.

I'll be back soon...

Max Martensson
Dunedin
May 2019
Travelled with friends
How did you like the accommodation?
Probably one of the sweetest places I've ever stayed.

On that bombshell, here's why. It's not necessarily because of the world-class pumping surf right on your doorstep, with at least a couple of spots working every day regardless of what the forecast says, lefts, rights, a-frames, pits, open faces, all kinds. Or the mean location, on a perfect white tropical beach, in a wooden 2 storey bungalow built by the same people who work there, with loads of hammock space and yoga matts (if you're so inclined). Or the occasional crazy Bintang fest that ensues after another masterpiece of a meal that Mama has cooked up, with various shenanigans including local takes on breakdancing and one-handed air rifle shooting contests. Or that you feel like time has halted, that you forget about your inbox and facebook and all that crap, whilst feeling safe playing chess with the man Papa himself (head of security). Or that nothing is too much for these people in making sure you're having a wicked time.

What made this place different from all the other surfcamps I've stayed at (that may also offer waves of quality and a mattress and a feed), is the all-time atmosphere. The entire show is run by a family; Mama does magic in the kitchen, Papa is just all round bossing it, and Adri and his boys are running the day to day fixings. It's got a real family vibe to it. After two weeks I felt like we were part of the family. We got to experience Adri's son's birthday which was really special, having cake with the family. Instead of being cared for by another foreigner who's decided to live the sweet life in the tropics, you're living with a family from the Mentawai who will give you a bit of insight into their life. It's a well legit experience.

Thanks again to the family at Matungou!
+ More Reviews
Number of people: 6
Additional Fees:
- Private speed boat per group for daily use (2 surfs in a day) - $140 usd / day
- Pick-up / drop-off from Siberut - $140 USD each way ($100 extra feeeach way for pick-up / drop-off for Tua Pejat )
- New Tourism Tax payable in Padang - 1 million IDR per person for a 14 day ticket to visit the islands.
- Soft drinks - 25,000 IDR
- Beers - 50,000 IDR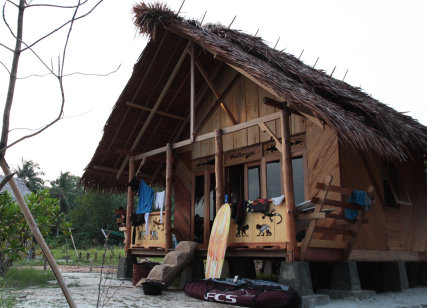 Beachside Bungalow Ensuite - Includes Meals
Room Type: Private
Sleeps:

3
One large king double. Optional single for additional guest.
Open plan with 2 x fans
Private western bathroom with shower, basin and toilet
3 delicious meals a day included

All to glass front panels with direct access to beach less than 10m from the sand!

Private balcony area overlooking the palm to lined private bay.
You can never get lost
When you book you will receive our confirmation email with full travel directions of how to get to us.
We don't provide airport transfers but you can book one easily here: Airport Transfers
- Nearest Airport: Padang
- Distance from Airport in kms: 100mile
- Time from Airport in a car: 1 hour - to Padang Harbour
- There is no train from the airport
- There is a bus from the airport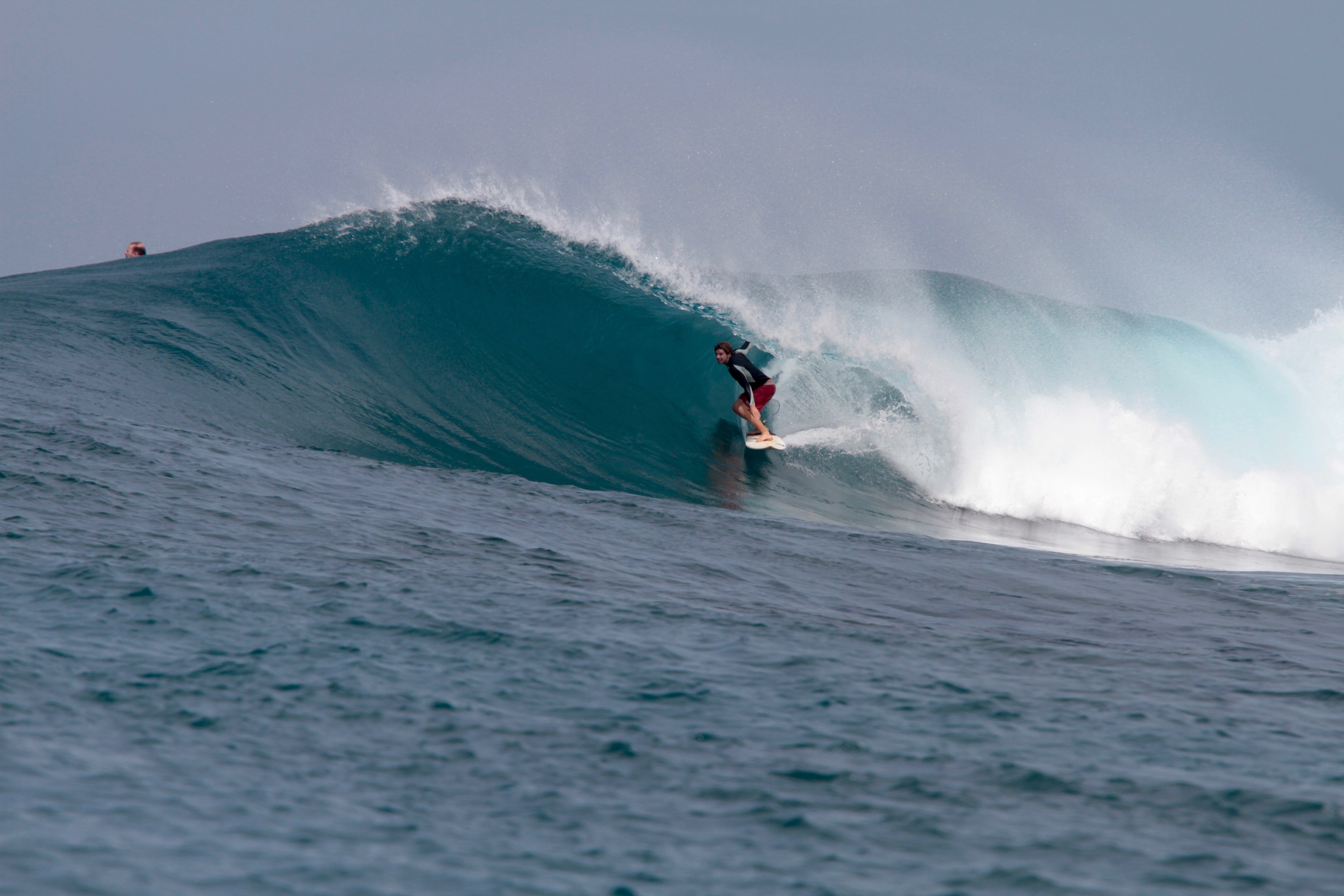 Bankvaults
Level: Advanced
Being one of the heaviest waves in the region, Bankvaults is a performance wave that can reward you with some of the best barrels in the Mentawai. It has shifting peak and can throw some cleanup sets out of nowhere. It's a real board to breaker. Triple overhead Bankvaults is the cover to shot of the Mentawai – it will blow your mind.

Region: Nyang Nyang
Distance from Matungou: 10 to 15 minutes by narrow boat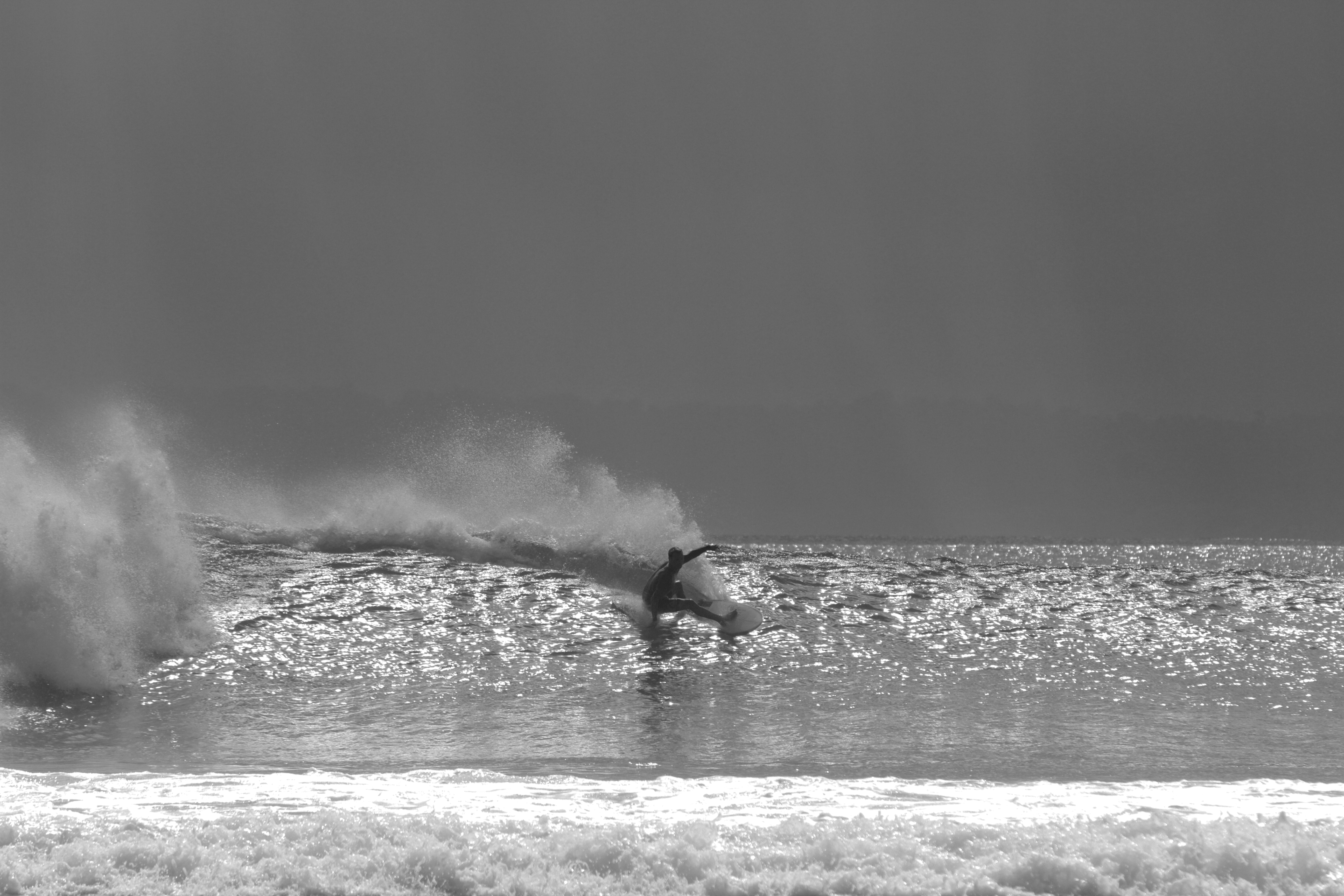 BengBeng
Level: Intermediate
Super fun local left that has a spectacular view in you look back onto the beach. Gets pretty hollow as the tide drops. Great place to get good shots.

Region: Nyang Nyang
Distance from Matungou: 5 minutes by narrow boat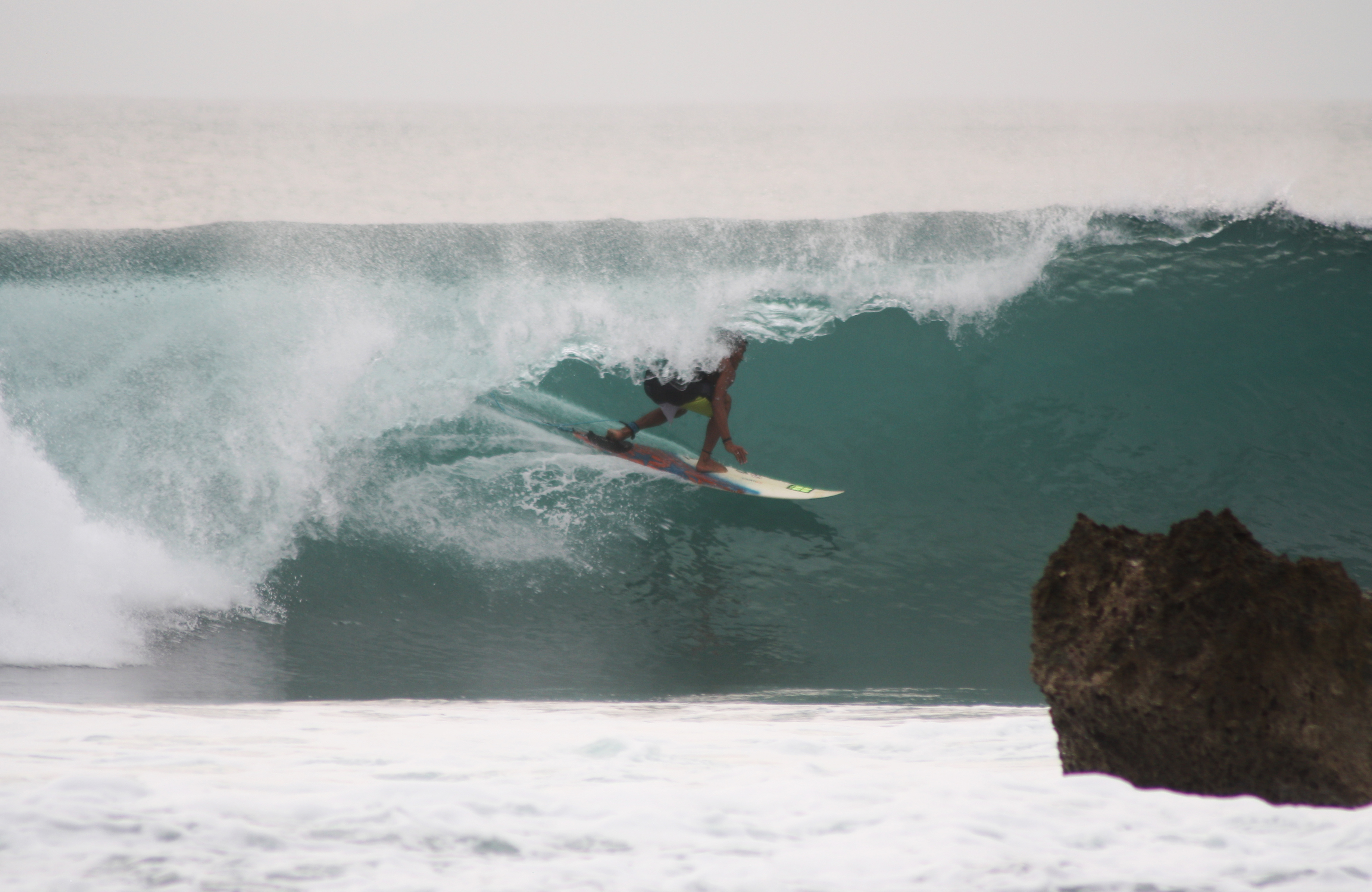 EBay
Level: Intermediate
If you surf ebay when it's on you are a lucky guy! Felt to be one of the best lefts in the region if you enjoy a fast hollow barrel. Ebay holds a massive swell and is a serious beast when its double overhead.

Region: Nyang Nyang
Distance from Matungou: 5 minutes by narrow boat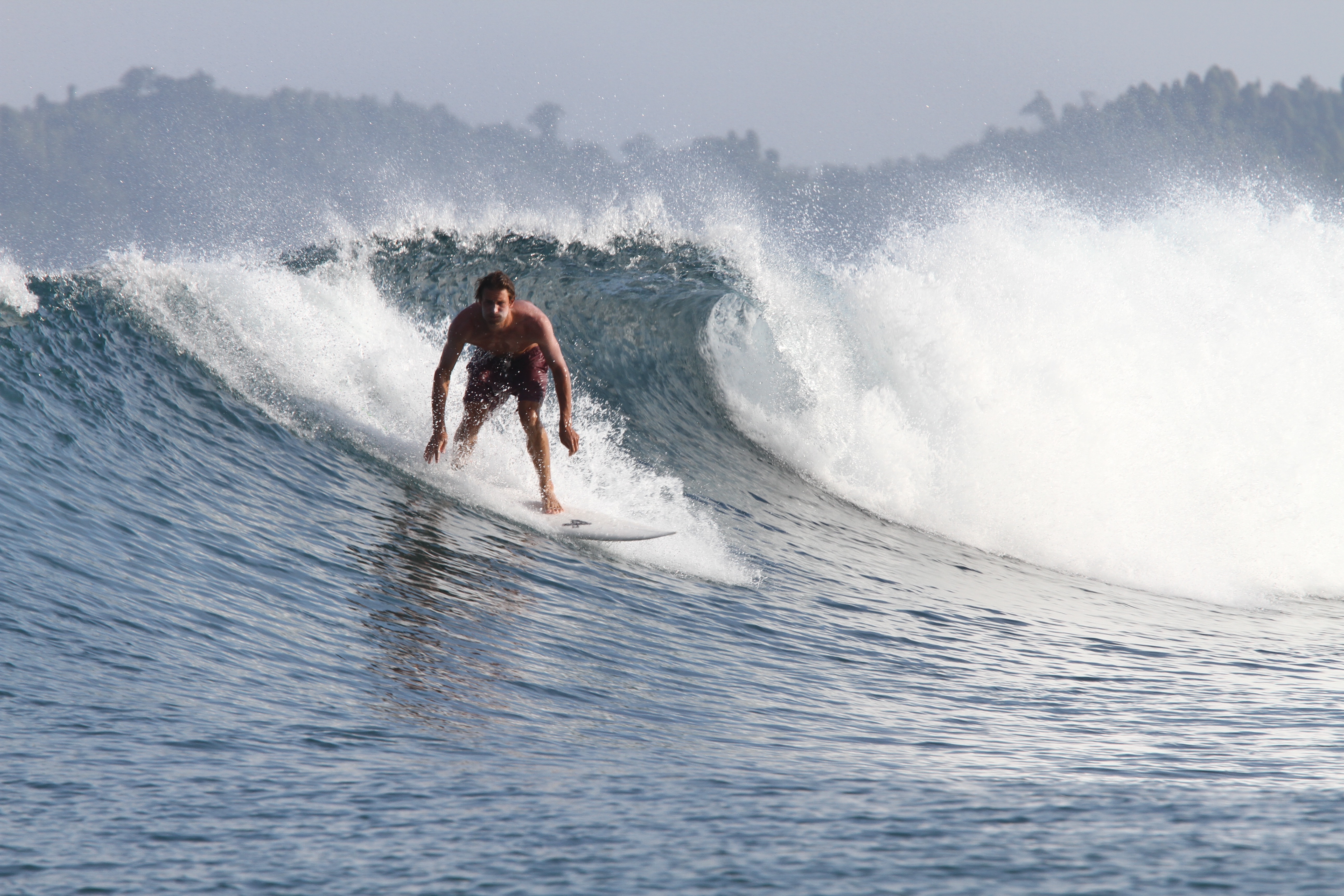 Pitstops
Level: Beginner
Great wave to find your feet out here. Our closest right to hander that we think is great for a relaxed evening session. You can walk onto the beach and get some really great shots. A fun little barrel when its overhead!

Region: Nyang Nyang
Distance from Matungou: 5 minutes by narrow boat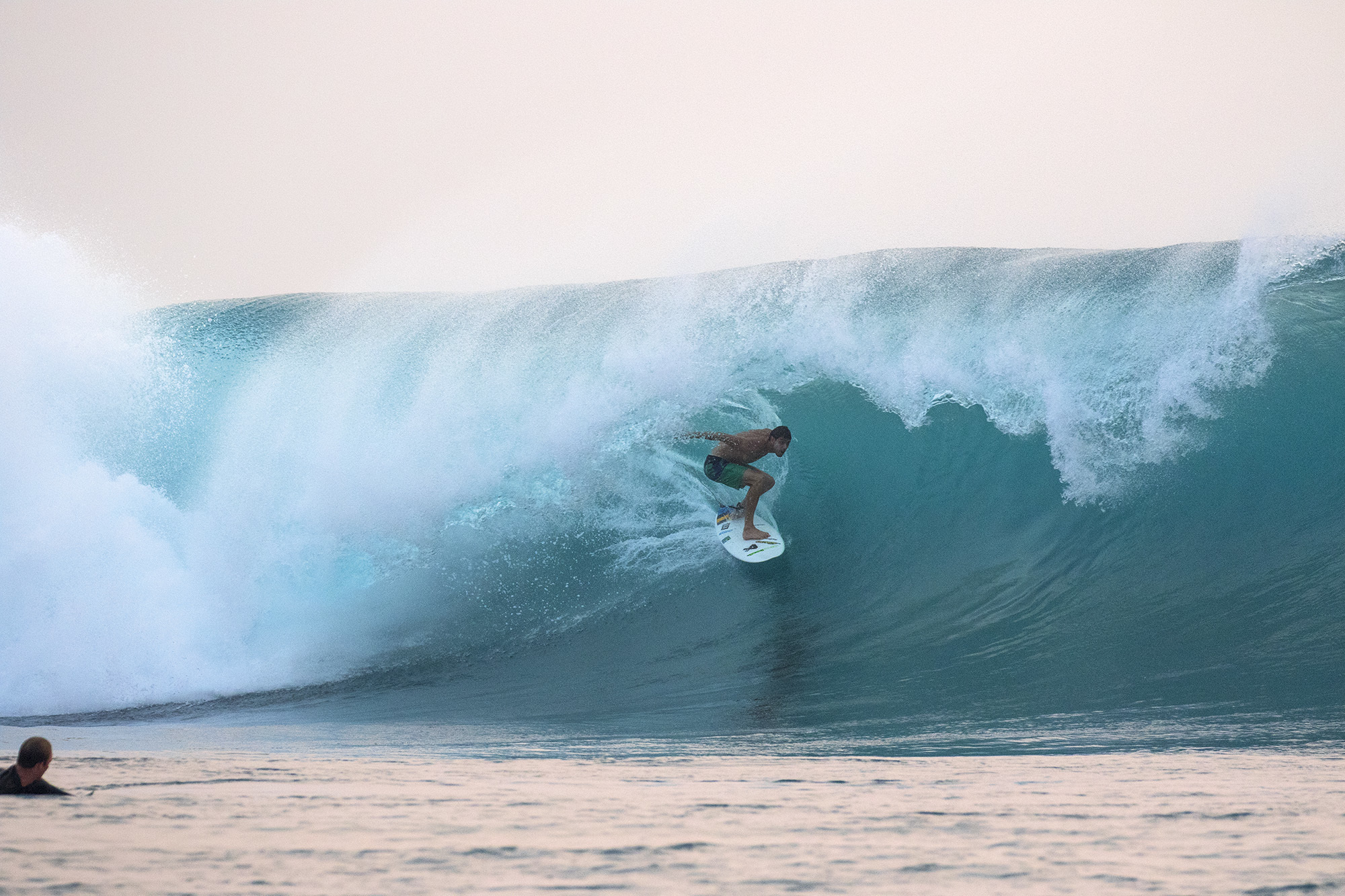 Hideaways
Level: Intermediate
Hideaways can be a great go to to wave when the south winds are messing everywhere else up. The left offers a very rippable shoulder and can get really hollow with a steep tricky drop on bigger swells. Best on a medium tide, the reef is a little shallow at low.

Region: Playgrounds
Distance from Matungou: 20 minutes by narrow boat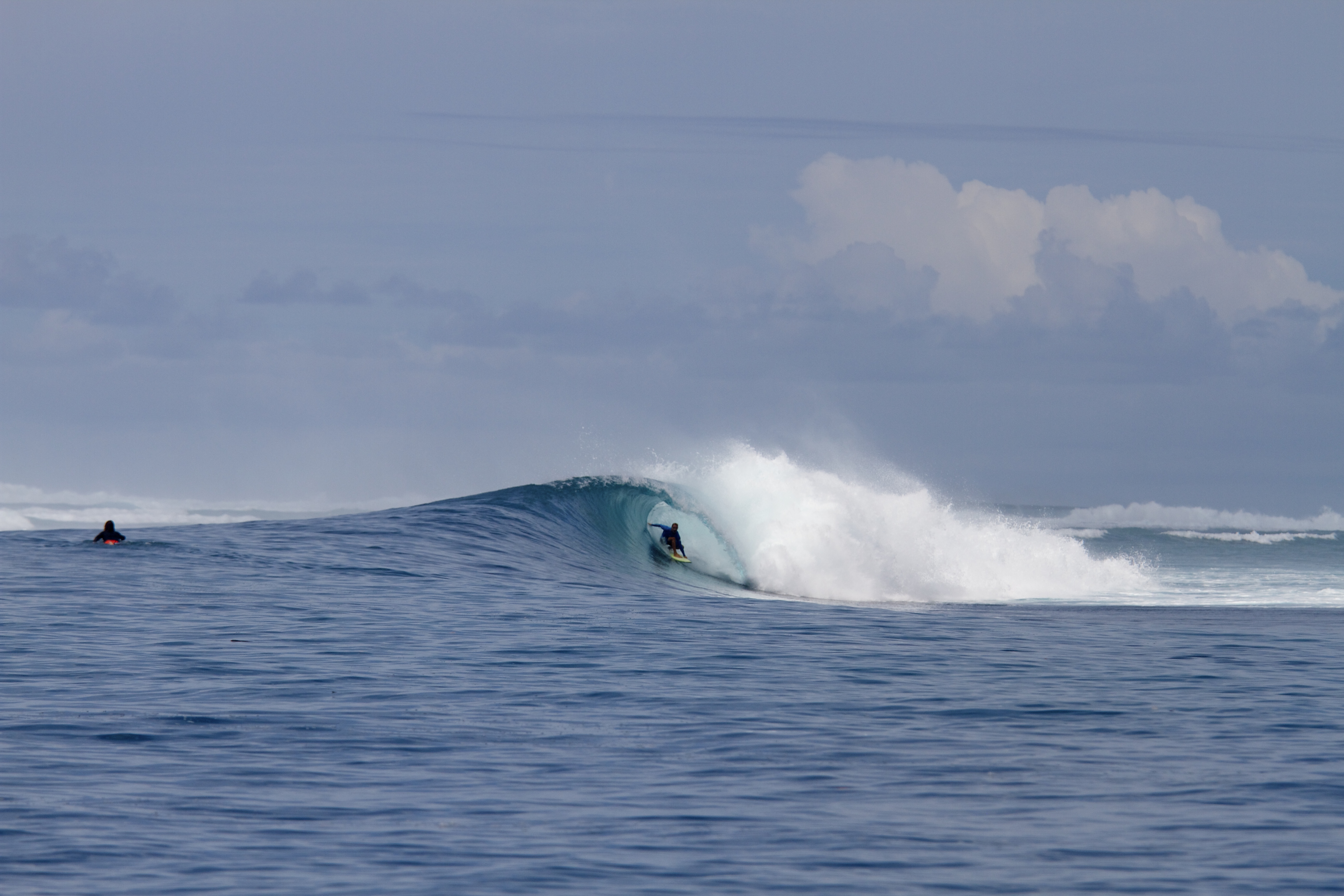 Rifles
Level: Advanced
A real feat of nature – Rifles is the longest almond right to hand barrel in the Mentawai and can offer up 500 yard rides that will blow your mind. Not a wave for the faint hearted. Stay off the Bintangs the night before and make sure you have a decent breakfast if you're planning on charging Rifles!

Region: Playgrounds
Distance from Matungou: 30 minutes by narrow boat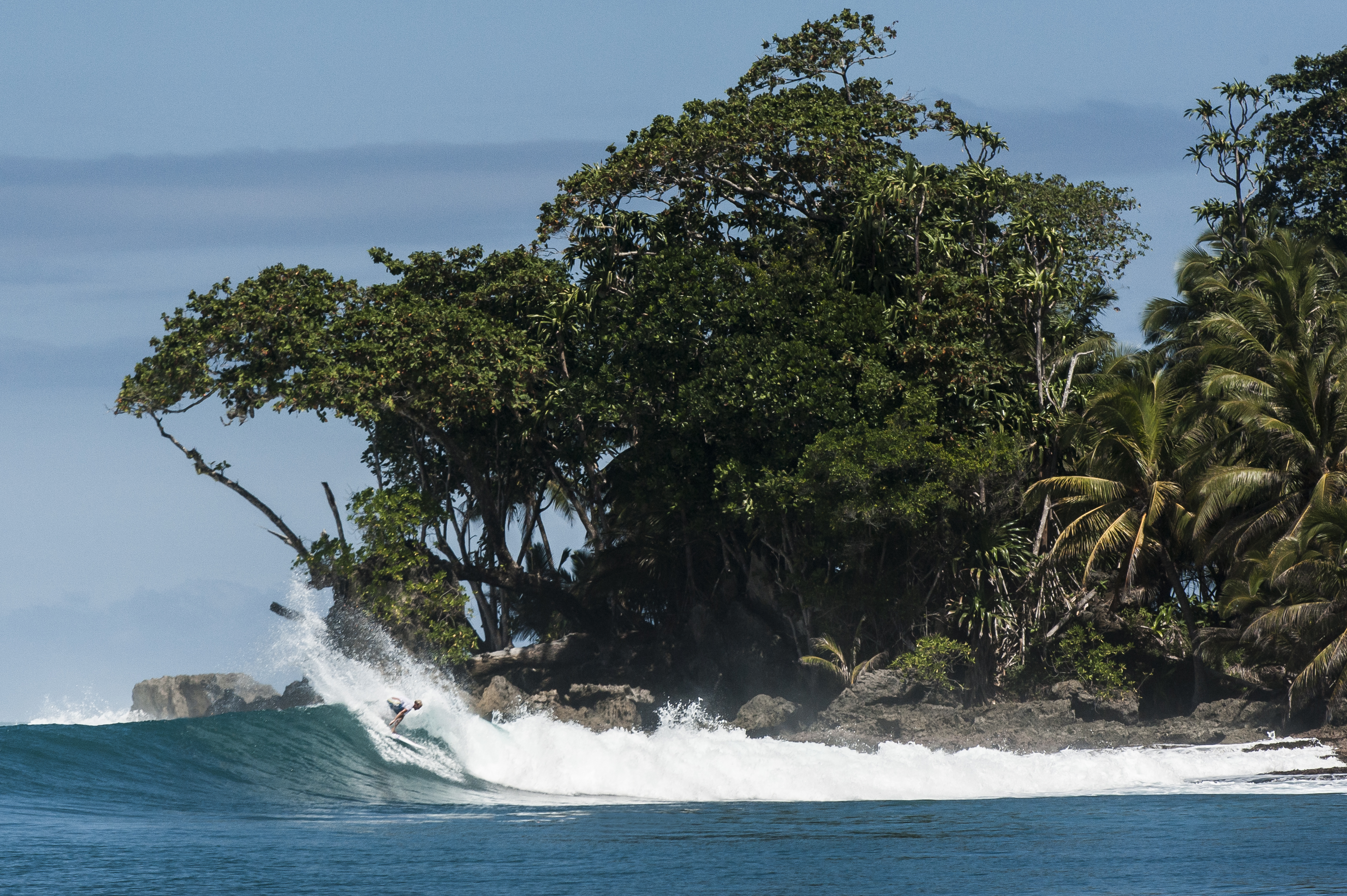 Burgerworld
Level: Intermediate
Burgers always seems to have a wave even when everywhere else is flat. With the right swell direction this right will wrap right around the reef and you could have yourself a good 400 yard ride.

Region: Siberut
Distance from Matungou: 20 minutes by narrow boat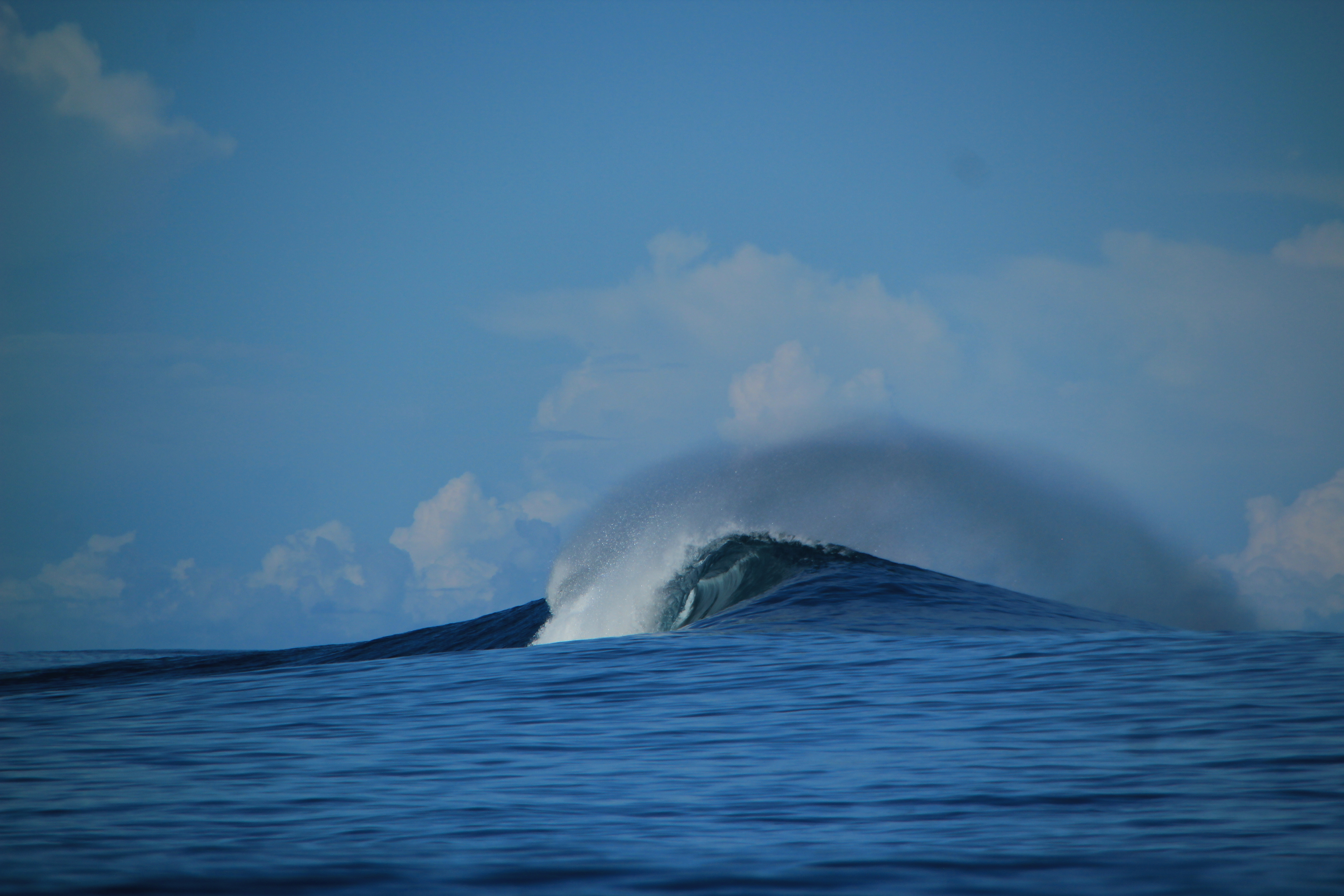 A-Frames
Level: Intermediate
AKA John Candies, A to frames is a pumping left that has a reliable takeoff spot. A beautiful reef lies beneath it and it is definitely one of the spots to put a mask on and check it out.

Region: Playgrounds
Distance from Matungou: 25 to 30 minutes by narrow boat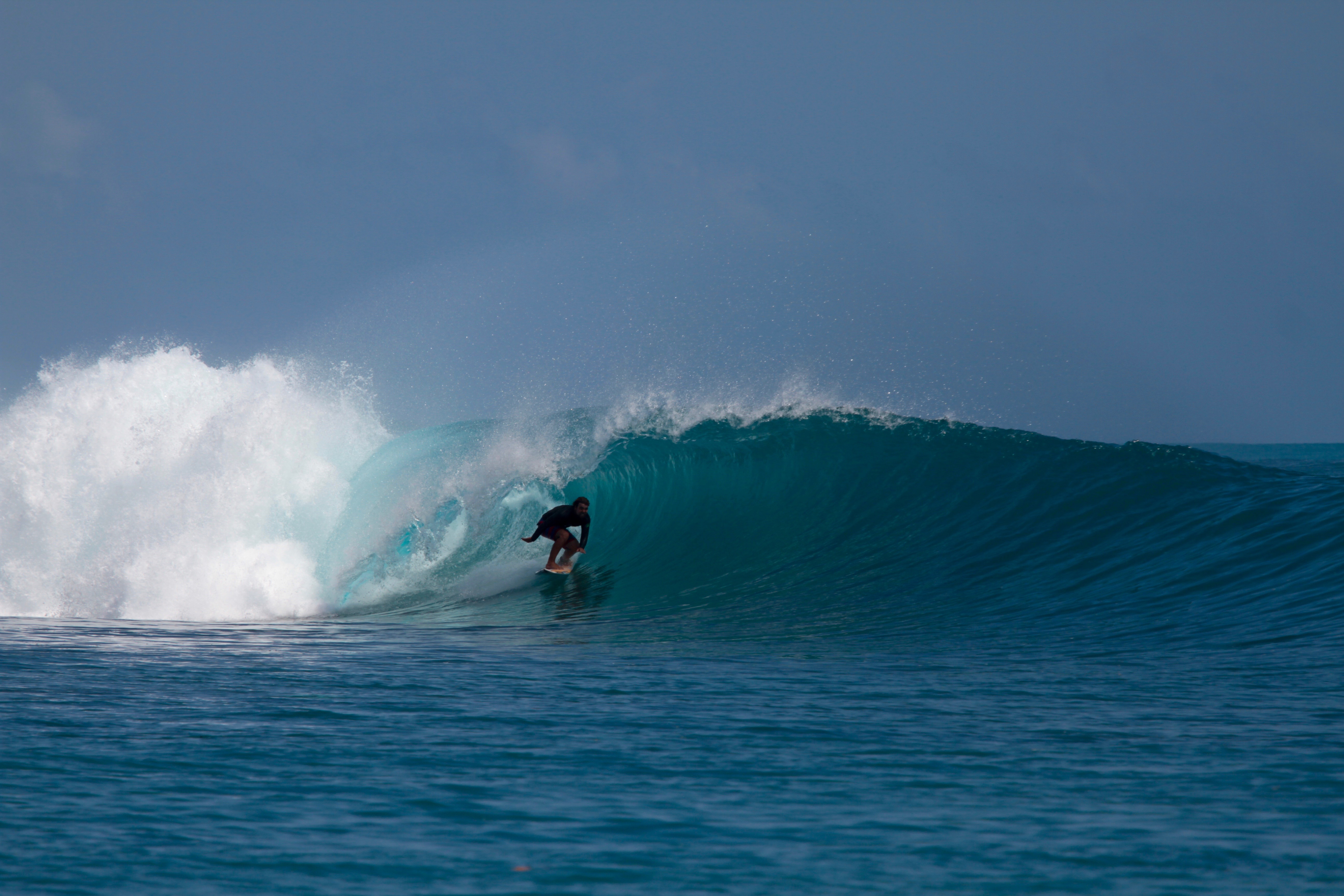 Kandui
Level: Advanced
AKA NoKanduis is a fast super to hollow left to hander that can take your breath away if you get a good one. It needs to be big and medium –high as the reef is one shallow mutha! Bit of an expert wave but even without the tekkers to pump inside the barrel you might get lucky a find a way out! 18 second barrels have been snapped here!

Region: Playgrounds
Distance from Matungou: 25 minutes by narrow boat
Surf conditions in Mentawai Islands :
Beginners:

JAN

FEB

MAR

APR

MAY

JUN

JUL

AUG

SEP

OCT

NOV

DEC
Intermediates:

JAN

FEB

MAR

APR

MAY

JUN

JUL

AUG

SEP

OCT

NOV

DEC
Advanced:

JAN

FEB

MAR

APR

MAY

JUN

JUL

AUG

SEP

OCT

NOV

DEC
Rain
Wetsuits
JAN/FEB
MAR/APR
MAY/JUN
JUL/AUG
SEP/OCT
NOV/DEC
Season
May to September is the peak season for surfing. Mar, April, Oct & Nov and 'off' season can be better because of the smaller crowds & more mellow surf. Rainy season is Sept-Dec with heavy rain for 2-3hrs per day but that doesn't effect the surf..
---
Mentawai Islands Wave Summary
Surfing Mentawais simple has it all, wherever you are staying you will have access to the most consistent surf in the planet. There are over 50 recognised spots and countless others.
The North
The largest island of the chain is Siberut. There is a huge selection of surf at the southern end of this island. The Nyang- Nyang reef points such as the world class left
E-Bay
and the right,
Riffles
,are considered to be some of the most perfect waves in the world.
Bank-vaults
has now become infamous for one of the best waves around but is only for the experts.
In the same area you will also find plenty of playful less charging waves including
Playgrounds, Tikis, Burger World
and the fun right-hander wall
Pitstops
that ends on a sandy beach
Central
This island hosts
Telescopes
which is a consistent left that can peel for up to 200 metres and is good for almost all abilities.
Scarecrows
is a short, wedgy left which is best on best on a dropping tide.
In the south of Sipora you will find the well known surf breaks Lances left and Right.
Lances Left
is super fun and playful with a barrel section in the middle. It's beautiful turquoise water and perfect shape make it among the most photographed waves in the world, and one of the easiest to get barreled.
Lances Right
on the other hand is shallow, short, and advanced level only.
The South
South are the twin islands of Pagai Utara & Pagai Selatan. One of the worlds most famous waves
Macaronis
lies off Pagai Utauru. This ultra consistent left is a perfect deep barrel on the first section and then backs off to into a really fun wall.
Further north you have
Bommie Peak
which is only for the big wave hellmen.
Come Surf the Mentawais with us...
PAYMENT
A small deposit is required to secure your booking.
Your balance is due at check in.
CANCELLING YOUR BOOKING
To cancel go to the MyAccount section and log in or register and you can cancel from within your account.
Your deposit is non refundable but can be used for the same property/surf school within one year of your original booking.
You can cancels anytime up to 7 days before travelling and you will not be charged the balance.
Similar Surf Packages in Mentawai Islands , Indonesia
The Surfholidays Advantage
Easy messaging with a local surf host & expert to plan & book your dream surf holiday
1 Customize your surf trip with the help of a local surf host
Surfholidays has handpicked the world's top surf camps, accommodation & surf schools so you will have peace of mind and an unforgettable trip that meets your exact requirements.
2 Secure & easy booking
You can book instantly or message a host directly & request a custom option. Once you are happy with the trip, you can easily book via Surfholidays' secure payment platform.
3 Support before and after your trip
Our team at Surfholidays and your local host onsite are available before and during your trip to ensure things run smoothly.
4 Authentic travel experiences
Surfholidays hosts ensure that you will have the best experience based on up-to-date local insights. On top of that, the vast majority of your money will go straight to support and grow local surf towns.
Surfholidays offers a 100% satisfaction guarantee
If you are not fully satisfied, we'll work with you to make it right.