Castillo de Pavones
Castillo de Pavones
500 Meters Sur de Super Rio Claro, Pavones - South West Pacific - Pavones, Costa Rica
The Place
Couples
Families
Groups
Solo travellers
The Castillo de Pavones is elegantly perched on a mountainside with a direct view of the famous Pavones point break, the longest left breaking wave in the world.

We offer 4 Suites within the Castle and then we have a 4 Bedroom Villa (breakfast not included) a couple minutes away.

The Bed and Breakfast part comes with Breakfast each morning, Air conditioning in the Suites, Hot Water, Jacuzzi Tub, Satellite TV, Beautiful Ocean views from our 360 degree views from our LeftBreak Lounge. Surfboards to rent along with Surf Lessons are available. Lunch and Dinner available by reservations.
Location
We are located in beautiful Pavones, Puntarenas, Costa Rica the home of the Longest World Class Left Break. An hour from Golfito Airport or 7 hours from San Jose by Taxi or rental vehicle.
Reviews

Facilities

Room types

Getting there

Surf Lessons

Waves

Terms
5 REVIEWS
Summary
Accommodation
Surf Lessons

Haeja
Carlsbad, California
July 2016
Travelled as a couple
How did you like the accommodation?
High up on a hill sits a beautiful "castle" with an amazing view. In there, hard at work are 2 gracious hosts who manage a well operated little B & B with 3 or 4 other hard workers. They take special care that each of the 4 rooms are clean, comfortable and welcoming. Our Jungle Room for 4 days for us was about as perfect as it can be. A fan and an AC with a king bed is really all that we needed but having a beautifully designed rock table with 2 chairs, a love seat, a chair and a coffee table provided much more comfort. Additionally, we had a small fridge keeping the beers and waters cold. The bathroom was large, with excellent roomy shower, rustic but whimsical sink and a big spa tub. More importantly, never an issue with the wifi made catching up with family and friends on social network easy and watching shows on Netflix in bed.

Pavones, if you've done some research, you already know is a small surf town without a whole lot to do except surf. This worked out great for my surfer husband. And even though I don't surf, I enjoyed my 10 minute walks to the beach, a short hike behind the building to walk in the wet but refreshing Rio Claro and relax with a cocktail admiring the colorful Macaws fly by while listening to the Howler Monkeys howling in a nearby tree.

This special edifice has 4 floors with 4 large suites; 2 on the ground level you have to walk down to, 2 on the second, almost street level, where our Jungle suite was. The views from our 2nd floor end unit had lot of privacy facing the not too distant ocean surrounded by trees where the Macaws would rest on before swooping on to the wooden banisters. The upstairs 3rd floor, where the bar is, is airy and welcoming where the only TV is if that's important. And another favorite spot for the colorful local birds. And finally the 4th floor, at the top of the castle with the spectacular bird's eye view is where every afternoon we'd go up with a cocktail and be amazed at the beauty. There's also a villa to house a family on premise deeper in the forest.

The most wonderful aspect of this place was meeting Michael and Jesica, a husband and wife team managing Castillo de Pavones. Both could not have been more helpful, graciously hospitable and personable. The breakfasts were wonderful but the 2 dinners Jesica made for us was exceptional! We dined out at couple other places but we really enjoyed our meals at "home" the best. The meals were truly home cooked dishes.

As a side note, the only down side is they really need a pool. I gave the highest rating anyway knowing there's still room for improvement because you don't often meet people who care so deeply about what they do and the wellness of their guests. They take great pride in what they do and to us, that was much appreciated. Beside, they are currently in the process of building one and we are looking forward to returning for that! And well...the surf too. With the addition of a pool, this castle will have a happily ever after ending!


SaltSpringsGirl
Ormond Beach, Florida
July 2016
Travelled as a couple
How did you like the accommodation?
We were there for 2 nights with friends. We only met Michael & he was extremely helpful and very friendly. We stayed in La Jungla room & I agree with previous reviewers that it is very spacious. The refrigerator was very much appreciated. The Rio Claro is a 10 minute hike from the B&B & they provided nice tubes for us to use to float downstream. The breakfast was good & filling. We enjoyed the upper level for sunsets. The scarlet macaws were not around while we were visiting.
On Michaels recommendation we ate dinner one night at Ronitals, which has grilled items. Your choice of beef, ribs, chicken or fish for 5000 colones. Bring your own beer or wine. The 2nd night we ate at Bruschettas which we chose for the neat location.
We had a car but if you don't, it is an easy 10 minute walk to the beach or restaurants.

Shannon
Kapaa, Hawaii
June 2016
Travelled as a couple
How did you like the accommodation?
My husband and I stayed at Castillo de Pavones in the Jungla room for 5 nights. The rooms are huge with wifi, satellite tv, netflix, and a/c. The breakfast included fresh fruit and homemade juice (not from a carton!) along with two other breakfast choices. Macaws come to visit most days in the morning and late afternoon. We are both surfers and the surf break is visible from the top of the castle and only a 5 minute drive away. The managers Mike and Jes are very helpful and friendly, I cannot say enough about them. Several restaurants close by, or you can choose to include all your meals at the castle, we did this twice for dinner and the food was very good. The bang for your buck, this place has it all and we were told they are building a pool sometime this summer. Thanks for everything Mike and Jes! We will be back! Aloha!
- Less Reviews

Tiffany
Costa Rica
May 2016
Travelled as a couple
How did you like the accommodation?
I usually don't write reviews but this time I have to say that my experience was so amazing that I have to take the time. Management since I contact them very reachable through email. When we got to the Castillo Michael and Jesica were very welcoming, and through our stay they where always in the best disposition for anything you might need. The view of the beach and surrounding areas beautiful. The surprise when we came in the room spacious, very clean, beautiful décor and the bathroom with a large whirlpool ,everything in stone, comfortable bed, great a/c, tv and Wi-Fi. You can't get better than this. Breakfast had two choices which we found very convenient and we requested dinner. We had a very romantic dinner with the view of the Pavones beach and surrounding areas, lapas came flying around. The price was very good for all the personalized menu, a spectacular dinner (fresh fish with a fruit salsa on top, patacones, rice and frijoles and dessert). We had a awesome time and thank you Michael and Jesica ( management) for the wonderful experience. We are definitely coming back.

Ben
Colorado
May 2016
Travelled with friends
How did you like the accommodation?
This was one of the most unique places I've ever stayed. Large clean rooms with plenty of space to spread out. The views from the top levels are incredible The staff was amazing and went above and beyond to make our stay perfect.
How were the surf lessons?
Surfing was excellent. Henry is a great Instructor, he went above and beyond making sure we were safe and watched us get some great waves. Pavones has one of the best left breaks in the world, which we love the long wave.
+ More Reviews
You can never get lost
When you book you will receive our confirmation email with full travel directions of how to get to us.
We provide Airport Transfers from and to Golfito and they can be booked in the booking steps.
Price for 1-4 people: USD$80
Price for more than 4: USD$120
- Nearest Airport: Golfito
- Distance from Airport in kms:
- Time from Airport in a car: 1 hour
- There is no train from the airport
- There is no bus from the airport
Come Surf With Us
Surf Lessons can be added in the booking steps if they are not already included in a package.
Instructors
Pavones is the best Left Point in the World, theres also breaks south to Punta Banco lefts and rights,the natural beauty of this place is indescribable, there is great fishing offshore as well. Approximately 1 km long when the swell is on.
Main Surf Beach: Pavones Point
Surf Lessons we offer:
Kids Surf Lessons
We offer lessons for kids 6-12. Each lesson is up to 2 hours per day and include Surfboard. We ask that the parents are close by. Safety and fun is our main priority.
Beginner Surf Lessons
Our lessons are 2 hours per day and include Surfboard. Student ratio is 1:3 max. You will learn everything from standing techniques to turning and finally paddling outside and learning how to catch green (unbroken) waves.
Intermediate Surf Lessons
Each day includes 3 hours of surf per day, divided into 2 x 90 minute sessions, Surfboard is included. You will learn how waves are formed, how weather conditions create the surf and be given step by step guidance that will have you up and riding waves on the first day!
Advanced Surf Lessons
Each day includes 3 hours of surf per day, divided into 2 x 90 minute sessions, Surfboard is included. You will learn how waves are formed, how weather conditions create the surf.
---
Prices from 01 January to 31 December
| Prices per person | 1 Day | 2 Days | 3 Days | 4 Days | 5 Days |
| --- | --- | --- | --- | --- | --- |
| Kids Surf Lessons | USD$50 | USD$100 | USD$150 | USD$200 | USD$250 |
| Beginner Surf Lessons | USD$50 | USD$100 | USD$150 | USD$200 | USD$250 |
| Intermediate Surf Lessons | USD$50 | USD$100 | USD$150 | USD$200 | USD$250 |
| Advanced Surf Lessons | USD$60 | USD$120 | USD$180 | USD$240 | USD$300 |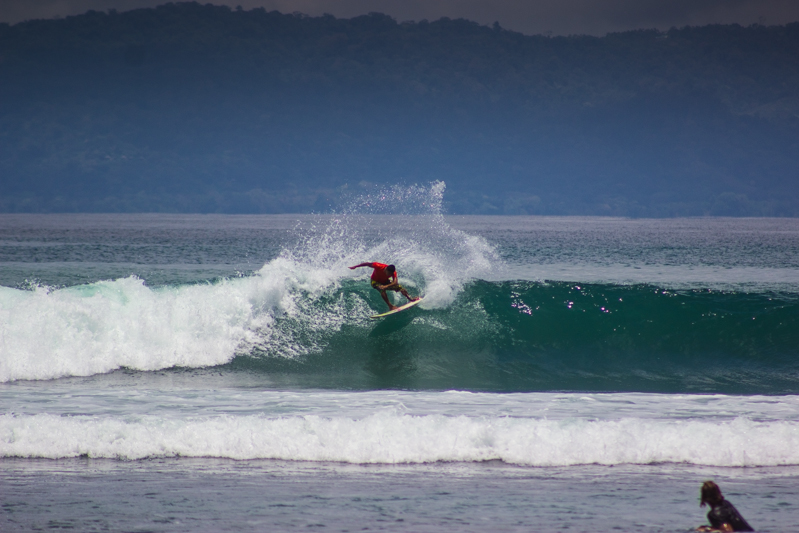 Pavones Point Break
Level: All Levels
Pavones is one of the Longest Left Point Breaks in the world theirs also breaks south to Punta Banco lefts and rights, the natural beauty of this place is indescribable, at night everyone hangs out in town, theirs great fishing offshore, and 3 excellent breaks on the other side of the bay.
Surf conditions in South West Pacific - Pavones:
Beginners:

JAN

FEB

MAR

APR

MAY

JUN

JUL

AUG

SEP

OCT

NOV

DEC
Intermediates:

JAN

FEB

MAR

APR

MAY

JUN

JUL

AUG

SEP

OCT

NOV

DEC
Advanced:

JAN

FEB

MAR

APR

MAY

JUN

JUL

AUG

SEP

OCT

NOV

DEC
Rain
Wetsuits
JAN/FEB
MAR/APR
MAY/JUN
JUL/AUG
SEP/OCT
NOV/DEC
---
The Golfo Dulce has plenty of waves making it s a great surf holiday spot. The main surf town
Pavones
is known for its lefts. The main wave has been called the worlds longest left and can run up to 1km on occassion. Its better for turns rather than barrels and there are a good amount of peaks allowing for different take off spots.
Close by, a few kms further south is
Punta Banco
which has a mix of left and right reef breaks. From here you can keep on going South to
Punta Burica
and pass by many uncrowded beach breaks and reefs, including
Eclipse
, a unique rivermouth break.
Across on the other side of the gulf is
Matapalo
, better know for its left breaks. You an get a boat across from the locals. The surf here includes
Pan Dulce
, one of Panamas World Class spots, a right point break, The area has a good mix of mellow waves as well as more hollow ones. Venture around the
Corcovado national park
and you will discover empty surf and beautiful tropical scenery.
Come Surf Pavones with us...
PAYMENT
A small deposit is required to secure your booking.
Your balance is due at check in.
CANCELLING YOUR BOOKING
To cancel go to the MyAccount section and log in or register and you can cancel from within your account.
Your deposit is non refundable but can be used for the same property/surf school within one year of your original booking.
You can cancel anytime up to 30 days before travelling you will not be charged the balance.
Similar Properties in South West Pacific - Pavones, Costa Rica
Why use Surfholidays.com?
Book your accommodation & surf lessons/guiding in the one place
24/7 Support – phone & email
20,000 booked since 2009
Best price guarantee
Flexible payment: Only a deposit is needed to book
Flexible cancellation conditions
Manage your bookings online
You're in control of your booking. No registration is required.
Your booking is secure & details are protected by a secure connection.
Manager: Michael and Staff