Oeste (West Portugal)

Surf4 You - Personal Surf Coaching
Surf4 You - Personal Surf Coaching
Surf School in Oeste (West Portugal) , Portugal
About
We are the highest raking surf school in Nazaré by Tripadvisor and Turismo de Portugal. We have started our activity in 2014 and since then we have established a high quality level of surf coaching. Our Original and trademark method boost your learning pace to the maximum. We only work with small groups so the attendance is secure, efficient, personalized and respecting the individuality. We offer beginner, intermediate, advanced and private lessons.
We have brand new wet to suits and boards.
Kids Surf
Beginner Surf
Intermediate Surf
Private Surf
Lessons

Prices

Getting There

Waves

Terms
Due to changing tides exact surf lesson start times are not decided until the week of your lesson.
After you book we will contact you the week of your lesson to tell you your lessons start time.
Kids Surf
Surf4 You offer lessons for kids with age of 6 to 11. Each lesson is up to 2 hours per day - includes surfboard & wet-suit. We ask that parents are close by. We pick you up from our meeting point and take you to the best surf spot of the day. Safety and fun are our main priorities.
Beginner Surf
Surf4 You only works with small groups so the attendance is secure, efficient and personalized. Max instructor to student ratio is 1:4. Each lesson is 2 hours long and includes 15 minutes to 20 minutes of Yoga Stretching and warm up, wetsuit and surfboard. You will learn always in the best surf spot of the day with safety and fun. Kids lessons are available at this level.
Intermediate Surf
Surf4 You will pick you at your location or you can meet us at our surf school. With our local knowledge of Nazaré area we will take you to the best waves for your ability. Each lesson is 2 hours long. Wetsuit and softboard are included. Our objective is that you will be able to sucessfully paddle out alone at a familiar place and catch and ride waves to a logical finish frontside or backside.
Private Surf
Each one of us learns in different ways and at different speeds. At Surf4 You we are able to personalize each surf session to suit your individual needs. Our service is totally focused on you. So each surf session will be unique and fulfilling.
Prices from 01 January to 31 December
| Prices per person | 1 Day | 2 Days | 3 Days | 4 Days | 5 Days |
| --- | --- | --- | --- | --- | --- |
| Kids Surf Lessons | €25 | €50 | €75 | €100 | €110 |
| Beginner Surf Lessons | €30 | €60 | €90 | €120 | €120 |
| Intermediate Surf Lessons | €30 | €60 | €90 | €120 | €120 |
Private Surf Lessons
Prices per person
1 Day
2 Days
3 Days
4 Days
5 Days
1 Person
€60
€100
€160
€200
€280
2 People
€40
€75
€110
€150
€190
Praia Do Norte
Level: All Levels
Praia do Norte in Nazaré is one of the most powerfull beach brakes in the world but can be rideable by all kind of surfers on smaller days. Ask for local advise if in dough.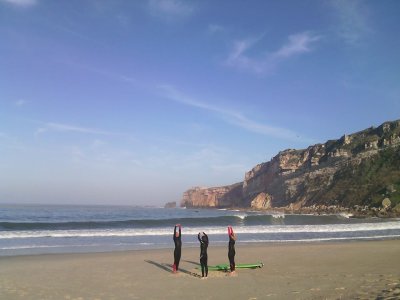 Nazaré
Level: All Levels
On the south side of Praia do Norte and surronded by a big Clif, this surf spot is protected from the strong winds and bigger waves. Perfect for all levels. More suitable at low tide.
Surf conditions in Oeste (West Portugal) :
Beginners:

JAN

FEB

MAR

APR

MAY

JUN

JUL

AUG

SEP

OCT

NOV

DEC
Intermediates:

JAN

FEB

MAR

APR

MAY

JUN

JUL

AUG

SEP

OCT

NOV

DEC
Advanced:

JAN

FEB

MAR

APR

MAY

JUN

JUL

AUG

SEP

OCT

NOV

DEC
Rain
Wetsuits
JAN/FEB
MAR/APR
MAY/JUN
JUL/AUG
SEP/OCT
NOV/DEC
Payment
A small deposit is required to secure your booking.
Your balance is due 30 days prior to arrival.
Cancelling
To cancel go to the MyAccount section and log in or register and you can cancel from within your account.
Your deposit is non refundable but can be used for the same property/surf school within one year of your original booking.
- Your booking is confirmed once you make payment. - The deposit you make to book is non-refundable. However we allow that your deposit can be used again with you within one year of the original booking. We do not accept cancellations by phone or other means other than email. - Cancellation of your booking within 30 days prior to your arrival is non- refundable. - Surf4 You will not be liable for fligth delays and/or cancellations. - Whenever you need to change your booking, let us know as soon as possible. We will make every effort to meet your needs. - Date changes will always depend on our availability and may be subject to price changes, according to your desire dates.
What happens if the surf school cancel the Surf Lessons?
In the rare occasion that conditions do not allow for the surf lesson to go ahead you will be given a full refund.
Debit/Credit cards are not accepted on site – cash only.
Why use Surfholidays.com?
Book your accommodation & surf lessons/guiding in the one place
24/7 Support – phone & email
20,000 booked since 2009
Best price guarantee
Flexible payment: Only a deposit is needed to book
Flexible cancellation conditions
Manage your bookings online
You're in control of your booking. No registration is required.
Your booking is secure & details are protected by a secure connection.
Miguel