Tenerife
Surfing Holidays Tenerife
Warm water surf in the Island of Eternal Spring
Book a Surf Holiday

Book Surf Lessons
Tenerife
Tenerife is the largest of the Canary Islands, attracting the greatest number of tourists all year round, and is commonly known as the Island of Eternal Spring (Isla de la Eterna Primavera). It has some of the best surf in the Canaries and with its warm water and consistent year round sunshine it is a great destination for surf holidays for everybody.

Tenerife has surf spots throughout the island, but most can be found along the North and South coast. It is good for all surf levels offering beach and reef surfing. Some of the more well known spots on the South coast are Spanish Left and Billboards in Las Americas and on the North coast Los Patos and El Callado. While not as well known as Lanzarote or Fuerteveutura for its surf it is catching up fast and there is a growing number of quality surf camps in Tenerife.

As part of the Canary Islands Tenerife lies 28° North and enjoys a pleasant sub-tropical climate with average daily temperatures of over 20°C throughout the year. The island also has The Teide National Park which has the third largest volcano in the world and also the highest mountain in all of Spain, Mount Teide. It is a recognised UNESCO as a world heritage site.

The Santa Cruz de Tenerife Carnival is one of the biggest and most spectacular events of its kind in the world. Every February, Santa Cruz de Tenerife, the capital of the Canary Islands, hosts this important event, which attracts about a million tourists from around the world. It is considered the second most popular Carnival internationally after the one in Rio de Janeiro (Brazil). In fact, the city of Santa Cruz de Tenerife is twinned with the city of Rio de Janeiro for this reason.

Tenerife is a volcanic island with rugged coastlines, black sand beaches and offers some of the best surf spots in Europe. With its warm climate and great waves a surf holiday in Tenerife is a very good option.
+ More
Weather Conditions
J/F
M/A
M/J
J/A
S/O
N/D
Air Temp (°C)

25°

28°

29°

31°

31°

26°

Wetsuits
Rain
Surf conditions for Beginners:

J

F

M

A

M

J

J

A

S

O

N

D
Surf conditions for Intermediates:

J

F

M

A

M

J

J

A

S

O

N

D
Surf conditions for Advanced:

J

F

M

A

M

J

J

A

S

O

N

D
Accommodation

Surf Lessons

Area

Getting There

Waves

Canary Islands Blog
Surf School
Canary Islands
Tenerife
Main Surf Beach: El Socorro
Pick up from Accommodation
Lessons: Beginner Surf , Intermediate Surf & Private Surf
Select
Surf School
Canary Islands
Tenerife
Main Surf Beach: playa de las américas- la ola del Medio
Pick up from Central Meeting Point
Lessons: Kids Surf , Beginner Surf , Intermediate Surf , Advanced Surf & Private Surf
Select
Known for its glorious weather, not too hot not too cold, this Goldilock's climated island is perfect for a sunny surf getaway. With its different variety of waves, great for beginner surfers to the professional, Tenerife has it all. Outside of the water it also has lots to offer, fantastic restaurants, bars, and a breathtaking landscape.

Tourism is more prevalent in the south of the island, which is hotter and drier and has many well developed resorts such as Playa de las Americas and Los Cristianos. The north part of the island is more lush and green and the town of Puerto de la Cruz is a great base having kept some of its old-harbour town charm while also mixing with European influences. Both north and south have a good choice of Tenerife surf camps and surfing holiday options

Only 60km long and 50km wide it is easy to get around and is home to the worlds third largest volcano Pico del Tiede.

With such a beautiful landscape and great surf spots Tenerife is a great surf holiday destination any time of the year. It is known as the Island of Eternal Spring (Isla de la Eterna Primavera) for good reason!

Book your surf holiday in Tenerife with us online and come experience it for yourself...
Flying
to Tenerife is easy with many major airlines flying to the island for a vast number of European cities. It has two airports,
Los Rodeos airport
situated in the north of the island near La Laguna and
Reina Sofía
(named after the King of Spain's wife) in the south near the Costa Adeje area.
www.ryanair.com
www.easyjet.com
www.norwegian.com
www.flymonarch.com
www.vueling.com
www.iberia.com
www.luxair.com
www.britishairways.com
www.thomson.co.uk
Getting around
The island is only 60km long and 50km wide so every area is within easy reach. They have reliable buses and plenty of taxis.
Car Hire
- We have a
discount car hire
section on our website where you can rent a car.
Shared transfers
- Share a taxi or mini bus with
our shuttle bus partner here
You can also get to Tenerife by
Ferry
, there are two sailings from Spain a week, Huelva to Santa Cruz de Tenerife and Cadiz to Santa Cruz de Tenerife.
The best surf in Lanzarote for advanced levels happens in the winter months from November to March. However for beginners and intermediates it is a year round surf destination.

The area has two main surf areas, the North coast and the South coast. The East coast has some ok beach breaks but it is not that reliable.

The greatest concentration of surf spots is between the southern tourist towns of Playa de Las Americas and Los Cristianos. Spanish Left is one of Tenerifes more famous spots. A left wave, steep and powerful, working from a pushing low tide. Reef shoes recommended. It is right in the centre of Playa de Las Americas and is definitely a more advanced spot. Nearby are easier beaches perfect for learning.

Also south are El Conquistador (South) , a beautiful, long, fast right especially at the start. and The Fitenia (South) which has both lefts and right options.

Along the North of the island you have some of Tenerife's best beginner and intermediate surf spots including the Bajamar Reefs and also Playa del Socorro. Its located close to the town of Puerto de la Cruz, about an hour from Playa de Las Americas. The spot is dominated by mountains overlooking the ocean and is a fascinating sight. It's a real amphitheater with crystal clear water and year round surf.

That is just a small sample, there are many more surf spots to explore and experience on a Tenerife Surfing Holiday.
From our blog: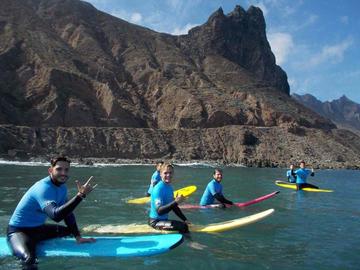 The best surf beaches in Tenerife to learn how to surf...