Known as the 'Hawaii of Europe', many are surprised to learn of the unlimited amount of incredible beginner surf beaches Canary Islands serves up. From beginner friendly, sand bottom waves that are perfect for learning, to reef bottomed peeler's that are perfect to tackle as your week progresses.

Moving between Gran Canaria, Lanzarote, Fuerteventura and Tenerife , travellers on a Canary Islands surf holiday can opt to surf at well-established spots, or venture further out, to score some uncrowded perfection with friends and loved ones whilst spending the day on some of the most awe-inspiringly beautiful beaches in the world.
Top 5 Beginner Surf Beaches Canary Islands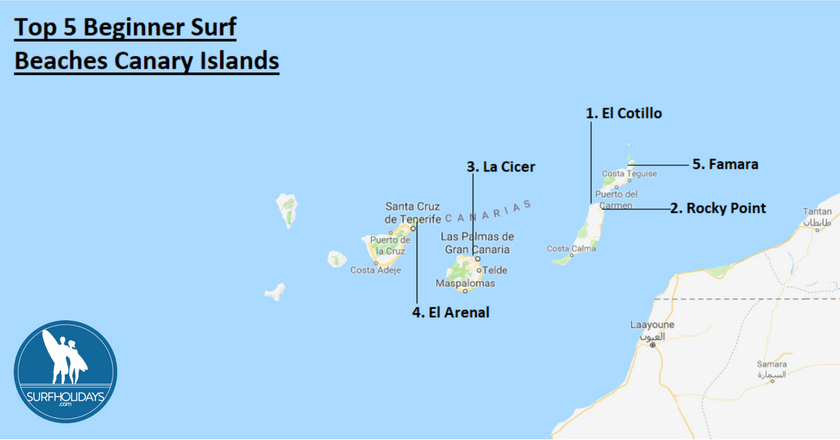 1. Rocky Point, Corralejo, Fuerteventura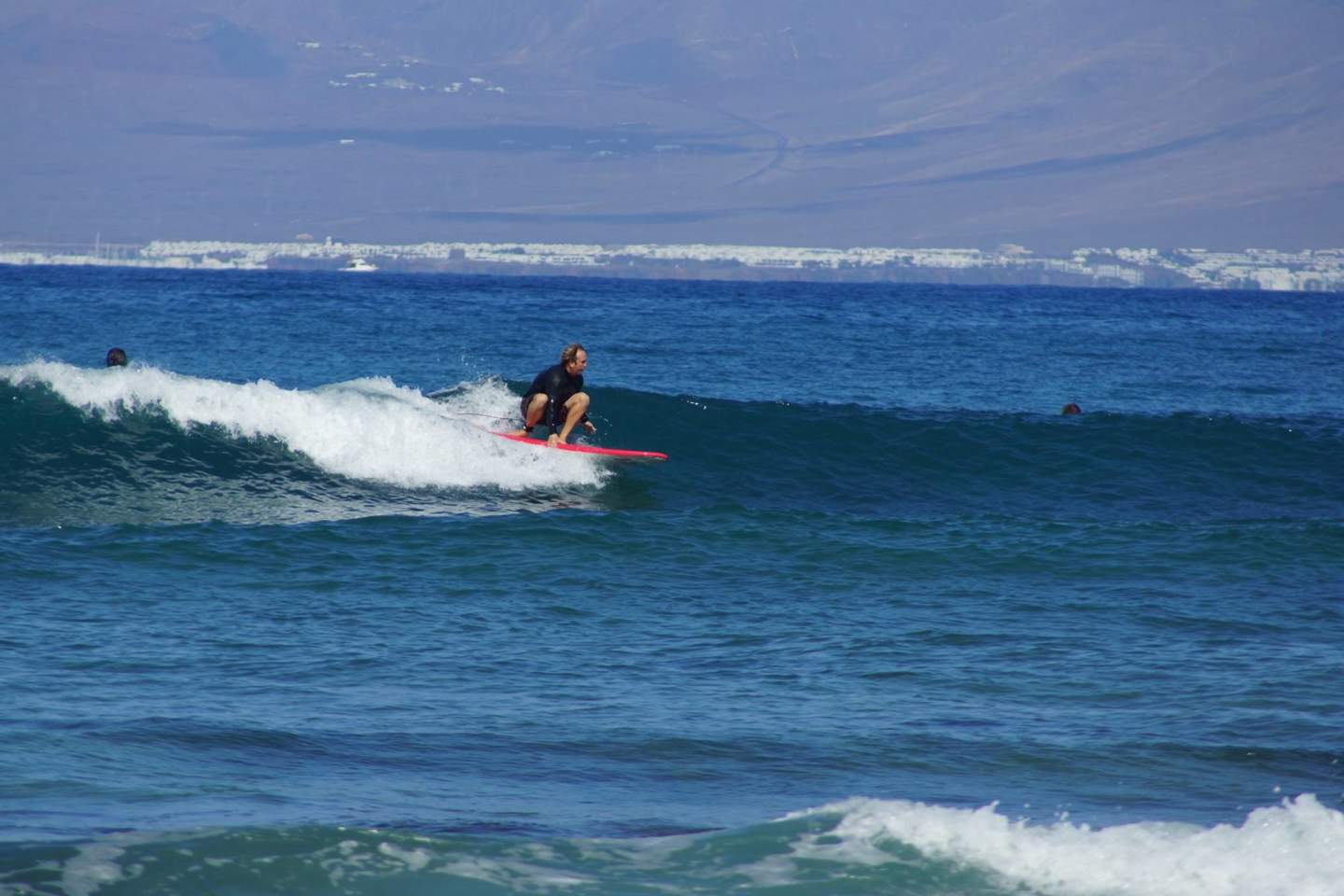 Town: Corralejo

Where: North East coast, Fuerteventura

The Area: Situated in Corralejo.

Beach: Beautiful beach and tidal reef with a host of facilities and amenities.

The Surf: A reef break that breaks in plenty of the water, big outside peaks reform into manageable lefts and rights on the inside. A good spot to head to when the North Track has a big swell pouring in, best surfed from mid to high tide. The slow walling lefts are perfect for a longboard or mini-mal.

Best Time: Spring, Summer and Autumn.

Weather: Summer temperatures range from 22 - 31 ºC, with winter seeing conditions between 16 - 25 ºC.

Explore our available options in Rocky Point:


2. Famara, Northern Lanzarote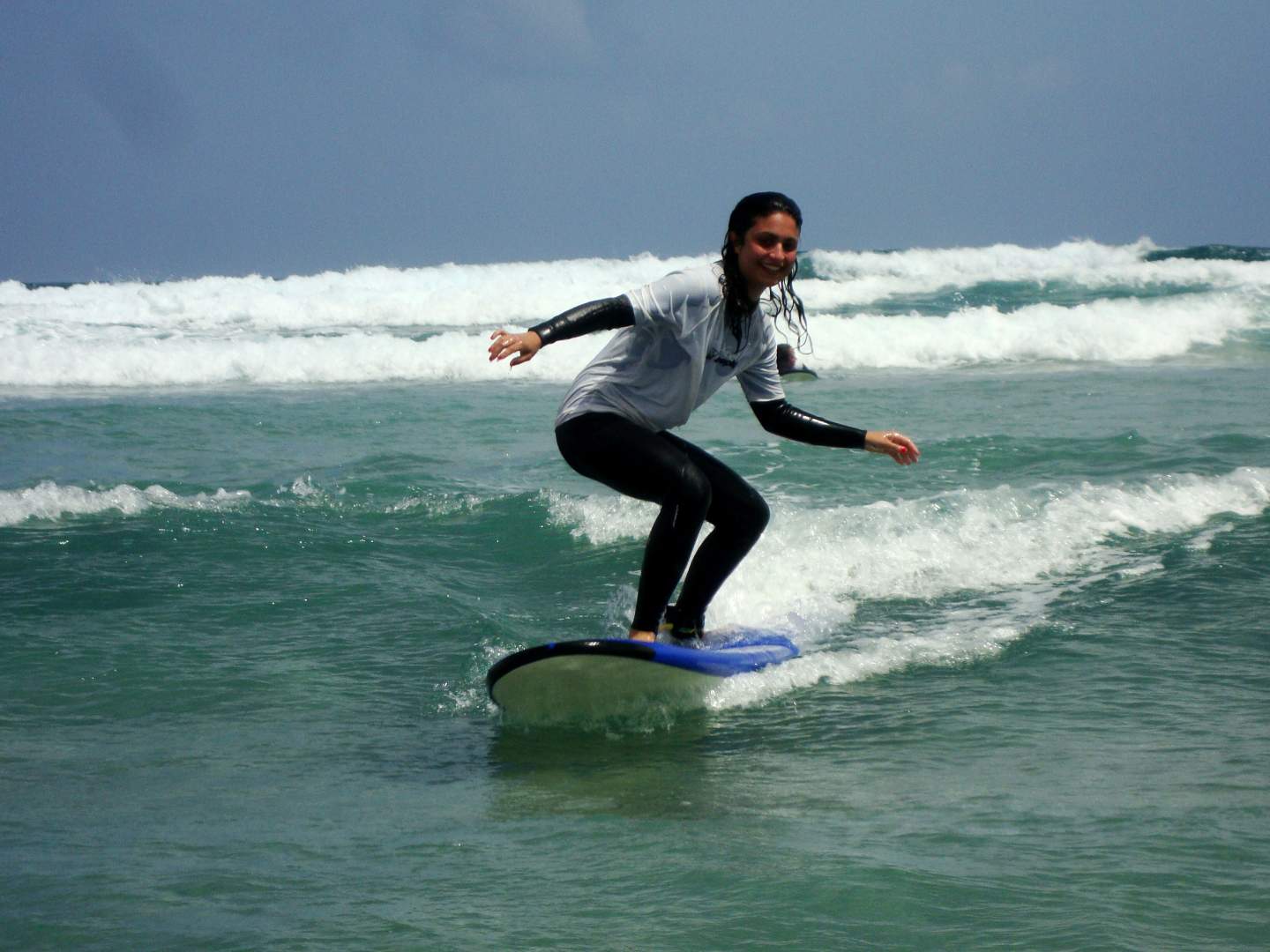 Town: Caleta de Famara

Where: Northern Lanzarote.

The Area: Aside from top quality surf breaks, Lanzarote is well known for it's tourist attractions. The most popular sights are the Centres of Art and Culture that were created by César Manrique which fuse the island's amazing volcanic landscape with the artist's own aesthetic and creations . It's also home to a number of natural wonders, such as the Green Lagoon at El Golfo and the Valley of 1,000 Palms.

Beach: Famara is a large curved beach that stretches for 6km that boasts an impressive dune system and mountainous cliffs.

The Surf: Famara is one of the best beginner surf beaches Canary Islands dishes up, with the middle of the bay receiving the largest waves. The north end can get fast and hollow at lower tide, which is perfect to head to as your Canary Islands surf holiday progresses, while the south end is smaller and easier, which makes it the perfect place to start.

Best Time: Summer, Autumn and Winter.

Weather: Summer temperatures will hover between 24 - 34 ºC, with winter seeing conditions fluctuate between daytime lows of 16 and highs of 26 ºC.

Explore our available options in Famara:
3. El Arenal, Santa Cruz , Northern Tenerife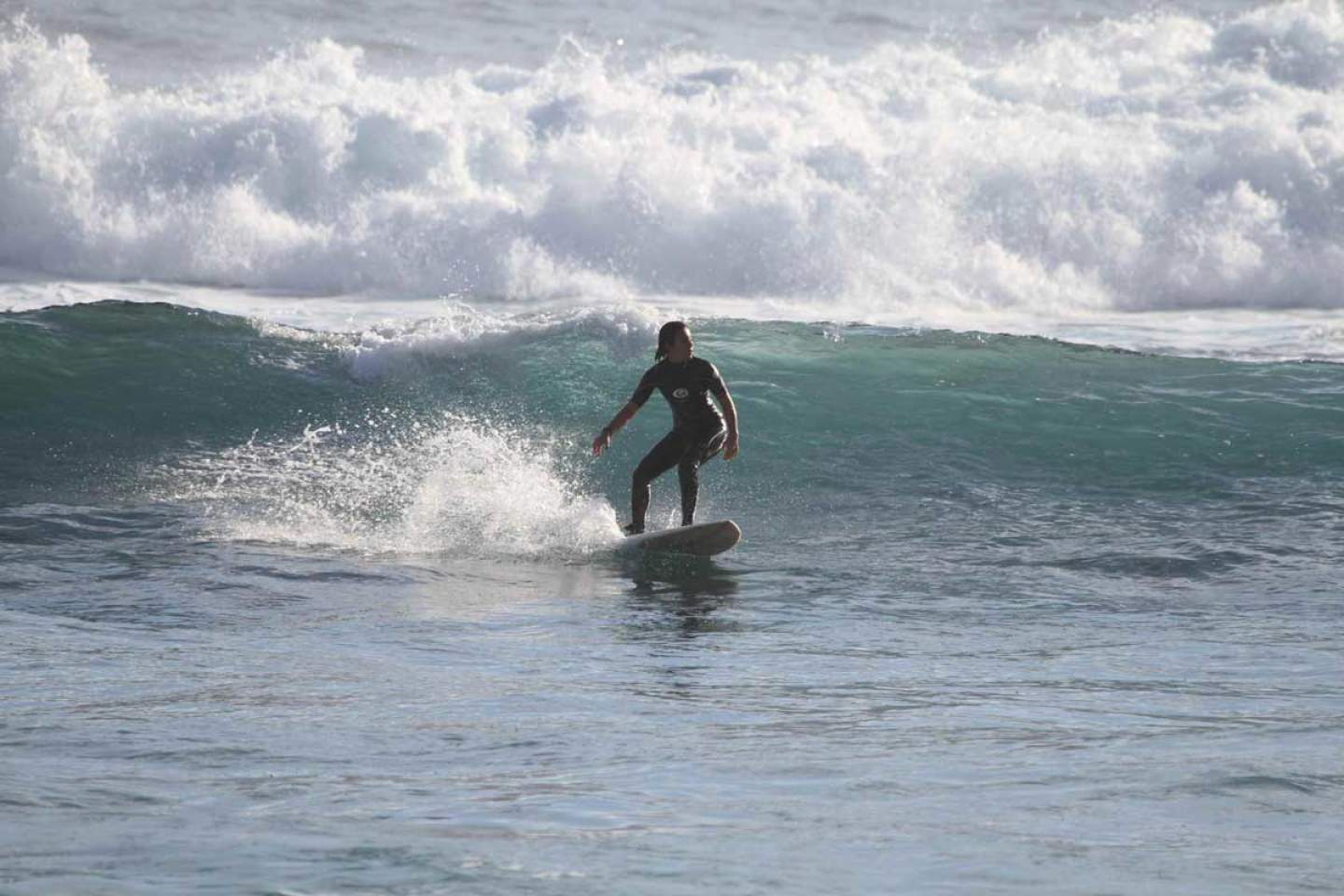 Town: Bajamar.

Where: Northern Tenerife, between Bajamar and Punta del Hidalgo.

The Area: The area around Bajamar and Punta de Hidalgo is known as the 'Greenhouse of Tenerife' with many of the exotic flowers used for decoration throughout Tenerife grown here. Situated at the foot of the Anaga Mountains offering views along the north coast to Mount Teide. Take a splash in one of the numerous tidal pools to soothe your muscles after a long day surfing in the Atlantic waves.

Beach: Beautifully rugged beach that is surrounded by cliffs, the perfect place to spend the day surfing before having a sunset BBQ right on the sand.

Type: El Arenal produces both left and right walls that are perfect for both goofy and regular footed surfers. With a good N-NW swell, rides up to 100m can be had here with it being best surfed on a mid-tide with a 2-3ft swell running.

Best Time: Autumn, Winter and Spring.

Weather: You can expect sunny summer temperatures between 26 - 32ºC, with winter seeing temperatures between lows of 16 and highs of 26 ºC.

Explore our available options in Tenerife:
4. La Cicer, Las Palmas, Gran Canaria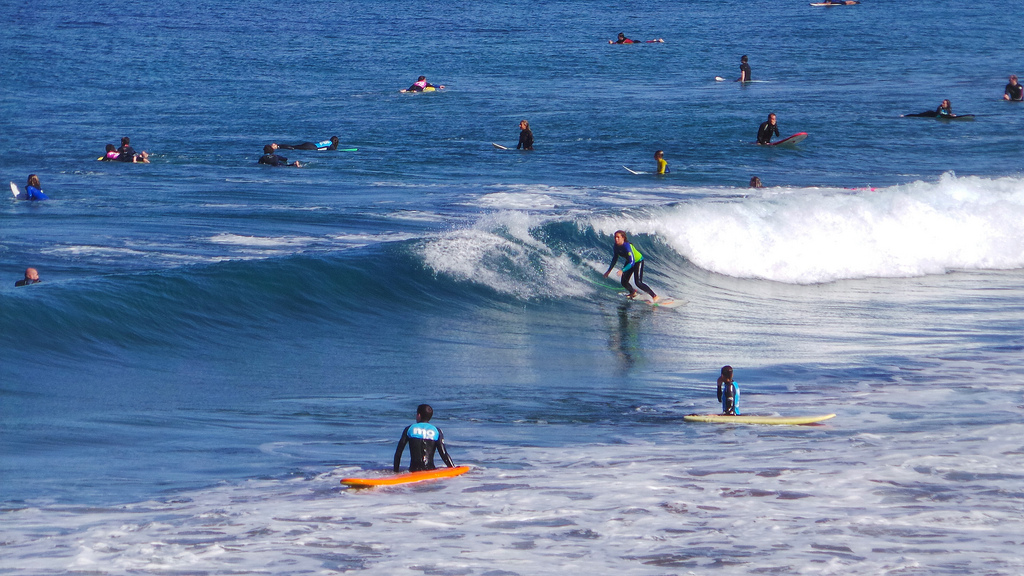 Town: Las Palmas

Where: North East Coast, Gran Canaria

The Area: This is the hub of Island life and the main city beach is surrounded by bars, restaurants, clubs and surf schools. The city of Las Palmas has an exciting day/night life, frequent activities and free live music concerts all weekend for the majority of the year. This is the destination for those that want great waves and scenery by day and lively atmosphere's once the sun goes down.

Beach: Long beach in the heart of a fun-filled town, with a host of local facilities and amenities.

The Surf: Left and right beach break peaks that offer the perfect conditions for beginner surfers.

Best Time: There is a ride-able wave here 365 days a year with the best time being Spring and Summer.

Weather: Summer temperatures range from 25- 34ºC, with winter seeing conditions between 18 - 25 ºC.

Explore our available options in Gran Canaria:


5. El Cotillo, Las Palmas, Fuerteventura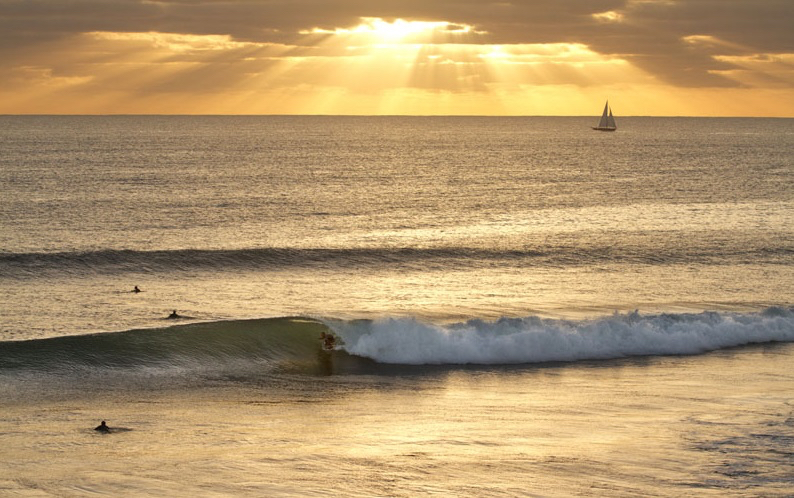 Town: El Cotillo

Where: North West Coast, Fuerteventura

The Area: El Cotillo is a quiet, small laid back village with only a few restaurants and cafes so most people tend to stay in the bigger town of Corralejo and drive 30 minutes across to the surf in El Cotillo.

Beach: The white sand beach that has some of the clearest water you'll ever see; El Cotillo's renowned lagoons are the perfect place to relax in as you take in the fantastic views.

The Surf: Cotillo's beach break packs a bit more power than the other beginner beaches, so it's the perfect spot to head after a few Fuerteventura surf sessions where you have gained some experience. North end offers some N-NE wind protection and can produce good right-handers when the banks line up.

Best Time: Summer, Autumn and Winter.

Weather: Summer temperatures range from 22 - 31 ºC, with winter seeing conditions between 16 - 25 ºC.

Explore our available options in Fuerteventura:
Quick Facts: Canary Islands

Population: 2 million

Location: Atlantic Ocean, opposite southern Morocco on the North West African coast

Main surf area: Fuerteventura, Lanzarote, Tenerife and Gran Canaria

Language: Spanish

Year round surf: Yes

Weather: Whether it's summer or winter, you're guaranteed to get a run of sunny days as it has over 310 days of sunshine per year, one of the many reasons for a Canary Islands surf holiday. Summer highs of 32°c, with winter highs of 26°c, make for the perfect holiday weather. The summer sun is intensified when spending hours in the water, so high factor SPF and zinc sun block are must have essentials for those long sessions!

Best time for Beginners: All year round

The Canary Islands have a great mix of laid back, rural fishing villages that are the perfect escape for those wanting a holiday away from the modern world and also lively bigger towns for those wanting to party the night away after a day surfing the best beginner beaches Canary Islands has.

The volcanic islands offer up a wide range of landscapes to explore from barren desert style tundras to rich green forests, and everything in between, which are best explored on one of the many quad bike excursions or on the numerous hiking trails.

Each has an array of different options for all budgets, be it a canary islands surf camp, or more luxury options, being a long-standing tourist destinations means that certain areas of each island are very well developed and can provide you with great night life, restaurants, shopping and any other amenity you could wish for whilst on holiday.

Whether you've had a few sessions under your belt or if you've never set foot on a surf board, read below to find out the top 5 beginner surf beaches Canary Islands, which we guarantee, will give you the time of your life and have you hooked as soon as you paddle into any of these waves!