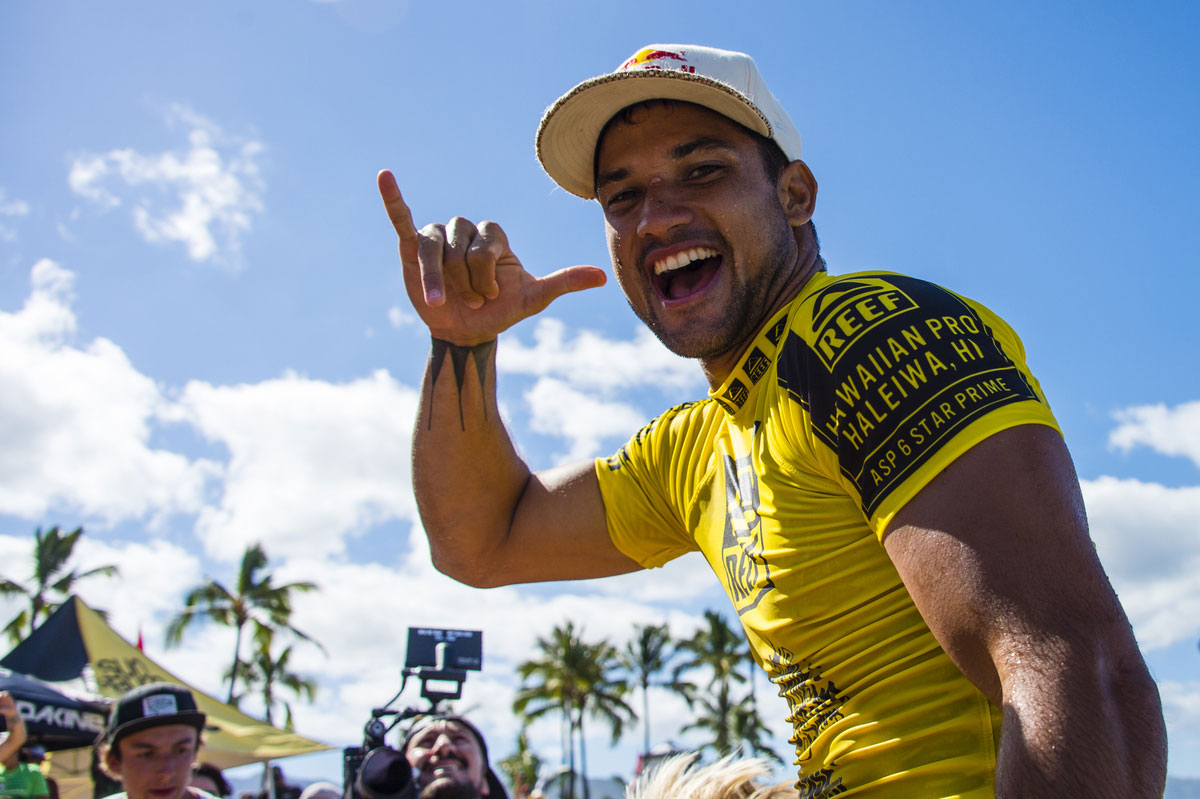 Name: Michel Bourez
Nickname: The Spartan
Hometown: Rurutu, Tahiti, French Polynesia
Age: 28 (dob 30 December 1985)
Stance: Natural
Sponsors: Hurley, Future Fins, Kelly Surfshop, Firewire surfboard, OAM accessories and Red Bull.

Tahitian surfer Michel Bourez has been gaining recognition for years for his powerful surfing, but in 2014 he is coming into his own. Currently ranked 5th in the world on the ASP's world championship tour, there is a lot of attention directed his way whilst he competes in the Billabong Pro Tahiti 2014 that is taking place 15th to 26th August.
Bourez has already been a game changer this year winning two ASP events: the Margaret River Drug Aware Pro, and the Billabong Pro Rio. The only other surfers to do this so far this year are Gabriel Medina and Mick Fanning… Giving us all a good idea of the high level company he is keeping. So who is this Polynesian surfer that's giving some of the world's best surfers a run for the title?




Growing up in the incredibly beautiful surf paradise of French Polynesia gave Bourez the chance to start surfing from the relatively young age of 13 years old. However it wasn't until 2005 that he debuted on the World Qualifying Series, wining the very prestigious Reef Hawaiian Pro in Hawaii in 2008, and in doing so earned his way onto the WCT in 2009. Many may consider Bourez to be fortunate where he has some of the best waves in the world to practice on, however it still takes a huge amount of dedication, love, and bravery to surf the dangerous reef breaks found around the island of Tahiti… None more so than the legendary wave of Teahupoo.
Bourez is only the second Tahitian ever to make it onto the WCT in history, almost 20 years after Vetea David ended his WCT career. Bourez's fierce desire to do his utmost in every single heat has brought him through some challenging years on the tour, but has enabled him to be consistent in requalifying since his debut in 2009 when he placed 21st in the world.


Since Bourez's first year on the tour he did not finish the year lower than 15th in the world rankings, and last year he placed 12th overall. However this year might be set to change everything. He's changed his coach, taken up a lot more jujitsu, focusing his attention on remaining calm even when the conditions are challenging and very difficult… and it is paying off. With two WCT wins already in place, and competiting in his home waves at the Billabong Pro Tahiti, there is every hope that he will be able to go on to win the event, and set himself up for a shot to be the world's first Tahitian World Championship Tour winner.
Check out Bourez at home in Tahiti and surfing the beast of a wave Teahupoo below: