This May our surf destinations focus on maximising Spring sunshine and warmer ocean temperatures. If you're looking for the best places to surf in Europe, then look at either Portugal or the Spanish Canary Islands, as these countries offer a host of amazing surf breaks as well as being surprisingly affordable...
1- Helios Bungalows, Ericeira
Located on Foz do Lizandro Beach in the surf town of Ericeira, the
Helio Bungalows
are an ideal location for anyone who wants to wake up on the beach and go surf. The bungalows sleep up to four people, so are ideal for families, or small groups of friends travelling together.
For when you're not surfing, Ericeira is a beautiful town to explore as it's set on the spectacular Portuguese Atlantic coastline, which is now a national park. The town itself is only 35minutes drive away from Lisbon, for when you feel like a mixture of culture and shopping. However, if you're staying put, make a point of trying out any one of the great local restaurants- especially their seafood specials.
With temperatures between 20-30 degrees in May it's little wonder why Lagos proves so popular at this time of year. Casa Offshore is a surf house that's ideal for solo, couple, or group travels as it sleeps up to 19 people. It's located in the quiet area of Lagos, the surf town on the Algarve, and is only a 10minute walk to the town centre or 4 different beaches.
Lagos itself is an all year round surf destination, but May is a great time to surf and explore the surrounding region as it's not too hot, and you avoid the summer holiday makers. Make sure you visit the nearby town of Sagres for yet more beautiful
Portuguese surf
beaches.
3- Zoopark Famara, Lanzarote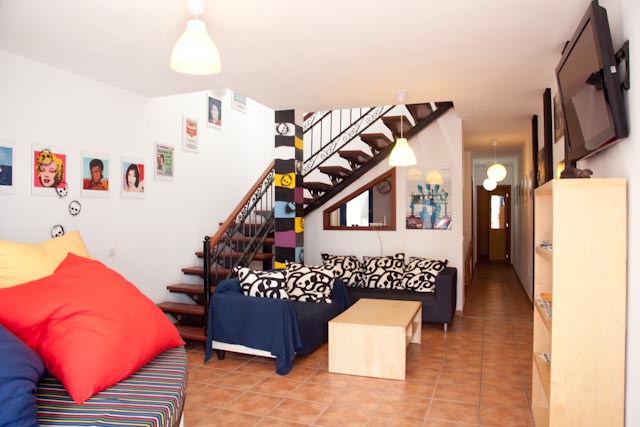 Lanzarote will always be part of our year round surf destinations as the weather and the waves are always excellent. Zoopark Surf House is only 100metres from Famara surf beach, and has everything you can think of for your holiday needs nearby... restaurants, bars, supermarket, and even a surf shop.
The house itself caters for solo, couples, and groups, and has the option of either private rooms, or rooms to share, making the accommodation very affordable. Make sure that you maximise your time
surfing Lanzrote
by exploring the surrounding stunning volcanic landscape and beaches, or even taking the ferry over to neighbouring island of Fuerteventura for some extra surf spots.
This article was added by
Francesca Bingley