Santona

Madrid Surf School & Camp
Madrid Surf School & Camp
Avenida Primera de Berria 37, Santoña (Cantabria) - Santona, Spain
Chat with a host who can help organise your trip...
Explore our Available Surf Packages
The Place

Private & Shared room options
Couples
Families
Groups
Solo travellers
Madrid Surf School & Camp
Accommodation is something super important when you leave your house. When you travel, it is vital to feel comfortable and be in a pleasant place that is according to your tastes. Has not happened to you that sometimes the accommodation where you stayed was not to your liking and this has made your trip was not 100% perfect?

At La Madrileña de Surf we know that good accommodation makes the difference when traveling. We agree on this point and that is why we have created a dream accommodation (or at least, we believe in. Tell us what you think, we will love hearing your evaluation and experience.) This is for you!).

We have two accommodations on the beach of Berria, a few meters from the beach sand (not to mention a few steps from the beach sand). Our "Beach Houses" are decorated with taste and thinking about the comforts you need.
Location
The school of La Madrileña is located on the beach of Berria, which belongs to the town of Santoña, in the Autonomous Community of Cantabria.

The beach of Berria is one of the most beautiful beaches in the eastern part of Cantabria. 2 kilometers long, depending on the tide can reach more than 150 meters wide and its sand is fine and golden, almost white. It is surrounded by Mount El Brusco to the west, Mount Buciero to the east, and by an ecosystem of dunes and marshes to the south, which makes this beach an environment of incredible nature.

In addition, the beach of Berria is the only beach that has the distinctive "Blue Flag" (next to the beach of Ris), so it is a benchmark in terms of quality, safety, information and environmental education.

The beach of Berria is located on the edge of the first surf reserve in Spain. Therefore, it is perfect for surfing and allows you to combine surfing on this beach with others from the region with great waves, such as Somo, Loredo, Langre and Laredo. It is also the neighboring beach of one of the best waves of Cantabria, El Brusco; a wave suitable only for people with a high level of surfing.

But since not everything is just a beach, you can also go to Santoña, a town with a great seafaring tradition that offers interesting cultural corners (historical buildings from Napoleon's time) and culinary routes to suck your fingers.
Reviews

Facilities

Room types

Getting there

Surf Lessons

Waves

Terms
1 REVIEWS
Summary
Accommodation
Surf Lessons

Hugh
Dublin, Ireland
May 2019
Travelled solo
How did you like the accommodation?
The accommodation was great, its setup for small groups so it feels more like a home with really social living and dining areas to hang out in. I was in the 4 bed dorm room which was very spacious and had amazing views of the beach, waves and the mountains. Although most of us didn't know each other we became a family for the week, going out for lunch and dinners together and enjoying breakfast made by Joaquin. All the equipment is at the house which is really convenient and its a very short walk to the surf in your flip flops.

There isn't much at Berria beach (a bar and a hotel with restaurant and bar) there is a small urban area 10-15 minute walk from the house which has some nice local style bars and restaurants and a supermarket. Santona (a bigger town) about 30 minutes walk from the house is great, with loads of bars, cafes, and restaurants. I would highly recommend getting into the spirit of the area and bar hopping around santona, eating pinchos and drinking cervezas.

Joaquin has lots of great recommendations for restaurants to try.


How were the surf lessons?
The lessons were great, I was the only English speaker with very basic Spanish, but I was always included and they constantly made sure I understood each step switching back and forth between Spanish and English to accommodate me. The groups were very small, 3-4 people per instructor so very tailored coaching and plenty of time dedicated to you. The video analysis session also allows you to see the problems you make and correct them the next session. The beach is great, the water is clean and there are no rocks or anything to worry about. There are waves at all tide levels so you can get out mornings and afternoons.

The surf equipment is impressive, its all from premium brands, looks brand new, and Joaquin keeps it in great condition.


You can never get lost
When you book you will receive our confirmation email with full travel directions of how to get to us.
We provide Airport Transfers from and to Santander and they can be booked in the booking steps.
Price for 1-4 people: €20
- Nearest Airport: Santander
- Distance from Airport in kms: 40 km
- Time from Airport in a car: 35 min
- There is no train from the airport
- There is a bus from the airport
Come Surf With Us
Surf Lessons can be added in the booking steps if they are not already included in a package.
Instructors
La Madrileña de Surf is a different school than the vast majority of surf schools you know. The reason? We care about the students as much as if we were ourselves. We put ourselves in your shoes and offer the same quality service that we would like to receive if we went to a surf school. Welcome to one of the most unique and personal surf schools on the national scene.
Main Surf Beach: Playa de Berria
Surf Lessons we offer:
Kids Surf Lessons
We offer lessons for kids aged 10-16. Each lesson is up to 2 hours per day and include Surfboards & Wetsuit. We ask that parents are close by. Safety and fun are our main priorities.
Beginner Surf Lessons
Our lessons are 2 hours per day and include Surfboards & Wetsuit. Student ratio is 1:5. The beginner's lessons are taught in waist deep water. You will learn everything from stating techniques to turning and finally paddling outside and learning how to catch "green" (unbroken) waves. Kids lesson are available at this level.
Intermediate Surf Lessons
We have 1 instructor for every 5 students. You will learn how waves are formed, how weather conditions create the surf and be given the step guidance that will have you up and riding the waves on your first day!!
Advanced Surf Lessons
Each lesson is 2 hour and include video correction. We have 1 instructor for every 5 students. You will learn how waves are formed, how weather conditions create the surf and be given the step guidance that will have you up and riding the waves on your first day!!
Private Surf Lessons
Our lessons are 2 hours per day and include Surfboards & Wetsuit. Lessons are private (1 student - 1 instructor). Lessons available for beginner, intermediate and advance levels. Kids lesson are available at this level.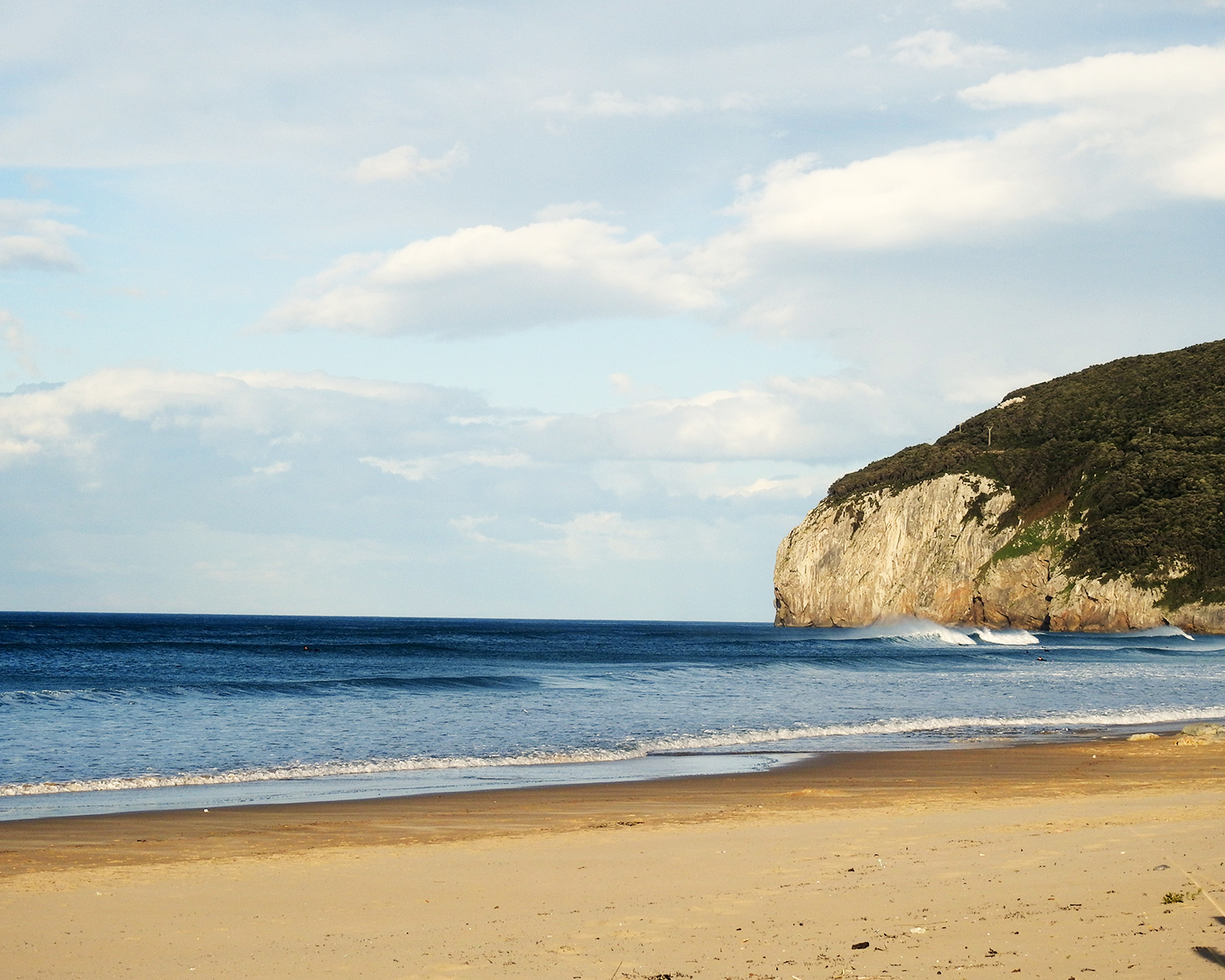 Berria Beach
Level: All Levels
TYPE OF WAVE: With enough swell and good south wind the waves are strong and nice. Neither is much swell necessary to be able to surf since this spot is open to the sea, the tendency of this beach is to generate flabby waves.

MORE INFORMATION: Located in the municipality of Santoña (Cantabria, Spain). It is a beach that is located on the isthmus that joins the peninsula that forms Mount Buciero (in Santoña) with the municipality of Argoños.

Its 2,200 meters in length are developed between Mount Brusco, to the west, and the massif of Buciero to the east. Its sand is white and fine, has a gentle slope and is decorated with the Blue Flag.

It opens to the sea on its northern part, to the south are the Santoña marshes. As for curiosities, it is located next to the prison of Santoña (El Dueso) where the series of choirboys was filmed, so if surfing is always bad, you can always dedicate it to singing.
Surf conditions in Santona:
Beginners:

JAN

FEB

MAR

APR

MAY

JUN

JUL

AUG

SEP

OCT

NOV

DEC
Intermediates:

JAN

FEB

MAR

APR

MAY

JUN

JUL

AUG

SEP

OCT

NOV

DEC
Advanced:

JAN

FEB

MAR

APR

MAY

JUN

JUL

AUG

SEP

OCT

NOV

DEC
Wetsuits
---
PAYMENT
A small deposit is required to secure your booking.
Your balance is due at check in.
CANCELLING YOUR BOOKING
To cancel go to the MyAccount section and log in or register and you can cancel from within your account.
Your deposit is non refundable but can be used for the same property/surf school within one year of your original booking.
n the event that the student decides to cancel the contracted course, he / she must notify Madrid Surf School & Camp at least fifteen working days before the start of the course. In this case, the student will be entitled to the refund of the amounts paid, discounting 35% of said amounts, in concept of management expenses. If said cancellation, by the student, Madrid Surf School & Camp is notified with a period of less than fifteen working days before the beginning of the course, the student will not be entitled to the reimbursement of the amounts paid. In cases of force majeure duly justified the amount of the payment will be saved for a future reservation to be agreed between the student and the camp.
The Surfholidays Advantage
Easy messaging with a local surf host & expert to plan & book your dream surf holiday
1 Customize your surf trip with the help of a local surf host
Surfholidays has handpicked the world's top surf camps, accommodation & surf schools so you will have peace of mind and an unforgettable trip that meets your exact requirements.
2 Secure & easy booking
You can book instantly or message a host directly & request a custom option. Once you are happy with the trip, you can easily book via Surfholidays' secure payment platform.
3 Support before and after your trip
Our team at Surfholidays and your local host onsite are available before and during your trip to ensure things run smoothly.
4 Authentic travel experiences
Surfholidays hosts ensure that you will have the best experience based on up-to-date local insights. On top of that, the vast majority of your money will go straight to support and grow local surf towns.
Surfholidays offers a 100% satisfaction guarantee
If you are not fully satisfied, we'll work with you to make it right.