Surf House Sanvi
Surf House Sanvi
Barrio Boria 13, San Vicente de la Barquera - Santander & Somo, Spain
Chat with a host who can help organise your trip...
The Place
Couples
Families
Groups
Solo travellers
Our hostel for surfers is situated on the first floor of a typical house surrounded by the green cantabric hills in San Vicente de la Barquera.

The Surf House is set in an exclusive location offering unique views of the ocean, San Vicente's lagoon, the Oyambre natural park and Picos de Europa mountains.

Our Surf House offers 3 welcoming shared rooms with ocean or lagoon vistas, 2 comfortable bathrooms with bathtub, a kitchen, a terrace and a chill to out area where you can relax after a hard surf session. You can make new friends, watch surf videos or use the free WiFi.

The Surf House also disposes of a large garden where you are welcome to keep your surf board, wash and drain you wetsuit and enjoy a delicious barbecue with friends and other guest of the House.
All guests are welcome to use the kitchen freely at any time of day or night.

Abundant breakfasts will be available in the kitchen between 8.00am and 12.00pm.

Our surf house is 60 Km from Santander airport and we can arrange also a bus shuttle from the airport till the surf house and vice versa.
Location
San Vincente de la Barquera is still a not very known Spanish destination , with a typical Spanish life style and endless beaches in the many bays of Cantabria region, just 40 minutes to the west of Santander.

Old fishing lodge, San Vicente de la Barquera is one of the most picturesque views of the Cantabrian coast, with its beaches and the old town with the unique backdrop of the snow to capped peaks of the Picos de Europa.

The old town of San Vicente was declared of Cultural Interest of Cantabria in 1987, for his interesting monumental complex including the castle. It also has a magnificent set of beaches, such as Fuentes, Primera de San Vicente, El Rosal, El Tostadero, Merón and Gerra, and a beautiful estuary full of brightly colored boats and little boats.

The maritime vocation of San Vicente de la Barquera is also noticeable in its gastronomy, which includes excellent fish and seafood, which are the ultimate expression in sorropotún or marmita barquereña, a stew made with tuna and potatoes. Famous are also its many surf spots that allow all levels of surfing.
Reviews

Facilities

Room types

Getting there

Surf Lessons

Waves

Terms
7 REVIEWS
Summary
Accommodation
Surf Lessons

Vera
Berlin , Germany
September 2019
Travelled solo
How did you like the accommodation?
The place was clean and cozy, beautiful landscape around, really chill and calm. Also Roberto was always available for any questions/help/recommendations, which was a great thing. I enjoyed my short stay a lot and would definitely come back.
How were the surf lessons?
Surf lessons were very enjoyable, we were 3-6 people per instructor, so they had enough time for everyone.

Felicity
London
September 2019
Travelled with friends
How did you like the accommodation?
Roberto is such a great host! He speaks really good English which was great for us Brits who don't know a word of Spanish! He organises day trips which are well worth a go - especially the canyoning. The beds are comfy and the views are incredible. It's a short walk into San Vicente so the hostel is ideal if you want to spend the evenings in the town. Thanks Roberto and Roberto number 2 for all your hospitality!

Jenn Yi
London, United Kingdom
August 2019
Travelled solo
How did you like the accommodation?
The accommodation was slightly far from the centre or main beach, but they organised shuttles so that was fine. Would be great if you had a car to drive around.
Had a great view though, of the mountains and the water.
Town centre is rather small and easy to go around. Food was great in most places that we ate.
How were the surf lessons?
Had two different instructors. One had better English and taught better on the beach. The other Instructor gave better feedback as he looks at how you get up and stay on the board, as he pushes you through the waves.
- Less Reviews

Toni
Berlin
August 2019
Travelled with friends
How did you like the accommodation?
The 2 Robertos were great hosts. We booked one day before arriving and all went well. The house was clean and we (5 persons) felt very comfortable. The breakfast is perfect with bread, cereals, muffins.
Coffee is ready every morning and we got every day a self-made cake which we appreciated very much.
The location is perfect with a great few on the mountains and to the sea. 10 min. by foot to the city where we got good recommendations from the hosts for restaurants and bars.
Roberto organized us also Neos and Surfboards for rent including surf lessons for a good price. We just were surfing but Roberto offers lots of other activities and gives recommendations for nice places in the region ("Thai-Beach", Cave, ...). And if the weather is bad, there´s a PlayStation with some games ;-) I would definitely book again!

Maximilian
Wien - Austria
August 2019
Travelled with friends
How did you like the accommodation?
We stayed 4 nights at the Surf house in San Vicente de la Barquera, and it was a pleasure :) We took the bus to the central Bus station in San vicente where Roberto picked us up and drove us to the house, if you go by feet it is around 15 minutes. The house is nicely decorated, in a lovely surf style und you feel comfortable right away when you walk in. The breakfast was awesome, everday Roberto made a cake, and there were many things from muffins to cereals to have for breakfast. All together, it was a really nice stay, and thanks Roberto for your hospitality!! :)

Andrea
Ancona - Italy
July 2019
Travelled solo
How did you like the accommodation?
FANTASTICO. l'unica parola che mi viene in mente pensando a questo posto e alle persone che ci lavorano.
persone a dir poco fantastiche e disponibilissime a qualsiasi richiesta e informazione ( nel limite del possibile ).
ho passato 10 giorni in questa fantastica localita spagnola di fronte all'oceano e non posso far altro che consigliare a tutti di andare. sia per il posto ma anche e soprattutto per il clima cordiale e familiare che ti fanno provare i ragazzi.
poche volte mi sono trovato cosi bene in una vacanza... questa è stata una di quelle.
posto fantastico per rilassarsi, fare surf ( e tante altre atttivita ) e divertirisi al 100 %.
ANDATE
ps: un grazie di cuore ai due Roberto, e Benedetta della SurfHouseSanvi e a tutti i ragazzi fantastici che ho conosciuto in quei giorni

Mari Luz
Madrid
June 2019
Travelled solo
How did you like the accommodation?
El mejor sitio para alojarse de la zona. Unas vistas sencillamente espectaculares y muy buen ambiente. Los dos Robertos son geniales y te hacen sentir como en familia en todo momento. Totalmente recomendable.
Muchas gracias por todo, chicos. Me he sentido como en casa. Echo de menos los bizcochos caseros para desayunar!!! :D
Un abrazo muy fuerte!! Espero veros de nuevo pronto!!
+ More Reviews
Number of people: 20
Free shuttle bus to town centre
Additional Fees:
No additional fees.
Extras:
Bus Shuttle from Santander airport (roundtrip) : 35€


You can never get lost
When you book you will receive our confirmation email with full travel directions of how to get to us.
We provide Airport Transfers from and to Santander and they can be booked in the booking steps.
Price for 1-4 people: €70
Price for more than 4: €125
- Nearest Airport: Santander
- Distance from Airport in kms: 60
- Time from Airport in a car: 45
- There is no train from the airport
- There is a bus from the airport
Come Surf With Us
Surf Lessons can be added in the booking steps if they are not already included in a package.
Instructors
The many beach breaks in this area are immersed in the natural park of Oyambre, a nature reserve that will impress you for its colors and several waves along the coast! There are only 3 places is teh world where you can surf looking at the mountains with snow over the cliffs.
Main Surf Beach: Playa Meron
Surf Lessons we offer:
Kids Surf Lessons
The course objective is for you to learn and understand the rules and security measures, recognise the tides, the currents, the different types of waves, overcome the broken waves, the rowing technique, the take off technique and the correct position of the body on the board.We have at least one teacher every six students
Beginner Surf Lessons
The course objective is for you to learn and understand the rules and security measures, recognise the tides, the currents, the different types of waves, overcome the broken waves, the rowing technique, the take off technique and the correct position of the body on the board.We have at least one teacher every six students
Intermediate Surf Lessons
The goal of the course, depending on the level of the student, is refining rowing and take off techniques, choosing the waves, refining the position on the peak, improving the position of the body according to the strength and shape of the wave and taking waves in frontside and backside.
Advanced Surf Lessons
Students with more advanced skills can refine or learn moves such as the cutback, floaters, re-entries, fast direction changes and carving.

Private Surf Lessons
With a private lesson we will refine the skills of teh student, creating a customized program.
Surf Guide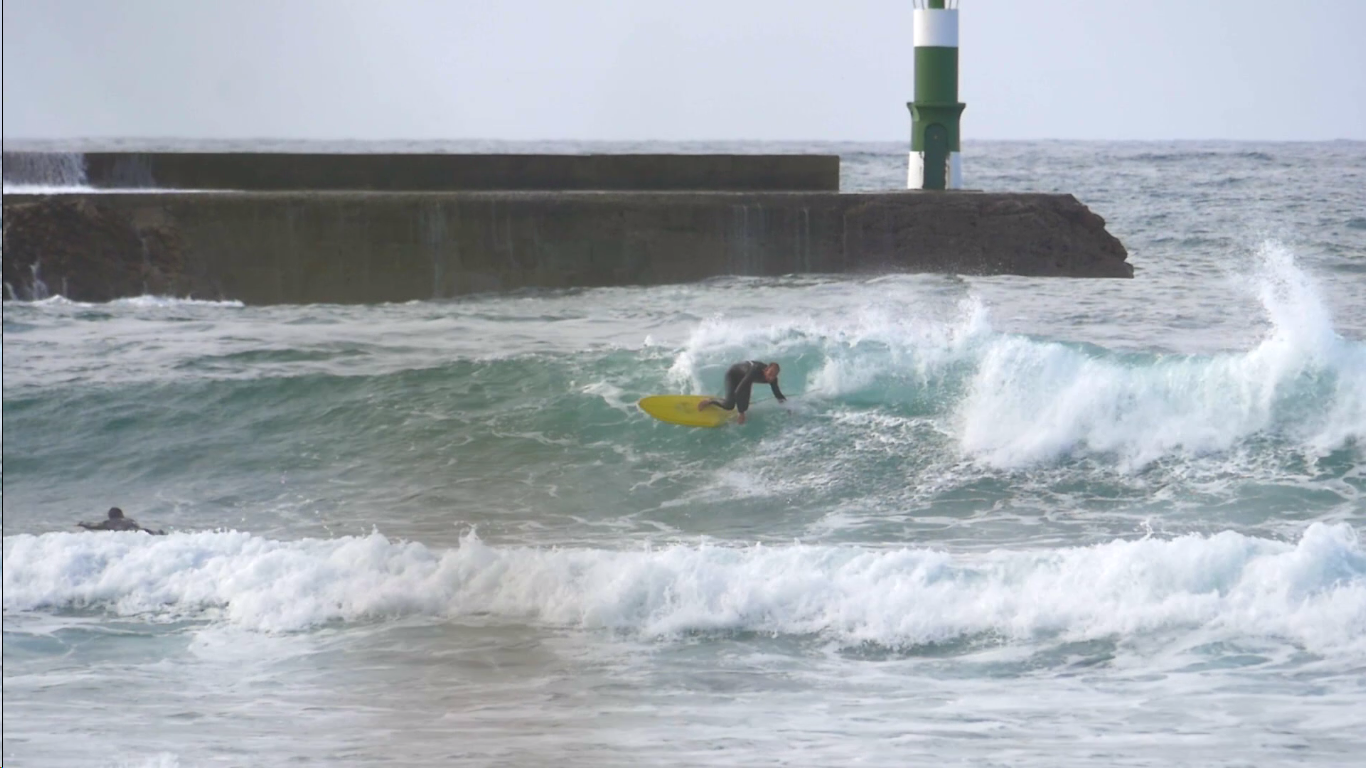 Playa Meron
Level: All Levels
Playa Meron Consistent beach break with multiple peaks with fast walls and occasionally barrells. Smaller waves on the western side on the river mouth's sandbank protected from westerly winds, allowing an all conditions surf.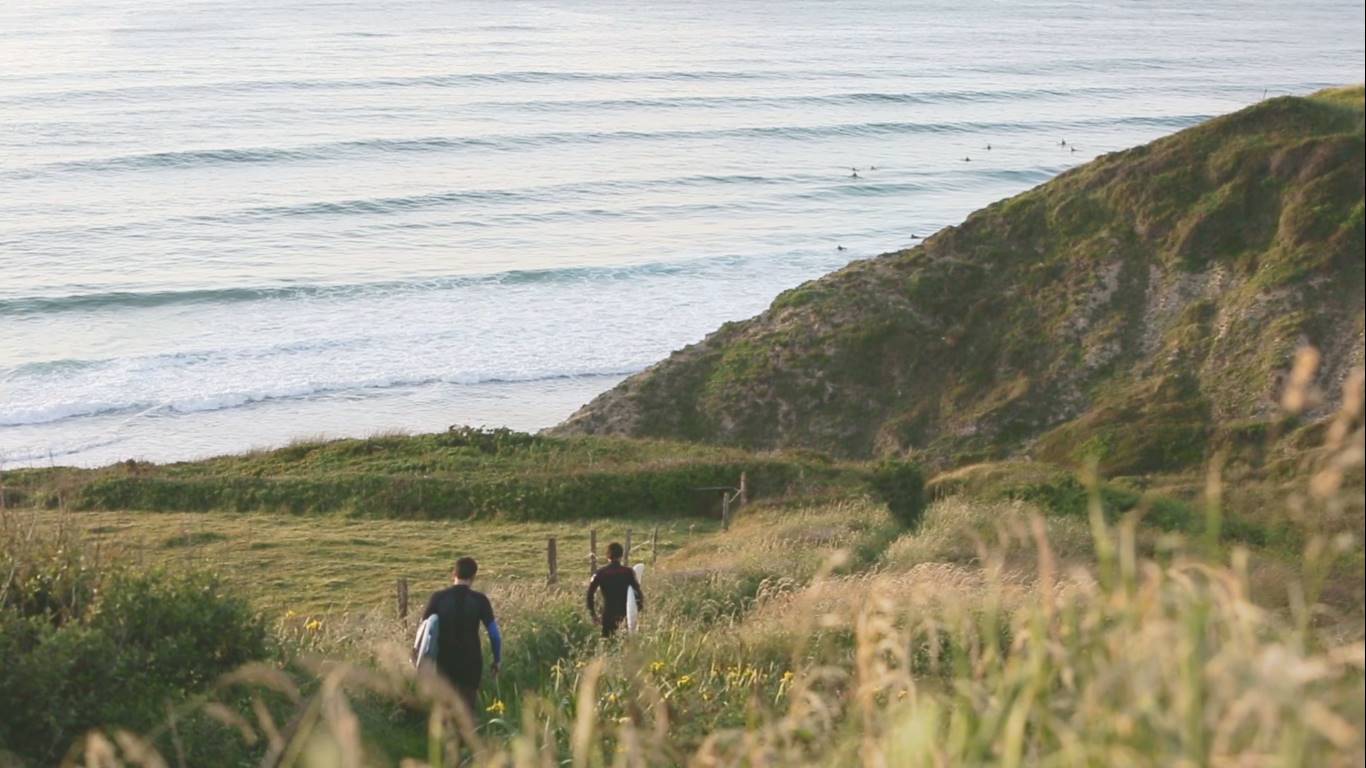 Playa Oyambre
Level: All Levels
Playa Oyambre Long beach with several peaks. Work with all tides. A bit shelted from winds Western and South to western in the western part of the beach. Rarely crowded. Waves almost always present but a slightly smaller than the more exposed beaches.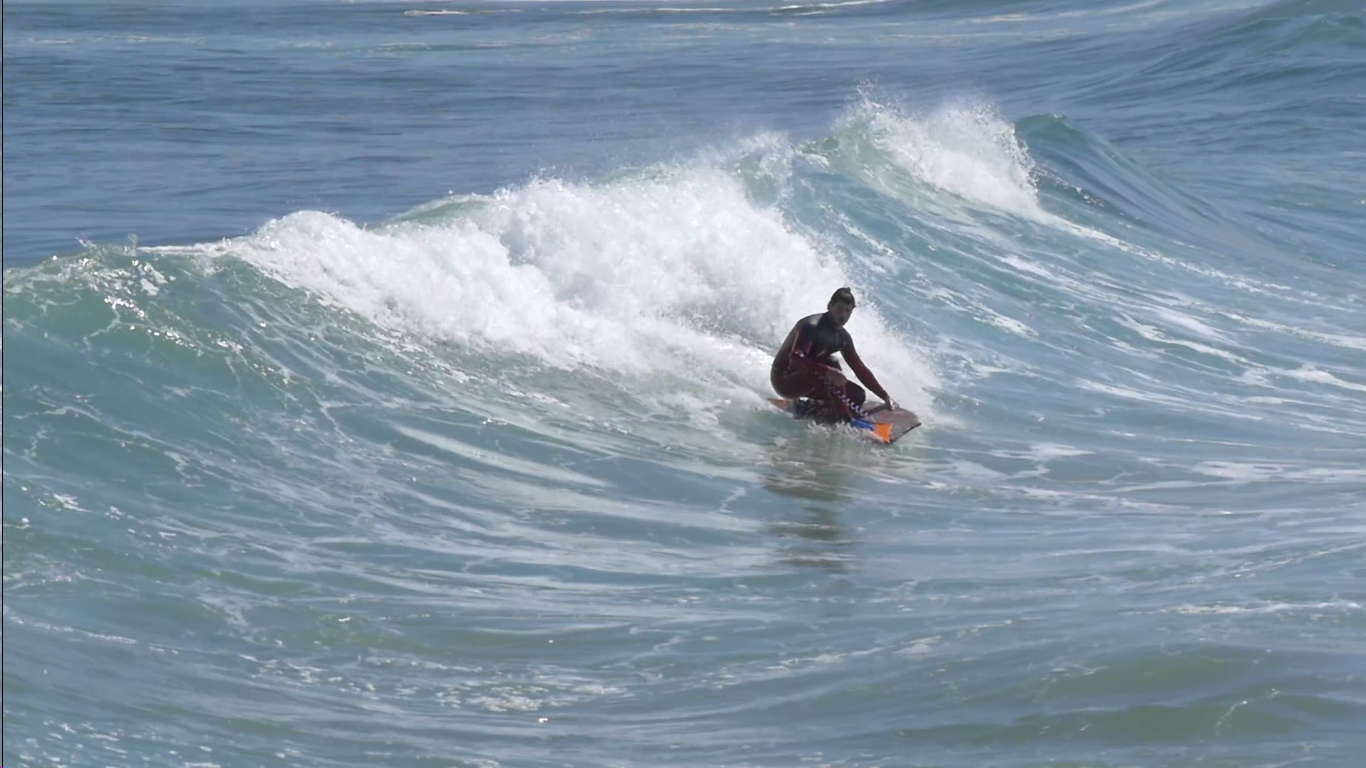 Playa Gerra
Level: All Levels
Playa Gerra Exposed and constant beachbreak that runs frequently at almost all tides and can handle the wind from the north to east. Uncrowded.
Surf conditions in Santander & Somo:
Beginners:

JAN

FEB

MAR

APR

MAY

JUN

JUL

AUG

SEP

OCT

NOV

DEC
Intermediates:

JAN

FEB

MAR

APR

MAY

JUN

JUL

AUG

SEP

OCT

NOV

DEC
Advanced:

JAN

FEB

MAR

APR

MAY

JUN

JUL

AUG

SEP

OCT

NOV

DEC
Rain
Wetsuits
JAN/FEB
MAR/APR
MAY/JUN
JUL/AUG
SEP/OCT
NOV/DEC
---
Stretching from Santander to Bilbao has an incredible supply of surf breaks: from protected beaches and coves to those directly exposed to the rolling waves of the Cantabrian Sea.
Somo's main surf beach is
Playa de Somo
. It is a long white sandy beachbreak with many peaks that are perfect for learning how to surf and for intermediates surfers. It is probably place to base your self as Somo Surf camps are some of the best in Spain.
Santander's main surf beach is
Santander (El Sardinero)
. It is also a beach break wave which is great for beginners and for intermediates.
Santa Marina
, Breaking off the island of Santa Marina this wave is a world-class righthand reef break. Freight-train walls and barrel sections. Works from about 5 foot upwards meaning it is for the only the very experienced. Best on the rare combination of a large swell and a E or NE wind, usually only a few times a year. OK on all tides but dangerous rocks in front of take-off at low tide.
Langre
Average beachbreak sheltered from strong SW and moderate W winds. Needs a reasonable swell to work. Low to mid tide only.
20 mins East is the surf town of
Noja
with
Ris
and
Ajo
surf beaches. Great for learning how to surf
Explore to the west and east and you will find incredible surf at Spain's most famous wave, the World Class wave
Mundaka
.
Come Surf Somo and Santander with us…
PAYMENT
A small deposit is required to secure your booking.
Your balance is due at check in.
CANCELLING YOUR BOOKING
To cancel go to the MyAccount section and log in or register and you can cancel from within your account.
Your deposit is non refundable but can be used for the same property/surf school within one year of your original booking.
You can cancels anytime up to 7 days before travelling and you will not be charged the balance.
The Surfholidays Advantage
Easy messaging with a local surf host & expert to plan & book your dream surf holiday
1 Customize your surf trip with the help of a local surf host
Surfholidays has handpicked the world's top surf camps, accommodation & surf schools so you will have peace of mind and an unforgettable trip that meets your exact requirements.
2 Secure & easy booking
You can book instantly or message a host directly & request a custom option. Once you are happy with the trip, you can easily book via Surfholidays' secure payment platform.
3 Support before and after your trip
Our team at Surfholidays and your local host onsite are available before and during your trip to ensure things run smoothly.
4 Authentic travel experiences
Surfholidays hosts ensure that you will have the best experience based on up-to-date local insights. On top of that, the vast majority of your money will go straight to support and grow local surf towns.
Surfholidays offers a 100% satisfaction guarantee
If you are not fully satisfied, we'll work with you to make it right.