Moby Dick Lodge Surf House
Moby Dick Lodge Surf House
Rua do Cabo n1, Malveira da Serra, Cascais, Alcabideche - Sintra, Portugal
Chat with a host who can help organise your trip...
The Place
Couples
Families
Groups
Solo travellers
Moby Dick Lodge Surf House
A typical Portuguese summer house converted into a surf house, in a quiet village surrounded by the beautiful Sintra mountains and really close to several beaches with prefect waves for surfing.
The house can accommodate up to 20 guests in 7 splendid private rooms, with closets and private bathrooms.

The Moby Dick Lodge Surf House Cascais has two lovely patios for sun bathing, reading or for your children to play. Feel free to use both of them whenever you'd like. We can also provide surf lessons and surf trips to Ericeira (1h), Peniche (1.30h) or Nazare (2h), as well as bike rentals.

Get information about Lisbon nightlife, best places to eat, etc... We can even organise it for you or just let you know where to go every night.

All we want is for you to feel at home at the Moby Dick Lodge Surf House, in the middle of Sintra to Cascais Natural Park. Whether when you're eating in our dining room, lounging in the living room, or sun bathing outside. You can rent the whole space or one of the 7 rooms and meet other people.
Location
The Moby Dick Lodge Surf House is located in a small town on the southwestern slopes of Sintra Mountain: Malveira da Serra, Cascais. Malveira da Serra, Cascais, is an old village that still keeps most of its own ways of living. Traditional feast during August is well known. There is a supermarket, a pharmacy, an atm, and several restaurants in the surrouding area of the Lodge(walking distance). The best way to get to the Lodge is to have your own car or transportation. Alternatively we can provide transport to the places you want to go. If you want you can use the bus or get a taxi from Cascais Train Station. The train to Lisbon takes about 25 min

On the foothill of the Sintra mountain, Malveira da Serra, Cascais, is stuck between the beach and the mountain. It's a perfect spot to combine watersports with trekking and mountain biking. Just at a short distance from the cliffs of the western tip of continental Europe, Cabo da Roca, and the Guincho beach, a haven for surfing, windsurfing and kitesurfing, Malveira da Serra, Cascais, is the perfect starting point for some days of sports, chilling and great fun combined.

Sintra and Cascais, two of the most iconic towns in the Lisbon area, are both within a 10km radius and, between the Lodge and them, an amazing natural park with luxuriant vegetation, monumental architecture and bright sandy beaches.
Reviews

Facilities

Room types

Getting there

Surf Lessons

Waves

Terms
12 REVIEWS
Summary
Accommodation
Surf Lessons

SEAMUS
Ireland
September 2022
Travelled solo
How did you like the accommodation?
The accommodation was excellent, I had my own room and it was absolutley fabulous. The staff at Moby Dick are so friendly and caring and are always available for assistance, advice and chats. The food was amazing and I really loved the yoga lessons, thank you so much. I did the tour too, well worth it if you have time. The house is amazing and there are lots of places inside and outside to chill and relax. Marianne, and all the family members, are so kind, genuine and really do make you feel at home. Phenomenal levels of hospitality !! Thank you so much guys, I had THE best surf holiday experience ever. Can't wait for Pedro's book :-) In the words of a fellow surfer when I was there, "I'll be back" Stay safe and see you next year guys.
How were the surf lessons?
Yes, the instructors were excellent, they provided lots of advice and loads of tips. They really were brilliant and I learned so much from them. Thank you so much guys. The surf beaches were excellent, not overcrowded, lots of room and the waves were excellent .

Alice
United Kingdom
May 2022
Travelled with friends
How did you like the accommodation?
My friend and I stayed in a private room and it was very nice! Just what we needed, black out shutters to also help secure the room on the ground floor. We did have a struggle to close the bathroom door haha! But as it was just my friend and I we weren't too fussed.
How were the surf lessons?
Caetano, Diogo, Miguel and another younger lad were fantastic coaches. They truly kept an eye out for all surfers. They were progressing everyone to their individual levels which was perfect! I really progressed from beginner to intermediate with the help of the coaches!

Jack
United States of America
September 2021
Travelled solo
How did you like the accommodation?
Everything at Moby Dick was great! Pedro was the perfect host and helped me out with everything I needed. Everyone here was super friendly and welcoming, from the staff to the guests to the surf instructors. Had an amazing time!!
How were the surf lessons?
Pedro and Miguel were amazing instructors and I could feel myself getting better and better each time out. They knew the waves super well and had all the right tips and advice to help me progress. I felt super comfortable and had so much fun learning to surf. They're the real deal!
- Less Reviews

Katarina
Slovenia
December 2019
Travelled solo
How did you like the accommodation?
Nice and clean rooms and really kind and helpful staff.
How were the surf lessons?
Really good surf instructors. I enjoyed my surf lessons.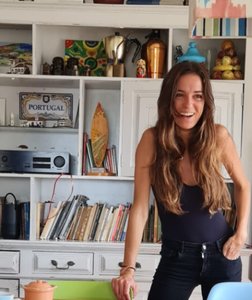 Reply from Mariana
Was nice having you in the Moby Dick Lodge, Katarina!
Hope to see you again one day :)

Austin
United States of America
November 2019
Travelled solo
How did you like the accommodation?
Everyone was super friendly and room was as described. Breakfast was tasty and yoga was super fun. Would certainly stay here again.
How were the surf lessons?
Prompt, fun lessons. Super informative - I think my surfing elevated over the course of the week. Learned a lot about local surf scene.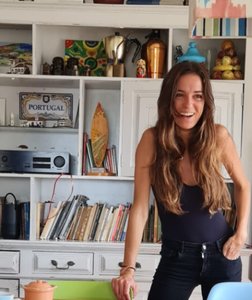 Reply from Mariana
Thank you Austin, we would be happy to have you back!

Alessandra
London, United Kingdom
September 2019
Travelled solo
How did you like the accommodation?
A wonderful place with wonderful people. The hostel is lovely and cozy and the town in the middle of a national park. The beaches are incredible but also the hills and the towns in the area which are worth exploring. There is no lack of delicious food, the little village of Malveira da Serra has plenty of good restaurants like El Farol and the little gem Estrela da Serra and I also recommend Adraga restaurant by Adraga beach.
How were the surf lessons?
The lessons were incredible fun. The instructors drive to different beaches depending on the weather and surf conditions so you get to see plenty of the area. All beaches are different and unique and have of course incredible waves. The instructors look after you well and give lots of encouragement.

Phil
South Africa
September 2019
Travelled as a couple
How did you like the accommodation?
Accommodation was comfortable and had everything we needed. What really makes this place special is the friendly and helpful people that run it. Nothing was too much trouble and they go out of their way to make you feel at home. Great vibe and energy at the accommodation. Lovely little town close by with great restaurants, grocery stores, pharmacy, self service laundry etc. etc.
How were the surf lessons?
The surf instructors were great. Very encouraging, friendly and tailored to each person when needed. Was a fun and tiring (in a good way) experience. I was very happy with the progress I made. Beaches were awesome. Surf conditions were good for the most part and at times superb.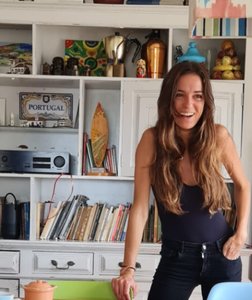 Reply from Mariana
Thanks so much for your nice reviw Phil! Glad you enjoyed your time in Moby Dick Lodge. We will be happy to welcome you back any time :)

Evgeny
Moscow, Russia
September 2019
Travelled as a couple
How did you like the accommodation?
1. Lodge.
Lodge itself is a finest bright family house with great terrace, common area, kitchen and bbq area. Every place is super cozy and nicely designed. It really feels like home! Besides, everything here reminds you that you're in the heart of surfing culture. We stayed in the 1st floor twin-bed apartment. Room and bed was very comfortable and again everything was tuned to this awesome surfing style (check out the photos). Bathroom taps and shower work fine, everything is very clean. Since Moby Dick is a family business every little thing in the place has its history behind that you would love to hear). Traditional European breakfast of toasts and cereal is included and each time food is super fresh.

2. Hosts.
Don't miss the chance to have a chat with these awesome generous people. Hanging out with Machado family was one of the greatest experiences!). Guys know the area like no one else and gladly will show you some great spots and views. They were very caring and made sure guests have everything they need.

3. Location and Transportation
First of all, the location is really central, i.e. close to every major sightseeing in the southern part of Portugal and Lisbon itself. Sintra, Cabo da Roca, Caiscais, you name it. In the day time you won't find it hard to get around since buses are cruising quite often here and there and if you spend some time researching for circle rides and multi-pass deals offered by local transport companies you can save well. On the other hand, if you'd like to go out in the night a lot probably renting a car would be a better option. Spoiler alert: this season hosts are gonna give mountain bikes for rent! =) I suggest you give it a try because the trails in the area are awesome!
How were the surf lessons?
These were exceptionally cool. We took an option of personal lessons that included all the equipment (boards + wetsuits) and free transfer to local best surfing spots (Guincho, Adraga, etc) and back to the lodge. Machado brothers are both great teachers and give a lot of attention to safety. Learning the basics of surfing was incredibly easy with their guidance and I think I progressed o lot for merely 5 or 6 sessions that we had.

Louise
Stockholm, Sweden
September 2019
Travelled solo
How did you like the accommodation?

Céline
Mayen, Germany
August 2019
Travelled as a couple
How did you like the accommodation?
It is a cozy and lovely Surflodge. Private rooms and well equipped. Lounge and Kitchen are for all. Like in a Hostel. In the backyard are some hammocks to chill. In the town you have some little bars and restaurants. And one small supermarket. Cascais is really near and lovely. Some different Beaches are around to explore.
How were the surf lessons?
The Surf lessons were very good. Really relaxed. The instructors were helpful and has some nice tricks to get better.

Danny
Bridgwater, United Kingdom
July 2019
Travelled as a couple
How did you like the accommodation?
The accommodation was very clean and welcoming and has a very homely feel . The owner has dressed each room differently but in keeping with the surf style.
The owner paulo was very welcoming and likes to make you feel like you're at home.
The town itself is beautiful and quaint with all the required amenities. It's only a short drive from the major tourist spots with good public transport links.
How were the surf lessons?
Very good , we could already surf (or so we thought) but the instructors were so knowledgable and have many many years experience for all levels of teaching. We left knowing so much more and have so many new skills to practice. We pretty much had 2 to 1 tuition the whole time and spots were picked according to surf ability and swells on the day.

Qingqing
MADRID, Spain
April 2019
Travelled with friends
How did you like the accommodation?
Very clean.
Beds were very comfortable
loved the area
How were the surf lessons?
We loved our surf lessons and felt safe.


+ More Reviews
Number of people: 20
Additional Fees:
Tourist daily tax is 2€/person.
Extras:
We don't charge extra for babies or children under 12. If older, please consider 10€/per night/per bed, and the need to arrange everything with us before you arrive. One extra bed per room. Some rooms are not considered fit for this purpose.
You can never get lost
When you book you will receive our confirmation email with full travel directions of how to get to us.
We provide Airport Transfers from and to Lisbon Airport and they can be booked in the booking steps.
Price for 1-4 people: €60
Price for more than 4: €80
- Nearest Airport: Lisbon Airport
- Distance from Airport in kms: 30
- Time from Airport in a car: 20 min
- There is a train from the airport
- There is a bus from the airport
Come Surf With Us
Surf Lessons can be added in the booking steps if they are not already included in a package.
Instructors
The coast of Portugal is well known for its year-round consistency and the Lisbon coastline is no exception! Here we are lucky to be able to check both west and south-facing coasts, therefore we can always find a good match for your level of experience and adjust according to the wind, swells, and surf conditions.
Main Surf Beach: Guincho and Adraga beach during summer, São Pedro do Estoril during winter
Surf Lessons we offer:
Kids Surf Lessons
We offer surf lessons for kids from 8-14 years old. Our lessons take 2 hours and we provide all equipment and insurance.
Our instructors have experience giving lessons to the youngest. Our main priorities are safety and fun!
Beginner Surf Lessons
Our lessons take 2 hours with best conditions equipment and insurance included. The lessons are taken in the beach with best conditions for the day and level of the students.
You will start at the waist deep water learning the basics.
The ratio is 1:5 with young but experienceD surfers, certified instructors.
Intermediate Surf Lessons
Our lessons take 2 hours with best conditions equipment and insurance included. The lessons take place on the beach with best conditions for the day.
The ratio is 1:5 with young but experienceD surfers, certified instructors.
Advanced Surf Lessons
The lessons take 2 hours at the beach + 1 hour in our surf school, with material and insurance included. We can provide you the best gear for your level, we film the lesson and we analyse your waves after the lesson.
The ratio is 1:5 with experienced surfers teaching you how to improve your surf. We will take you to the best surf spot around for some great surfing sesh!
Private Surf Lessons
On our private lessons we will choose the spot with best conditions to your surf level.
Equipment and insurance is included in the lessons, that take about 2 hours.
Surf Guide
We will take you surfing with us to the best surf spots around, from Ericeira to Costa da Caparica.
Surf Guide takes all day, we can offer top gear if you don't have your own. We will surf at least 2 times approximately 2 hours each, depending on the surf conditions.
Yoga
We have some Surf & Yoga packs available for you. Being surrounded by nature, our yoga classes might take place in the mountains or some other cool and chilled area around.
SUP Lessons
Our SUP lessons take place in Estoril. The lesson takes 2 hours, and you will be able to see the beautiful Estoril coast from inside the water.
The ratio for SUP lessons is 1:3 and all equipment and insurance is included.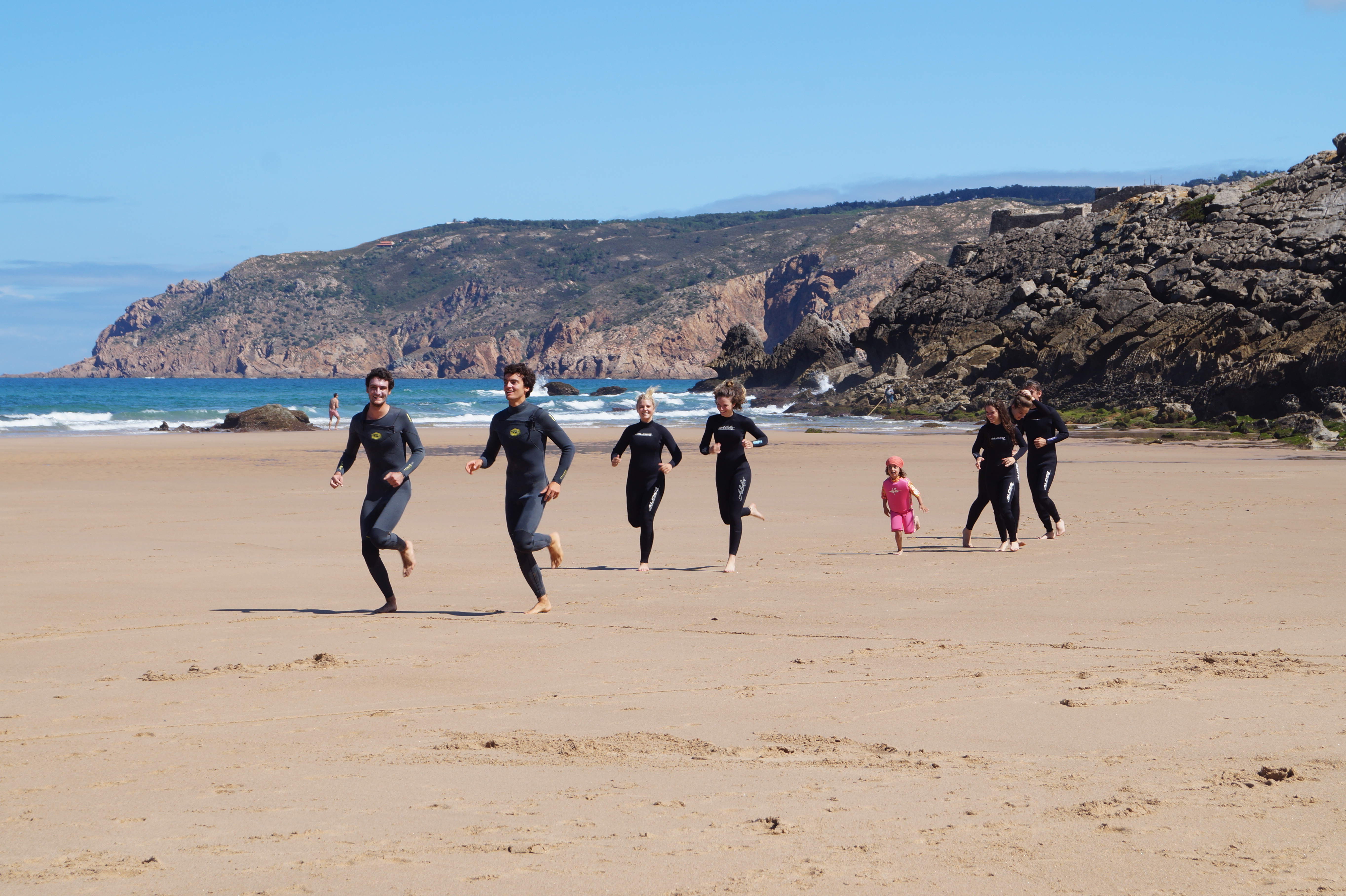 Guincho
Level: All Levels
Guincho is the nearest beach from mobydick is a beach break meaning sandy beach, very nice to all levels of surf from the very first level of many people as the stage of world top surfers contest every year.
Guincho has Serra de sintra on the background which really makes it a magical sight.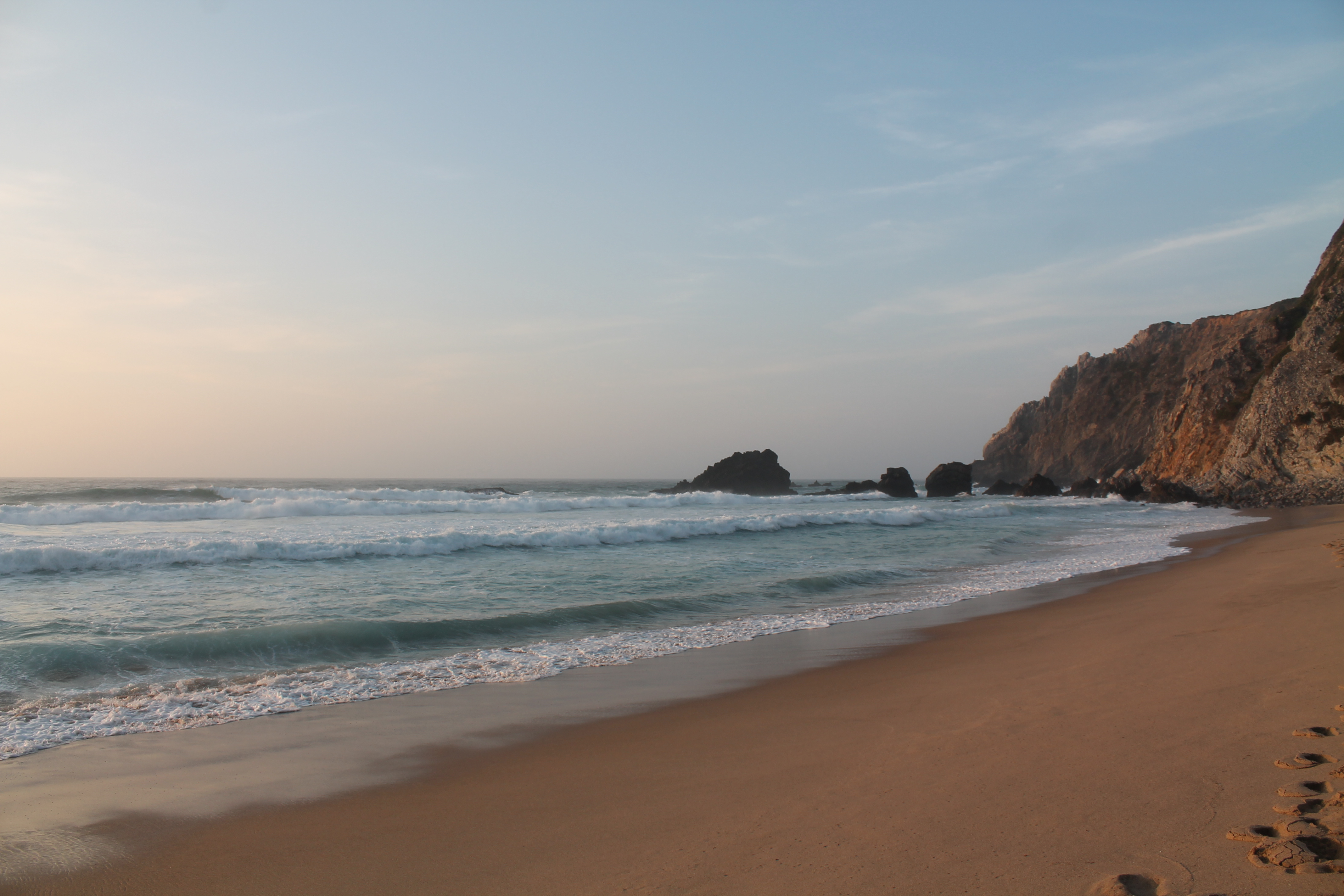 Adraga beach
Level: All Levels
Adraga is a beach in the heart of sintra mountains so as you can guess it is beautifull.
This beach is very apreciated by our students due to the fact is not a very crowded beach and amazing, very good for the very first steps as a surfer.
In adraga there is one of the best fish restaurants arround were you can have a great fish soup after your surf lessons.
Surf conditions in Sintra:
Beginners:

JAN

FEB

MAR

APR

MAY

JUN

JUL

AUG

SEP

OCT

NOV

DEC
Intermediates:

JAN

FEB

MAR

APR

MAY

JUN

JUL

AUG

SEP

OCT

NOV

DEC
Advanced:

JAN

FEB

MAR

APR

MAY

JUN

JUL

AUG

SEP

OCT

NOV

DEC
Rain
Wetsuits
JAN/FEB
MAR/APR
MAY/JUN
JUL/AUG
SEP/OCT
NOV/DEC
---
Sintra's two main beaches are
Praia das Macas and Praia Grande
. Both are perfect beginner/intermediate beaches and are some of the most consistent surf beaches in the whole Lisbon-Sintra area. North and South of these beaches are many small coves and beautiful hidden beaches that provide any exploring surfer with plenty to get excited about!
Close by is
Praia Guincho
, a spectacular long beach with different peaks, perfect for learning and can get big and windy in the afternoon, so morning is always the best bet here.
Ericeira
is only 30 minutes drive and is definitely worth a day trip at least, it has dozens of surf beaches to offer including the famous point break Ribeira D'Ilhas and also the relaibale beach break Foz do Lizandro.
Further South is Cascais and Lisbon with an endless supply of different surf beaches for all standards.
Come Surf Sintra with us!
PAYMENT
A small deposit is required to secure your booking.
Your balance is due to the property 21 days before arrival. The Property will contact you to collect payment. If you book within this 21 days then the property will contact you shortly after you book to collect the balance.
CANCELLING YOUR BOOKING
To cancel go to the MyAccount section and log in or register and you can cancel from within your account.
Your deposit is non refundable but can be used for the same property/surf school within one year of your original booking.
You can cancel anytime up to 30 days before travelling and you will be refunded the balance.
The following cards are accepted at this property:
The Surfholidays Advantage
Easy messaging with a local surf host & expert to plan & book your dream surf holiday
1 Customize your surf trip with the help of a local surf host
Surfholidays has handpicked the world's top surf camps, accommodation & surf schools so you will have peace of mind and an unforgettable trip that meets your exact requirements.
2 Secure & easy booking
You can book instantly or message a host directly & request a custom option. Once you are happy with the trip, you can easily book via Surfholidays' secure payment platform.
3 Support before and after your trip
Our team at Surfholidays and your local host onsite are available before and during your trip to ensure things run smoothly.
4 Authentic travel experiences
Surfholidays hosts ensure that you will have the best experience based on up-to-date local insights. On top of that, the vast majority of your money will go straight to support and grow local surf towns.
Surfholidays offers a 100% satisfaction guarantee
If you are not fully satisfied, we'll work with you to make it right.