Watermark Surf House- Esmoriz
Watermark Surf House- Esmoriz
Rua Fernão Veloso no. 171, Esmoriz - Porto, Portugal
The Place
Couples
Families
Groups
Solo travellers
Our surf house in Esmoriz is located within a 150 meters walk from the beach and close to the forest reservoir. It saves some of the 50s architecture lines as very typical portuguese ceramic tiles. The house was built to fit its surroundings – a relaxed and confortable space with practical rooms (3 double/twin shared bedrooms and a shared bathroom) and a fully equipped kitchen. Also the surf house has a big backyard in which you can enjoy a drink, bbq or simply relax at the sun.
Surf lessons, guiding & equipment is all available on site, as well as yoga and massage.
Location
Esmoriz and the little fisherman towns around it offer one of the best coastal landscapes in Portugal. Explore the inviting landscape by taking a bike ride or simply walking, and discover urban or desert beaches and different kind of waves. Experience the forest between the natural reservoir and the city park and treat yourself with delicious and traditional food. And you can always visit the city of Porto which is only a 30 minutes train ride away.

Either traveling alone or with your partner, family or friends, we will make sure you have a great and unforgettable surf experience.
Facilities

Room types

Getting there

Surf Lessons

Waves

Terms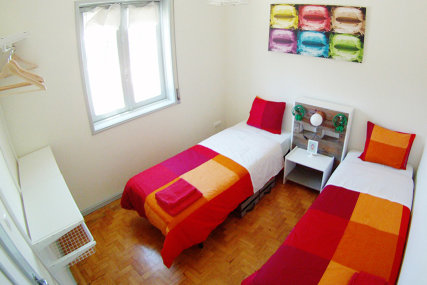 Room 1 - Twin/Double
Room Type: Shared - Mixed
Sleeps:

2
Room with garden view and surfing decor. Features 2 single beds or 1 couple bed. Headphones available to our guests!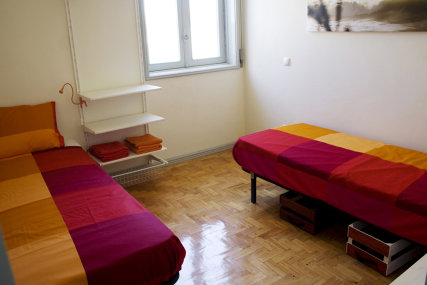 Room 2 - Twin/Double
Room Type: Shared - Mixed
Sleeps:

2
Room with 2 single beds or 1 couple bed and surfing decor. Headphones available to our guests!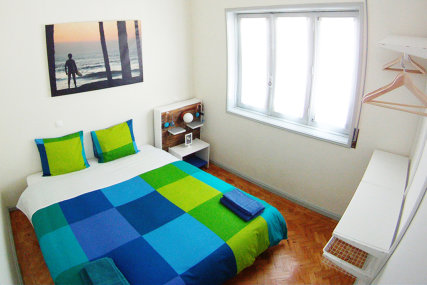 Room 3 - Twin/Double
Room Type: Shared - Mixed
Sleeps:

2
Room with street view and surfing decor. Features 2 single beds or 1 couple bed. Headphones available to our guests!
You can never get lost
When you book you will receive our confirmation email with full travel directions of how to get to us.
We provide Airport Transfers from and to Porto- OPO and they can be booked in the booking steps.
Price for 1-4 people: €50
- Nearest Airport: Porto- OPO
- Distance from Airport in kms: 40
- Time from Airport in a car: 45
- There is a train from the airport
- There is no bus from the airport
Come Surf With Us
Surf Lessons can be added in the booking steps if they are not already included in a package.
Instructors
Esmoriz and the surroundings has several beach breaks that suits all surfing levels. Open and wide beaches or point breaks, right-handers or left-handers, here you can often surf with only a few surfers in the water, or even by yourself.
Main Surf Beach: Esmoriz
Surf Lessons we offer:
Beginner Surf Lessons
Intermediate Surf Lessons
Advanced Surf Lessons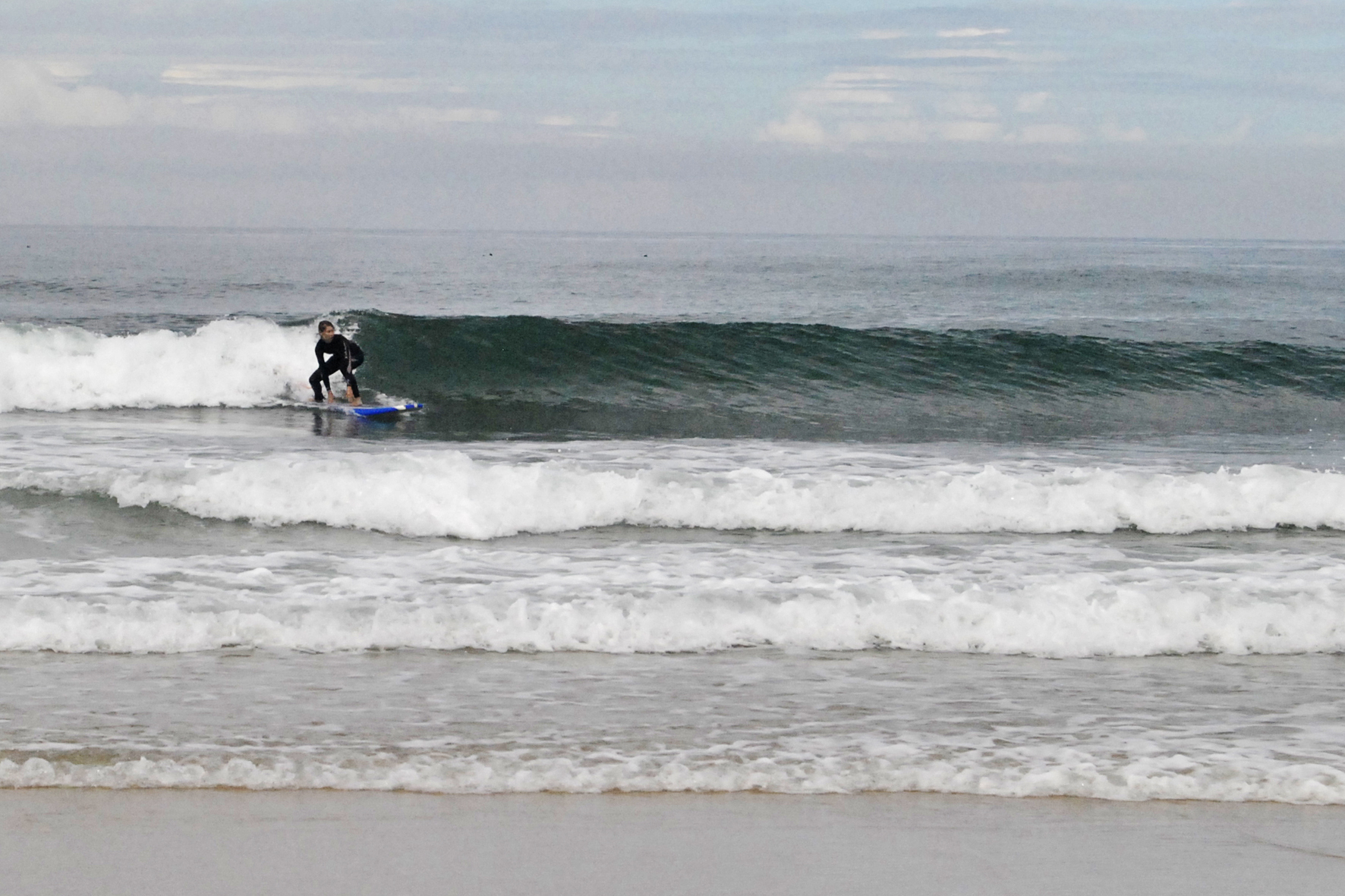 Esmoriz area
Level: All Levels
There are various peaks along this coastline: point breaks and beach breaks, making it accessible to all surfers. There are only a few local surfers, unique landscapes and quality waves. Surfing changes according to the tides ans wind, so make sure you got that covered.
In 2013 it was considered by the Evening Times (online version, 15th of August 2013) the second World's Best Surfing Destination, right after Oahu (Haway) and before places like California (USA), Durban (S.Africa), etc.
This region, like Espinho, is so close to Porto, with a fast and easy train access, it's the perfect opportunity to get get a feeling from this lovely city and a relaxed surfing vacation.
Surf conditions in Porto:
Beginners:

JAN

FEB

MAR

APR

MAY

JUN

JUL

AUG

SEP

OCT

NOV

DEC
Intermediates:

JAN

FEB

MAR

APR

MAY

JUN

JUL

AUG

SEP

OCT

NOV

DEC
Advanced:

JAN

FEB

MAR

APR

MAY

JUN

JUL

AUG

SEP

OCT

NOV

DEC
Rain
Wetsuits
JAN/FEB
MAR/APR
MAY/JUN
JUL/AUG
SEP/OCT
NOV/DEC
---
The best time to surf Porto is between Spring through to Autumn. It's main surf beach is
Matosinhos beach
, the best surf spot in Porto for beginner and intermediates. Its a long 1km sandy beach with a few different points on it. The set up is a mix of beach break and reef break and parts of it are sheltered so it handles larger swell. Easy to get to and consistent.
Next to Matosinhos is
International Beach
. A lovely spot that begins where the city park ends. Its also a great learner spot, and a great place to hang out both during day and at night. Further north is
Leca
, a very consistent beach break protected by the harbour.
In and around the city there are small little beaches all worth exploring, particularly for the more advanced surfers wanting to discover the best Porto surf breaks.
There are more surf breaks further south including Barra do Porto and
Miramar
and then 20km south of Porto are the towns of
Esphino
and
Esmoriz
. Its arguably the North's most famous surf area and the beaches have a real nice surf culture. The area's 3 main beaches are
Silvade
, beach, Blue beach and Baia beach. A mix of sandy beach breaks and reef spots that suit beginner and advanced. Hang around and score some long barreling right & left handers all to yourself.
Come Surf Porto with us...
PAYMENT
A small deposit is required to secure your booking.
Your balance is due at check in.
CANCELLING YOUR BOOKING
To cancel go to the MyAccount section and log in or register and you can cancel from within your account.
Your deposit is non refundable but can be used for the same property/surf school within one year of your original booking.
You can cancel anytime up to 30 days before travelling you will not be charged the balance.
Why use Surfholidays.com?
Book your accommodation & surf lessons/guiding in the one place
24/7 Support – phone & email
100,000 booked since 2009
Best price guarantee
Flexible payment: Only a deposit is needed to book
Flexible cancellation conditions
Manage your bookings online
You're in control of your booking. No registration is required.
Your booking is secure & details are protected by a secure connection.