NaOnda Beach House
NaOnda Beach House
Rua do Breijo 2, Carvoeira - Ericeira, Portugal
The Place
A typical small Portuguese Beach house recently renovated and right on Foz do Lizandro surf beach to you cannot get closer to the surf!

The house can accommodate up to 6 Guests in 1 Double room with private bathroom and 2 rooms with Bunkbeds and shared Bathroom

There is a full Kitchen, so it is perfect for self to catering.

Surflessons, guiding and equipment is available on site
Location
The house is located on the Beach called Foz do Lizandro Beach, one of the best surf beaches and the most beautiful.

Its a very popular Beachbreak for Surfers and is a great place to spend time with a promenade full of cafés and restaurants.
Reviews

Facilities

Room types

Getting there

Surf Lessons

Waves

Terms
1 REVIEWS
Summary
Accommodation
Surf Lessons

Abigail
Chester, United Kingdom
September 2018
Travelled as a couple
How did you like the accommodation?
The accommodation was amazing! literally right on the beach, it has everything you need, and is like a home-from-home. The house was extremely clean, all the bedding/towels freshly laundered. The kitchen has all the facilities required including all cutlery etc. It felt extremely safe, and was.

The beach itself it's perfect for sun worshippers, like myself, or surfers, like my partner. The sand is white & soft, there is no fear of leaving belongings to go in the sea, the waves were awesome. The restaurants alongside also fab, they sell large bottles of water (as no shops nearby). The food is well priced & delicious in all of them! Check opening times as only Naonda's stays open till 11pm. For any food shopping, there is a 30 minute walk )if no car) which is a straight level walk, once you have climbed up to road from the beach.

Ericeira is full of lovely bakeries, great restaurants & bars. Friday & Saturday nights very busy, and great fun to be had! I couldn't recommend the accommodation or beach any higher. Fantastic holiday.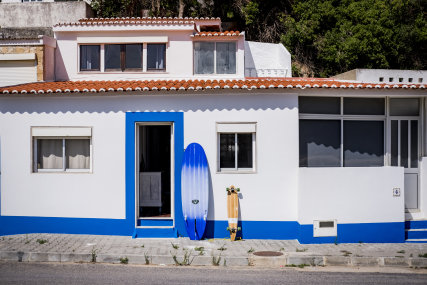 Beach House
Room Type: Private
Sleeps:

6
A typical small Portuguese Beach house recently renovated and right on Foz do Lizandro surf beach to you cannot get closer to the surf!

The house can accommodate up to 6 Guests in 1 Double room with private bathroom and 2 rooms with Bunkbeds and shared Bathroom

There is a full Kitchen, so it is perfect for self to catering.

Surflessons, guiding and equipment is available on site
You can never get lost
When you book you will receive our confirmation email with full travel directions of how to get to us.
We don't provide airport transfers but you can book one easily here: Airport Transfers
- Nearest Airport: Lisbon
- Distance from Airport in kms: 40
- Time from Airport in a car: 40
- There is no train from the airport
- There is a bus from the airport
Come Surf With Us
Surf Lessons can be added in the booking steps if they are not already included in a package.
Instructors
We are based at Foz do lizandro, one of the most consistent surf beaches in Portugal and a great place to learn.
Main Surf Beach: Foz do Lizandro beach
Surf Lessons we offer:
Kids Surf Lessons
Our surfschool is known for safe and fun lessons for your children. Alvaro Botelho, who is a founding members of NaOnda is highly respected for his work with kids in Portugal. Absolute Beginners or top future athletes, Alvaro loves to teach them and help them discover great sport. Each lesson is 2 hours and includes equipment.
Beginner Surf Lessons
New to surfing? Always wanted to give it a try ? You have found the right place! The team at NaOnda will do all they can to make sure you will be able to stand up on a surfboard and get that beautiful sensation of gliding on a wave that we all love so much. All this will happen in a fun, relaxed and safe environment. Each lesson is 2 hours and includes equipment.
Intermediate Surf Lessons
If you are an intermediate surfer who wants to do some fine tuning or maybe head out for a reefbreak the first time, then we will be more than happy to help you out. Each lesson is 2 hours and includes equipment.
Advanced Surf Lessons
For those who are already advanced surfer and want to work on certain manouvers. Each lesson is 2 hours and includes equipment.
Private Surf Lessons
For those who want a 1 on 1 lesson. Book your private lesson with us and we will take care of the rest. Each lesson is 1 hour and includes equipment.
SUP Lessons
You have found the right place! The team of instructors here at NaOnda will do everything to make sure you will be able to stand up on a surfboard and get that beautiful sensation of gliding in on a wave, or else take to the river for some river SUP. Each lesson is 2 hours and includes equipment
Surf conditions in Ericeira:
Beginners:

JAN

FEB

MAR

APR

MAY

JUN

JUL

AUG

SEP

OCT

NOV

DEC
Intermediates:

JAN

FEB

MAR

APR

MAY

JUN

JUL

AUG

SEP

OCT

NOV

DEC
Advanced:

JAN

FEB

MAR

APR

MAY

JUN

JUL

AUG

SEP

OCT

NOV

DEC
Rain
Wetsuits
JAN/FEB
MAR/APR
MAY/JUN
JUL/AUG
SEP/OCT
NOV/DEC
Season
Best time to go depends on your level above. July, August & September are the peak tourist months.
---
This is where you surf Europe's best coast line and let the fun begin.There are over 12 surf breaks along the Ericeira coast, with different options for all standards. With so much choice you'll feel like a kid in a sweet shop! The area was introduced in the Stormriders Surf Guide to Europe with the heading "Enter the Heartland".
World Surf Reserve
In 2011 it was awarded the title of 'World Surf Reserve', there are only 2 other places in the world that share the title: Santa Cruz, US and Manly, Australia.
If it is your first surfing holiday to Ericeira then head straight to
Foz do Lizandro
and
Sao Juliao
beaches south of town, they are perfect beginner and intermediate surf spots. Closer to town is
Praia do Sul
. Another great beginner beach breaks. All best at mid tide but surfable at high and low tide also.
For Intermediates you have the reliable and safe reef break
Ribeira d'Ilhas
, which host the WSL World qualifying series surf championships every year. And for the more adventurous you have the world class
Coxos
. That's just naming a few, there are too many surf breaks to mention here!
Don't forget to explore further up the coast - 25 minutes away is Santa Cruz and an hour away is
Peniche
, home to the World renowned Supertubos and host of the Rip Curl Pro since 2009. 30 minutes south of Lisbon is the
Cascais
coast with the famous Praia do Guincho surf beach. And when north winds are blowing you can venture further south towards
Carcevelos
beach and the other surf spots along the Lisbon coast.
Come Surf Ericeira with us…
PAYMENT
A small deposit is required to secure your booking.
Your balance is due at check in.
CANCELLING YOUR BOOKING
To cancel go to the MyAccount section and log in or register and you can cancel from within your account.
Your deposit is non refundable but can be used for the same property/surf school within one year of your original booking.
You can cancel anytime up to 30 days before travelling you will not be charged the balance.
The following cards are accepted at this property:
Why use Surfholidays.com?
Book your accommodation & surf lessons/guiding in the one place
24/7 Support – phone & email
100,000 booked since 2009
Best price guarantee
Flexible payment: Only a deposit is needed to book
Flexible cancellation conditions
Manage your bookings online
You're in control of your booking. No registration is required.
Your booking is secure & details are protected by a secure connection.