Laneez Ericeira Surf House
Laneez Ericeira Surf House
Rua Dr. Eduardo Burnay, 5, Ericeira, Portugal
The Place

Shared & Private room options
Couples
Families
Groups
Solo travellers
Laneez Ericeira Surf House
Reviews (
23
)
4.5
out of
5
Right over the most emblematic beach of Ericeira, with its beautiful ocean views, Laneez Ericeira Surf House can accommodate 24 persons on 2 Dorms, 3 Double to Twin rooms and 1 Double to Twin Suite with a sofa to bed. It has a wide balcony with sun lounges, and a fully equipped kitchen to store your snacks or cook your own meals.
Breakfast is included in all rates.

Daily Surf Lessons, Equipment Rental and Yoga Lessons are all available on site.
Location
Ericeira is a small fishing village resting on the edge of the Atlantic Ocean. Welcoming people, the harmony, characteristic housing, singular monuments, the sea, the fishing, the cuisine, the bold Atlantic views, Pubs, Night Club and Commerce, combine to make Ericeira a very special place.

Geographically close to Lisbon, Cascais, Estoril, Sintra and Mafra, Ericeira is at the center of an enormous historical, cultural and social offer, that will make you fall in love with Portugal.
Reviews

Facilities

Room types

Getting there

Surf Lessons

Waves

Terms
23 REVIEWS
Summary
Accommodation
Surf Lessons

Mariko
Canton, United States of America
September 2018
Travelled solo
How did you like the accommodation?
Highly recommended! I absolutely loved my stay Laneez Ericeira Surf House! The house is beautiful and homey, and you can never get tired of the amazing waterfront view from the terrace. The location is only a short walk to the main square and town where there are great bars and cafes. I was a solo traveller who quickly felt at home and made the loveliest of friends. Miguel and Mark make sure that you are well taken care of, and I can not wait to come back. Thanks you for everything! See you all next year :)
How were the surf lessons?
The surf lessons were great. I was picked up from the surf house and joined a larger group for beginner lessons. There was one instructor for about every 6-7 students. Nuno took great care in looking after the group and is an all around cool guy. The beaches change on a daily basis depending on the tides.

Jagoda
London, United Kingdom
September 2018
Travelled solo
How did you like the accommodation?
Ericeira is the most beautiful place on Earth, accommodations location is like a main screen to 'live Ericeira TV' you can see the ocean better than from any other spots in Town, as Laneez is located on the top of a hill and apartment I was staying in was on the first floor, stunning experience with a private balcony - beautiful view and also as the balcony was in the corner it created wind shield which in windy September was just perfect. Apartment is spacious can comfortably sleep 3 people. Good value for money. Loads of space, very clean - well looked after. Lovely staff looking after the place and you. Lead lady Lugia so kind and helpful- it makes all difference to have a person like her look after your experience.
Also Mark, one of the owners very polite and caring - I was standing by the biggest window observing waves and surfers from early morning while trying to get breakfast on to the plate, I was so absorbed by the view that before I knew it Mark has moved chairs and table in front of the window - screen so I could eat comfortably and still be able to watch the action outside. Little move like that means a lot, it stayed in my memory now and I will definitely return to experience more of the Laneez kindness.

The whole house is spacious and has very relaxed atmosphere.

Restaurants:
I can recommend Tasca da boa - restaurant with the most amazing fish.
There is quite few bars and a club in town, you will always find a place to enjoy yourself with friends or by yourself.
How were the surf lessons?
Beaches are great, instructors phenomenal!
Lessons are good and when it happens and you end up in a smaller group the attention you get is incredible. Jose can explain it all and even calm you down when you in advance panic mode, Joao has the entertaining spirit and brings fun into the sessions while sharing his knowledge. I had most experience with those two instuctors. There was few more instructors and all avaiable with expertise when asked.



Gary
Sheffield, United Kingdom
September 2018
Travelled solo
How did you like the accommodation?

Everything about my stay at Laneez was perfect. The location and sea-views were just amazing. I stayed in the Sintra room, which was really nice. The bed was really comfortable and the balcony and shower facilities were excellent. The staff were all so friendly and accommodating. Right from the start I was made to feel right at home. The atmosphere in the shared areas was always so relaxed, ideal for staying in holiday mode.

The town itself was beautiful, full of really nice cafes, bars and restaurants. I particularly enjoyed the Adega Bar, which had a really cool vibe and the beer and service was great. I really enjoyed the sea food everywhere, which was incredibly fresh and delicious.

I would highly recommend visiting Ericeira and when you do, you MUST stay at Laneez!
How were the surf lessons?
The surf lessons were highly enjoyable. The teachers were attentive to everybody, even though the classes were quite large, and I really appreciated the advice that I got and felt that I progressed much further than I thought I would. After a few beginner lessons I was advised to try the intermediate. I was hesitant at first but am really glad that I did because I didn't feel out of my depth and caught my best waves by far. It was an incredible experience.
- Less Reviews

ashley
Clapton, United Kingdom
September 2018
Travelled solo
How did you like the accommodation?
The accommodation was so perfect, lovely house, really friendly staff that put their guests first with lots of invites to evening socialising but not too intrusive if you didn't want to get involved.

the town was great, lovely vibe, lots of bars and restaurants, small enough to walk around but still had a lot to do with all the lovely beaches around. Most restaurants offered incredible seafood, id recommend the octopus at Prim.
How were the surf lessons?
the surf lessons were good but i felt there were too many people in the water at one time to really get time with the instructors, the beaches were picturesque but the ripe was extremely strong at times and it was difficult to get out back. the instructors were very aware of people in the water so i felt safe.

Christophe
Uccle, Belgium
September 2018
Travelled with friends
How did you like the accommodation?
The accomodation was great, the house looked nice and the décoration was on point. A big terrace with an amazing view over the ocean. Very close to the center, a big supermarket nearby accessible by foot. Same for restaurants and bars around. Everything is available at walking distance. You just have to go down the road to be on the beach. Surf lessons and yoga lessons available everyday you can sign up on the same day easily, just perfect and convenient !
How were the surf lessons?
Surf lessons were great i was at beginner level, the teacher was careful and explained well how to start and i managed to pick it up rapidly ! Always an eye an you and ready to give you tips to improve your skills, we were free enough to experiment on our own but still felt you could ask for help at anytime. The beach was nice and big enough to have multiple people surfing at the same time.

Arun
Inverness, United Kingdom
September 2018
Travelled with family
How did you like the accommodation?
Awesome!
Beautiful accomodation. Light, spacious, airy. Marble floors. Lots of wood. Stunning balcony overlooking beach. Very comfortable lounge areas. Use of kitchen and good breakfast til 11am.
Ericeira charming old city centre, lots of good restaurants and surf shops. Surf bus to local beaches for 1 Euro
How were the surf lessons?
Friendly instructors, times and beach chosen depending on conditions. Very clean beaches with showers and snack bars

Suzanne
Maastricht, Netherlands
August 2018
Travelled solo
How did you like the accommodation?
I loved the accomodation. The town is very nice and lively and you have great little places to eat at a good price. The area is stunning!
How were the surf lessons?
The surflessons were great. Even though we were with 10-15 people in the class the teachers had enough time for everyone. The beach we went to (foz do lizandro) was great for beginners, but maybe a bit crowded sometimes. The instructors did a very good job!



Josh
Bude, United Kingdom
August 2018
Travelled solo
How did you like the accommodation?
Definitely the nicest place I have stayed. The house is so nice and the views are incredible from outside. The staff are all super friendly too.

The town is only a few minutes walk down the road which has so many nice restaurants and bars to choose from, and loads of places to get nice coffee. There's a big supermarket nearby to get food from.
How were the surf lessons with Na Onda?
The beaches were great and not far away at all. The instructors were great too and helped a lot.

Mark Alexander
Lichfield, United Kingdom
August 2018
Travelled with friends
How did you like the accommodation?
The accommodation was excellent. The bunk beds were clean and comfortable. We stayed in the ten bed dorm, which has ample room and a small sofa area to relax in, with the added bonus of direct access to the communal patio with amazing views over the sea and bay below.

The main hub of Ericeira is just a few hundred meters walk down the road, with plenty of bars, restaurants and shops to choose from and no need for the added cost of taxis. The beach below the surfhouse is a short 5 min walk as well.

Miguel and his team could not have been better hosts, and were very accommodating of a large group of boys on holiday. His restaurant recommendations were spot on and all bookings were made by him for us. He also arranged all necessary transport which was competitively priced and again added to the ease of our stay.
How were the surf lessons?
The surf lessons were excellent. We were taken each time to the same beach, a short drive (transport provided, 15-20 mins) down the coast. The initial brief was efficient but thorough and easy to comprehend, and we were out on the water quickly. There was an excellent instructor/student ratio, so at all times we felt safe and looked after, as well as getting regular tips and advice to improve our surfing. The team were all very friendly and good fun to spend the day with. The beach used for lessons has a cafe and toilets and was a nice place to chill out after surfing.

Line
Gamle Fredrikstad, Norway
August 2018
Travelled with family
How did you like the accommodation?
Nice and relaxed place, in every way.
No children there, mostly young people. At least the week we were there.
Since I had my daughter (11) with me, that was a small disappointment.

The town is very nice. Safe, vibrating and with great seafood everywhere. Would recommend people who want a bit more heat in the water to visit Praia do Lizandro, which is connect to the river Lizandro. The river is calm and with a nice temperature. And you can rent a SUP and go paddling on it.

For our bedroom option we shared a bathroom, with quite a few people. That's just fine, but makes my rating a 4. 4 is good.
How were the surf lessons?
Very relaxed and enjoyable. They took very good care of my daughter when the current was a bit strong and the waves a bit high. A great experience for the both of us.

Nadine
Newport Pagnell, United Kingdom
August 2018
How did you like the accommodation?
Laneez surfhouse is beautiful. It is situated to the south of the town of Ericeira and over looks the coast. The view is spectacular! The house itself is large with a big balcony that gets sun in the afternoon and evening which is perfect for sun bathing and relaxing. The rooms are big, bright and clean.
Ericeira itself is a lovely resort town, not too big and not too touristy. There is a good choice of restaurants and we ate excellent Portuguese food our last night there at a very unpretentious restaurant. The food is good and the wine and beer is cheap! There is an Aldi and Lidl up the road if you prefer to self cater.
How were the surf lessons?
The surf instructors were fabulous and were always keeping an eye out in the water. We did not spend too much time 'practising' on the beach but got into the water pretty quickly as they were keen for us to learn by doing and through experience. I took 5 lessons and was pleased with the progress I made. This was my first time ever surfing. We went to Sao Julio every day which is a beautiful sandy beach with good waves. You need to wear a wetsuit in the water though!

Nina
Peterborough, United Kingdom
July 2018
Travelled with family
How did you like the accommodation?
Beautiful accomodation with a perfect cliff top location. Outstanding panoramic sea views. Very clean rooms and comfy beds. The house was peaceful and we felt instantly at home. Other guests and staff were super friendly.
How were the surf lessons?
Real good value for money.. Great approach to learning with a short safety briefing on the beach and then getting stuck in. My son was eager and progressed quickly. I was nervous but the instructors put me at ease and stayed with me which really helped my confidence. We had a great length of time in the water, there was opportunity to surf twice in the day and the wetsuits and equipment were excellent.

Simon
Glasgow, United Kingdom
July 2018
Travelled with friends
How did you like the accommodation?
Accommodation was comfortable and the location was terrific. But there was little obvious organisation amongst the staff.

Naomi
Dublin, Ireland
July 2018
Travelled solo
How did you like the accommodation?
Everything was brilliant. Laneez was like a second home. Great people, great spot. Ericeira is a beautiful place and the locals are incredible. I'll be back next year.
How were the surf lessons?
Incredible beaches that suit all levels. The instructors were great and really helped me improve. They made sure to get to know us all and the lessons were the best part of the day.

Michael
Glasgow, United Kingdom
July 2018
Travelled solo
How did you like the accommodation?
The accommodation was more beautiful than I could've imagined. The terrace is dreamy. Town is lovely with plenty of nice restaurants with fresh seafood or meat - but plenty for everyone. Couple of main bars to hang out at, doesn't really get a party vibe until wednesday's or the weekend, if that is your thing.
How were the surf lessons?
Surf instructors were all great people, super friendly, a good laugh and coached to a good standard. Could have been more tailoring towards intermediates but I'm aware that they already know this is a slight issue and they are trying to rectify it - if you're way past the beginner stage i'd recommend coming in autumn/winter and getting more attention and better waves to suit your standard.

Marit
Norway, Oslo
July 2018
Travelled with friends
How did you like the accommodation?
We LOVED Laneez! The view was fantastic, the location is perfect and the staff friendly. We booked their jersey room, which had the most incredible bed. Ericeira is perfect for surfing, Laneez own surf-instructors are very experienced and nice people. Ericeira is also perfect for just relaxing. We loved the restaurant directly at the beach serving a bowl of shrimps and white wine for practically nothing. We would definitely go again!
How were the surf lessons?
Ericeira is the best place to surf regardless of your skills. The instructors at Laneez were taking very good care of us and took us to different beaches in Ericeira to where the conditions were best to fit our level.

louise
didcot, United Kingdom
May 2018
Travelled solo
How did you like the accommodation?
The room was clean with storage for cases and room to unpack bits. Communal areas were super comfy and brilliant views. Ideal location to walk to beaches or into town.
How were the surf lessons?
Instructors were brilliant. Enthusiastic and gave advice/pointers as you surfed. Friendly and inclusive.

Filip
Stockholm, Sweden
May 2018
Travelled solo
How did you like the accommodation?
Really friendly place and staff. Wonderful view.
How were the surf lessons with Na Onda?
I had a really good experience. Rhe instructor was really friendly and came with good tips. We went for both a beachbreak and i reef, all verry good!

Danielle
London, United Kingdom
April 2018
Travelled as a couple
How did you like the accommodation?
Amazing accommodation. Brilliant location and the best ocean views. Breakfast was tasty and the kitchen fully equipped to cook your own food for lunch/dinner. Loads of small seafood restaurants - very tasty. Would definitely recommend staying here!

Felicitas
Wuppertal, Germany
February 2018
Travelled solo
How did you like the accommodation?
I truly enjoyed the town of Ericeria. The surf house was just a few minutes walk from the centre and the house, staff and surf instructor were very welcoming, generous, patient and helpful. I stayed in the 8 bedroom dorm that in winter was very spacious and overlooked and had access to an amazing terrace directly over the ocean. I would stay in this house again, with its beautiful views, cozy fireplace, good breakfast, and welcoming atmosphere.
How were the surf lessons?
As it was winter I was fortunate to have an instructor all to myself. I am still beginner and had some wonderful experiences on the ocean the past days. I was guided by a very patient Rodrigo who gave me many helpful tips and alternatives.

The equipment, the locations, the travel and vans and most importantly the instructor were all of a very high standard.

Mikko
Helsinki, Finland
November 2017
Travelled solo
How did you like the accommodation?
Accomodation was great! The estate, the staff, the location. Just perfect.

The best thing was the ocean view and multiple terraces on three floors.
How were the surf lessons with Na Onda?
The lessons were a bit so-so. On the first day the instructor was an hour late. Also the lessons were very short and felt rushed.

Hannah
Bristol, United Kingdom
October 2017
Travelled as a couple
How did you like the accommodation?
The accommodation at Laneez Surf House was superb. This place is a cross between a hotel and a hostel (luxuries of a hotel with the relaxed and communal atmosphere of a hostel) and I would not hesitate to recommend it to friends, family or anyone looking for accommodation in Ericeira. We stayed in the San Pedro Suite (private en-suite room) which was very well presented with a nice balcony overlooking the sea. All the rooms looked great, even the dorm rooms which were nicely decorated and again, had a great balcony overlooking the sea.

The accommodation is a short walk from the pretty fishing town and we felt immediately at home in the area. There are lots of nice restaurants and bars (Hemingway's is great if you like your Gin and Tonic) and the prices are reasonable, especially in the more local, family run restaurants.

We were visiting out of season, but there was still plenty going on and bars and restaurants were open. We can't wait to go back!
How were the surf lessons?
We took surf lessons every day and went in both the beginner and intermediate groups (depending on what the conditions were like). The instructors were fantastic - fun, patient and very experienced and we definitely improved our technique during the week.

Inkeri
Luxembourg

Travelled solo
How did you like the accommodation?
Very nice surf house well decorated and comfortable room overlooking the ocean. The owners make an effort to welcome single travellers organising outings to local restaurants etc and all the staff are friendly and helpful.
How were the surf lessons?
The surf instructors are very experienced and helpful and they went out of their way to make sure you enjoy your holiday. I like the beaches but as this is my first surf holiday i can't compare it with anything else
+ More Reviews
You can never get lost
When you book you will receive our confirmation email with full travel directions of how to get to us.
We provide Airport Transfers from and to Lisbon and they can be booked in the booking steps.
Price for 1-4 people: €75
Price for more than 4: €110
- Nearest Airport: Lisbon
- Distance from Airport in kms: 45
- Time from Airport in a car: 35 min
- There is no train from the airport
- There is a bus from the airport
Come Surf With Us
Surf Lessons can be added in the booking steps if they are not already included in a package.
Instructors
Daily Surf Lessons, Equipment Rental and Yoga Lessons are all available on site. Ericeira can offer you a variety of incredible surf spots from beach breaks to reef breaks that are perfect for all steps of a surfer progression, from absolute beginner to advanced level.
Main Surf Beach: We move around on Ericeira's beaches always finding the best spot for the days condition. Ribeira d'Ilhas, Lizandro, S. Julião and Praia do Sul are among the spots we visit the most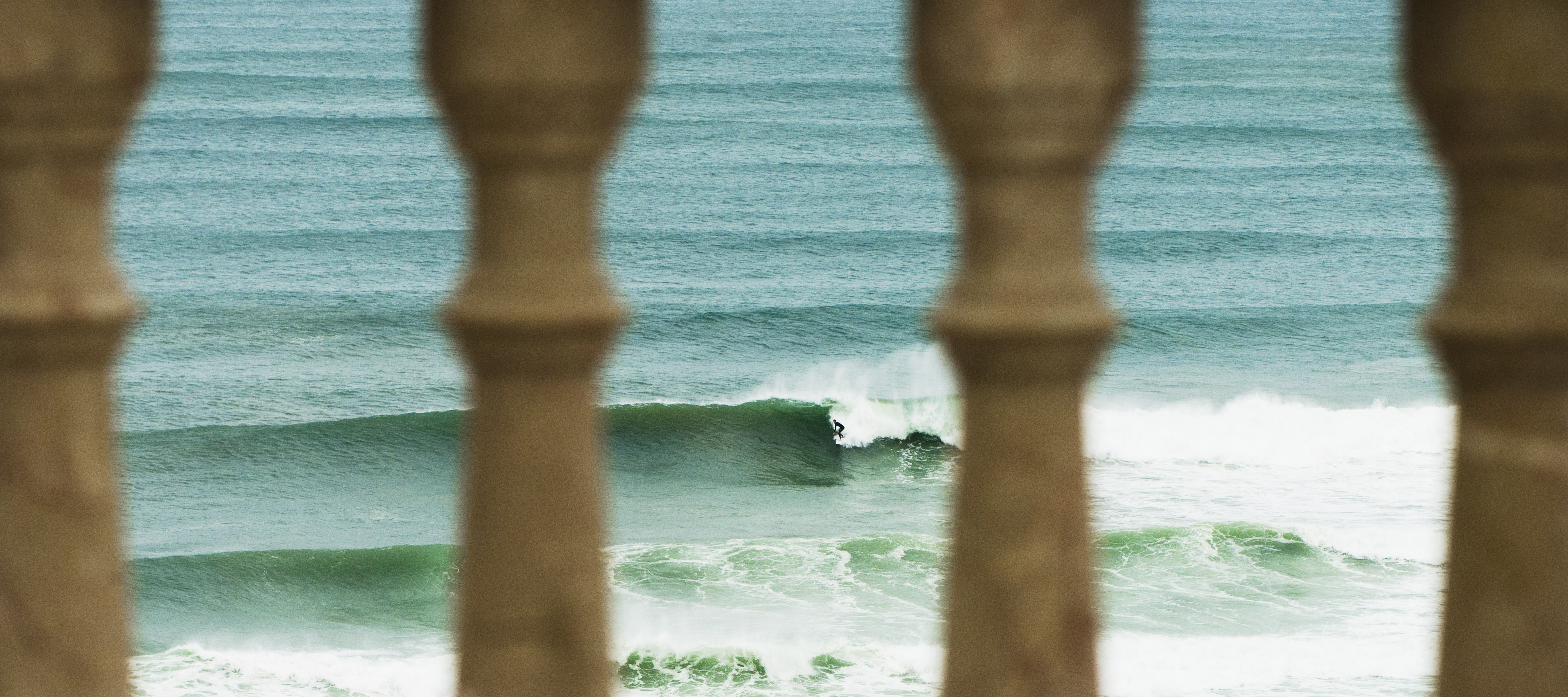 Praia Do Sul
Level: All Levels
At Laneez Ericeira Surf house, from the balcony over Praia do Sul, or even from your bedroom window, you can watch some of the best waves breaking over several reefs, unusually uncrowded. Right to handers like Furnas and Pico do Futuro, or the left to handers on the south side of the bay will amaze you every day you spend at Laneez Ericeira surf house.
Surf conditions in Ericeira:
Beginners:

JAN

FEB

MAR

APR

MAY

JUN

JUL

AUG

SEP

OCT

NOV

DEC
Intermediates:

JAN

FEB

MAR

APR

MAY

JUN

JUL

AUG

SEP

OCT

NOV

DEC
Advanced:

JAN

FEB

MAR

APR

MAY

JUN

JUL

AUG

SEP

OCT

NOV

DEC
Rain
Wetsuits
JAN/FEB
MAR/APR
MAY/JUN
JUL/AUG
SEP/OCT
NOV/DEC
Season
Best time to go depends on your level above. July, August & September are the peak tourist months.
---
This is where you surf Europe's best coast line and let the fun begin.There are over 12 surf breaks along the Ericeira coast, with different options for all standards. With so much choice you'll feel like a kid in a sweet shop! The area was introduced in the Stormriders Surf Guide to Europe with the heading "Enter the Heartland".
World Surf Reserve
In 2011 it was awarded the title of 'World Surf Reserve', there are only 2 other places in the world that share the title: Santa Cruz, US and Manly, Australia.
If it is your first surfing holiday to Ericeira then head straight to
Foz do Lizandro
and
Sao Juliao
beaches south of town, they are perfect beginner and intermediate surf spots. Closer to town is
Praia do Sul
. Another great beginner beach breaks. All best at mid tide but surfable at high and low tide also.
For Intermediates you have the reliable and safe reef break
Ribeira d'Ilhas
, which host the WSL World qualifying series surf championships every year. And for the more adventurous you have the world class
Coxos
. That's just naming a few, there are too many surf breaks to mention here!
Don't forget to explore further up the coast - 25 minutes away is Santa Cruz and an hour away is
Peniche
, home to the World renowned Supertubos and host of the Rip Curl Pro since 2009. 30 minutes south of Lisbon is the
Cascais
coast with the famous Praia do Guincho surf beach. And when north winds are blowing you can venture further south towards
Carcevelos
beach and the other surf spots along the Lisbon coast.
Come Surf Ericeira with us…
PAYMENT
A small deposit is required to secure your booking.
Your balance is due at check in.
CANCELLING YOUR BOOKING
To cancel go to the MyAccount section and log in or register and you can cancel from within your account.
Your deposit is non refundable but can be used for the same property/surf school within one year of your original booking.
You can cancels anytime up to 7 days before travelling and you will not be charged the balance.
The following cards are accepted at this property:
Why use Surfholidays.com?
Book your accommodation & surf lessons/guiding in the one place
24/7 Support – phone & email
100,000 booked since 2009
Best price guarantee
Flexible payment: Only a deposit is needed to book
Flexible cancellation conditions
Manage your bookings online
You're in control of your booking. No registration is required.
Your booking is secure & details are protected by a secure connection.