Lima

P.Luka Surfing Perú
P.Luka Surfing Perú
Bregante 190 , Barranco - Lima, Peru
The Place
Couples
Families
Groups
Solo travellers
A typical Lima house converted into a surf house near to the Ocean

The house can acommodate up to 5 private rooms all sharing 3 comfortable bathrooms.

It also has a comfrtable garden where you can store your boards wash dry your wetsuit ,relax and barbecue with friends and other guests

Surf lesson guiding for different beaches in our cars breakfast , Yoga sessions massage and paragliding swimming with sea wolfs 450 dollars for 6 days.
Location
Barranco a beautiful traditional bohemiam part of Lima in front of the Pacicific Ocean and near to different surf spots.
Facilities

Room types

Getting there

Surf Lessons

Waves

Terms
Number of people: 10
Additional Fees:
Its ok
Extras:
Its ok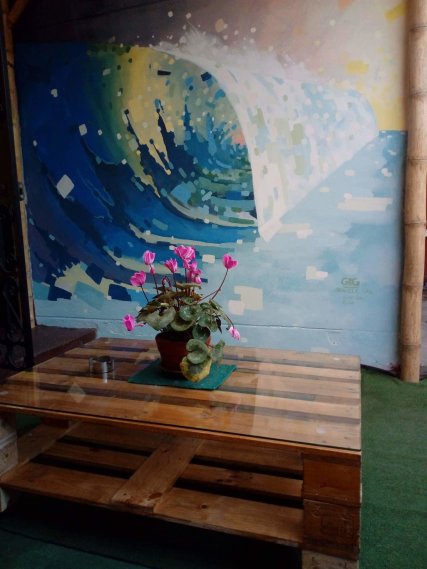 Surf House Perú
Room Type: Private
Sleeps:

0
Is a house inina the heart of Barranco a place to stay near to the Ocean in a bohemian aerea , the most interesting is the activities .we will visited different beaches to practice surf every day. There is a beach with lights to surf at night ,Yoga , visiting a island to swimming with sea woolfs and paragliding we will fly once on the ocean at the Costa Verde.

Note : if you stay only 3 days you choose paragliding or swimming with sea woolfs if you stay 6 days you do both
If only stay one day is yoga and surf.
You can never get lost
When you book you will receive our confirmation email with full travel directions of how to get to us.
We don't provide airport transfers but you can book one easily here: Airport Transfers
- Nearest Airport: Jorge Chaves
- Distance from Airport in kms: 1 hora
- Time from Airport in a car: 40 minutes
- There is no train from the airport
- There is a bus from the airport
Looking for Surf Schools in Lima
Please wait...
Surf conditions in Lima:
Beginners:

JAN

FEB

MAR

APR

MAY

JUN

JUL

AUG

SEP

OCT

NOV

DEC
Intermediates:

JAN

FEB

MAR

APR

MAY

JUN

JUL

AUG

SEP

OCT

NOV

DEC
Advanced:

JAN

FEB

MAR

APR

MAY

JUN

JUL

AUG

SEP

OCT

NOV

DEC
Wetsuits
---
PAYMENT
A small deposit is required to secure your booking.
Your balance is due at check in.
CANCELLING YOUR BOOKING
To cancel go to the MyAccount section and log in or register and you can cancel from within your account.
Your deposit is non refundable but can be used for the same property/surf school within one year of your original booking.
Why use Surfholidays.com?
Book your accommodation & surf lessons/guiding in the one place
24/7 Support – phone & email
100,000 booked since 2009
Best price guarantee
Flexible payment: Only a deposit is needed to book
Flexible cancellation conditions
Manage your bookings online
You're in control of your booking. No registration is required.
Your booking is secure & details are protected by a secure connection.
Manager: P.luka Surfing Perú