Oaxaca - Puerto Escondido

Oasis Surf House Puerto Escondido
Oasis Surf House Puerto Escondido
Blvd. Benito Juárez No. 6, Fracc. Rinconada, Puerto Escondido - Oaxaca - Puerto Escondido, Mexico
Chat with a host who can help organise your trip...
Explore our Available Surf Packages
The Place

Private & Shared room options
Couples
Families
Groups
Solo travellers
Oasis Surf House Puerto Escondido
Oasis Surf House provides accommodation in one of our 2 Surf Houses...

La Barca Surf House, a complex of 11 private units, is a combination of cozy one bedroom suites to larger family apartments with each unit having a distinctive name and providing a unique experience. Individual terraces, fully equipped kitchen, and large, comfortable common area with swimming pool are just some of the amenities the house offers.

Named after magnificent mango trees in the front yard, Mango Surf House hosts 4 cozy, fully equipped 1 or 2 bedroom private apartments each with their own terrace. Both of our Surf Houses are ideally located near the town center and within convenient walking distance from the school, the beach and cozy bars and restaurants. All utilities as well as unlimited bottled drinking water, coffee, WiFi, and 3 x weekly cleaning service are included in your stay at La Barca and Mangos.

During our summer swell season, we also offer guided surf trips to our southern coast. Please note that the shared rooms listed for Barra de la Cruz and Salina Cruz are ONLY for these surf trips and are not located in Puerto Escondido.
Location
Puerto Escondido is one of the most unique areas on the Oaxacan coast, in the southwest of Mexico. Here you will find the opportunity of learning both the language and the traditional culture, while also enjoying the magnificent beaches of its coastline.

Oasis Surf & Language School is located in Rinconada, a quiet neighbourhood with an eclectic choice of restaurants, shops and supermarkets. Our home beach "Carrizalillo" is just a 5 minutes walk away from our homebase. If you would like to discover the other beaches of Puerto Escondido, they are just a short (and very inexpensive) taxi or collectivo ride away.
Reviews

Facilities

Room types

Getting there

Surf Lessons

Waves

Terms
7 REVIEWS
Summary
Accommodation
Surf Lessons

Stephanie
Thunder Bay, Canada
November 2019
Travelled with family
How did you like the accommodation?
We stayed in the Mango House which was perfect for us, and a 5 minute walk from the school and la Barca house (for fitness classes and other activities). It is a 2 bedroom apartment with a great kitchen and bathroom. It overlooks a couryard with beautiful mango trees. It is located very centrally, near the restaurants and grocery shops, but away from the tourist areas. The location is residential, across the street from a school, a huge new church, and a public gathering place. Roger's family lives in this complex, so you don't feel like an isolated tourist. The apartment does not have air conditioning, but the ceiling fans provide much needed relief from the heat. We were never too hot once they were turned on. Mini, who cleaned the apartment every second day, was always smiling and a joy to speak to.

Puerto Escondido (PE): This is still a truly Mexican town. There are no American hotel chains or restaurants in sight. You can walk virtually everywhere, or take a taxi if you wish to go to some of the less central beaches like La Punta. There are smaller beaches like Carrizalillo and Puerto Angelito with beach side restaurants and bars, or the main surf beach, Zicatela, lined with top quality restaurants and nightlife. The public transportation in and out of PE is reliable and frequent. The restaurants are excellent. You can choose between street side tacos and elegant dining. The only different is the price. The quality was pretty consistent at every restaurant. There are also great things to do without going too far out of town.
How were the surf lessons?
The lessons were semi-private: one teacher for my husband and me, and one for the kids. However, on the first day each of our children had their own instructor. I assume that this was to ensure the competency of our kids in the water - a much appreciated gesture. We learned so much and had a blast. The instructors (Chris, Barci and David) were excellent and fun to be with. With safety always on the top of their minds, they provided enthusiastic lessons and constant feedback. Although the lessons are semi-private, the school's other students and instructors are at the same surf spot each day. This provides for a fun and encouraging environment. One of the best beginner spots was very busy, so the school opted to take us to a quieter surf beach, which we had virtually to ourselves. It was nothing short of awesome. A photographer was on site each week taking beautiful photos. These were for the Friday night dinner and feedback session with Roger and the instructors (excellent as well), and are also wonderful souvenirs of our trip. Sol and Roger run a top quality and very professional business in an authentically Mexican city. They have a wonderful team of surf instructors, Spanish teachers, and other staff. We hope to return again next year!!!

Cindy
Texas
October 2019
Travelled solo
How did you like the accommodation?
I booked the 2 weeks Surf package in a month of advance and got to stay at La Barca Surf House. If I could I would stay here longer. Roger, Sol, and the front desk girls (Betty and Annina) did a fantastic job accommodating my needs. Some people chose home stay, mango house, or stayed near La Punta but I liked La Barca for the convenience. It's only a 3 minutes walk to the Oasis school and is really close to the strip of shops, minimarkets, and restaurants on Benito Jaurez.
How were the surf lessons?
The school offers 3 classes: 7am, 10:30am, and 3pm. The 7am surf lessons were my favorite - not too hot and the sun doesn't blind you when you're waiting in the lineup facing the waves. Depending on the swells, we'll surf behind the school at Playa Carrizalillo or ride the school's trucks to La Punta. All of the instructors are talented and passionate about surfing. They'll pick waves best suited to your level and protect you against some crazy kooks. For most of my 2 weeks stay, Barchi was my surfing instructor and I had a grand ol' time getting to know Puerto's El Capitan Torpedo. I'll definitely be back for more surfing lessons in the future!

Anonymous
How did you like the accommodation?
I absolutely loved this place. I booked 3weeks of surf and spanish course in Oasis with accommodation in La Barca! La Barca is an amazing place. Very comfy and clean rooms with great bathrooms! I had one with the kitchen on the balcony which was perfect! The place also has a common big kitchen outside next to the pool where you usually meet up with others and chat. You know how it is when you are booking accommodation and see pictures of the place online-it usually looks better on the pics then in reality. In this case the reality was better then the pics!
Sol and Roger the owners were great and very very helpful! The ladies that are cleaning La Barca and rooms are very sweet and lovely and it was fun to practice Spanish with them. Oasis school was only 5mins walk from La Barca.
How were the surf lessons?
I have never surfed before and was little nervous about it but all went very well and I enjoyed my surfing a lot at the end. I am not a huge exercise fun and so was not in perfect condition for surfing to start with. Paddling back to the ocean was not easy but after few days I got better and better. When there were fast and frequent waves that would not let you go back so easily instructors would swim and come to help you. They also know very well which beach has the good condition for your level on the day and will take you there. I am happy I have done the course and will definitely continue surfing.
I had great time in Puerto Escondido and met very nice people with Oasis. The town and its beaches are so so pretty!
I will be back.
- Less Reviews

Jieun
Long Island City, United States of America
August 2019
Travelled solo
How did you like the accommodation?
I loved Puerto Escondido with its less touristy streets, amazing food, and amazing waves. Oasis surf school was a fantastic choice for me and the others I met, with all the essentials provided.

It's no 5-star hotel, but it's perfect for every surfer, and clearly they put a lot of thought into it. The staff is incredibly friendly and helpful, and every day there are events--like yoga or pilates on the rooftop of La Barca (one of the lodging options) during a scenic sunset and a surprise event every Thursday (the one I went to was a visit to a local mezcal factory).

This is in addition to all of the attractions, beautiful beaches, and fun nightlife all within walking distance--there was no shortage of things to do every single day. I stayed for a week, but would go back and stay longer in a heartbeat.
How were the surf lessons?
I just loved the surf lessons at Oasis. The instructors are friendly, fun, and extremely knowledgeable, and try to help you every step of the way. Juan, my phenomenal instructor, stuck with me all week and helped me learn and correct so much--I improved more in the single week than I did in months.

There are also several amazing beach options nearby. Instructors will pick the one with the best conditions that day, and either walk (if it's close) or drive with you there (on a fun surf mobile). And every Friday, there's an group coaching session too, during which instructors give you feedback and tips based on your surfing photos taken during the week. Free food and lots of fun.



Sophie
United Kingdom
June 2019
Travelled with friends
How did you like the accommodation?
Oasis is a home away from home, I have found another family in Mexico and I cannot wait to go back! This place became my paradise and I understand how everyone extends their time here. In true traveller fashion, myself (and my new best-friend of one week) sent an email enquiry on a Friday night and rocked up on the Sunday hoping something may be available. As always Sol (Wonder Women) bent over backwards to accommodate us with a host family (as we requested) and provided us with a jam packed Spanish, Surf and Fitness schedule starting the next day!

La Barca aka 'The Mother-Ship'
If you are staying here, you are lucky! La Barca is a gorgeous complex of apartments, pool and common area. All rooms are equipped with fridge, coffee machine (and some self-contained kitchen or balcony). If you miss out on staying here fear not, the space is open to all guests of the surf and Spanish school also, to use the pool, chill out in the common area or even take your Spanish lessons here!

Puerto Escondido: Carrizalillo may actually be one of the most beautiful beaches in the world, it's tiny and if you go first thing in the morning you will have it all to yourself! Great for swimming, practicing your surf and a spot of snorkelling. Grab a coconut at dusk and watch the sunset behind the rocks = bliss!

PE is a great little town to learn Spanish the taxi drivers are great to practise with, they correct you and help you 'sound like a local'. This town is friendly, welcoming and if you look hard enough has some decent coffee. I genuinely want to live here on day and admire those who have built the town up to hip, surfer town. Say hi to Victor in the 'we make anything and everything' café next door and Carlos in the bottle shop!

PE Extras:
- Smoked fish tacos 'El Viejo' – best cameron taco in Mexico and located right across from Mangos House!
- Mezcal Cocktails (made by Eric) at Villa Carrizalillo
- Luna Rosa – quite possibly the best pizza outside of Italy
- Outdoor Cinema at Club de Villa Sol - great arty films in the most beautiful setting for FREE
- Have a weekend away to quieter spots La Barre, Chicahua or Mazunte.

How were the surf lessons?
Surf: All the instructors are professional, passionate and enthusiastic! The school is a unit in the sea, the students and instructors are always cheering each other on at the line-up, saluting each other's success or in my case applauding my latest wipeout. We all go out together, stay together and encourage each other to go that little bit further or take that slightly bigger wave. This level of confidence, awareness of safety and skill cannot be achieved without the attention and relationships with your surf instructor. They are all passionate and talented surfers (and body borders) and this is infectious to all the learners. Obviously there is still an element of competition and my instructor, Juan was the best!!!

Added extras (INCLUDED in the surfing package):
- Fitness classes (Mon-Fri): are social and will leave you feeling great! Each a specific to improving surf fitness and techniques including endurance, circuit and swimming however my absolute favourite has to be Friday night Zumba!
- Coaching Sessions: I have taken part in surf holidays before but this was the first time I had experienced a genuine analytical approach to technique and how to improve. You spend Friday evening reviewing your photos with the instructors and get feedback on where to go next. For someone looking to improve their surf, this is invaluable.

If you are not happy for any reason, simply say something! Change your surf instructor, fancy a trip somewhere, idea for a surprise me event, request a new Spanish teacher - no request is too much and this school. Sol and Roger and the whole team work very hard to ensure you have the best experience! I would like to thank them all for making me feel so at home!

Margaret
Toronto, Canada
April 2019
Travelled solo
How did you like the accommodation?
Loved Puerto Escondido... the place has a positive energy that makes you want to go back. The people were super nice everywhere, food was great, everything was easy and relaxed. Loved it :) The accommodation was great... at Mango House you feel like you are living in a forest because of the huge mango tree in the courtyard and the very expressive birds living in it. Clean and safe too (at first I wasn't sure about staying there as a single woman, because it is a short walk from the La Barca building, but very quickly I discovered that it is totally safe and I walked at night by myself all the time).
How were the surf lessons?
Surf lessons were great. Waves were great for beginners. Beautiful beaches and laid-back atmosphere. Group video analysis sessions were very helpful. It was also nice to get input from different instructors, not just one, to get different perspectives.

Richard H
Colorado
January 2019
Travelled solo
How did you like the accommodation?
Before I start the review I just want to say that if you're still thinking about visiting Puerto Escondido, stop thinking, and just do it. I was in Puerto for 32 days and had an amazing time, great food, great weather, great beaches, and super friendly people. Just blown away with the whole Oasis experience, stayed at beautiful La Barca and got to meet great people from all over the world who share similar interests to me. Sol and Roger are great hosts, the Christmas potluck is a great memory. I will be back 100%.
How were the surf lessons?
I come from a snowboarding background and came down to Puerto as a solo traveler to live out my surfing dream. I did lessons at Oasis the entire time. Started at 1 lesson per day the first 2 weeks to build up some strength and then 2 lessons per day the last two weeks. The instructors are great, huge thank you to Luis who was my primary instructor and whose enthusiasm and patience really helped me progress. I also had some lessons with Chris who is great and I was there for a month and got the chance to interact with all the instructors. All funny, patient, knowledgeable, and enthusiastic not much more you can ask for.
+ More Reviews
Number of people: 22
Extras:
Air Condition: 10 USD / night => available in some of the rooms . Please let us know at the time of booking.

You can never get lost
When you book you will receive our confirmation email with full travel directions of how to get to us.
We don't provide airport transfers but you can book one easily here: Airport Transfers
- Nearest Airport: Puerto Escondido
- Distance from Airport in kms: 2
- Time from Airport in a car: 5 minutes
- There is no train from the airport
- There is no bus from the airport
Come Surf With Us
Surf Lessons can be added in the booking steps if they are not already included in a package.
Instructors
"It is called the Mexican Pipeline, and for good reason. Tucked into a curving part of the southern half of Mexico's Pacific Coast, Zicatela is the main surf beach in Puerto Escondido. Like a machine, it produces perfect wave upon perfect wave." With beaches suitable for all levels, transparent warm water with perfect waves, Puerto is a great surfing destination that you must try!
Main Surf Beach: La Punta de Zicatela, Carrizalillo beach
Surf Lessons we offer:
Kids Surf Lessons
Lessons are 2 hours of duration and on an ample schedule every day of the week from Monday to Saturday.
Only to 2 students per instructor in order to ensure safe and fun surf experience! Lessons are conducted in both English and Spanish, and for all levels and ages. We also offer a kids Summer Camp program in June and July - contact us for further information!
Beginner Surf Lessons
Lessons are 2 hours of duration and on an ample schedule every day of the week from Monday to Saturday.
Only to 2 students per instructor in order to ensure safe and fun surf experience! Lessons are conducted in both English and Spanish, and for all levels and ages.

Intermediate Surf Lessons
Intermediate and advanced surfers will be taken to other beaches suitable for their level. Roger Ramirez will coach them and take pictures of their session to use for technique analysis.
Advanced Surf Lessons
Intermediate and advanced surfers will be taken to other beaches suitable for their level. Roger Ramirez will coach them and take pictures of their session to use for technique analysis.
Private Surf Lessons
Private surf lessons are available for surfers of all ability levels from beginner through advanced. Lessons are 2 hours in duration and include all equipment and transportation.
Surf Guide
We offer surf guiding services in various durations from half day through to several day surf trips to our southern coastline. All transportation is included, and equipment if needed. Depending on the length of the trip, food and accommodation may also be included. Please contact us for more details.
Yoga
1 hour Yoga lesson in the evenings. Profesional yoga instructor, classes are for all levels. Pilates and Functional classes for surfing are also available other days of the week to complement the Fitness program that comes with the Surf package. Classes are at the top roof palapa of La Barca Surf House, nice and spacious area with an amazing sunset view for your delight.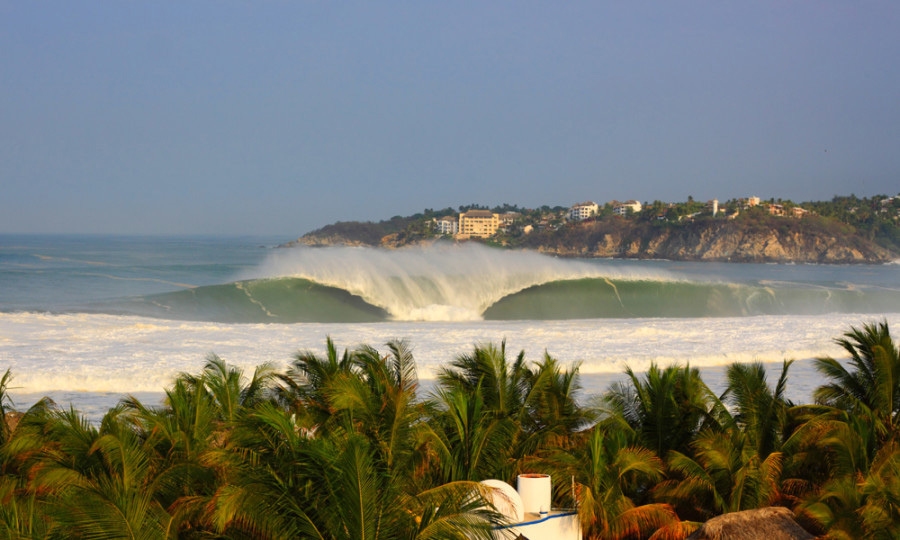 Zicatela
Level: Advanced
Famous Mexican beachbreak aka 'The Mexican Pipeline'; a right and a left are shown in the main pic. Fast, heavy, hollow wave, suitable for only advanced surfers during the summer months, but sometimes for intermediate surfers during the periods of small waves during the winter season.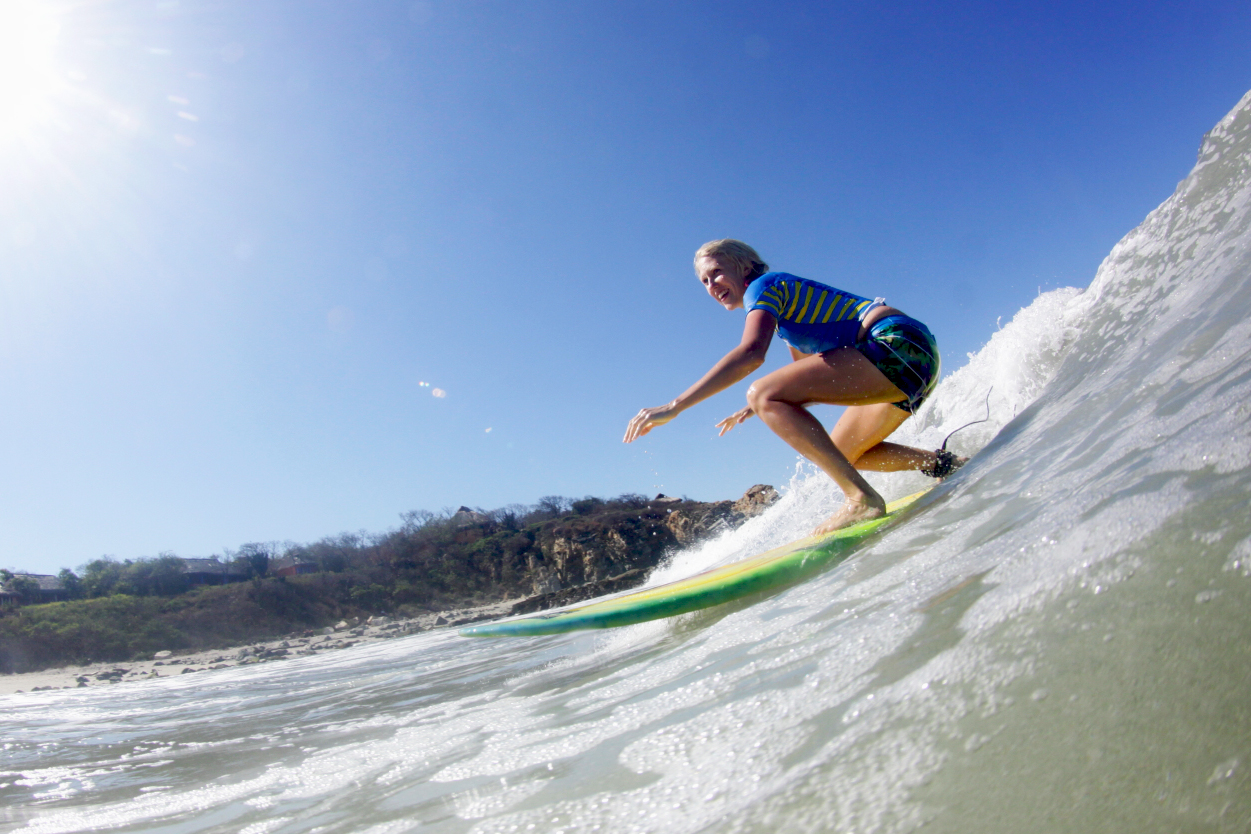 La Punta
Level: All Levels
Beautiful left point break. Ideal for all levels, depending on the swell.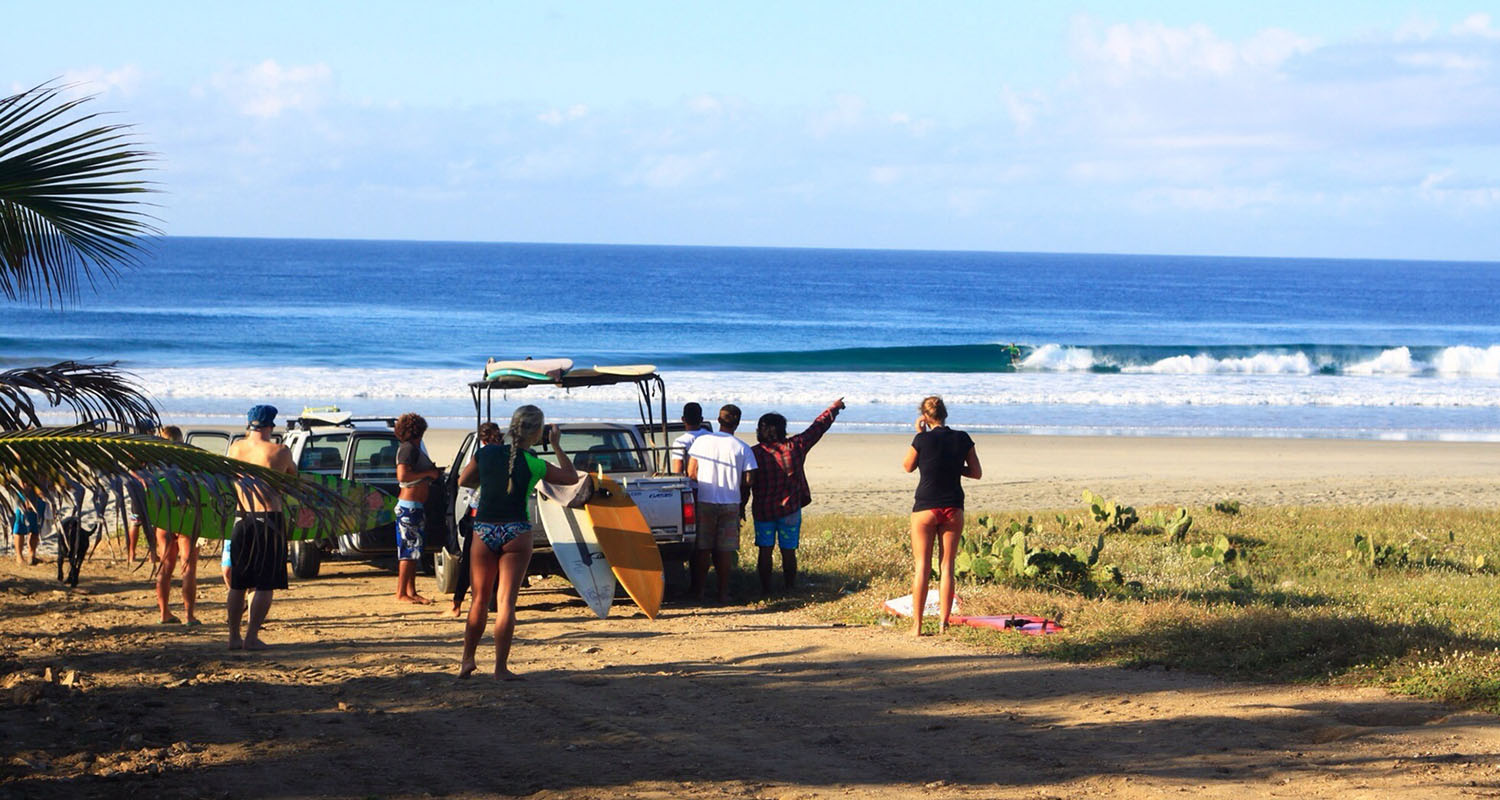 Tierra Blanca
Level: All Levels
Uncrowded beach break, perfect waves, works better with small swell, during the winter season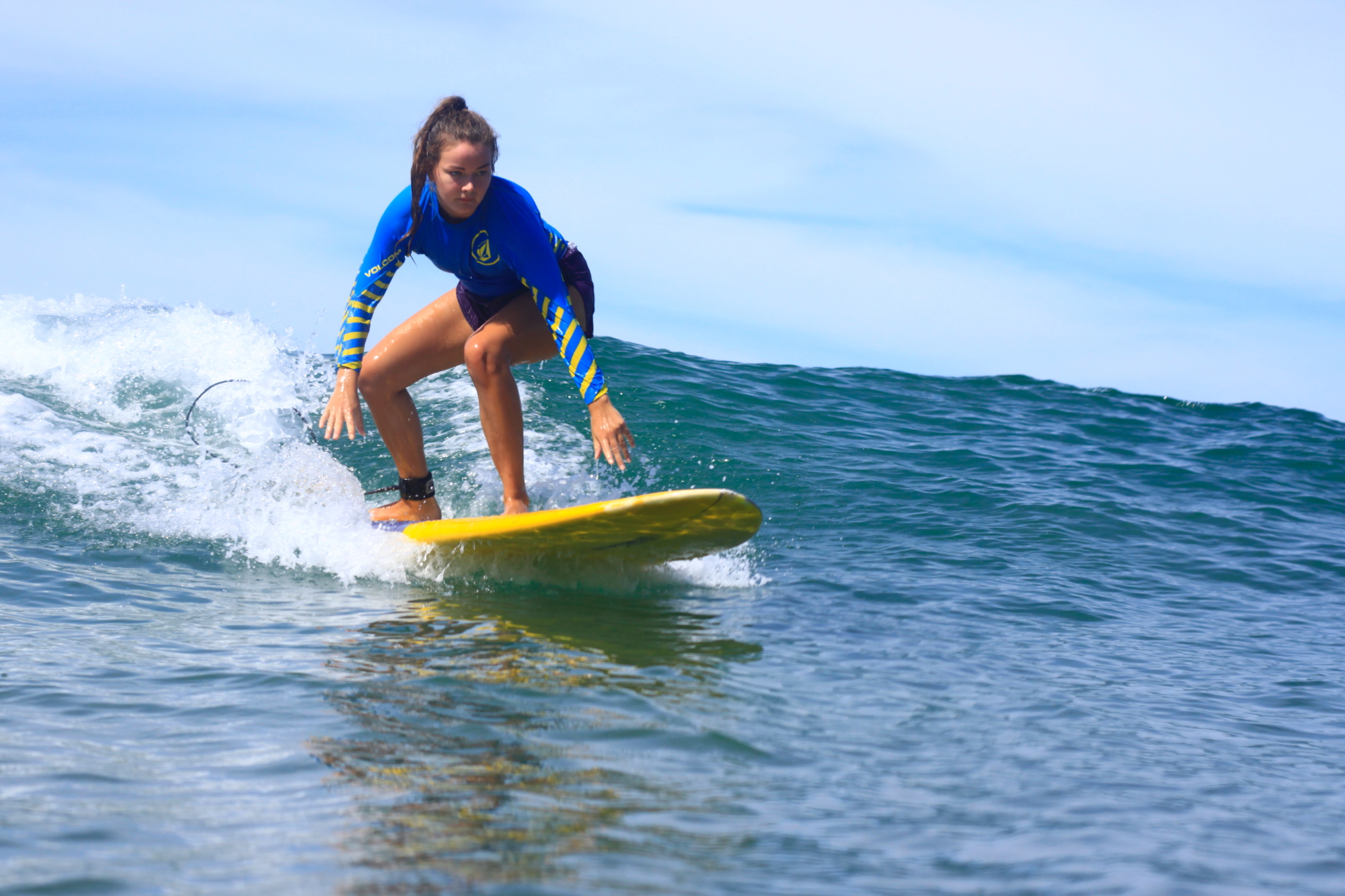 Carrizalillo
Level: Beginner
Small bay, it has a left and a right handed wave.
Perfect for learning to surf.
Works better when there is a big swell.
When there is swell this wave can also be suitable for intermediate level.
Surf conditions in Oaxaca - Puerto Escondido:
Beginners:

JAN

FEB

MAR

APR

MAY

JUN

JUL

AUG

SEP

OCT

NOV

DEC
Intermediates:

JAN

FEB

MAR

APR

MAY

JUN

JUL

AUG

SEP

OCT

NOV

DEC
Advanced:

JAN

FEB

MAR

APR

MAY

JUN

JUL

AUG

SEP

OCT

NOV

DEC
Rain
Wetsuits
JAN/FEB
MAR/APR
MAY/JUN
JUL/AUG
SEP/OCT
NOV/DEC
---
PAYMENT
A small deposit is required to secure your booking.
Your balance is due at check in.
CANCELLING YOUR BOOKING
To cancel go to the MyAccount section and log in or register and you can cancel from within your account.
Your deposit is non refundable but can be used for the same property/surf school within one year of your original booking.
The Surfholidays Advantage
Easy messaging with a local surf host & expert to plan & book your dream surf holiday
1 Customize your surf trip with the help of a local surf host
Surfholidays has handpicked the world's top surf camps, accommodation & surf schools so you will have peace of mind and an unforgettable trip that meets your exact requirements.
2 Secure & easy booking
You can book instantly or message a host directly & request a custom option. Once you are happy with the trip, you can easily book via Surfholidays' secure payment platform.
3 Support before and after your trip
Our team at Surfholidays and your local host onsite are available before and during your trip to ensure things run smoothly.
4 Authentic travel experiences
Surfholidays hosts ensure that you will have the best experience based on up-to-date local insights. On top of that, the vast majority of your money will go straight to support and grow local surf towns.
Surfholidays offers a 100% satisfaction guarantee
If you are not fully satisfied, we'll work with you to make it right.