Oaxaca - Puerto Escondido & Zipolite

B Surfer Surf villa
B Surfer Surf villa
Calle Heroes Oaxaqeños, Puerto Escondido - Oaxaca - Puerto Escondido & Zipolite, Mexico
The Place

Shared & Private room options
Couples
Families
Groups
Solo travellers
B SURFER surf school at Puerto Escondido offers great accommodation right on the surf spot of La Punta de Zicatela.

Our surf school offers you staying at the beautifull surf villa with ocean view (300 meters from the beach and surf spot) with big green territory, hamacas, 2 swimming pools, wifi coverage. The territory of villa has beautiful garden with common grill and kitchen, spacious pool area with pool chairs and area with hamacas, Internet wifi all over the place.

Villa offers standard suites, master suites with private kitchen and two separate houses with 2 and 3 bedrooms.
Location
Surf villa is situated within 300 meters from the beach and surf spot to the most consistent surf spot in Mexico — La Punta de Zicatela. All year round there are waves to learn and advance your surfing.
Reviews

Facilities

Options

Getting there

Surf Lessons

Waves

Terms
1 REVIEWS
Summary
Accommodation
Surf Lessons

Lena A
San Diego, California
November 2017
Travelled solo
How did you like the accommodation?
I traveled to Mexico for the first time in November 2015 and I am glad I chose to go to Puerto Escondido, Oaxaca. Puerto is an incredible place and B Surfer definitely made my stay there especially memorable! Not only this town offers world-class waves, but you will get to explore its unique culture, untouched beaches, welcoming locals, delicious Mexican food and killer sunsets. Even if you don't surf, Puerto has lots of things to do and places to see. But if you do surf (or would like to learn), this spot is absolutely amazing! You can tell the quality of the waves from the moment you get there - from gorgeous Carrizalillo, to beloved La Punta, to infamous Zicatela. And you simply fall in love...

I had been surfing for about four months when I booked my trip to do a surf camp with B Surfer. I didn't really know much at the time, but B Surfer broke it down for me and helped with each stage of learning. Their comprehensive program includes theoretical surf lessons that cover anything you could possibly would want to know about surfing, surf fitness that will whip you in shape and give you six pack :) , and yoga classes to help with flexibility and focus. You will have daily surf lessons in the water with experienced instructors that guide you through every step and make sure you are safe, and detailed analysis of your surf sessions through photos and videos. Everyone is always very helpful and I never felt like there was a question that couldn't be answered. After spending two weeks with B Surfer, my surfing had improved significantly and gave me confidence. I started to have so much fun in the water!

In addition to the educational part of the program, B Surfer offers lots of fun, social events, great trips and tours to see the town. I made lots of friends in my surf camp and still keep in touch with everyone. I even went back this year to visit the instructors and surf my favorite wave again!

If you are wondering about accommodations, the villa is gorgeous, safe, and super close to the beach and places to eat. I watched the sunrise and sunset every night from my balcony and could see and hear the waves at all times.

I highly recommend B Surfer! They always have great deals, especially around the holidays. You will have the time of your life there :)
Standard suite
Room Type: Shared - Mixed
Sleeps:

3
Standard spacious room with two or three matrimonial beds for 2 to 3 guests with private terrace. WC and shower ensuite.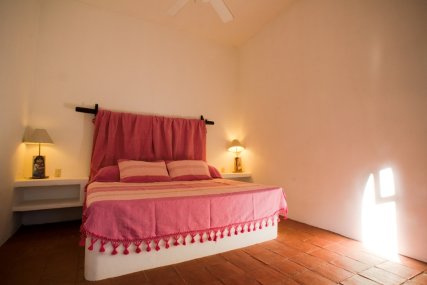 Standard suite
Room Type: Private
Sleeps:

2
Spacious standard room with one king size bed, private terrace, WC and shower ensuite.
You can never get lost
When you book you will receive our confirmation email with full travel directions of how to get to us.
We provide Airport Transfers from and to Puerto Escondido and they can be booked in the booking steps.
Price for 1-4 people: USD$15
Price for more than 4: USD$30
- Nearest Airport: Puerto Escondido
- Distance from Airport in kms: 15
- Time from Airport in a car: 20mins
- There is no train from the airport
- There is no bus from the airport
Come Surf With Us
Surf Lessons can be added in the booking steps if they are not already included in a package.
Instructors
Puerto-Escondido, Oaxaca, Mexico, our surf camp is based at the most consistent surf spot in Mexico — La Punta de Zicatela. All year round there are waves to learn and advance your surfing. Warm beautifull water +29 C and hot weather all year round.
Main Surf Beach: La punta de Zicatela
Surf Lessons we offer:
Kids Surf Lessons
Beginner Surf Lessons
Intermediate Surf Lessons
Private Surf Lessons
Surf Guide
Yoga
Yoga lessons take place 2 times per week, duration 2 hours includes meditation, breathing techniques, intense flow of power yoga and deep relaxation.
Surf conditions in Oaxaca - Puerto Escondido & Zipolite:
Beginners:

JAN

FEB

MAR

APR

MAY

JUN

JUL

AUG

SEP

OCT

NOV

DEC
Intermediates:

JAN

FEB

MAR

APR

MAY

JUN

JUL

AUG

SEP

OCT

NOV

DEC
Advanced:

JAN

FEB

MAR

APR

MAY

JUN

JUL

AUG

SEP

OCT

NOV

DEC
Rain
Wetsuits
JAN/FEB
MAR/APR
MAY/JUN
JUL/AUG
SEP/OCT
NOV/DEC
---
PAYMENT
A small deposit is required to secure your booking.
Your balance is due at check in.
CANCELLING YOUR BOOKING
To cancel go to the MyAccount section and log in or register and you can cancel from within your account.
Your deposit is non refundable but can be used for the same property/surf school within one year of your original booking.
Why use Surfholidays.com?
Book your accommodation & surf lessons/guiding in the one place
24/7 Support – phone & email
100,000 booked since 2009
Best price guarantee
Flexible payment: Only a deposit is needed to book
Flexible cancellation conditions
Manage your bookings online
You're in control of your booking. No registration is required.
Your booking is secure & details are protected by a secure connection.