North Male Atoll

BLUE STAR
BLUE STAR
Indian ocean, Male - North Male Atoll, Maldives
The Place
Couples
Families
Groups
Solo travellers
"SURF BOAT FOR SOLO TRAVELERS AND SMALL GROUPS"
From April up until November the surf charter boat will be based in the North & South Male Atoll on an "open boat" basis. It is kind of a floating hotel. That means you can basically join and leave any day you want. You will be picked up by a dhoni boat according to your international flight times and will be transferred to wherever the main boat is anchored. And that's where the surf and the waves will be the best on that day!

This concept makes our surf boat the preferred option for solo travelers, small groups and for all of you who do not want to adjust their dates to the fixed schedules of most other boats. For these travelers this is the most convenient and flexible surf package in the Maldives. To join the open boat is an opportunity to meet new surf mates from all around the world!

Check the best flight and book yourself the last spot on the Blue Star for a very affordable price!
Location
Highly consistent Indian Ocean South swells make the Maldives one of the planet's most consistent surf zones. Almost every trip offers quality surf every single day. All waves peel mechanically over perfectly contoured, coral reefs without the shallowness and danger found at many other surf destinations.

This is a place where you can ride the best waves of your life without fearing for your safety. And if your home surfs are short beach breaks, you'll love the long rides.

Expect offshore winds most days with equal numbers of lefts and rights typically averaging chest high to once overhead. These warm water waves can be surfed on all tides so you can literally surf all day long.

The surf season coincides with the south to west monsoon and runs from mid May to November when the best swells are generated by winter low pressure systems in the southern Indian Ocean
Facilities

Room types

Getting there

Waves

Terms
Number of people: 20
Additional Fees:
*Airport transfers two ways:
1 Surfer………………………. 200 US$
2 Surfers………………………100 US$ / each.
3 Surfers……………………..…75 US$ / each.
4 Surfers or more……..….…….65 US$ / each.


Extras:
*WIFI connection to Internet.
*Video recording and photos.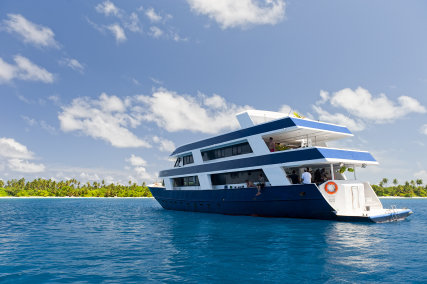 Double Bedroom
Room Type: Private
Sleeps:

2
BLUE STAR has 10 double bedrooms. Each room has a bathroom. air conditioning, individual spacious beds and personal wardrobe. There is also a spacious living room with a dining table, comfortable sofas, TV, DVD, optional WIFI and completely equipped kitchen.

BLUE STAR is equipped with, GPS, sounder, radar, USB radio 16 channels. There is a large terrace on the up deck where the covers of the surfboards are stored, perfect place to view the waves, and another in the prow. As for safety, the vessel is equipped with, life jackets, and other safety facilities. The boat also has snorkeling equipment and local style fishing gears....

A very important thing is the food of active sport such as surfing requires an adequate diet for energetic activity to enjoy the waves to the full. Our cook prepares 3 meals a day apart from the snacks between hours. For obvious reasons, fish, fruit, vegetables, meat, pasta form the main part of the diet on board. We offer Western as well as Asian food so the clients may try typical Maldivian food and get to know more about the culinary culture of this country. We assure an ideal and complete diet to provide the energetic requirements of our guest.
You can never get lost
When you book you will receive our confirmation email with full travel directions of how to get to us.
We provide Airport Transfers from and to Male MLE and they can be booked in the booking steps.
Price for 1-4 people: USD$130
- Nearest Airport: Male MLE
- Distance from Airport in kms: 17
- Time from Airport in a car: 30 min
- There is no train from the airport
- There is no bus from the airport
Surf conditions in North Male Atoll:
Beginners:

JAN

FEB

MAR

APR

MAY

JUN

JUL

AUG

SEP

OCT

NOV

DEC
Intermediates:

JAN

FEB

MAR

APR

MAY

JUN

JUL

AUG

SEP

OCT

NOV

DEC
Advanced:

JAN

FEB

MAR

APR

MAY

JUN

JUL

AUG

SEP

OCT

NOV

DEC
Rain
Wetsuits
JAN/FEB
MAR/APR
MAY/JUN
JUL/AUG
SEP/OCT
NOV/DEC
---
PAYMENT
A small deposit is required to secure your booking.
Your balance is due at check in.
CANCELLING YOUR BOOKING
To cancel go to the MyAccount section and log in or register and you can cancel from within your account.
Your deposit is non refundable but can be used for the same property/surf school within one year of your original booking.
You can cancels anytime up to 7 days before travelling and you will not be charged the balance.
Why use Surfholidays.com?
Book your accommodation & surf lessons/guiding in the one place
24/7 Support – phone & email
100,000 booked since 2009
Best price guarantee
Flexible payment: Only a deposit is needed to book
Flexible cancellation conditions
Manage your bookings online
You're in control of your booking. No registration is required.
Your booking is secure & details are protected by a secure connection.