Sumatra Islands

Simeulue-Surflodges
Simeulue-Surflodges
Simeulue, Matanurung - Sumatra Islands, Indonesia
Chat with a host who can help organise your trip...
The Place
Couples
Families
Groups
Solo travellers
All stays include: three meals per day, free coffee, tea, juices and water, airport pick up and drop off.

Simeulue to Surflodges is a chilled out relaxed spot right on the ocean and a 100M walk away from the best spot on the island: Dylans. A nice hollow righthander breaking over reef.

We have three cabanas available, a treehouse and the mainhouse bedroom. We also have our own saltwater pool with sundeck and a watchtower to chill and watch the surf. Breakfast, lunch and diner is included in your stay!
Location
On the west coast of the island, right next door to the best spot on the island: Dylans, a nice and hollow righthander. Right in front of the ocean, a secluded hide away under the palm trees. Easy and relaxed! Close to a small and cosy town (well it's just one street) but has a small shop to do some basic shopping.

You must fly to Medan and get a flight on to Simeulue. Flights to Simeulue take around 60 minutes. There are several flights per day. You can book with If your departure date is over 2 months they may not have dates up yet.
Reviews

Facilities

Room types

Getting there

Waves

Terms
6 REVIEWS
Summary
Accommodation
Surf Lessons

Jesper
Kopenhagen
November 2019
Travelled as a couple
How did you like the accommodation?
I stayed at simeulue surf lodges nearly the entire month of November. One of the most beautiful places I've been so far, the ocean is about 60 meters away and the local surf spot about 100/150 meters. Although the surf was small we managed to get in the water every day and found some good ones.The resort itself is small and cosy and it can accommodate a maximum of 10 people and has a common area with an outside deck where we sat in the afternoon most of the time and had our meals. We also had a car for touring, a quick walk to Dylans and Bintangs at night. Yenny cooks great food, the lobster as an extra is well worth it. Lots of lovely food, cakes, juices all day long and fresh water in the rooms and to our surprise, a western toilet. We especially loved the evenings at the pool, cool drinks, great food and the best view and sunset you can find. Roy and Yenny, thanks ever so much for taking such good care of us. Hope to see you guys again!

MJ
Osaka
August 2019
Travelled with friends
How did you like the accommodation?
This is a great place to stay if you are looking for best waves, great location and hospitality. My friends and I stayed at Simelue Surflodges in August 2018. When I got there Roy and Yenny were fantastic, so nice, very helpful and kind. Yenny's cooking is absolutely amazing, lovely cakes and drinks all day long and she even cooks meals upon request. One night we had an great barbecue with fresh fish, chicken and even lobster. Most enjoyable also because of the stunning sunset and scenery. Dylan's Right is a very consistent break that works almost every day. There are loads of turtles hanging around the break, diving is also amazing along the whole shoreline and in front of the surflodge. The waterfall hike is also a great thing to do and so is exploring the island via motorbike. We also enjoyed spear-fishing in a bay nearby. Really enjoyed my stay and in fact the whole booking experience. Quick response and very helpful in every way.

Overall we had a great stay and will most definitely come back next year!


Peter
Brisbane
May 2019
Travelled with friends
How did you like the accommodation?
This is by far the best place to relax and surf nearby. We were met at the airport by the manager Roy and he took great care of us during our stay. His wife Yenny cooks the best meals and since my friend is a vegetarian, she made vegetarian meals just as easy, no problem at all. Even had a lovely barbecue (lobster!) with the most stunning sunset I've ever seen. The rooms were small but very comfortable. The locals are very friendly, authentic Indonesian atmosphere.

There are a lot of breaks that can be surfed and easily reached but Dylans, the best wave of the island, was right on our doorstep! The only downfall was the lack of a functional internet (except Whatsapp), but that's the about the only trade-off for this beautiful island. And although there are more surf camps on the island which are all ok, there is no better place than Simeulue Surf Lodges especially with regards to position and amazing sunset. Hope to be back someday!
- Less Reviews

DavidPaul
Ashland, United States of America
January 2019
How did you like the accommodation?
The surf lodges near Dillan's surf break are in an ideal location directly in front of Dillan's. They are a short moped right to several others and a boat right there at the lodge can take you to other surf breaks nearby.

Accommodations range from Rustic to non-rustic with air conditioning.
How were the surf lessons?
Surf lessons not ideal. My instructor, while a good surfer, could not speak enough English to be helpful.

Stu Cunnings
Sydney
January 2019
Travelled with friends
How did you like the accommodation?
Me and my friend had a fantastic stay and although we were there off-season, January, we still had nice waves for the whole time. We surfed Dylans, right next door, and also a few lesser known spots. On rainy days we watched some of the endless (surf) movies available in the common room, on lazy days we hung out in the natural salt water pool but on most days we surfed the break just around the corner from the surflodge.

Snorkelling nearby through the keyhole is great, the local swimming beach is stunning and the local people so friendly. The co-owner Nils was most helpful and very quick to reply, including lots of tips about best way to get to the island. This is a trip I will never forget.


Francis
Amsterdam
December 2018
Travelled solo
How did you like the accommodation?
Simeulue is an island of tropical beaches and friendly local people. It's like time has came to a stand still, there's no wifi and nothing more to do than surfing, snorkelling and enjoying the beautiful surroundings.

The resort was fantastic. Small and simple complex overlooking the ocean. The hosts Roy and Yenni were great and they helped with whatever I needed. The food was fantastic, with both local and western meals 3 times a day. Motorcycle, boat, car rental can be arranged through Roy. Give as much notice as possible, as sometimes the boats can be "full".

And although the rooms were small and simple, they were very clean and really all you could need. All and all I had a great stay!

+ More Reviews
Number of people: 10
Additional Fees:
There are no additional fees when booking with us. Included in your booking is:

- three meals a day (by our own chef Yenny, feel free to ask for requests, Western or Indonesian..)
- free fresh fruit shakes/juices, water, coffee and tea
- airport pick up and drop off

The only things that's additional is soda's from the fridge, which you can just grab and pay your tab at departure.
Extras:
No extra costs involved..but if you want to book trips like a trip to the waterfall (with guide), local boat rental to take you to several other spots, etc. this we can arrange on request and you just have to pay to the locals when you book/do the trip.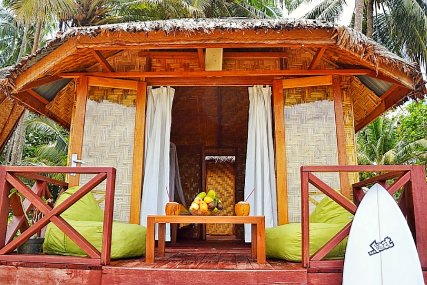 Cabana
Room Type: Private
Sleeps:

2
Chilled out little house/cabana, we have three of them. Sleeps 2 people, we don't bunk up, so if you are a solo traveller you will have the cabana to yourself. Every room has a safe, fans, mosquito nets, 2 single beds and via the door in the back you have your own (hot water) shower with a western style toilet. Every cabana has a little veranda outside with bean bags to chill/lounge in or just take the hammock next to the cabanas and chill out there of course.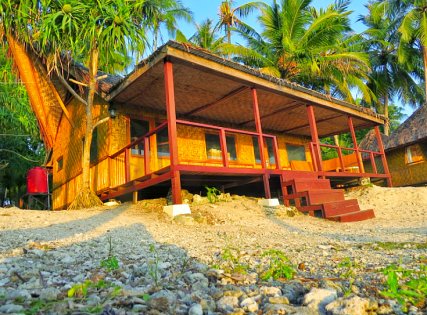 Main bedroom
Room Type: Private
Sleeps:

2
In the main house we have our main bedroom, sleeps 2. We don't bunk up, so if you are a solo traveller you will have the room to yourself. The main bedroom has a safe, fans, mosquito nets, 2 single beds and you have your own (hot water) shower with a western style toilet.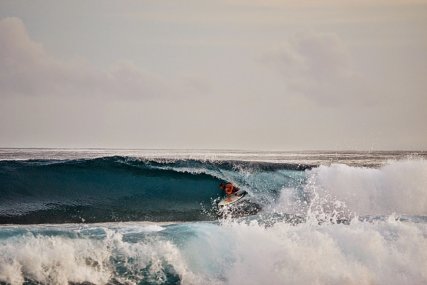 Treehouse
Room Type: Private
Sleeps:

2
From August 2015 we have added a new place to our lodge: The Treehouse. A nice, relaxed and cozy room, lifted 2,5 meters from the ground. With a nice veranda in front of it (ocean view) with bean bags and a hammock. Sleeps 2 people, we don't bunk up, so if you are a solo traveller you will have the room to yourself. The Treehouse has a safe, fans, mosquito nets, 2 single beds and downstairs you have your own (hot water) shower with a western style toilet.
You can never get lost
When you book you will receive our confirmation email with full travel directions of how to get to us.
We provide Airport Transfers from and to Simeulue Airport and they can be booked in the booking steps.
- Nearest Airport: Simeulue Airport
- Distance from Airport in kms: 20
- Time from Airport in a car: 25
- There is no train from the airport
- There is no bus from the airport
Dylans Right
Level: All Levels
Surfing Simeulue is nature at its best. Simeulue is located around 120km from the west coast of Sumatra. While Nias, the Mentawais and other places around Sumatra are already pretty well known amongst surfers, Simeulue is still very unknown and therefore not overloaded with crowds!

Many spots remain unknown and also nameless, but search and you will definitely find! From lefts to rights, shallow barreling reef breaks to also deep water reef and beach breaks. Some options;

DYLANS RIGHT:
Next to our door is probably the best break on the island, called Dylans, or Dylans Right or Dylans Point, at only a 100m walk. A powerful right hander with hollow tubes and a long ride.
One Thong
Level: Intermediate
Just around the corner, picks up swell almost 365 days a year. When all is small, this is the one to choose! A fun right hander
T-Bags
Level: Advanced
In front of the resort lies an island which holds a very heavy break, called Tea Bags, it's a powerful right (reef). Ask Roy, our manager, to arrange a short boat trip to the island of Tapah when the swell is up!
Jackals
Level: Intermediate
Grab a bike and head north, only a short ride away is a break called Jackals, very consistent and has lefts and rights, breaking over a reef, combined with sand and rocks..
Thailand
Level: Intermediate
A fun left hand reef break with challenging sections. Holds up huge swells and is suitable for longboard as well as shortboard. Take a beautiful ride by motorbike around the coastline and then grab a local boat for about 4 minutes.
UNDISCOVERED SPOTS:
Level: All Levels
Because of the remoteness of Simeulue and the lack of mass tourism, you can still search for breaks that are unnamed and undiscovered..we know some and will let you in on some secrets of the island..but what better way then to take your motorbike and search, find and surf..!
Surf conditions in Sumatra Islands:
Beginners:

JAN

FEB

MAR

APR

MAY

JUN

JUL

AUG

SEP

OCT

NOV

DEC
Intermediates:

JAN

FEB

MAR

APR

MAY

JUN

JUL

AUG

SEP

OCT

NOV

DEC
Advanced:

JAN

FEB

MAR

APR

MAY

JUN

JUL

AUG

SEP

OCT

NOV

DEC
Rain
Wetsuits
JAN/FEB
MAR/APR
MAY/JUN
JUL/AUG
SEP/OCT
NOV/DEC
---
PAYMENT
A small deposit is required to secure your booking.
Your balance is due to the property 31 days before arrival. The Property will contact you to collect payment. If you book within this 31 days then the property will contact you shortly after you book to collect the balance.
CANCELLING YOUR BOOKING
To cancel go to the MyAccount section and log in or register and you can cancel from within your account.
Your deposit is non refundable but can be used for the same property/surf school within one year of your original booking.
You can cancel anytime up to 30 days before travelling and you will be refunded the balance.
Similar Surf Packages in Sumatra Islands, Indonesia
The Surfholidays Advantage
Easy messaging with a local surf host & expert to plan & book your dream surf holiday
1 Customize your surf trip with the help of a local surf host
Surfholidays has handpicked the world's top surf camps, accommodation & surf schools so you will have peace of mind and an unforgettable trip that meets your exact requirements.
2 Secure & easy booking
You can book instantly or message a host directly & request a custom option. Once you are happy with the trip, you can easily book via Surfholidays' secure payment platform.
3 Support before and after your trip
Our team at Surfholidays and your local host onsite are available before and during your trip to ensure things run smoothly.
4 Authentic travel experiences
Surfholidays hosts ensure that you will have the best experience based on up-to-date local insights. On top of that, the vast majority of your money will go straight to support and grow local surf towns.
Surfholidays offers a 100% satisfaction guarantee
If you are not fully satisfied, we'll work with you to make it right.