Hollow Tree's Resort
Hollow Tree's Resort
BEACH FRONT, Bosua, South Sipora, Kepulauan Mentawai, West Sumatra , Katiet Beach - Mentawai Islands , Indonesia
Chat with a host who can help organise your trip...
Explore our Available Surf Packages
The Place

Shared & Private room options
Couples
Families
Groups
Solo travellers
Hollow Tree's Resort is a unique destination whether you are a surfer, couple, honeymooner, yoga, adventurer, traveling with a group of friends, a food lover or simply just want to escape and enjoy an exotic slice of paradise.

Hollow Tree's Resort provides a shared accommodation of 8 rooms in four villas. Maximum capacity per room up to 2 people – total of 16 to 18 people. Located off Sumatra is the Indonesian Island of Sipora. This is the heavenly location of our all to inclusive surf resort, Hollow Tree's. Since the way of life on Sipora Island is very simplistic, we aim to reflect this in the design of our Mentawai Islands accommodation. Four villas are scattered along Katiet beach, each of which features eight rooms with double and single beds.

Enclosed by palm trees, powder to soft sand, and azure waters, our accommodation options have a homely feel that will make you feel comfortable when staying in the Mentawai Islands. You will notice how most of the interior features are made from either recycled wood AND natural materials. The white walls and ceilings give the rooms an airy feel, while the windows allow natural light to flood into the living spaces, creating the illusion of extra space. Enjoy hot water showers any time of day and Air to conditioned (A/C) comfort is guaranteed in each of the rooms for your entertainment pleasure. If you want to keep your soft drinks and alcoholic beverages chilled, use the mini fridges.
Location
Hollow Tree's Resort is located in Mentawai islands of Indonesia, next to a small village called Katiet village. The locals here are super friendly and helpful. When you drive through the village with the scooter (that you can rent from us or the locals) to reach other surf breaks or clear blue water beaches, on the way there you will see little smiles everywhere, and little kids always curious wanting to get to know you. To drive to other breaks only takes 15 to 20 minutes. We have a local surf guide that can take you to these places, to make sure you don't get lost.

On the island there is one little market that you can visit every Monday and Friday, it is very fascinating to watch how all the food and beverage gets transported by the slow ferry. And every one is waiting patiently from 11 am onwards. We order all our food and drinks from Padang directly and this gets transported by the ferry.

How to get to the resort:
1. Take a flight to Padang to Minangkabau kabau international airport. 
2. Our resort representative will be waiting for you at the airport to holding our sign "Hollow Tree's Resort", and will take you to your accommodation in Padang, where you would have to stay one night. The ferry only departs once a day & 4 times a week.
3. The next morning our resort representative will come pick you from your hotel and deliver you to the Muara boat harbour.
4.The ferry will travel for 3 hours to our resort.
Reviews

Facilities

Room types

Getting there

Surf Lessons

Waves

Terms
4 REVIEWS
Summary
Accommodation
Surf Lessons

Fiona
Australia
August 2019
Travelled with friends
How did you like the accommodation?
This was my first time visiting the Mentawais and Hollow Tree's Resort exceeded my expectations by far. The world class wave, Hollow Tree's is literally in front of the resort, we had villa one where you can watch the waves peeling one after another! I thoroughly enjoyed waking up to that view each morning and the pretty pastels over the ocean of the evening sunsets.

Sina and Teiki were most hospitable hosts, we had a large group of people with various dietary requirements. The chef did an incredible job, creating gourmet dishes three times a day to suit all dietary requirements. During the 16 days, each meal was different! Plenty of variety of healthy, clean, nutritious meals. I was surprised by the level of good food in remote Indonesia as I've travelled a lot throughout Indonesia and generally you're succumbed to eating plenty of local, oily dishes. Hollow Tree's are certainly on top of their meals being served to guests and thoroughly enjoyed the home made coconut milk to go with my coffee daily!

The rooms were spacious, clean, the comfiest beds and high quality bedding, felt lovely to go to bed of the evening in crisp, clean bedding.

The location of the resort is 10/10. You can watch the world class break, Hollow Tree's, the prettiest scenery, extremely photographic area, I was in absolute heaven! Being a surfer and a luxury, lifestyle photographer, this is MY PARADISE!

The ocean is clean, the clearest water, bright turquoise colour, very dreamy indeed and the imagery I captured is pure paradise. I felt at home here with Hollow Tree's and thank you to all the staff for creating an enjoyable experience, it really felt like home :)

I know I'll certainly be back and will be bringing plenty more friends! Can't recommend Hollow Tree's Resort enough, 10/10 guys and thank you again, look forward to next trip!

Hillary
USA
August 2019
Travelled solo
How did you like the accommodation?
Such a magical place to stay! Everyone was so welcoming, it felt like you were hanging out with your friends instead of staying at a resort. Teiki & Sina were so accommodating with all of our requests and needs. And the FOOD! How often do you go on a surf trip and come back talking about the food!?!? The food is incredible and they take great care to accommodate literally ALL dietary restrictions. The wave in front of the resort is advanced level and consistent. There are a few more intermediate waves a short distance by boat or scooter. The rooms and beds are so comfortable that I overslept a few mornings!

Ned
USA
July 2019
Travelled solo
How did you like the accommodation?
When I stepped off a private speedboat onto the shores of HTs resort, Teiki (the owner) greeted me with a smile and a ice cold coconut. Over the next week I didn't wear shoes once, got more tubes than in the previous decade, and ate the best food of nearly 2 years exploring Indonesia.

HTs resort isn't a surf lodge: it's a luxury resort on one of the world's most perfect waves. It hits all of the important marks for maximum comfort (icy cold AC, fresh made juice, quiet villas, WIFI, a masseuse, dipping pools) while also maintaining the simplicity that I want when I visit a sparsely inhabited tropical island.

Highlights:
- The food - delicious French/Thai/Indonesian influenced meals served family style
- Access to a speedboat/motorbikes for trips to nearby surf breaks and fishing expeditions
- The vibe: supremely relaxing
- Proximity to the world's best surf. Watch your friends get barreled from the breakfast table.
- The treehouse - sipping coffee at dawn in a hammock with a book.

Bottom Line: HTs Resort manages to provide a level of comfort and service that eludes 99% of Indonesian accommodations. It's unparalleled in its simultaneous appeal to both diehard surfers and their non-surfing partner/family. Next time I'll bring my girlfriend.
- Less Reviews

Clair & Marc
Australia
April 2019
Travelled as a couple
How did you like the accommodation?
We had the most amazing time at HT's. The accommodation was perfect, we had a wonderful room with a very comfortable bed and very nice decor. Our window looked straight out onto the surf break and we woke up to it every morning. The food was perfect, full breakfast's, yummy lunches and extravagant dinners. Teiki and Sina were perfect hosts, we never wanted for anything for the whole time we were there. All the staff were amazing, always there to help with anything we needed. It was an incredible week that far outweighed our expectations and we cannot wait to go back. Thank you Ht's!!!

+ More Reviews
Number of people: 16
Additional Fees:
1. Mentawai Tax $75 USD for visiting surfers for 15 days
2. Roundtrip boat transfers: Traveling from Padang to HT's Resort
- For surfers = $350 USD per person *
- For non-surfer = $250 USD per person **

* For surfers - package includes ferry ticket + surfboard luggage and the speedboat service to/from the resort
** For non-surfers - package includes ferry ticket, luggage and speedboat service to/from the resort (no surf luggage)
Extras:
- Laundry $1 per piece of clothing
- Massage $20-$25 USD per hour
- Surf lesson $70 for 2 hours session
- Yoga packages $50 - $150 USD (depending how many days)
- Fishing packages $50 - $600 USD (depending which speedboat and whether w/ or w/o fishing gear)
- Photography packages $70 - $100 USD (depending how many days)
- Speed boat transfers to other destinations (Macaronis, Telescopes, Greenish, Scarecrows, etc) $100 USD per trip min. 4 people
You can never get lost
When you book you will receive our confirmation email with full travel directions of how to get to us.
We provide Airport Transfers from and to Minangkabau International Airport and they can be booked in the booking steps.
- Nearest Airport: Minangkabau International Airport
- Distance from Airport in kms: ? km
- Time from Airport in a car: 45 mins
- There is no train from the airport
- There is no bus from the airport
Come Surf With Us
Surf Lessons can be added in the booking steps if they are not already included in a package.
Surf Lessons we offer:
Beginner Surf Lessons
We do not have any scheduled surf lessons. If you would like to take surf lessons, we are flexible with times. We will take you to the best waves in the area that suits your ability. You will learn how waves are formed, how weather conditions create the surf & be given the step by step guidance that will have you up & riding the waves on your first day. - Student ratio is 1:4. Duration: 2 hours
Intermediate Surf Lessons
We do not have any scheduled surf lessons. If you would like to take surf lessons, we are flexible with times. We will take you to the best waves in the area that suits your ability. You will learn how waves are formed, how weather conditions create the surf & be given the step by step guidance that will have you up & riding the waves on your first day. - Student ratio is 1:4. Duration: 2 hours
Advanced Surf Lessons
You will learn how to improve your technique, style, manoeuvres and tube riding skills.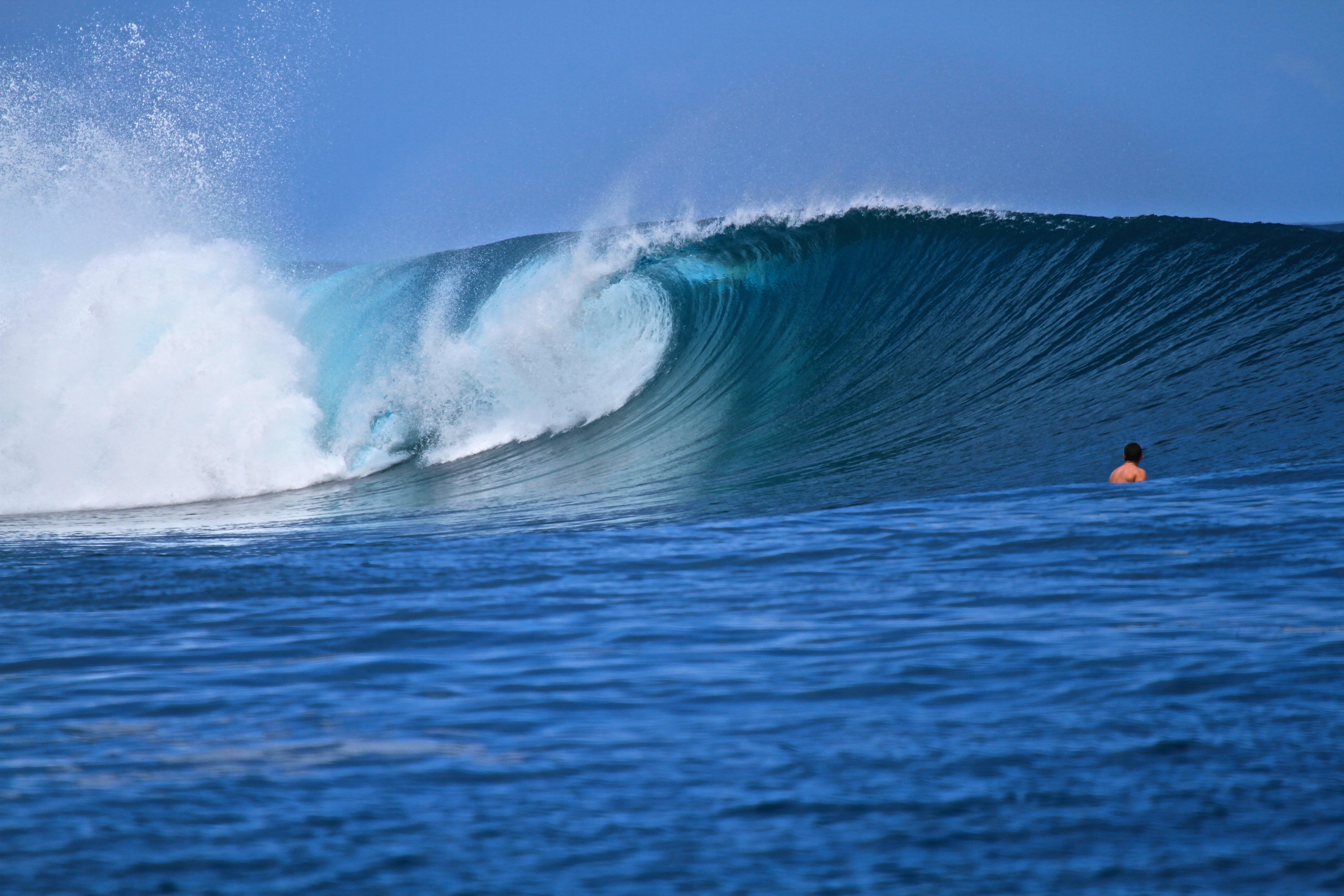 Lance's left
Level: Intermediate
Lance's Left is a long and consistent left hander right around the corner from the Resort. The wave offers a barrel of the take off and a long open face for multiple manoeuvers down the line. Being on the other side of the island and facing east the left is a good option when the wind is onshore at HT's. Perfect for all levels and long perfect lefts lovers.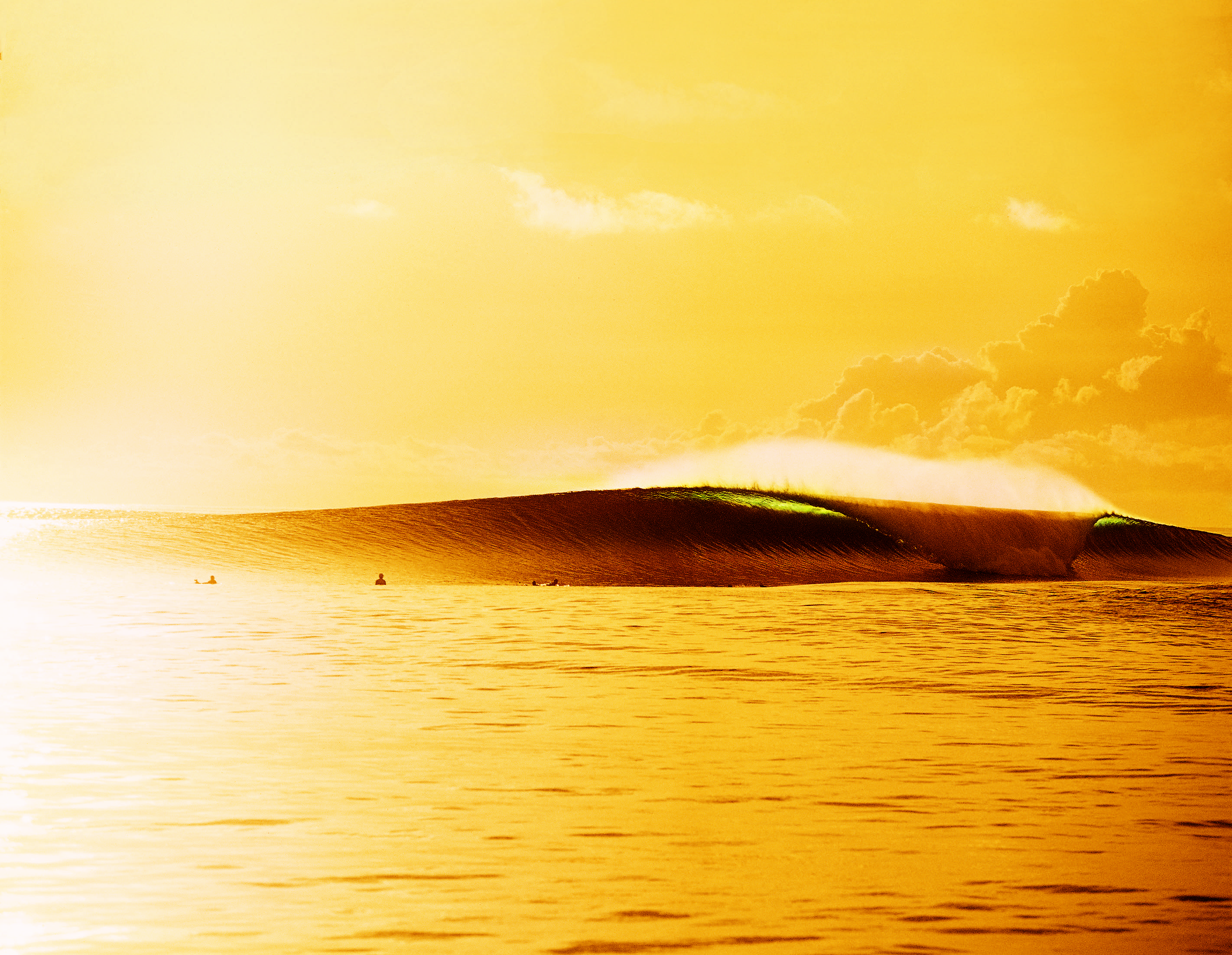 HT's or Hollow Tree's
Level: Advanced
Hollow Tree's, known locally as HT's or Lance's Right, in short, is one of the best and most consistent fast, barrelling right to handers in the world and our resort looks straight out over it. You are welcome.

The wave wraps around the south end of the island and into the sheltered bay where it unloads on the reef known as The Office and finally the Surgeon's Table. As the name suggests, this wave is for intermediate and advanced surfers and rated as one of the top five waves in the world.

With 10 world to class waves within a short boat or bike ride from our resort, there's surf to suit all levels. Or if you don't want to hit the waves, then simply enjoy a tropical paradise and watch the action unfold from the beach.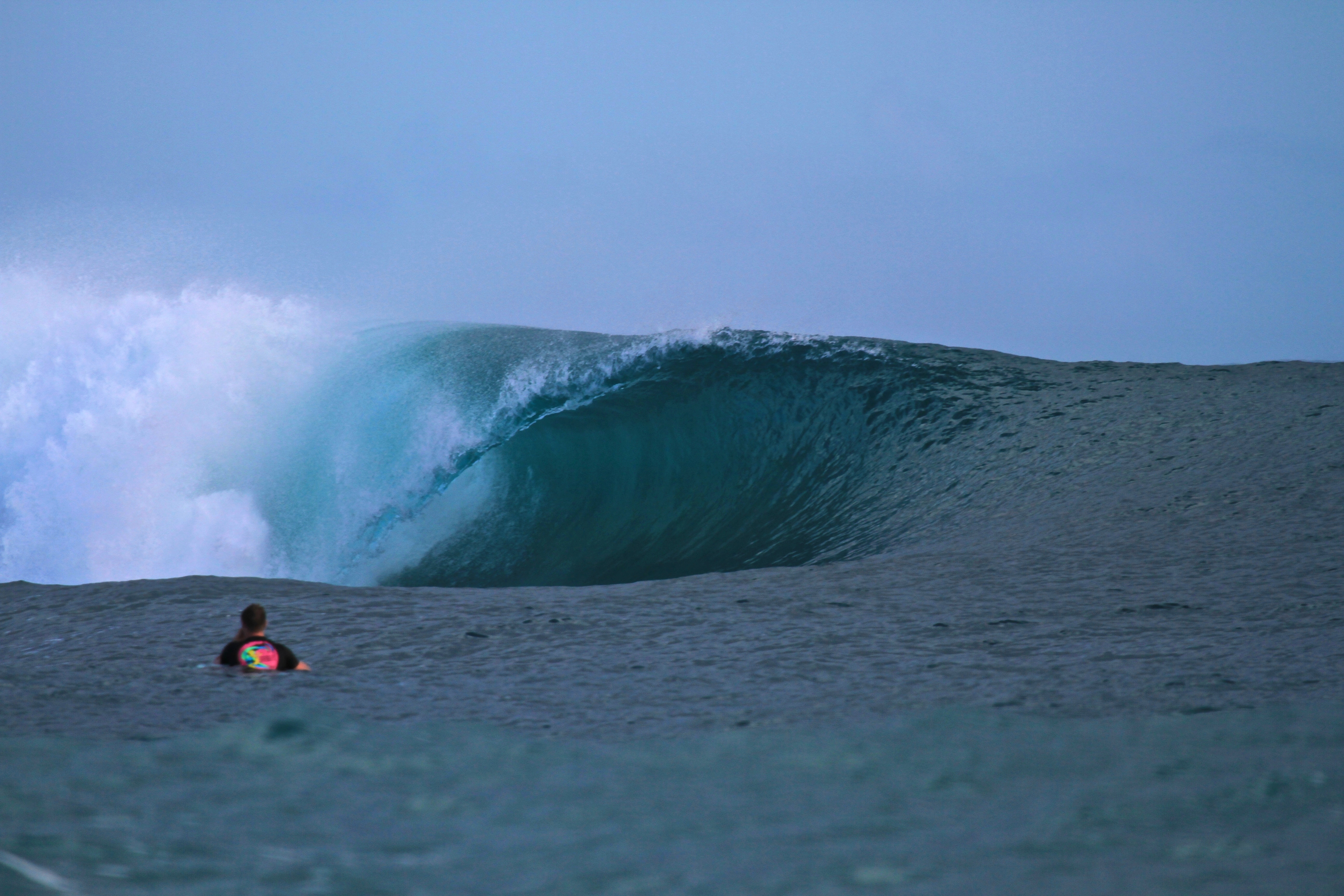 Cobras
Level: Intermediate
Cobra is A frame peak just a few meters up from Lance's left that offers a good backdoor left hand barrel. Don't forget to kick out before it closes out on dry reef. Sometimes you may get lucky and connect with Lance's Left and get one of the longest waves. This wave is a good option to get away from the crowd of Lance's left.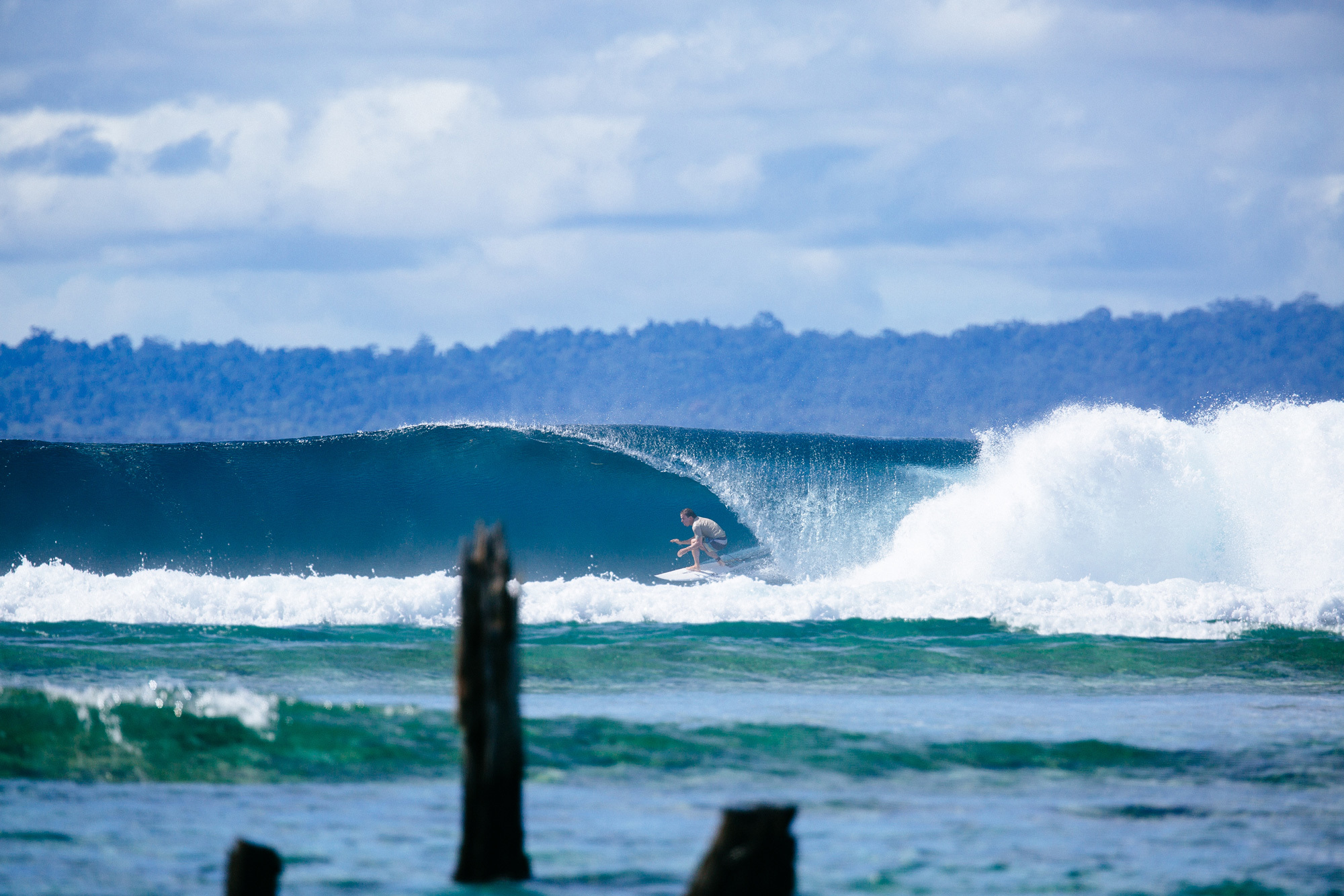 Shipwrecks
Level: Intermediate
A perfect barreling right, not surfed by many. Mid to high tide only and beware on the inside section. I nice getaway when HT's gets too crowded.
Bintangs
Level: Intermediate
Is a short dredging right, on the other side of the bay at Lance's left. On medium Swells, it offers a short but thrilling barrel. On smaller days becomes a fun mellow rippable wave.
Works best on south swells and north winds.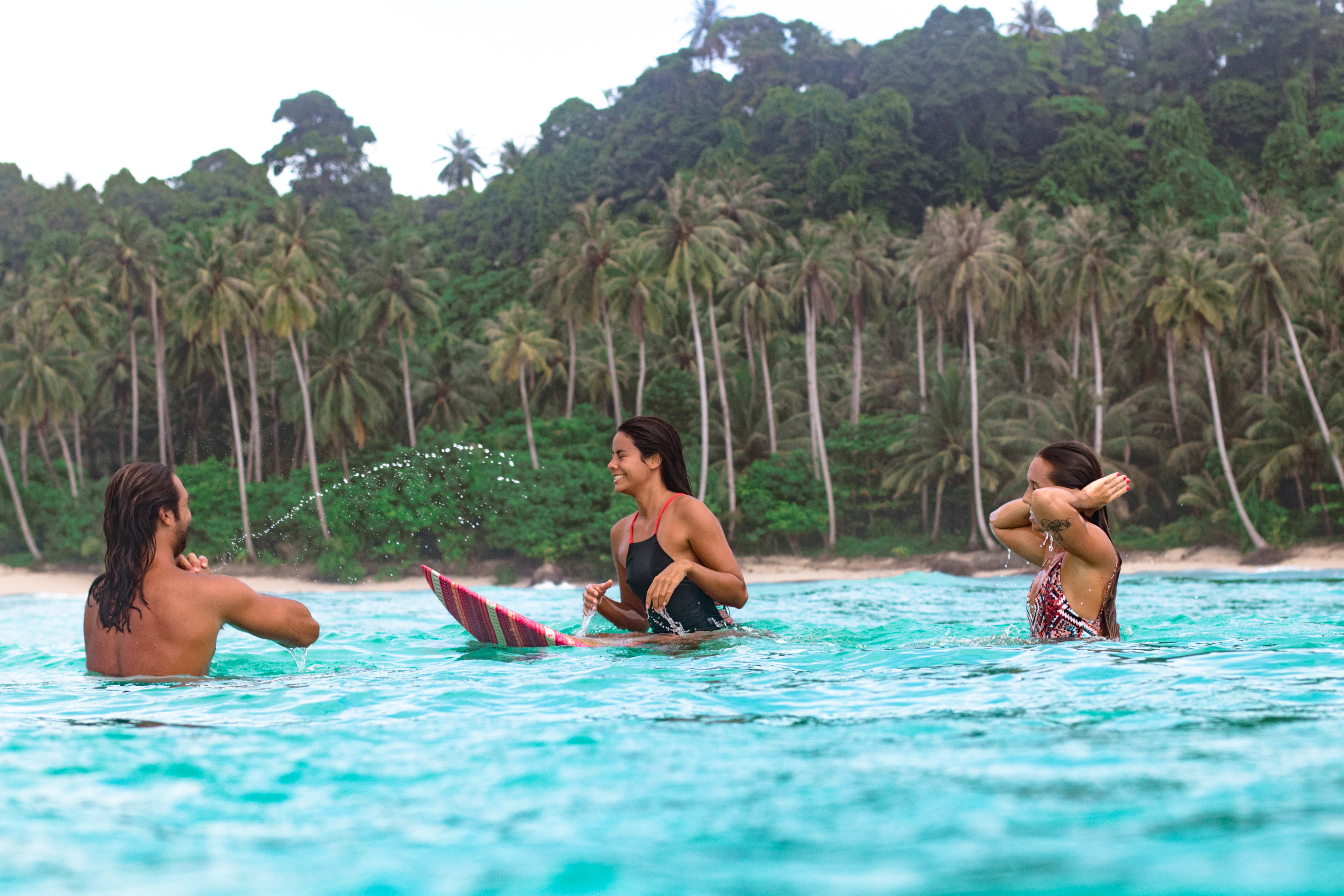 Beach break
Level: All Levels
Just a short bike ride away from the resort, the beach break offers beautiful crystal clear left and right peaks, perfect for all levels and even if you want to learn how to surf we can organize lessons.
Monkeys
Level: Intermediate
A fun shifty left that works on smaller swells and offers occasional barrels. The wave is tucked away in a beautiful bay away from plain sight.
The Point
Level: All Levels
A long fun right hander, suitable for all levels, with hollow and flat sections. Just a few hundred meters from HT's.
Surf conditions in Mentawai Islands :
Beginners:

JAN

FEB

MAR

APR

MAY

JUN

JUL

AUG

SEP

OCT

NOV

DEC
Intermediates:

JAN

FEB

MAR

APR

MAY

JUN

JUL

AUG

SEP

OCT

NOV

DEC
Advanced:

JAN

FEB

MAR

APR

MAY

JUN

JUL

AUG

SEP

OCT

NOV

DEC
Rain
Wetsuits
JAN/FEB
MAR/APR
MAY/JUN
JUL/AUG
SEP/OCT
NOV/DEC
Season
May to September is the peak season for surfing. Mar, April, Oct & Nov and 'off' season can be better because of the smaller crowds & more mellow surf. Rainy season is Sept-Dec with heavy rain for 2-3hrs per day but that doesn't effect the surf..
---
Mentawai Islands Wave Summary
Surfing Mentawais simple has it all, wherever you are staying you will have access to the most consistent surf in the planet. There are over 50 recognised spots and countless others.
The North
The largest island of the chain is Siberut. There is a huge selection of surf at the southern end of this island. The Nyang- Nyang reef points such as the world class left
E-Bay
and the right,
Riffles
,are considered to be some of the most perfect waves in the world.
Bank-vaults
has now become infamous for one of the best waves around but is only for the experts.
In the same area you will also find plenty of playful less charging waves including
Playgrounds, Tikis, Burger World
and the fun right-hander wall
Pitstops
that ends on a sandy beach
Central
This island hosts
Telescopes
which is a consistent left that can peel for up to 200 metres and is good for almost all abilities.
Scarecrows
is a short, wedgy left which is best on best on a dropping tide.
In the south of Sipora you will find the well known surf breaks Lances left and Right.
Lances Left
is super fun and playful with a barrel section in the middle. It's beautiful turquoise water and perfect shape make it among the most photographed waves in the world, and one of the easiest to get barreled.
Lances Right
on the other hand is shallow, short, and advanced level only.
The South
South are the twin islands of Pagai Utara & Pagai Selatan. One of the worlds most famous waves
Macaronis
lies off Pagai Utauru. This ultra consistent left is a perfect deep barrel on the first section and then backs off to into a really fun wall.
Further north you have
Bommie Peak
which is only for the big wave hellmen.
Come Surf the Mentawais with us...
PAYMENT
A small deposit is required to secure your booking.
Your balance is due to the property 60 days before arrival. The Property will contact you to collect payment. If you book within this 60 days then the property will contact you shortly after you book to collect the balance.
CANCELLING YOUR BOOKING
To cancel go to the MyAccount section and log in or register and you can cancel from within your account.
Your deposit is non refundable but can be used for the same property/surf school within one year of your original booking.
If a customer cancels anytime within 60 days of their check-in date, we will refund the balance to them. If we have not collected payment from them we will just not charge them. There will be no refunds or specific refunds given for early departure from designated charter, bad weather conditions, or poor surf, etc.
Similar Surf Packages in Mentawai Islands , Indonesia
The Surfholidays Advantage
Easy messaging with a local surf host & expert to plan & book your dream surf holiday
1 Customize your surf trip with the help of a local surf host
Surfholidays has handpicked the world's top surf camps, accommodation & surf schools so you will have peace of mind and an unforgettable trip that meets your exact requirements.
2 Secure & easy booking
You can book instantly or message a host directly & request a custom option. Once you are happy with the trip, you can easily book via Surfholidays' secure payment platform.
3 Support before and after your trip
Our team at Surfholidays and your local host onsite are available before and during your trip to ensure things run smoothly.
4 Authentic travel experiences
Surfholidays hosts ensure that you will have the best experience based on up-to-date local insights. On top of that, the vast majority of your money will go straight to support and grow local surf towns.
Surfholidays offers a 100% satisfaction guarantee
If you are not fully satisfied, we'll work with you to make it right.