Padang Padang Surf Camp
Padang Padang Surf Camp
Padang Padang, Jl Labuan Sait , pecatu - Bali, Indonesia
The Place
Couples
Groups
Solo travellers
A newly built surf house complete with swimming pool, tennis court and plenty of space to chill out after a long days surf. All bedrooms are private and have private en to suite bathrooms, with hot showers. Breakfast and lunch are available at the surf house. Western managed by experienced surfers, the camp has top local Balinese surfers who will guide you to the best breaks.
Location
Located in an excellent location on the bukit bali peninsular where it is always offshore somewhere! We are located within walking distance of Dreamland, Bingin, Impossibles & Padang Padang beaches. Perfect for everyone from beginners to experienced surfers.
Facilities

Room types

Getting there

Surf Lessons

Waves

Terms
Number of people: 20
Free shuttle bus to town centre
You can never get lost
When you book you will receive our confirmation email with full travel directions of how to get to us.
We provide Airport Transfers from and to Denpasar and they can be booked in the booking steps.
- Nearest Airport: Denpasar
- Distance from Airport in kms: 40
- Time from Airport in a car: 30
- There is no train from the airport
- There is no bus from the airport
Come Surf With Us
Surf Lessons can be added in the booking steps if they are not already included in a package.
Instructors
We are located right in the centre of some of Bali's best waves where there are a variety of breaks for surfers of all standards - from beginners to professionals. Uluwatu, Padang Padang, Impossibles, Bingin, Dreamland.
Main Surf Beach: Dreamland or Padang Padang beach
Surf Lessons we offer:
Kids Surf Lessons
Beginner Surf Lessons
Intermediate Surf Lessons
Advanced Surf Lessons
Private Surf Lessons
Surf Guide
Yoga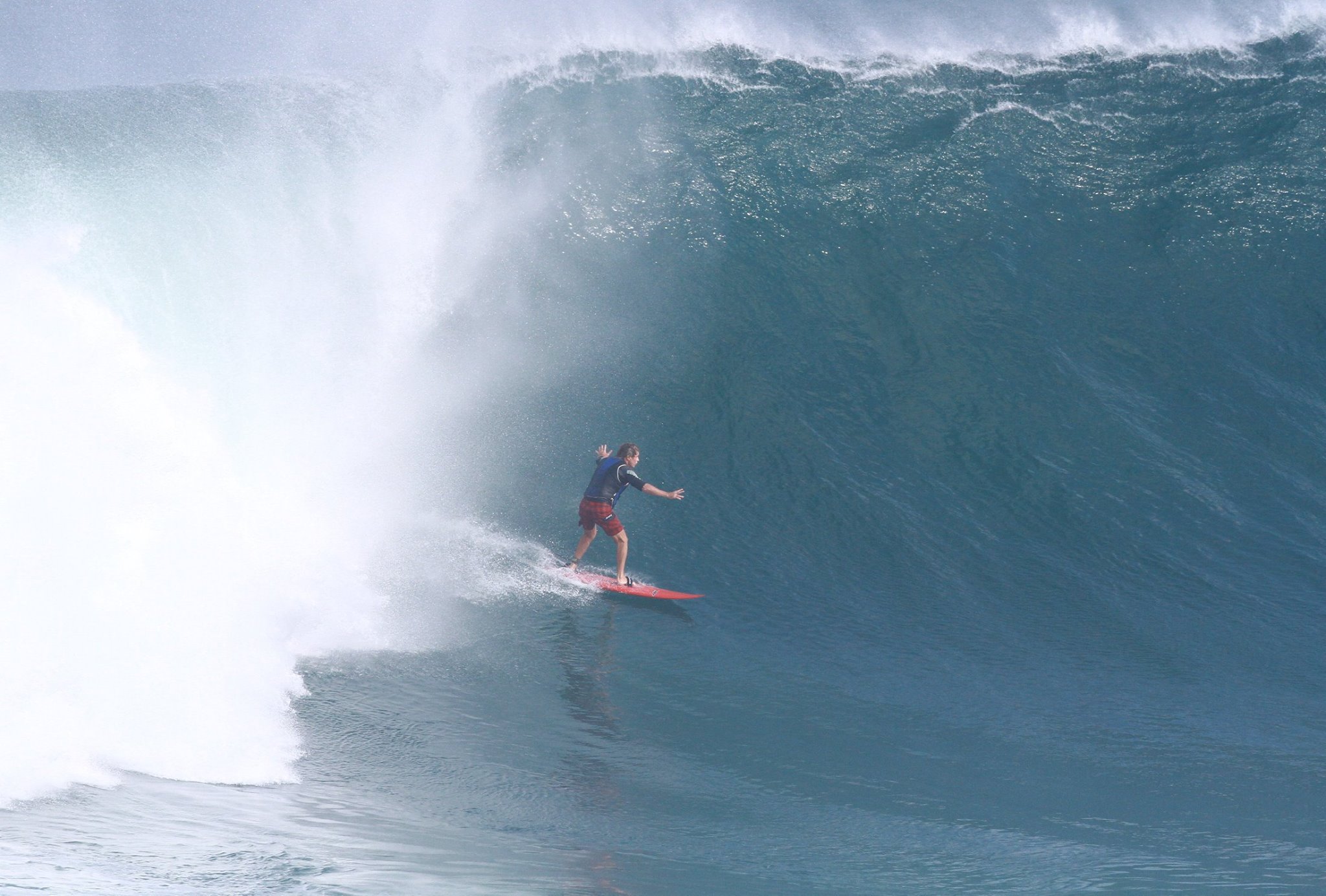 Padang Padang
Level: Advanced
Padang Padang is known as the balinese pipeline. It is a very fast long barrelling wave that lives up to it's reputation as the most serious wave in bali. Similar to Hawaii's very own pipeline, the bali pipeline also breaks over a shallow coral reef and is only for expert surfers.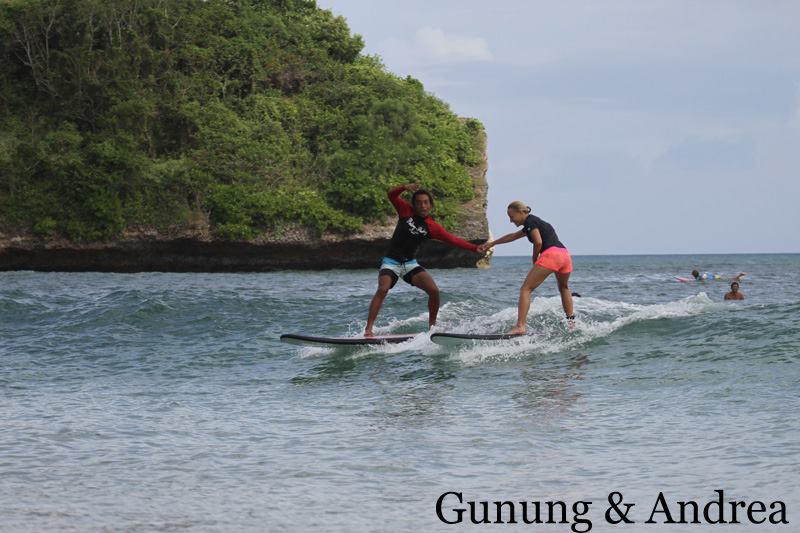 Padang Padang Rights
Level: All Levels
A beautiful white sandy beach. This is a very easy wave and is suitable for beginners, longboarders and intermediate surfers. This is a perfect surf spot for learner surfers to progress from riding whitewater to unbroken waves.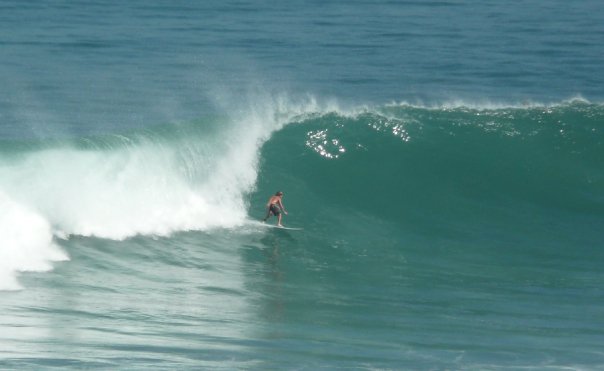 Impossibles
Level: All Levels
Impossibles is a fast racy wave that is very picturesque. There are 3 seperate peaks on this wide reef which breaks up the crowds. On the right conditions with a good size swell and offshore wind it is possible for the sections to link up and to get a ride of a mile or more to the warungs at bingin.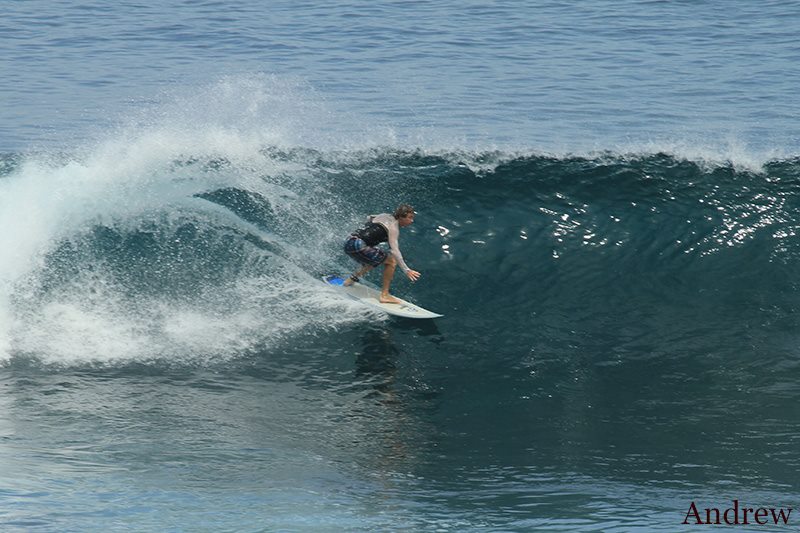 Bingin
Level: All Levels
Bingin is a perfect machine wave that works best around mid tide. It is a very consistent wave and throws out many perfect barrels. If you want to practice barrel riding lefts to bingin could be the perfect location. At low tide it can be very shallow and for expert surfers only. At high tide the wave can break very soft and is where the bali children learn to surf. High tide can be perfect for long boarders or intermediate surfers.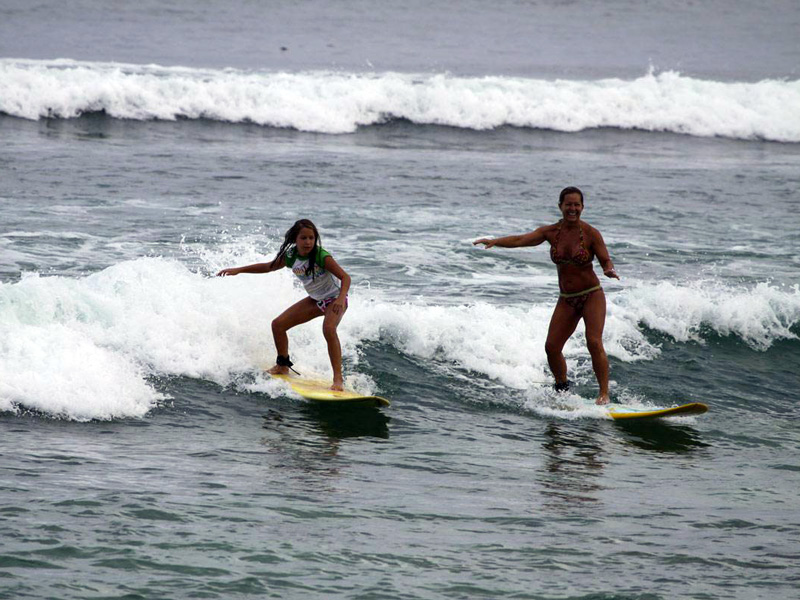 Dreamland
Level: All Levels
Dreamland is a beautiful white sand beach a short walk from Impossibles & Bingin. There are many different breaks that work at different satges of the tide and is suitable for novice surfers as it breaks over sand. The best wave is an A frame peak that works best at low tide on a big swell. There is also a punchy shorebreak wave where you will see balinese and visitng surfers exhibiting their skills at the water's edge. Dreamland is a perfect location to spend the day surfing, sunbathing and handing out in the local warungs.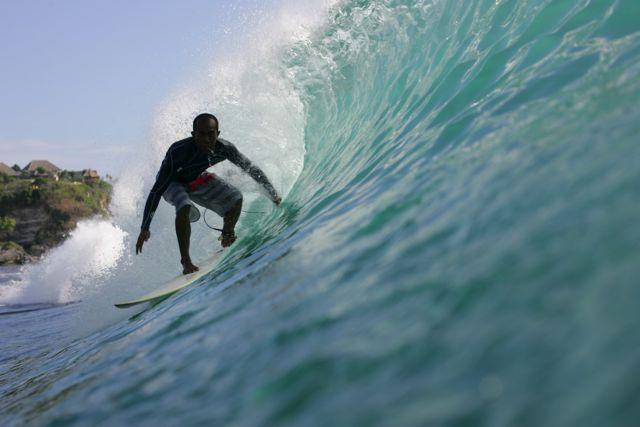 Balangan
Level: All Levels
Balangan is the next break on the bukit and is waking distance from dreamland. It is a reef break but has a beautiful white sand beach which is very quiet and beautiful. Balangan is a fun left hander that is not so fast as the other reef breaks on the bukit and is suitable for intermediate surfers.
Surf conditions in Bali:
Beginners:

JAN

FEB

MAR

APR

MAY

JUN

JUL

AUG

SEP

OCT

NOV

DEC
Intermediates:

JAN

FEB

MAR

APR

MAY

JUN

JUL

AUG

SEP

OCT

NOV

DEC
Advanced:

JAN

FEB

MAR

APR

MAY

JUN

JUL

AUG

SEP

OCT

NOV

DEC
Rain
Wetsuits
JAN/FEB
MAR/APR
MAY/JUN
JUL/AUG
SEP/OCT
NOV/DEC
Season
Year round Surf destination. April to November is the dry season and most popular time. Jan-Feb expect heavy afternoon rains but still plenty of surf and less crowds.
---
Bali benefits from an almost endless supply of Southern Ocean groundswell meaning you are very rarely disappointed. SW swells wrap around the
Bukit peninsula
creating an array of world class lefts including the infamous
Uluwatu
which is Bali's most consistent wave. It is for the more experienced surfers and it tends to section when it's smaller which does spread the crowds out by allowing take offs almost anywhere down the line. The wave is broken down into three sections, Inside corner, Racetracks and Outside corner.
Further down the Bukit peninsula you can find
Padang Padang
which is home to Bali's most desired barrel and a more chilled out Bali surf holidays place to stay than the busier Kuta. It is a beautiful white sandy beach with reef out back for the more advanced, while in front it is perfect for beginners.
Bingin
reef is a fun short tube wave, that can get crowded.
Dreamland
beach is next in line and is one of the more user friendly beaches on the Bukit. It runs from deep water and can often be a shore break where you need to avoid creasing your board or hitting one of the many tourists playing on the inside.
Balangan
is slightly more secluded with another perfect looking left point. It fires when the swell direction is big enough and coming from the right direction.
For beginners & intermediates there are many quality beach breaks around including the long beach break in the centre of Kuta and up to Legian. Further north west is
Canggu
which has a better mix of beginner, intermediate and advanced waves than the high performance waves on the Bukit Peninusla.
On the east side of the island you can find Nusa Dua, Sanur & further up
Keramus
. This side of Bali tends to work better in the Wet season (October to April).
Across from the Bali Peninsula is Grajagan or
G-Land
. A much more remote spot than the rest of Bali, surrounded by thick jungle and wild animals. It is often referred to as the best wave in the world. A long very consistent wave with a variety of different sections. but mostly for experienced surfers.
Come Surf Bali with us...
PAYMENT
A small deposit is required to secure your booking.
Your balance is due at check in.
CANCELLING YOUR BOOKING
To cancel go to the MyAccount section and log in or register and you can cancel from within your account.
Your deposit is non refundable but can be used for the same property/surf school within one year of your original booking.
Why use Surfholidays.com?
Book your accommodation & surf lessons/guiding in the one place
24/7 Support – phone & email
20,000 booked since 2009
Best price guarantee
Flexible payment: Only a deposit is needed to book
Flexible cancellation conditions
Manage your bookings online
You're in control of your booking. No registration is required.
Your booking is secure & details are protected by a secure connection.