Wood'n Sea Surf Lodge
Wood'n Sea Surf Lodge
6 rue de Baye, Capbreton - Hossegor & Capbreton , France
The Place

Shared & Private room options
Couples
Groups
Solo travellers
The Wood'n Sea Lodge is a typical French house, surrounded by pine trees and located 400m from the famous surf spot « La Piste ».

The Lodge can accomodate up to 15 guests in 3 confortable dorms and 2 cosy couple rooms, all sharing three independant bathrooms.

It has also a large wood deck with a BBQ corner, a lounge area to share a drink with other guests and a hammock area to chill and relax after a surf session.

In summer, yoga lessons, stretching and massages are provided on the decks.

And we are here to indicate you the best places to visit and to have a drink/dinner in the area.
Location
In Capbreton, a beautiful traditional little town with its harbour and fish market.
It is next to two other famous and typically southern little towns: Hossegor and Seignosse. Hossegor is an elegant city by the sea with its world class surf spots : La Gravière, La Nord. It has an exciting and also renowned night life. Seignosse is called the Frenh California with its white stretch beaches and it's boho way of life.
Capbreton is 30 min from bigger towns and shopping malls as Biarritz or Bayonne. It is also 45 min from Spain and San Sebastien.
Reviews

Facilities

Room types

Getting there

Surf Lessons

Waves

Terms
8 REVIEWS
Summary
Accommodation
Surf Lessons

Kim
Cologne
September 2017
Travelled with friends
How did you like the accommodation?
The Wood'n Sea Lodge is a wonderful place to stay, and Antoine is the perfect host!
This gem of a hostel was a lot nicer than the Hilton we stayed at in Paris on the drive down.
The rooms, the showers, the kitchen and the deck are comfortable and clean, and they have everything you need for a great vacation.
With a nice breakfast to start your day and a report on wave conditions first thing in the morning as well as surfboards and wetsuits to rent, this is the perfect basis for a relaxing time in Capbreton.
It's only a couple of minutes walk to the beach, and Antoine will help with any questions you may have.
Thanks for a great time! We'll definitely be back!

Edward
Noosa
September 2017
Travelled as a couple
How did you like the accommodation?
As a worldwide surfer, this place is one of the best surf hostels I've ever stayed in. From the moment you walk through the front gate you feel like you are home, as you are greeted by the lovely cc and Antonine!! It's the kinda place where you will book for a week and end up staying for 7 weeks haha!!! Thanks so much for everything!!!!

Railya
Saint-Petersburg, Russia
August 2017
Travelled solo
How did you like the accommodation?
Clean,kitchen is well arranged, design of interior, close to coast
How were the surf lessons?
Colin school in Capberton. I like and recommend
- Less Reviews

Katie
Swansea
July 2017
Travelled solo
How did you like the accommodation?
Accommodation was excellent! 10/10. Absolutely immaculately clean, great facilities, perfect location and lovely owners. Best value for money place I have ever stayed, could not recommend highly enough!

Oliver
London
May 2017
Travelled solo
How did you like the accommodation?
Great place to stay, amazing location only 5 minutes walk from la piste, bedrooms are big and comfortable, nice indoor and outdoor communal area with a bbq and terrace and the whole place is very clean The couple who run the lodge are very welcoming and go over and above to make sure you have everything you need for a great stay. Antoinne knows all the local beaches and which spots will be working. One of the best hostels I've staid in.

Marcus
London
October 2016
Travelled solo
How did you like the accommodation?
Cheap equipment hire for surfing and leisure cycling. Extremely kind staff and cool chilled out atmosphere. Very close to the beach. Over all amazing place.

Taylor
Dublin
October 2016
Travelled solo
How did you like the accommodation?
The staff are amazing and I made lifelong friends very fast. Warm and welcoming.

Victoria
United Kingdom, Merthyr Tydfil

Travelled solo
How did you like the accommodation?
Fab hostel with a great location near the beach and town. Owners are lovely and very welcoming.
+ More Reviews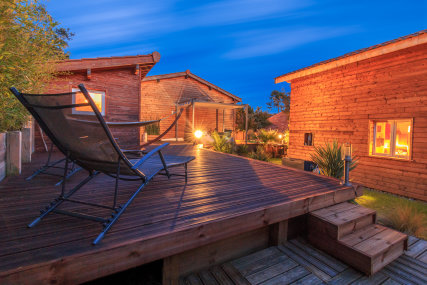 "Les Estagnots" dormatory
Room Type: Shared - Mixed
Sleeps:

5
The "Bourdaines" dorm consist in 3 bunk beds with comfortable 90 * 200 cm beds, and decorated in a cosy style.
Bed linen is supplied and installed at the arrival of the guests.
The room is equipped with drawers, dressers and wardrobes. Some can closed with a padlock in order to protect your valuables.
Continental breakfast is included in the price of the night.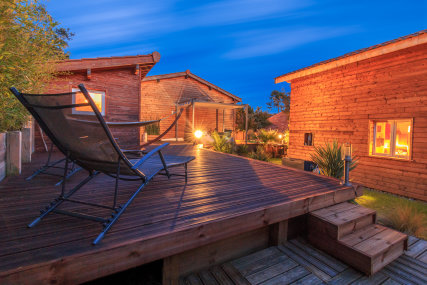 "Cabana Cocoon" couple room
Room Type: Private
Sleeps:

2
The "Estacade" couple room consists in a comfortable 140 * 200 cm bed, and is decorated in a cosy style.
Bed linen is supplied and installed at the arrival of the guests.
The room is equipped with drawers, dressers and wardrobes.
It has an access by the external wood deck and offers a nice view on the zen & exotic garden.
Commun kitchen and bathrooms are accessible by the wood deck.
Continental breakfast is included in the price of the room.
You can never get lost
When you book you will receive our confirmation email with full travel directions of how to get to us.
We provide Airport Transfers from and to Biarritz and they can be booked in the booking steps.
Price for 1-4 people: €40
- Nearest Airport: Biarritz
- Distance from Airport in kms: 30
- Time from Airport in a car: 30 min
- There is no train from the airport
- There is a bus from the airport
In the booking steps you can add surf lessons from any of our certified surf school partners below.
The surf school will either pick you up at your accommodation or meet you at the nearest beach as detail in their profile below.
The surf school will always contact you the day before to arrange the exact time of your lesson and meet up details.
Due to changing tides & conditions exact surf lesson times are not decided until the day before.
The full contact details of our surf school partners are included in your confirmation voucher
All our surf school partners are certified with their countries National Surfing Association
Tip: If you are staying for 7 nights we always recommend 5 days of surf lessons. Start the day after you arrive so you don't miss any good waves! You can choose your surf days in the checkout.
Looking for Surf Schools in Hossegor & Capbreton
Please wait...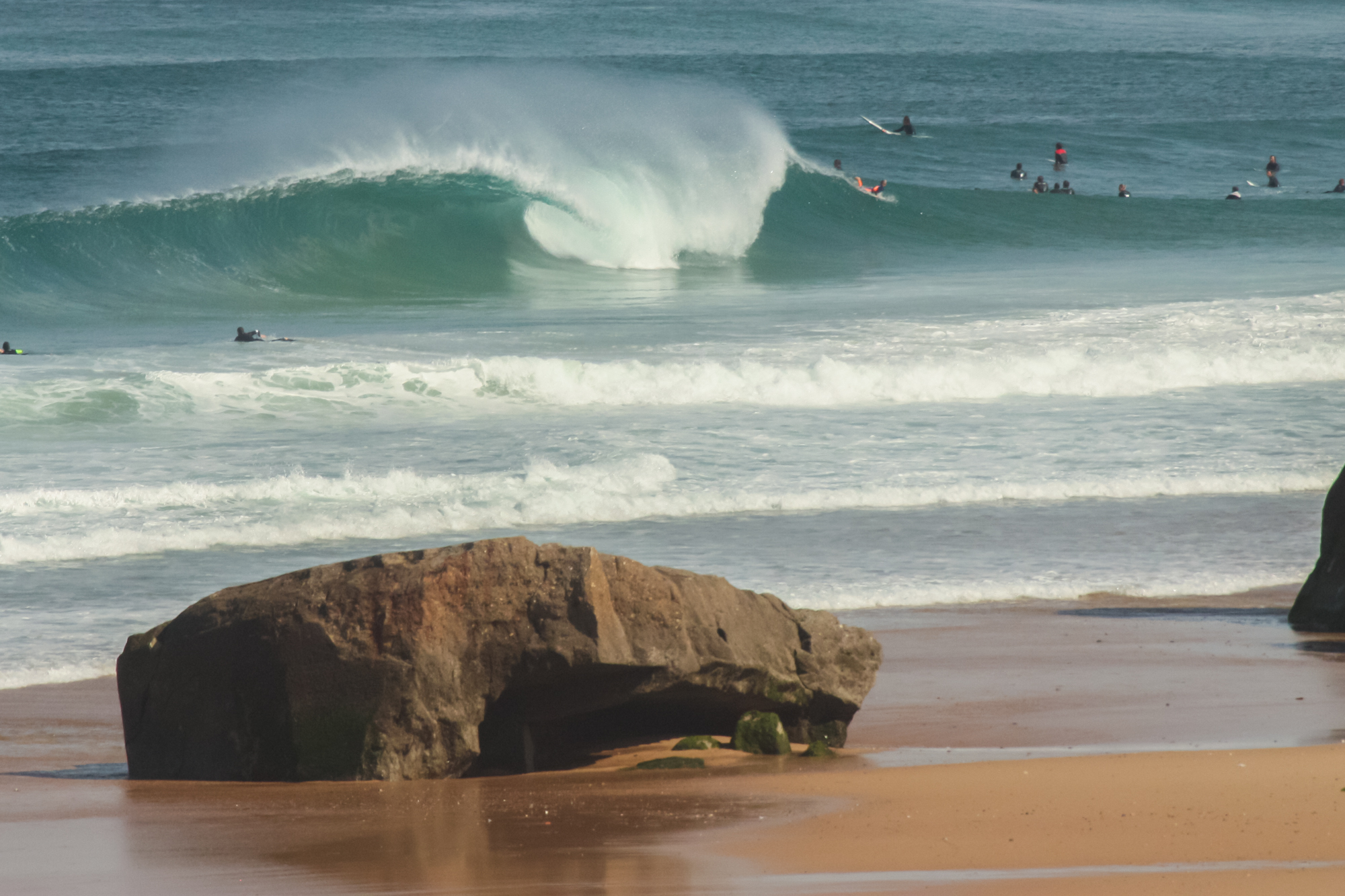 Capbreton La Piste
Level: All Levels
La piste can be an all level spot as it can be a radical spot when conditions are on fire.
It usually allows to surf 1 to 2 m waves with a range of lefts and rights.
Waves are close to the shore which makes it easy for lazy paddlers, but can make it dangerous as a big set can be easilly reachable.
Behave of blocks of bunkers coming out of the water.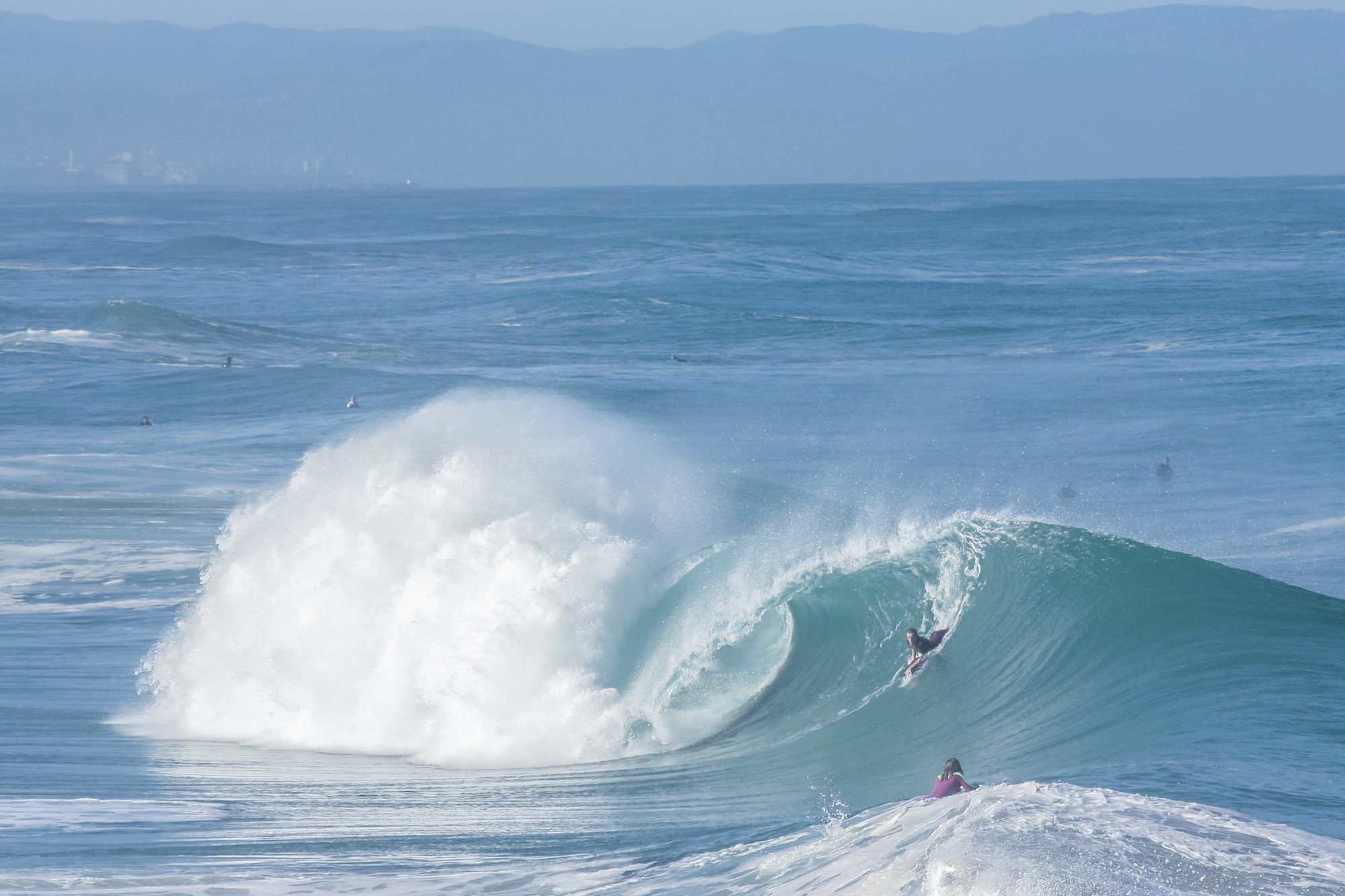 Capbreton Le Santosha
Level: All Levels
Spot with 2 kind of waves:
to Waves for confirmed surfers, a deep and quick Left and a longer but deep right (Photo)
to Waves for beginners close to the shore as it is protected by the peer.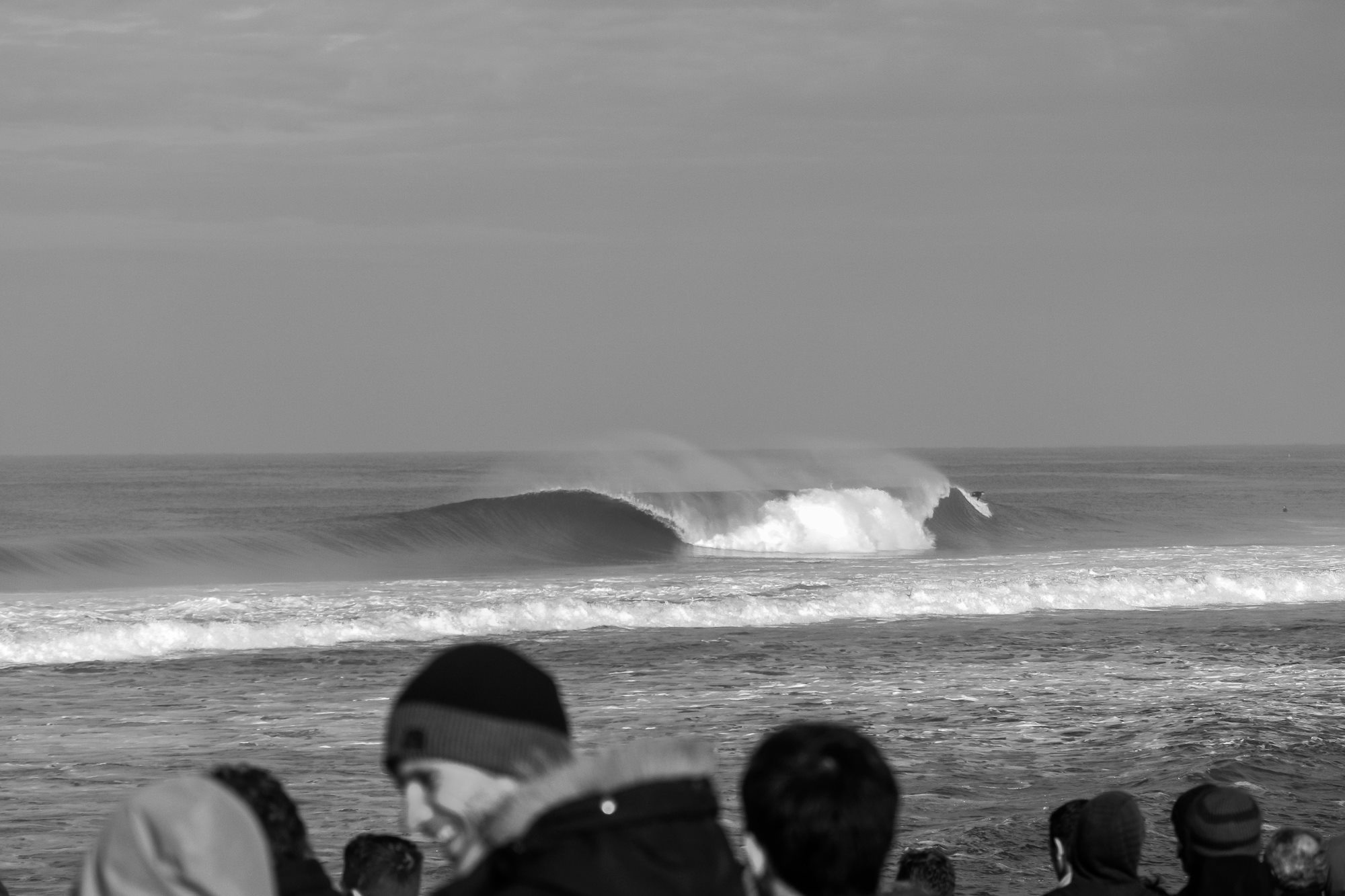 Hossegor Les Cul-Nuls
Level: Advanced
Lefts and rights, up to 3m.
Waves are far from the shore, sometime with current.
Hossegor La Gravière
Level: Advanced
World to class shorebreak, up to 3m
Hossegor La Nord
Level: Advanced
Works when big swell. Up to 6 m. For very confirmed surfers only.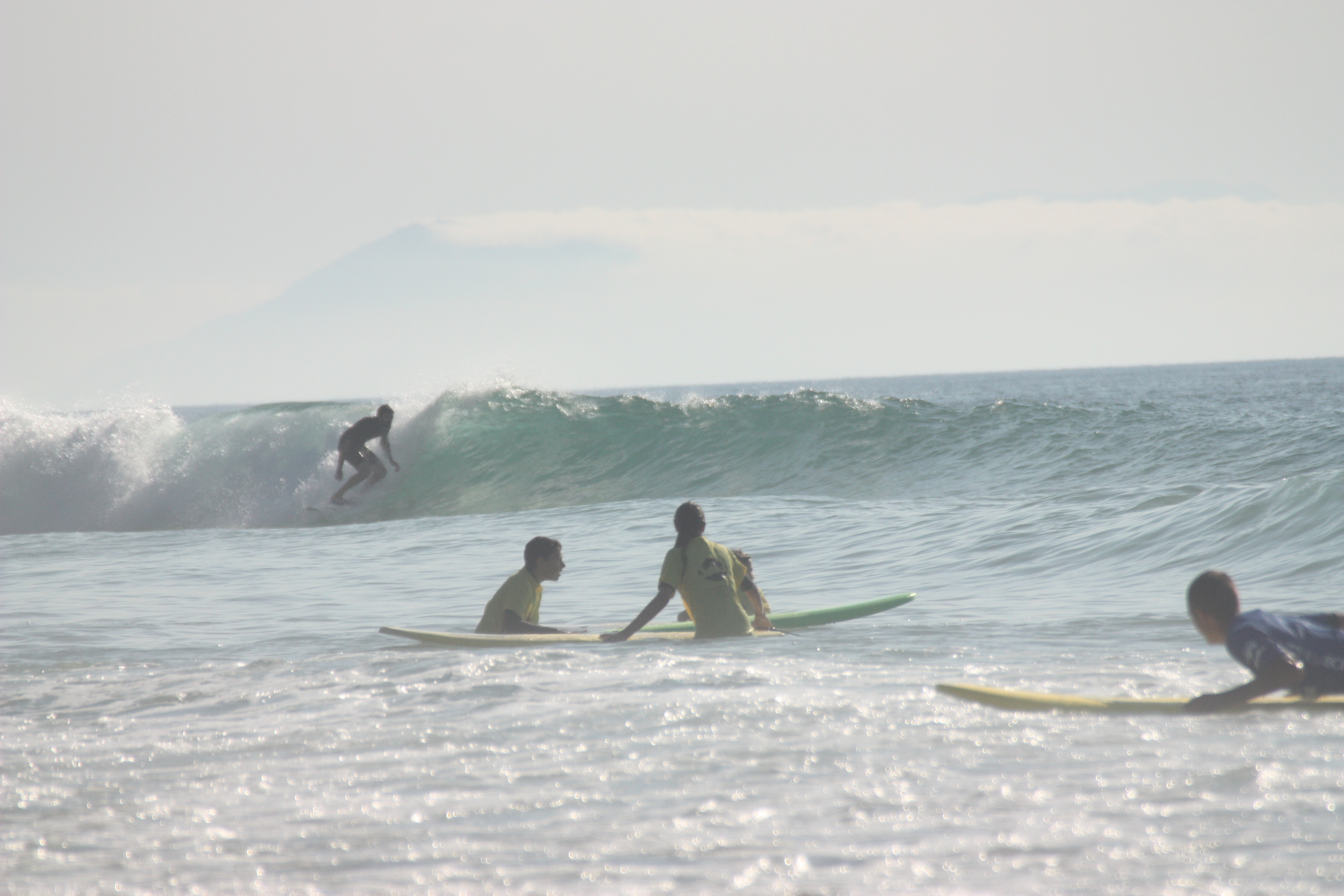 Capbreton les Océanides (Le VVF)
Level: All Levels
Lefts and Rights
Surf conditions in Hossegor & Capbreton :
Beginners:

JAN

FEB

MAR

APR

MAY

JUN

JUL

AUG

SEP

OCT

NOV

DEC
Intermediates:

JAN

FEB

MAR

APR

MAY

JUN

JUL

AUG

SEP

OCT

NOV

DEC
Advanced:

JAN

FEB

MAR

APR

MAY

JUN

JUL

AUG

SEP

OCT

NOV

DEC
Rain
Wetsuits
JAN/FEB
MAR/APR
MAY/JUN
JUL/AUG
SEP/OCT
NOV/DEC
---
The beaches along the Hossegor and Capbreton coast stretch continuously north and south offering a huge choice of surf for everyone. Capbreton has 7 km of beaches starting at the busy side of town and extending south where sand dunes and pine forest merge gently with the incredible beauty of the vast expanse of the Atlantic Ocean. The beaches by the main town are perfect for beginners and intermediate surfing standards
Across the harbour is the famous surf town of Hossegor, where European surfing really took off. The main stretch of beach, Plage Centrale and La Sud, beside the main promenade are great place to learn to surf in Hossegor. For those more experienced there's the opportunity to surf the breaks where the Worlds No.1 surfers duke it out every September in the World Championship Tour, the legendary
La Nord
and
La Graviere
.
The beaches reach
Seignosse
a few km's north – here Les Bourdaines is perfect for longboarders, and
Le Penon
is a real quality beach break that's a bit quieter and just as much fun. Further south is
Biarritz
with its classic waves and stunning cliffs. And down by St.Jean de Luz is
Belharra
, one of the worlds most impressive big wave surf spots.
Come Surf Hossegor & Capbreton with us
PAYMENT
A small deposit is required to secure your booking.
Your balance is due at check in.
CANCELLING YOUR BOOKING
To cancel go to the MyAccount section and log in or register and you can cancel from within your account.
Your deposit is non refundable but can be used for the same property/surf school within one year of your original booking.
You can cancels anytime up to 7 days before travelling and you will not be charged the balance.
Similar Properties in Hossegor & Capbreton , France
Why use Surfholidays.com?
Book your accommodation & surf lessons/guiding in the one place
24/7 Support – phone & email
20,000 booked since 2009
Best price guarantee
Flexible payment: Only a deposit is needed to book
Flexible cancellation conditions
Manage your bookings online
You're in control of your booking. No registration is required.
Your booking is secure & details are protected by a secure connection.