Zopilote SurfCamp
Zopilote SurfCamp
Playa Manzanillo de Cobano, Manzanillo - North Pacific - Tamarindo, Nosara & Santa Teresa, Costa Rica
The Place

Shared & Private room options
Couples
Families
Groups
Solo travellers
The main camp house consists of a private bedroom and terrace with three single beds up stairs. Downstairs there is a fully equipped kitchen, a bathroom and a spacious chill to out area with amazing view of the Pacific Ocean. The other four bungalows each contain 4 beds, a bathroom and a comfortable porch area. Our camp to area offers a beautiful atmosphere and promises you an easy to going surfing trip on and off the waves.
Location
The surf camp is located on the coast of Manzanillo de Cobano on the southern tip of the Nicoya Peninsula of Costa Rica, just a short drive away from the famous and touristic beach of Santa Teresa.

From San Jose airport take a taxi to bus terminal 7/10 in downtown San Jose, here there are direct buses (Transporte Cobano) that leave to Mal Pais/Santa Teresa at 6am and 2pm every day (approx $16US). Once in Cobano leave the bus and get a taxi to Manzanillo ($20US). It will take 6 hours all in. You can also fly to Tambor airport and get a taxi to our surf camp, takes 1 hour and cost approx $50US
Facilities

Room types

Getting there

Surf Lessons

Waves

Terms
Number of people: 21
Additional Fees:
no additional fees
Extras:
Depends what package you book, surf boards can be rented for as low as 70 € per week. Save airline transport fees and troubles and use one of our boards! We have a variety of beginner boards, longboards, malibus, mini-malibus and shortboards.
Bungalow
Room Type: Shared - Mixed
Sleeps:

4
Bungalow with bathroom and toilet
Bungalow
Room Type: Private
Sleeps:

2
Private Bungalow with bathroom and toilet
You can never get lost
When you book you will receive our confirmation email with full travel directions of how to get to us.
We don't provide airport transfers but you can book one easily here: Airport Transfers
- Nearest Airport: Tambor
- Distance from Airport in kms: 18
- Time from Airport in a car: 45min
- There is no train from the airport
- There is no bus from the airport
Come Surf With Us
Surf Lessons can be added in the booking steps if they are not already included in a package.
Surf Lessons we offer:
Beginner Surf Lessons
Our lessons are 2 hours per day. Student ratio is 1:5 You will learn everything from standing techniques to turning and finally paddling outside and learning how to catch unbroken wave.
Kids lessons are available at this level.
We teach in English, Spanish, Italian and German
Intermediate Surf Lessons
Our lessons are 2 hours per day. Student ratio is 1:4
Kids lessons are available at this level.
We teach in English, Spanish, Italian and German
Advanced Surf Lessons
Depends on your level, we will find the perfect break for you to improve your surfing with the best surf instructors.
Private Surf Lessons
Private surf lessons for individuals / 60 €.
Surf Guide
We bring you to a variety of local spots both hidden and well known! Every morning we pack our pick-up truck in search for the perfect surf break.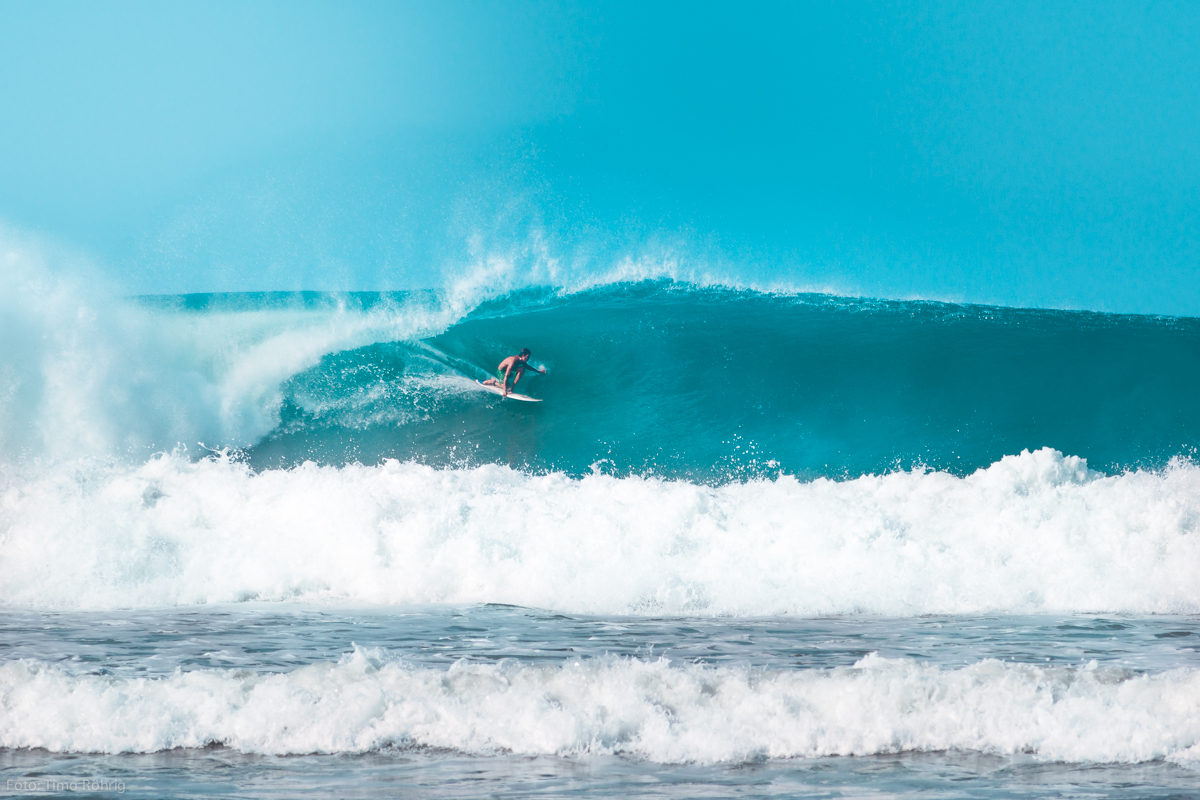 Surf spots between Manzanillo and Mal Pais
Level: All Levels
Santa Teresa: A very popular surf spot for surfers of all levels mainly beach breaks.
Playa del Carmen: Offers both rights and lefts surfing over sand.
Mal Pais: Here you can find world class point and reef breaks.
Playa Hermosa: An excellent beach for all levels! This wide and open white sand beach is everyone's favorite!
Surf conditions in North Pacific - Tamarindo, Nosara & Santa Teresa:
Beginners:

JAN

FEB

MAR

APR

MAY

JUN

JUL

AUG

SEP

OCT

NOV

DEC
Intermediates:

JAN

FEB

MAR

APR

MAY

JUN

JUL

AUG

SEP

OCT

NOV

DEC
Advanced:

JAN

FEB

MAR

APR

MAY

JUN

JUL

AUG

SEP

OCT

NOV

DEC
Rain
Wetsuits
JAN/FEB
MAR/APR
MAY/JUN
JUL/AUG
SEP/OCT
NOV/DEC
---
The norther Pacific side of Costa Rica is best know for its fun waves rather than epic 10 foot advanced surf!
Air temperature in the north is the same year round 32°C. The seasons are divided in two: dry Season from December to April and wet season from May to November. Dry season is the busiest time for tourism in Costa Rica and they call it their summer.
The areas of Tamarindo, Nosara and Santa Teresa are year round surf destinations. The bigger swell season is from April to October. From December to March you tend to get smaller but clean 4 foot waves and is probably the best time to go. Wind is not usually a big factor but as with most places the morning will be best for glassy offshore conditions.
Surf beaches around Tamarindo
The main surf beach in the area is Playa Grande, a very consistent long beautiful beach break for intermediates. La Casita across the estuary is a fast beach break. El Estero is the fast rivermouth, great for longboarder surfers.
Surfing Tamarindo beach itself is great for all levels with Pico Pequeno & Pico Grande for more advanced. Further south is Playa Langosta, rocky underneath the surface and offering fun waves.
Playa Avellanas
is the most stunning beach in the area and suits all standards. One of Costa Roca's best.
Playa Negra
further south is an excellent right hand reef break over crystal clear water.
Surf beaches around Nosara
The main surf beach in Nosara is
Playa Guiones
. It is a swell magnet, an ultra consistent beach break with many peaks. Playa Samara is also great for beginners, a gentle wave and a good longboard spot. Playa Pelada is a sandy beach but the break is reef and is better for intermediate to advanced. Further north is
Ostional
offering heavier hollow waves for the more experienced. Marbella is more remote, a beachbreak and long left point break.
Surf beaches around Santa Teresa
Playa El Carmen is the most popular spot in this laid back Santa Teresa surf area. It is an excellent open beach break for all standards. Surfing Playa Santa Teresa is a mix of sand and volcanic rock which create some barrel riding waves. Hermosa offers gentler waves, an excellent spot for beginners.
That's just a few of the many ideal surf breaks you can experience when on a surfing holiday in Tamarindo, Nosara or Santa Teresa. Come Surf with us...
PAYMENT
A small deposit is required to secure your booking.
Your balance is due at check in.
CANCELLING YOUR BOOKING
To cancel go to the MyAccount section and log in or register and you can cancel from within your account.
Your deposit is non refundable but can be used for the same property/surf school within one year of your original booking.
You can cancel anytime up to 30 days before travelling you will not be charged the balance.
Why use Surfholidays.com?
Book your accommodation & surf lessons/guiding in the one place
24/7 Support – phone & email
20,000 booked since 2009
Best price guarantee
Flexible payment: Only a deposit is needed to book
Flexible cancellation conditions
Manage your bookings online
You're in control of your booking. No registration is required.
Your booking is secure & details are protected by a secure connection.