Croc's Penthouse
Croc's Penthouse
Croc's Hotel and Casino Penthouse, Jacó, Costa Rica, Jaco - Central Pacific - Dominical, Hermosa & Jaco, Costa Rica
The Place
Stay in this dog to friendly penthouse condo on your next trip to Costa Rica and have your dreams come true! Offering luxurious accommodations in an oceanfront location, with ocean views and a private hot tub, up to six guests will have a fantastic time here!

Sitting at the north end of lovely Jacó Beach, you'll have access to a shared pool at the resort and a well to equipped rec room on the second floor that features both machines and dumbells. Nearby, you'll find bars, restaurants, shops, tour opportunities, and water sports rentals.

The condo features bright natural lighting and a clean appearance to make you feel right at home. A great room has the living, kitchen, and dining areas, where you can relax on comfortable furniture and chat, watch a DVD on the flatscreen TV (cable and WiFi included), or play cards around the table with seats for six.

Step outside onto the balcony to soak in the stunning ocean view, bask in the private hot tub, and recline in the patio furniture. Or, play pool on your private table. Head to the courtyard on the ground level for a refreshing dip in the shared pool. Take care of laundry with a private washer/dryer.
A full, open kitchen makes it easy to cook, with stainless steel appliances including all the essentials, plus extras like a blender, coffeemaker, and dishwasher. Four stools provide seating at the breakfast bar.
With three bedrooms and three to and to a to half bathrooms, up to six lucky travelers may sleep here (and a dog may join for a small nightly fee
Location
One room has a king bed while the other two offer an additional king and a queen. The bedrooms have flatscreen, wall to mounted TVs. One room offers beautiful mountain views, and another has a desk for anyone who needs to work.

This condo is perfect for a family or a group of friends to take surf lessons or rent a stand to up paddleboard to test your balance in the waves, then grab a bite to eat with a cocktail right on the beachfront! You might head to Hermosa Beach to golf, or sign up for a waterfall tour in the jungles of Costa Rica.

Whatever you plan to do in Costa Rica, you'll sleep easy in this luxurious penthouse condo to book today!
Reviews

Facilities

Options

Getting there

Surf Lessons

Waves

Terms
2 REVIEWS
Summary
Accommodation
Surf Lessons

Kyle F.
N/A
April 2017
How did you like the accommodation?
My dad, my friend, and I traveled to Jaco, Costa Rica over "Semana Santa" and had a wonderful vacation. The Penthouse and staff at Vacasa were the perfect fit for everyone in our party. We enjoyed having the pool table for entertainment and the hot tub on veranda/balcony for relaxation. My dad was was able to relax at the pool during the day while my friend and I went on adventure tours during the day. The staff at Vacasa arranged all our transportation and reservations at the the tour companies. Plus it was nice to have recommendations on what they feel were the best tours based on what we wanted. Overall, I would high recommend this property to anyone looking for a wonderful beachside vacation to Jaco, Costa Rica.


Nancy B.
N/A
February 2017
How did you like the accommodation?
A spectacular suite in a very good location - only a short cab ride to town. The condo is wonderful with a fabulous view and very comfortable furniture and beds. Having the hotel below is perfect - a beautiful swimming pool with great food options. And the beach is right at your door - would stay again for sure.

Number of people: 6
Additional Fees:
Cleaning fee $110.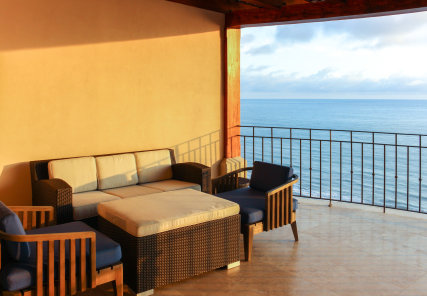 Croc's Penthouse
Room Type: Private
Sleeps:

6
Stay in this dog to friendly penthouse condo on your next trip to Costa Rica and have your dreams come true! Offering luxurious accommodations in an oceanfront location, with ocean views and a private hot tub, up to six guests will have a fantastic time here!

Sitting at the north end of lovely Jacó Beach, you'll have access to a shared pool at the resort and a well to equipped rec room on the second floor that features both machines and dumbells. Nearby, you'll find bars, restaurants, shops, tour opportunities, and water sports rentals.

The condo features bright natural lighting and a clean appearance to make you feel right at home. A great room has the living, kitchen, and dining areas, where you can relax on comfortable furniture and chat, watch a DVD on the flatscreen TV (cable and WiFi included), or play cards around the table with seats for six.

Step outside onto the balcony to soak in the stunning ocean view, bask in the private hot tub, and recline in the patio furniture. Or, play pool on your private table. Head to the courtyard on the ground level for a refreshing dip in the shared pool. Take care of laundry with a private washer/dryer.

A full, open kitchen makes it easy to cook, with stainless steel appliances including all the essentials, plus extras like a blender, coffeemaker, and dishwasher. Four stools provide seating at the breakfast bar.
You can never get lost
When you book you will receive our confirmation email with full travel directions of how to get to us.
We provide Airport Transfers from and to and they can be booked in the booking steps.
Price for 1-4 people: USD$250
In the booking steps you can add surf lessons from any of our certified surf school partners below.
The surf school will either pick you up at your accommodation or meet you at the nearest beach as detail in their profile below.
The surf school will always contact you the day before to arrange the exact time of your lesson and meet up details.
Due to changing tides & conditions exact surf lesson times are not decided until the day before.
The full contact details of our surf school partners are included in your confirmation voucher
All our surf school partners are certified with their countries National Surfing Association
Tip: If you are staying for 7 nights we always recommend 5 days of surf lessons. Start the day after you arrive so you don't miss any good waves! You can choose your surf days in the checkout.
Looking for Surf Schools in Central Pacific - Dominical, Hermosa & Jaco
Please wait...
Jaco Beach
Level: All Levels
This wave offers something for all levels of surfers
Surf conditions in Central Pacific - Dominical, Hermosa & Jaco:
Beginners:

JAN

FEB

MAR

APR

MAY

JUN

JUL

AUG

SEP

OCT

NOV

DEC
Intermediates:

JAN

FEB

MAR

APR

MAY

JUN

JUL

AUG

SEP

OCT

NOV

DEC
Advanced:

JAN

FEB

MAR

APR

MAY

JUN

JUL

AUG

SEP

OCT

NOV

DEC
Rain
Wetsuits
JAN/FEB
MAR/APR
MAY/JUN
JUL/AUG
SEP/OCT
NOV/DEC
---
The bigger swell season in the Central Pacific area is from May to November with waves consistently from 2-6 feet, sometimes bigger. Costa Rica's summer months & dry season is from December to April. Waves tend to be really fun clean 3-4 foot.
Surfing Jaco
The main beach in this surf town is a long 3 km beach break good for beginners and intermediates with many different peaks. If the swell gets above head high it tends to close out. South of the bay is Roca Loca, a right reef break that can hold up 10 feet at times.
Further south is Hermosa beach. It has a really good vibe to hang out, meet people and get in the water every day. It is a 7km long dark sandy beach breaks that works best on high tide. If you want to escape the crowd head further south. The beach packs a punch and when it's bigger it will rip those board shorts right off you and challenge even the best surfer.
Further along the coast you will find Esterillos about 10k south of Hermosa. Another fun beach break that is a swell magnet and if your looking for an uncrowded wave, take a walk down the beach and pick a peak.
Still heading south you will find other spots include Seco, Bejuco and Playa Espadilla, a great beginners surf beach in the popular surf town of Manuel Antonio.
Surfing Dominical
Less crowded than other surf towns in Costa Rica. Dominical is a much longer trek from San José so it does not tend to get the same amount of surfers that Jaco has. Dominical is a wave magnet and has been called the most consistent surf spot in Costa Rica. The towns main break, Playa Dominical works best on Mid to high tide as at low tide it can be just a shore dump. It tends to be a better spot for Advanced, intermediates as it can get powerful.
2km south is Dominicalito, a beachbreak that is great for beginners. Further on 1 km is The point, with rides of up to 250 meters! There are many more breaks to be discovered, and teh further on south you go the emptier the breaks.
Come surf Jaco, Dominical & Central Pacific Costa Rica with us....
PAYMENT
A small deposit is required to secure your booking.
Your balance is due to the property 60 days before arrival. The Property will contact you to collect payment. If you book within this 60 days then the property will contact you shortly after you book to collect the balance.
CANCELLING YOUR BOOKING
To cancel go to the MyAccount section and log in or register and you can cancel from within your account.
Your deposit is non refundable but can be used for the same property/surf school within one year of your original booking.
You can cancel anytime up to 30 days before travelling and you will be refunded the balance.
The following cards are accepted at this property:
Why use Surfholidays.com?
Book your accommodation & surf lessons/guiding in the one place
24/7 Support – phone & email
100,000 booked since 2009
Best price guarantee
Flexible payment: Only a deposit is needed to book
Flexible cancellation conditions
Manage your bookings online
You're in control of your booking. No registration is required.
Your booking is secure & details are protected by a secure connection.